Last Updated on 08/18/2021 by Inside Tailgating
Even Hank Hill, a.k.a. "King of the Hill," will admit that propane tanks can be an eyesore, especially when they get rusty. Now you can wrap a "Jack-It" around your tank that would render Hank Hill speechless. The first Jack-It was created in 2014. Now there are a wide variety of themes and designs to choose from to decorate your propane tank.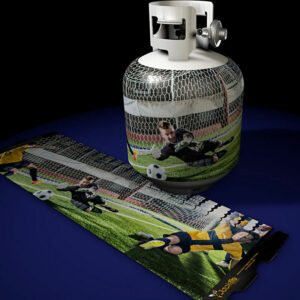 Customize your tanks with these reusable, printed, die-cut decorative "Jack-its." They are easy to apply to any standard 20-pound propane tank. Once the tank is empty, remove the magnet from the empty tank and reapply it to your new tank. They're not decals or painted. They don't leave a residue. They give you a way to customize your propane tank in one quick step.
In a nutshell, Jack-its:
• Allow you to customize standard 20lb propane tanks
• Have a fast and simple application
• Are easy to remove, reposition and re-use
• Feature a dura shield clear-coat that prolongs life, helps to prevent staining and is washable
• Are great for tailgating, camping, parties and backyard barbecues