Last Updated on 04/15/2021 by Inside Tailgating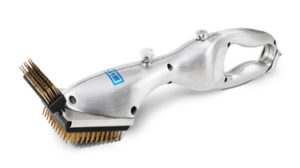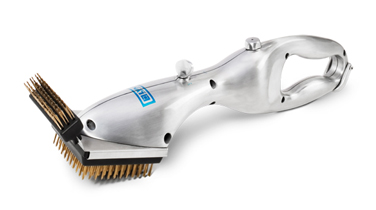 This grill cleaning tool is a 3 pound, platinum beast of a utility tool.
This unbelievably effective grill cleaner is impressive indeed and reminds me of a tool we used to stretch carpet with back in the day. The Lynx Grand Platinum is a fierce competitor, a true force to be reckoned with. This grill cleaner gives you the leverage you need to remove those tough baked-on grease and food residues that build up on your grill.
By utilizing the power of steam together with this powerful cleaning tool your bothersome chore becomes much more manageable. The quality of the food that you prepare will inevitably be much more desirable as well, as the Lynx Grand Platinum sterilizes your grilling surface as it cleans. Made from an aluminum alloy, the Lynx Grand is sturdy, has superior functionality, and looks simply amazing!!
The Lynx Grand comes with two sets of professional grade & dishwasher safe brush heads that are safe to use on stainless steel, ceramic, and iron grills. Be sure to take advantage of the 'crud buster' which is an added brush for those especially stubborn problem areas. In 2014, 'crud busting' is definitely high up there on my priority list.
So, to my fellow tailgaters and 'crud busters' alike; let's take grill cleaning to the next level with the Lynx Grand Platinum Grill Cleaning Tool. $59.99 www.lynxgrills.com