Last Updated on 04/15/2021 by Inside Tailgating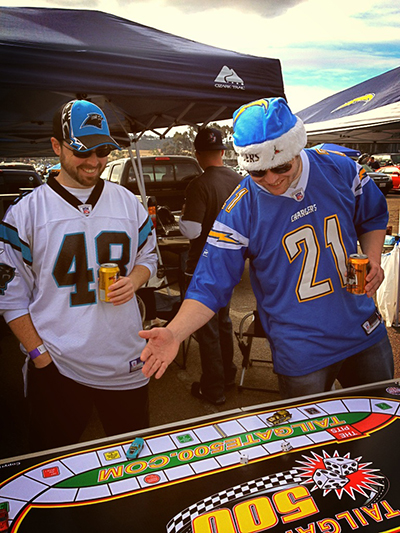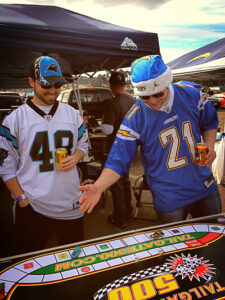 For the first time ever, tailgating, STOCK CAR RACING, and board games have crossed paths for a fun new way to bond with your buddies during tailgating or at home. Introducing the Tailgate 500 Board Game,which you can check out at www.tailgate500.com. I spoke with Vincent Carpino, the creator of this brand new game, and he shared some insight on its creation, the rules, and how it came to be!
SU: Where did the idea for this game come from?
VC500: "The idea developed out of my need for a game to bring on a plane to AZ Spring Training on an annual boys trip. I wanted something where a big group buddies could hang out around the table and play a game. My friend, now business partner, Eric is a huge NASCAR fan and we started sharing tailgating stories. Eric and his NASCAR buddies would roll dice and race Hot-Wheels cars at NASCAR races. That inspired me to make a track with a game board element to it and it grew from there. "
VC500: "The large vinyl track is rolled out onto a standard 6′ folding table. A group of 2-6+ players each select a Hot Wheels sized car as a game piece. The starting order is determined by rolling dice and the cars are lined up in a starting grid. Players surround the table and roll dice to advance their car in a 2 lap race. Along the way, players encounter Hot Spots that "Bump" their cars forward and back in the pack which creates a lot of racing excitement. The first player to cross the finish line after 2 laps is the winner."
SU: What are some of the influences that helped you create this game?
VC500: "Tailgating, NASCAR, craps, people's love of Hot Wheels cars, & family fun."
VC500: "6 game pieces are provided. A minimum of 2 players are needed but we've played it with up to 10 players."
SU: What differentiates this game from other board games?
VC500: "Our large vinyl game board is 64″ long and 29″ wide. It rolls out onto a table and uses Hot Wheels sized (1/64 scale) game pieces. Players surround the table, roll dice and race their favorite cars. Players can personalize the game by substituting their favorite car as a game piece. The durable vinyl track holds up to spilled drinks and food. When done the track & accessories roll up into a 30″ tube that easily stores in an RV or car trunk."
SU: Where are your favorite places to tailgate?
VC500: "We camp at NASCAR, go to NFL & NCAA football games, and MLB Spring Training in AZ. Typical routine is pork shoulder on the BBQ, low & slow, beers, friends, music & games. Good easy fun."
SU: How tough was it to come up with your very own board game?
VC500: "It was much more involved than we expected. The initial format came together quickly. Luckily we played it a lot with different friends and received tons of feedback and support. The toughest part was working through every conceivable scenario to ensure there was no funky scenario that made the game go "side-ways". We aren't game designers, marketers or copyright & trademark experts so the learning curve has been pretty steep. The underlying motivation in developing this game was to have a fun & easy game for friends to hang out together & play. There isn't anything too technical that prevents your 6 yr. old nephew or your buddies new girlfriend from playing and feeling included at a tailgate party. People like rolling dice and picking out a fun car to race. A wise man once said, "It's not fun if you're not having fun."…OK that "wise man" was me, but I live by that little pearl of wisdom!"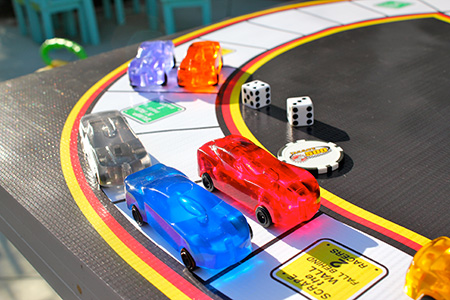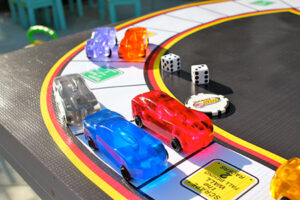 SU: Are there any awesome victory stories you've had playing this game?
VC500: "One of the best Hot Spots is "Sling Shot – Take the Lead!". There was a game where the race leader was on the final square before crossing the finish line and the last place player rolled and landed on it, taking the lead AND winning the race. The tailgate party went crazy! Cars were thrown down the parking lot and high fives were flying. Surrounding tailgaters came over to see what all the mayhem was about and the games kept going from there. When we started getting asked if we sold these games, we decided to explore producing and selling them."
SU: Last but not least, where can our readers purchase this game?
VC500: "We sell it on our website www.tailgate500.com and Amazon. Our updated version just came out on April 1st (no joke). We are proudly USA Made!"
Tailgaters all over the country will love this game! If you are looking for a family fun game to include into your tailgate party, you need to check out Tailgate 500. It is a very easy game to play and you can get as competitive as you want with your family or your drinkin' pals! Most importantly, this game is for tailgaters BY tailgaters!