Last Updated on 04/15/2021 by Inside Tailgating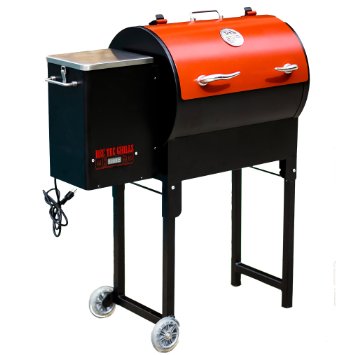 REC TEC Grills manufactures wood pellet grills. Their claim to flame is the Smart Grill Technology Controller. This technology keeps a consistent temperature throughout the cooking process, regardless of changes with outside conditions and temperature changes with the food inside the grill.
The RT-300 Mini is a smaller version of the RT-680 and great tailgating grill option for those that want the ease, convenience and flavor of cooking with a pellet grill. The folding legs make it compact enough to fit into any SUV, truck or car with a large trunk. One person can easily wheel this grill around and set it up by unfolding the legs or use it as a table top. The pellet hopper can hold up to 18 pounds of wood pellets which is more than enough for those that like it slow and low or high and fast. The temperature can range from 180 to 500 degrees and can be adjusted in 5 degree increments for precise cooking.
The grill has a 300 square inch cooking area and tall enough to fit around a 12 lb turkey. Not quite tall enough to do beer can chicken so don't plan to cook that if you are using this grill. The high quality stainless still interior parts (grill grate, fire pot, heat deflector and drip pan) means that this REC TEC is built to last. The company stands behind it with a 6-Year warranty.
While the REC TEC logo is not a a feature that impacts the durability and cooking quality, we think it provides a little extra cred and conversation piece in the lots. The company has its own line of wood pellets, sauces and rubs, plus a lot of recipes on the website to try. Check out the video below and learn more about the RT-300 Mini.
If you like to tailgate make sure you join our Community and get involved!