Last Updated on 07/22/2021 by Inside Tailgating
Just as important as what you serve at your tailgate is how you get it there. I mean, how are you going to have fun at your tailgate if you're all fired up because it was such a pain to lug things around? That's where we got the idea for October's Select 6. Whether you're hauling a cooler to the beach, loading up a tent and chairs to take to a friend's tailgate, or just taking young kids up the street for a neighborhood picnic, you need a solid tailgating wagon!
Michael Kean, our director of business development, has weighed in with his top six choices for best tailgating utility wagons. He breaks down all the options, from wide wheels to folding handles to cup holders, canopies, side tables and straps. Each of these wagons are collapsible for easy transport and storage. Check them out, mull them over, and let us know which one you love the most. You have until midnight Oct. 31 to vote on your favorite, and we'll announce the October Select 6 results shortly thereafter.
Tailgating Wagons: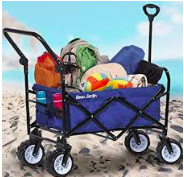 Beau Jardin Folding Push Wagon: This all-terrain wagon might be the most durable on the list, with a capacity to haul up to 300 pounds. It's also the most versatile, with an adjustable front push handle (in addition to the adjustable pull handle) and wheels you can move in and out based on the surface you're traversing. Four-inch wide wheels will work on the beach too. Its removable canvas liner provides easy cleaning.


GOPLUS Collapsible Folding Wagon with Canopy: First of all it comes in sporty colors like red and camouflage, and secondly, it has a "roof." It's like a Radio Flyer for the outdoor lifestyle. The shade can be used for toddlers, pets or the makings of a pregame meal you'd rather not see baked by the sun or soaked by rain. The GOPLUS also features a liner that's easily removed for cleaning, and its heavy-duty frame can hold up to 150 pounds.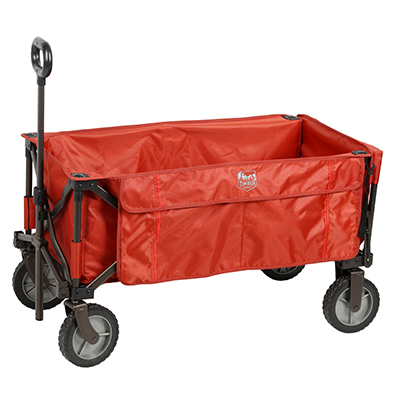 Timber Ridge Laburnum Tailgate Wagon: This is the most budget-friendly choice on the list but still durable too – made of 600D material – and can haul up to 180 pounds. It comes with a tailgate of its own (wink!) that you can lower to accommodate longer items like chairs and tent poles, and it has storage pockets on both sides.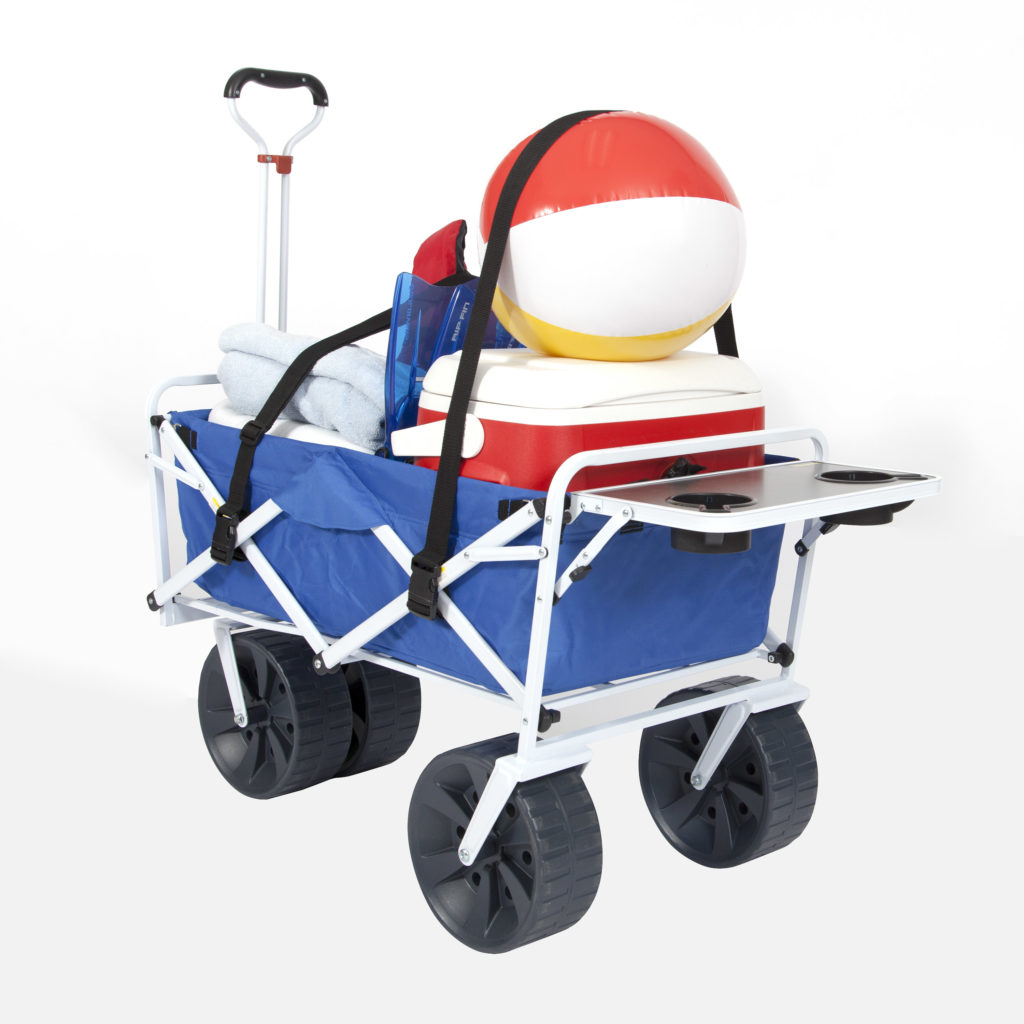 MAC Sports All-Terrain Wagon: This wagon primarily functions as a beach wagon, but why not take advantage at the tailgate too? It has a fold-up side table with two cup holders, all-terrain wheels for a smooth and durable ride, and might come in handy on unpaved lots, especially on bad weather days. Did I mention optional straps to help you keep all the important stuff secure?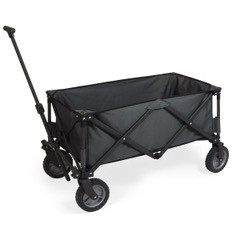 PICNIC TIME Oniva's Adventure Wagon: What you're getting is strength and durability, a wagon that's meant to take a beating over the course of multiple football or NASCAR seasons plus the trip to the beach, fourth of July and camping trip. The Adventure Wagon has all-terrain wheels, an adjustable handle and is made of 600D polyester with a powder coated steel frame. Pay $40 more and get an upgrade kit to add a liner and a tabletop which will convert the wagon into a cooler!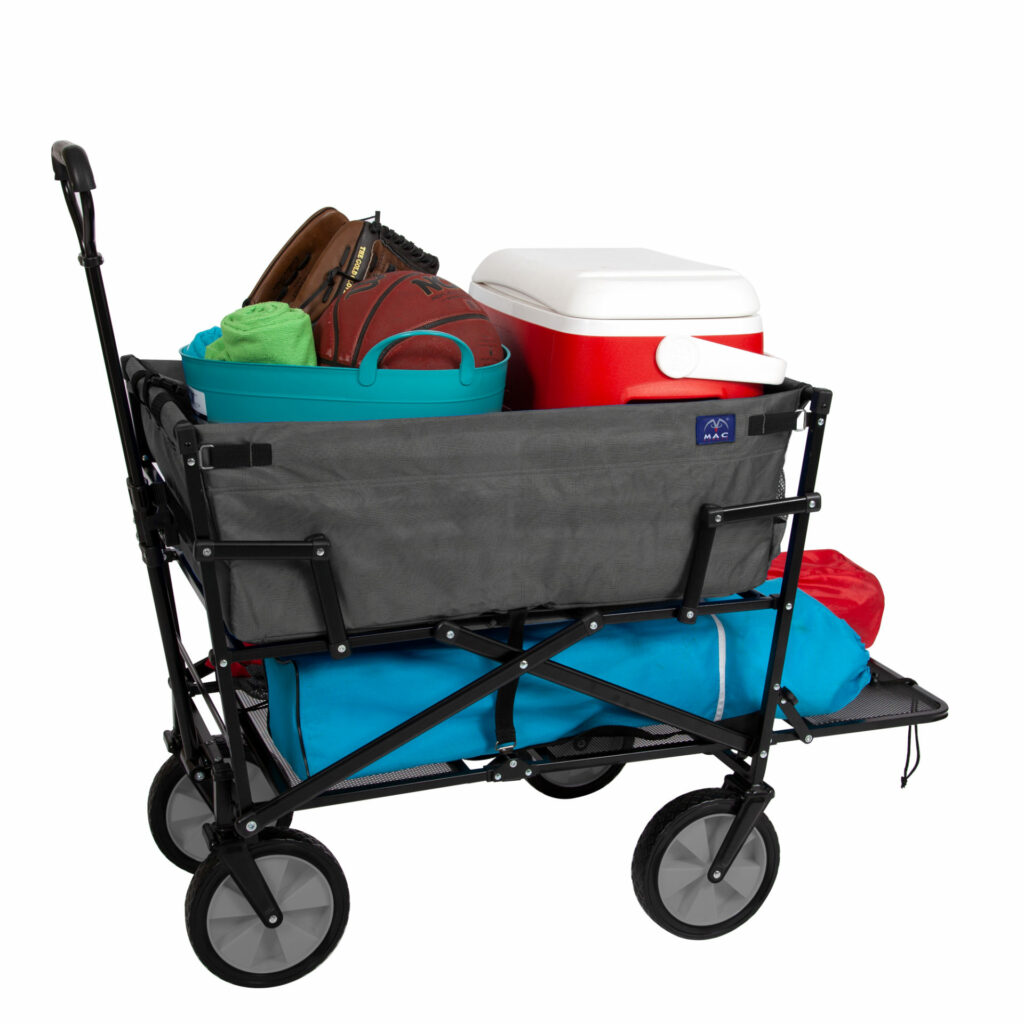 MAC Sports Double Decker Outdoor Utility Wagon: The "Double Decker" is like the grocery cart that gives you bonus space underneath for bulkier items. You can put the folded-up family tent, case of beer, or a bag of charcoal on the bottom deck, leaving the top canvas space for the cooler, seat cushions, bag of chips and sleepy toddler. Also working for the Double Decker are the adjustable handle, durable tires, twin mesh bottle holders, optional straps and heavy-duty steel frame.
Vote for your top pick now!
*VOTING IS CLOSED*