Last Updated on 04/14/2021 by Inside Tailgating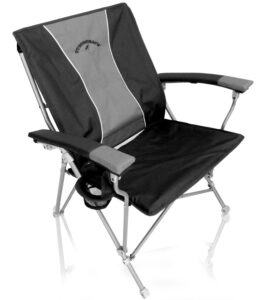 Nobody wants to stand around all day for a tailgate or a camping trip. Especially, when you keep eating and drinking the day away bonding with your friends. The more food and drink you stuff down your gullet, the more support your back needs, and the more you need to sit down. Also, if you are consuming your fair share of alcohol you may need to sit down and when you sit down you're going to want to park your kiester down in something extremely comfortable. The solution for all your back problems and sitting needs is called the Strongback Chair and it will bring you bliss when you sit.
The idea comes from inventor and fitness enthusiast Ladd Lougee who was sick of hurting his back going camping. He would sit on these camping chairs and they would do a lot of physical damage. He was stiff, he was sore, and he was motivated to bring about a new creation that would help the backs of campers and tailgaters worldwide. The Strongback chair creates a chair to sit in that provides great posture for the person sitting in the strongback. There is no pain when you come up from the chair and you can relax and be comfortable for the duration of your trip.
The chair costs $79.95 and is a chair that will stay with you for the rest of your life. The durability, the design, and the true comfort this chair brings will change your life and your posture for the better. To give the strong back a look check out www.strongbackchair.com