Last Updated on 01/05/2022 by Inside Tailgating
What kind of tailgating food do you serve at your tailgate or homegate parties? If your answer is burgers and hot dogs, then it is time to expand your menu! Ribs, brisket, and chicken are all amazing meats to grill, but one food that everyone loves is PIZZA! Yep, that's right; you can have pizza or similar items at your next event.
You could always order pizza, dips, and more from a local restaurant, but what's the fun in that. We've got some resources you can use to make delicious tailgating food that will knock guests' socks off. Is that what you're after? Good, then let's get started and make your tailgate or homegate a success.
Pizza At Your Tailgate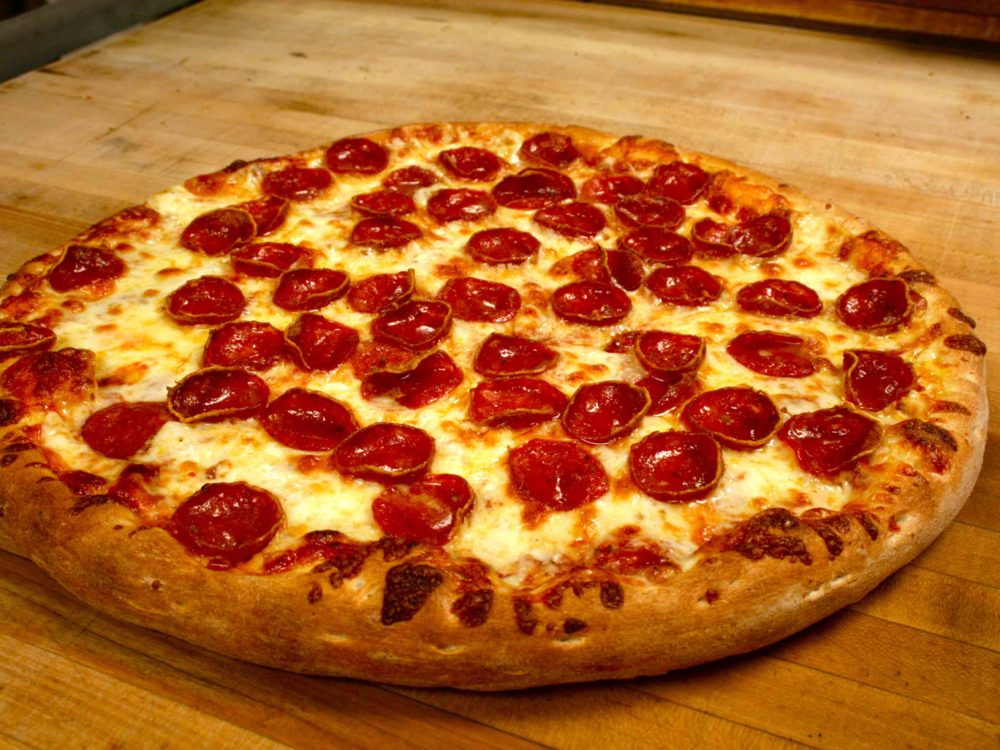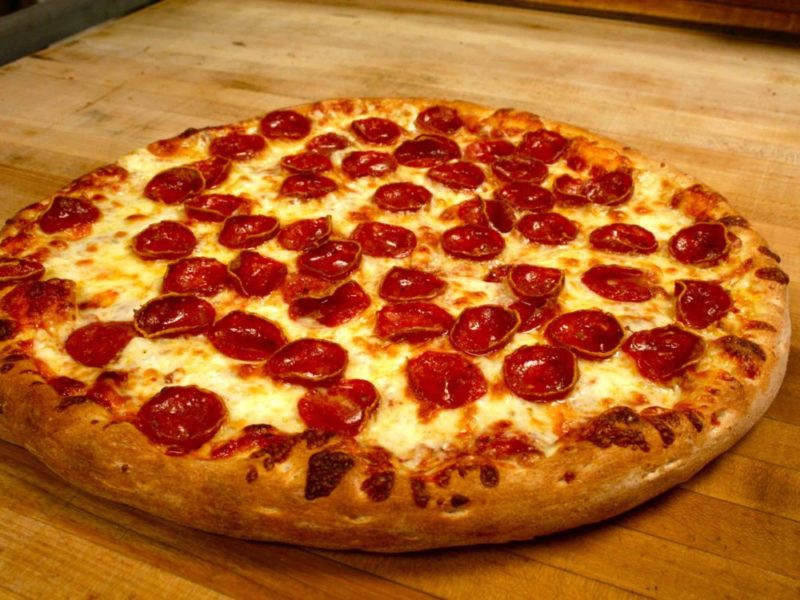 How does a pizza sound for your next tailgate? Sounds good to us.
And no we don't mean stopping by your local pizza joint and grabbing a large to go. Although that could certainly work in a pinch. Plus I could certainly see grabbing a Grimaldi's before a Brooklyn Nets game or a Lou Malnati's before a Chicago Bears game.
What we are talking about is a freshly made pizza right from your grill or portable oven.
Here are a few recipes:
Grilled Buffalo Chicken Pizza
Grilled Buffalo Chicken Pizza
Ingredients
1

12" Pizza Crust

4

Tbsp

Butter, melted

1/4

Cup

Hot Cayenne Pepper Sauce

2

Cups

Chicken, cooked and diced

1/2

Cup

Celery, chopped

1

Cup

Crumbled Blue Cheese

1

Tsp

Chives
Instructions
Preheat grill for 10 – 15 minutes on medium-high heat.

If you have a gas grill, turn off one of the burners. If you use charcoal, push charcoal to one side.

Brush a dash of olive oil (or melted butter) on each side of your pizza crust.

Place the crust on the side of the grill with the burner turned off or without the charcoal.

Grill the crust 2 – 4 minutes per side.

Add toppings and return to grill for 8 – 10 minutes.

Grill until the cheese is melted (if applicable) and the crust is golden.

Remove from heat, let cool for 2 minutes.
3-Cheese Sausage Pizza
3-Cheese Sausage Pizza
Ingredients
1

12" Pizza Crust

5

Oz

Pizza Sauce

1/2

Cup

Mozzarella

1/2

Cup

Asiago with Garlic

1/2

Cup

Sharp Cheddar

1

Cooked Sausage, hot or sweet, sliced

1/2

Cup

Baby Bella Mushrooms, sliced

1/2

Cup

Green Peppers, chopped
Instructions
Sauté mushrooms and green peppers.

Meanwhile, spread pizza sauce on crust.

Top with sliced sausage, sautéed mushrooms, and green peppers.

Layer the three cheeses and return to oven until cheese is just starting to brown.
Pizza Cupcakes
Pizza Cupcakes
Ingredients
Olive Oil

1

Raw Pizza Dough, cut into 12 triangles

2

Cups

Mozzarella Cheese, Shredded

1

Cup

Marinara Sauce

Crispy Cooked Bacon, Diced Ham, Diced Sausage, Diced Pineapple, Sautéed Vegetables (spinach, mushrooms, onions, etc.)
Instructions
Put the oven rack in the middle, and preheat the oven to 500 degrees.

Brush the inside of a cupcake tin with a thin film of olive oil using a silicone brush.

Separate the raw dough into 12 parts.

Roll out each part into a round disc, about 3″-4″. (If you don't have a rolling pin, use a can.)

Lay a disc in 6 of the cupcake spaces.

Fill each with a heaping spoonful of cheese, a spoonful of the marinara sauce and any toppings you're using.

Cover each cupcake with another disc of dough. Each pizza cupcake should have a top.

Fill the remaining 6 cupcake spaces with an inch of water (so the tin won't burn).

Bake at 500 degrees for 7-10 minutes or until top begins to brown.

Let them cool and then pry out each cupcake with a plastic knife or fork.
The Best Pepperoni Pizza Dip For March Madness
Do you not want the trouble of having to deal with pizza slices during your March Madness party? However, would you still like to have the delicious flavors of pizza present? If you answered yes, this recipe could be the perfect solution, so let's check it out.
Need an easy yet awesome recipe to throw together for you or the fam that's coming over to watch a game – or two, or eight? We are all about this pepperoni pizza dip recipe we found on Chowhound in a section dedicated to March Madness.
NCAA tournament bracket deadlines are rapidly approaching and March Madness viewing and hooky fests from work are in full swing. Pizza lovers rejoice because this ooey-gooey yumminess is sure to please your palate. Check it out and pass the breadsticks!!
PEPPERONI PIZZA DIP RECIPE
Pepperoni Pizza Dip
Ingredients
2 1/2

Cups

Shredded Mozzarella

2

Oz

Pepperoni Slices, quartered

8

Oz

Cream Cheese, cut into large pieces

7

Oz

Ricotta Cheese

1/4

Cup

Finely Grated Parmesan Cheese

2

Tbsp

Coarsely Chopped Oil-Packed Sun-Dried Tomatoes

1

Tsp

Salt

3/4

Tsp

Dried Oregano

1/2

Tsp

Red Pepper Flakes

1 1/2

Lbs

Toasted Ciabatta
Instructions
Heat the oven to 375°F and arrange a rack in the middle.

Place half of the mozzarella, half of the pepperoni, the cream cheese, ricotta, Parmesan, sun-dried tomatoes, salt, oregano, and red pepper flakes in a food processor fitted with the blade attachment. Process until smooth, about 45 seconds (there may still be a few small bits of pepperoni).

Transfer the mixture to a 9-inch pie plate and smooth the top. Evenly sprinkle with the remaining mozzarella and pepperoni.

Bake until the dip is heated through and bubbling around the edges and the cheese on top is melted, about 15 minutes. Serve immediately with the ciabatta bread, breadsticks, or garlic bread for dipping.
If you're the homegating host with the most we've got more tips, recipes & ideas to carry you through March Madness and beyond. Share your favorite recipes and tag us on social for a shout-out!
Stubb's Barbecue Chicken Pizza
Do you enjoy barbecued chicken? How about pizza? Is it a favorite tailgate food of yours? What about this, did you know that you can combine the two? It's true, and you can learn how right now.
Looking for something easy to prepare ahead for a tailgate that combines two of the greatest foods on the planet? Look no further than the latest recipe from our friends at Stubb's Barbecue. Here is their take on barbecue pizza, which not only looks fabulous, but not super overwhelming to prepare. Enjoy!
Stubb's Barbecue Chicken Pizza
Ingredients
2

Tsp

Olive Oil

1/2

Lb

Prepared Pizza Dough, room temperature

1/2

Cup

Stubb's Sweet Heat Bar-B-Q Sauce

18

Oz

Skinless, Boneless Chicken Breast, cut into strips

2/3

Cup

Grated Mozzarella Cheese

2/3

Cup

Grated Smoked Gouda Cheese

1/2

Red Onion, thinly sliced

Pepper
Instructions
Place the pizza dough on a parchment lined baking sheet. Brush the dough with olive oil and 1/4 cup Stubb's Sweet Heat Bar-B-Q Sauce. Season with pepper. Add a layer of mozzarella cheese, Gouda cheese, chicken strips, and sliced red onion. Once the toppings have been placed, drizzle the remaining Stubb's Sweet Heat Bar-B-Q Sauce over top of the pizza.

Bake according the pizza dough's instructions, or for 20-25 minutes.
BBQ CHICKEN MAC' N' CHEESE PIZZA
With college hoops nearing March Madness, below is one of our favorite round grilling recipes. The great thing about it is that you can go all out and make some of the ingredients from scratch, or do a quicker version with ready prepared shortcuts.
This recipe will make six 8-inch pizzas or five 10-inch pizzas. Enjoy!
BBQ Chicken Mac 'n' Cheese Pizza
Ingredients
Mac N Cheese

Pizza Dough

3

Grilled Chicken Breasts, shredded

Barbecue Sauce

Tomato Sauce (optional)

Shredded Cheese
Instructions
Prepare Pizza Dough ahead of time to allow the dough to proof. You can also do a quicker version by using pita bread or flat bread for crust.

Prepare desired Mac 'n' Cheese. Though many make macaroni more crusty on top, the better option for this pizza is a cheesier, less crusty version.

Prepare chicken: You can either grill or bake the chicken breast, whichever you prefer. After chicken is cooked and cooled enough to handle, add chicken to a mixing bowl and shred. Add barbecue sauce and tomato sauce to taste. Stir.

Grill top side of pizza crust, or the pita or flat bread.

Arrange shredded BBQ chicken and a layer of Mac 'n' Cheese on the grilled side of the crust.

Fill a plastic bag with BBQ sauce and snip the tip. Drizzle a bit more BBQ sauce on top of the macaroni. Or if you prefer, spoon it on top instead.

Top with a little more shredded cheese, if desired, and grill over medium to medium-high heat until cheese is melted and toppings are heated through.
Portable Oven And Pizza Maker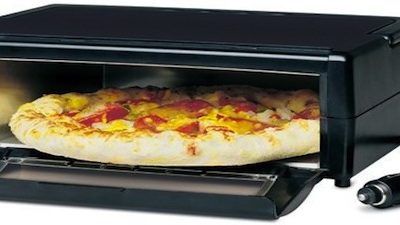 If you don't own a pizza oven, then it is time for an upgrade! It will cook this recipe and other tailgating food right up in a jiffy. So, without further ado, here's the RoadPro Portable Oven and Pizza Maker.
Ask the majority of people in this country to name their five favorite foods, and pizza will make nearly all of the lists. Whether it's plain cheese, pepperoni, vegetarian, or meat lovers that you crave, pizza satisfies all the lactose tolerant among us. However, the sight of pizza at a tailgate is an all too uncommon occurrence. But for the pizza lovers among us, or for the laziest of folks that don't want to set up a grill, we present the RoadPro Portable Oven and Pizza Maker.
This functions as most toaster ovens but contains a plug that connects directly into the lighter in your car, as well as any 12-volt socket you can find. It boasts dual heating elements to cook or warm your food from up top and from below and is the perfect companion for those wanting flat, hot food, such as pizza and sandwiches.
This contraption isn't very big, measuring 10.9″ x 7.9″ x 4.6," so don't expect to throw a pizza party for a dozen people with this device. However, the 3.7-pound weight and folding carry handle makes it easy enough for anybody to lug around, no matter how many frosty beverages they've already enjoyed. And for those long car rides and/or game-day traffic jams, the portable oven can allow you to eat warm food while driving, without the shame of driving through at McDonald's.
For more information, connect to RoadPro On the Go.com.
Armed with all this information, you're now prepared to host a tailgate pizza party. Go forth and make us proud while satisfying your hunger and that of your guests. Let us know which recipe is your favorite. If you have a recipe you want us to try, give us a shout out on our social media channels – Facebook, Twitter, or Instagram.