Last Updated on 01/05/2022 by Inside Tailgating
They always say that golf is really a mental game. Once you have your form down, it's really you versus yourself when you're on the links. When it comes to getting into "the zone", it really takes letting go and staying present. This helps you achieve optimal performance. The greatest golfers in the world live in the zone. Now a good cocktail doesn't actually get you into the zone. However, they are one of the perfect golf tailgating ideas to help you relax, unwind, and watch the PGA tour. So in honor of the pros in the zone on the PGA tour, we've put together a list of our favorite golf-themed cocktails. Grab your bartending tools and let's get started!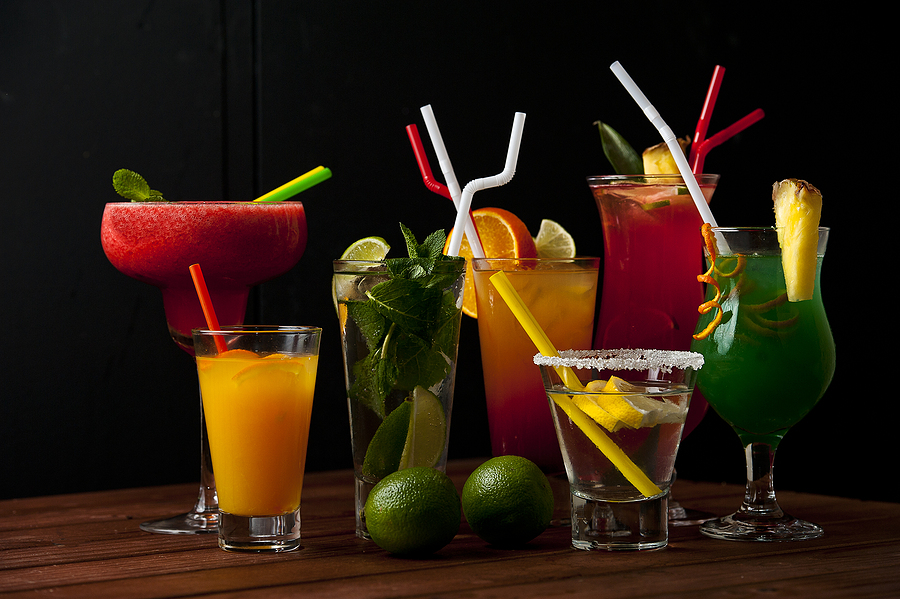 1. Transfusion
The Transfusion is also known as "Golf's greatest cocktail." It's served at most tournaments and is a staple cocktail at Augusta National.
Transfusion
Ingredients
2

Oz

Vodka

1/2

Oz

Ginger Syrup

1/2

Oz

Lime Juice, freshly squeezed

2

Oz

Club Soda, chilled

Concord Grape Juice Ice Cubes

Garnish: Concord Grapes

Garnish: Crystallized Sugar
Instructions
Add the vodka, ginger syrup and lime juice into a shaker with ice and shake until well-chilled.

Strain into a rocks glass over Concord grape juice ice cubes.

Garnish with Concord grapes and a piece of crystallized ginger.

*Concord grape juice ice cubes: Ahead of time, fill an ice cube tray with Concord grape juice and place in the freezer for several hours until frozen.
The transfusion is a perfect summer drink. It's light and refreshing. It's perfect to sip at a tournament along the 9th hole or just at home watching the match. Vodka, ginger, lime juice, and soda make up the base of the cocktail, but you can add concord grape ice cubes to make it really authentic.
2. The Birdie
Named after the sought after golf score, the Birdie cocktail is great for summer.
Birdie
Ingredients
50

ml

Gin

15

ml

St. Germain

20

ml

Lime Juice

10

ml

Sugar Syrup

Fresh Mint Leaves
Instructions
Throw all ingredients in shaker with ice.

Shake furiously for 10 seconds.

Follow by a double strain into a martini glass.
It's a blend of citrus flavors like orange and pineapple mixed with rum and grenadine. Shake in a cocktail maker with ice and enjoy. It's a cocktail for people who like something a little sweeter. Sweet like getting a birdie on a tough hole.
3. The Eagle
If you make a birdie on a hole, that's always exciting. However, if you make an eagle, then you're really playing in the zone.
Eagle
Ingredients
10

ml

Egg White

10

ml

Lemon Juice

45

ml

Gin

10

ml

Violet Liqueur
Instructions
Fill a shaker with ice cubes. Add all ingredients. Shake and strain into a cocktail glass.
This cocktail is definitely not for everyone. It has an unusual combination of egg white and Creme de Violette in it. However, not everyone can make an eagle either. It's easy to make, simply add the ingredients to a cocktail shaker filled with ice and serve. If you want, you can also add a cherry for the garnish.
4. The Bobby Jones
Bobby Jones was one of the most important figures in golf history. He helped design the Augusta National Golf Club and was one of the original founders of the Master Tournament. Though he himself never became a professional golfer, he was one of the most successful amateur golfers to ever play.
Bobby Jones Cocktail
Ingredients
3

Parts

Brandy

1

Part

Creme de cacao (dark

1/2

Tsp

Grenadine

5

Ice Cubes

Lemon Juice
Instructions
Put the ice cubes into a cocktail shaker. Pour in the lemon juice, grenadine, crème de cacao and brandy and shake. Strain into a tumbler.
The Bobby Jones is his signature cocktail and his favorite for on the course. It's a delicious blend of brandy, Creme de Cacoa, and grenadine. You can also learn more about Bobby Jones and his legacy in this great profile from Today's Golfer.
5. The Tiger Woods
We all know that Tiger Woods is one of the greatest living golfers. He helped inspire an entire generation to hit the links. Tiger is still a fun golfer to watch. Many say his best days are behind him, but we have to disagree. At his level of talent, you never know what he'll do next. In the meantime, we can celebrate his legacy with a Tiger Woods cocktail.
Tiger Woods Cocktail
Ingredients
1

Oz

Vodka

2

Oz

Lemon Juice

2

Oz

Cranberry Juice
Instructions
Fill a highball glass with ice, add the vodka, lemon juice and cranberry juice.

Garnish with a lemon wedge and serve.
This cocktail is super easy and is just a delicious combination of vodka, cranberry, and lemon juice. Tart and sweet, perfect for a hot summer day.
6. John Daly
Another golfer that never fails to entertain on the PGA tour is John Daly.
John Daly
Ingredients
1 1/2

Oz

Vodka

2

Oz

Lemonade

2

Oz

Iced Tea

Lemon Wheel Garnish
Instructions
He may be known for having the most colorful outfits on the tour, but he's also known for his impressive driving distance. The man has one of the longest swings on the tour. The Jon Daly cocktail is not as flamboyant as he is, but it is essentially a boozy Arnold Palmer which when you think about it makes a lot of sense. John Daly is skilled like Arnold Palmer but with a little spice. We love this cocktail, it's a perfect sipping drink for the PGA tour.
7. Arnold Palmer
Speaking of golf cocktails. No golf drink menu would be complete without an Arnold Palmer. Arnold Palmers are just a half and half blend of lemonade and iced tea. You can serve it with a lemon wedge over ice for a refreshing drink. This is perfect for the days where you want to unwind with a cocktail, but don't want the alcohol. If you don't feel like making your own, Arizona Tea has Arnold Palmers available in cans. You can order them here. They even have a picture of this golf legend on them!
8. Par 4 Cocktail
Par 4 is the most common par rating for golf courses. So it is only fitting there's a Par 4 cocktail.
Par 4
Ingredients
1/2

Oz

Amaretto Almond Liqueur

1/2

Oz

Sweet and Sour Mix

1/2

Oz

Southern Comfort Peach Liqueur

1/2

Oz

Sprite
Instructions
Pour all ingredients into a cocktail shaker filled with ice. Shake, strain into a 2-oz shot glass, and serve.
This cocktail has flavors from the South and uses peach Southern Comfort, amaretto, sweet and sour mix, and sprite. It's an unusual blend that absolutely nails it.
9. Golf Course Signature Drinks
While we were hunting around for great golf-themed cocktails, we came across this brilliant list from Links magazine. In it they feature nine of the signature cocktails from golf courses around the world. Imagine making the signature cocktail of each golf club when the tournament is playing. We think this could be one of the most fun golf tailgating ideas. We can't wait to try all of these ourselves.
Our Garden Pointe of View
Ingredients
4

Basil Leaves

1.5

Oz

Broker's Gin

3/4

Oz

Fresh Lime

1.5

Oz

Simple Syrup

2

Oz

Piper Sonoma Sparkling Wine
Instructions
Muddle basil leaves with lime juice, simple syrup, and gin.

Add ice and sparkling wine.

Double strain while pouring into martini glass.

Garnish with fresh basil leaf.
Blue Monster
Ingredients
Ice Sphere
6

Oz

Water

2

Oz

Blue Curacao Liqueur

2

Oz

Lime Juice
Drink
2

Oz

Absolut Raspberry

1

Oz

Absolut Citron

Lemon Wheel
Instructions
Ice Sphere
Fill an ice-ball mold with the water, lime juice, and Blue Curacao, and let freeze for 48 hours.

Remove the sphere, and place on a towel for about 10 minutes or until it turns from dull to clear.
Drink
Place ice sphere in a short glass. Pour mix of vodkas over the ice. Garnish with lemon wheel.
Desert Heat
Ingredients
2

Oz

Patron Silver Tequila

1

Oz

Lime Juice

3/4

Oz

Agave Nectar

1

Slice

Jalapeno

3

Slices

Cucumber
Instructions
Muddle cucumbers, jalapeno, lime juice, and agave nectar.

Double strain over ice into a lowball glass.

Garnish with slice of cucumber and jalapeno.
Daisy Chain
Ingredients
2

Oz

Haig Club Whisky

1/2

Oz

Lemon Juice

1/3

Oz

Honey Water

2/3

Oz

Cold-Infused Chamomile Tea

2/3

Oz

Egg White

2

Drops

Ginger Bitters
Instructions
Pour the whisky, lemon juice, honey water, chamomile tea, egg white, and bitters into a cocktail shaker.

Shake and then strain finely into a rounded coupette glass.

Garnish, if desired, with aromatic chamomile sugar.
Bay Harbor Old Fashioned
Ingredients
1

Orange Wheel

1

Cherry

1

Sugar Cube

2

Oz

Captain Morgan Private Stock Rum

1

Tsp

Blood Orange Bitters

1/2

Oz

Soda Water
Instructions
Drop the sugar cube in an Old Fashioned glass.

Douse it with the bitters and soda water.

Add Ice and garnish with orange and cherry.
Carrot 43 Martini
Ingredients
1 1/4

Oz

Hendrick's Gin

3/4

Oz

Cointreau

1

Oz

Fresh Orange Juice

1/2

Oz

Fresh Carrot Juice

1/2

Oz

Fresh Lemon Juice

1/2

Oz

Simple Syrup
Instructions
Shake and strain into a martini glass.

Garnish with a slice of fresh cucumber.
Makai Tai
Ingredients
1

Oz

Pau Maui Vodka

1

Oz

Kraken Rum

1/2

Oz

Pineapple Juice

1/2

Oz

Orange Juice

1/2

Oz

Lime Juice

1/2

Oz

Orgeat Syrup
Instructions
Stir ingredients together and garnish with a pineapple slice, lime wedge, and cherry.
Ginger Glow
Ingredients
2

Oz

Firefly Sweet Tea Vodka

Goslings Ginger Beer
Instructions
Pour the vodka into a lowball glass filled with ice.

Top off with ginger beer.

Garnish with a lemon twist and candied ginger.
Wild Rose Lemonade
Ingredients
2

Oz

Plymouth Gin

1.5

Oz

Fresh-Squeezed Lemon Juice

3/4

Oz

Simple Syrup

1

Oz

Rosehip Syrup
Instructions
Shake ingredients with ice, pour over fresh ice in a tall cocktail glass.
Making golf-themed cocktails is one of our favorite tailgating ideas for the PGA tour. For more tailgating ideas and cocktail recipes, be sure to sign up for our newsletter and follow us on Facebook, Twitter, and Instagram.
We share tips, techniques, and great tailgating ideas for what to drink at your next party. Let us know in the comments your favorite golf-themed drinks. We'd love to try them out ourselves at the next match!