Last Updated on 08/18/2021 by Inside Tailgating
The football season is down to one game, the Super Bowl. This time of year can be a little depressing for we tailgating types. But wait, there's some good news coming out of Orlando, Fla. that can make all of us feel a little better. The University of Central Florida has announced it's going to host tailgating events for basketball games this winter, and not just football.
The school announced four dates, including three coming up in February, when it would open up its "Memory Mall" for students and fans with tickets to that day's game.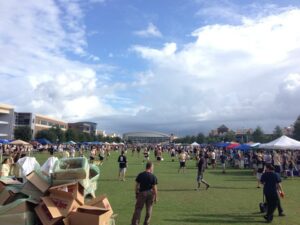 Pointing out that they are lucky to have good weather, Central Florida athletics director Danny White told the UCF student paper, "This is going to give our fans a unique experience that can be found very few places, if any, throughout the collegiate basketball landscape."
Really, though, it's been mild this winter through much of the Southeast, so we think other schools should follow their lead. Why should college basketball tailgating be left to some Cameron crazies roasting marshmallows outside their tents at "Krzyzewskiville," waiting weeks for the North Carolina game? Bravo, UCF!