I think it's the dream of all hardcore tailgating pros to one day invest in a tailgating RV. Having an RV is like having your home with you. So you can really do a lot to make a tailgate party really special. If you're dreaming of an RV, as always the tailgating pros at Inside Tailgating have you covered. Here is everything you should know about selecting a tailgating RV, some RV model recommendations, and some tips for RV tailgating. Let's get started!
RVs Features To Consider
Before you start shopping it's a good idea to know what features to look for when purchasing an RV. Obviously, you want to investigate all the standards you would when purchasing any vehicle. Check out the tires, the engine, the gas mileage, and so on. Out the gate you will want some really basic features:
A toilet and sink to help you avoid the long lines at the deeply unpleasant port-a-potties
A large water tank and generator so that you can "boondock" without hookups and still enjoy all your amenities
Heat for the winter and air conditioning for the summer
Plenty of seating for you and all your friends to enjoy
Storage to bridge your tailgating chairs, grills, coolers, and other accessories
The basic features aside, here are some fun features to consider:
A full outdoor kitchen with appliances and cookware to make your famous tailgating dishes
An outdoor roll up awning that you can sit under to enjoy the shade while tailgating
A toy hauler with drop down garage that you can set up as a porch
An external TV to watch the pregame commentary or highlights reels
A good sound system to help you play music and greet guests with the fight song
Externally accessible outlets to help you plug in all your tailgating gear
Another thing to consider is the size of the RV. Make sure that it meets the requirements of your stadium. Also take some time to learn about all their rules and regulations concerning RVs. In some stadiums, RVs have special parking areas and size requirements, while others you can just show up at the lot and party.
Types Of RVs For Tailgating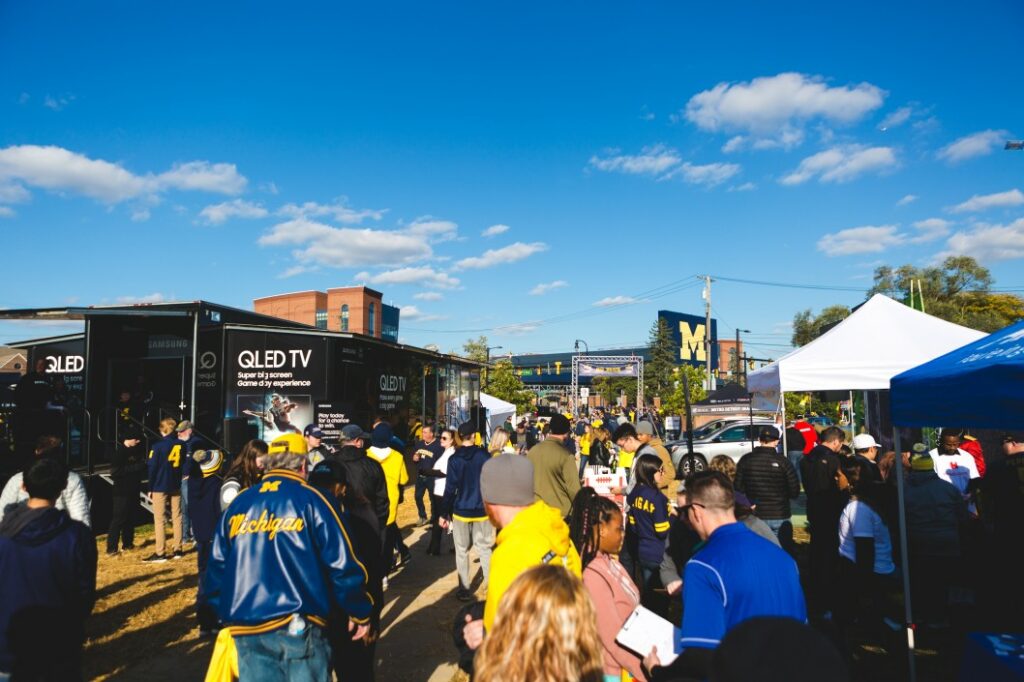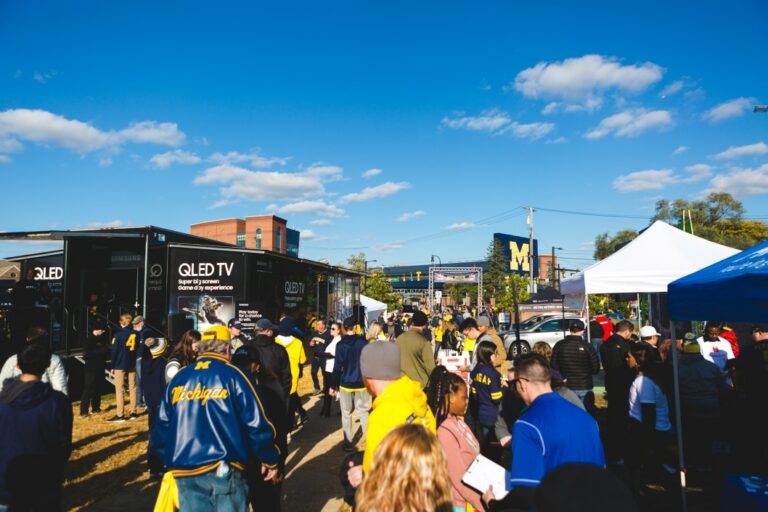 RVs are broken down into two categories. The first are motorhomes. Motorhomes are defined as such because they are built on a motor and do not require another vehicle. Motorhomes come in three basic classes:
Class A: Class A are usually very similar to large buses. They sometimes require special licensing depending on the state and the length.
Class B: Class Bs are camper vans. They are compact and the size of a standard cargo or passenger van, but still have all the basic amenities.
Class C: Class C falls in size between Class A and Class B vehicles and usually have an overhead cab for storage or sleeping.
The next category are trailers. Trailers range in size from small pod trailers that weigh less than 3,000 lbs and can be towed by your existing vehicle. Then there are fifth wheel trailers that are attached to truck beds for hauling. There are also travel trailers that are pretty standard in size and are towed by any vehicle with the right towing capacity. Whether you chose a motorhome or a trailer depends entirely on your own personal desires. Just make sure to check out all the differences before shopping. Thor has a great guide for these.
RVs To Check Out
When you are ready to start shopping here are some of the RV models that are really popular with tailgaters.
Any of these would make a great tailgating RV, but what about taking it to the next level?
How Up Your Tailgating RV Game
We've all seen them, the dream tailgating vehicles owned by tailgating pros. The exterior is covered in our favorite team logo and the interior is done beautifully in the team colors. Most of these are made by dedicated fans with impressive skill sets. However, you don't have the tools or the skills to have a custom team vehicle. There are a few companies that specialize in building out custom tailgating vehicles. They will take whatever dream you have and make it a reality. If you just want the exterior to showcase your team spirit, you can also just have your RV wrapped.
What To Bring When RVing A Tailgate Party
If you already have a motorhome that you are looking to convert or are finally pulling the trigger on your dream, you'll need to know what to pack. Here is a really helpful guide from some tailgating pros over at KOA. Other than that, one of the coolest things about having an RV is you can pick up all your friends and roll to the tailgate together.
We love tailgating with an RV because it helps take the party to the next level. For more tips on tailgating RV from the tailgating pros, be sure to follow us on Facebook, Twitter, Instagram and check out our Amazon Storefront. We are always on the hunt for new and fun ways to level up your tailgating party.