Last Updated on 01/05/2022 by Inside Tailgating
Get all the Texas Motor Speedway tailgating tips and our Insider's Guide, plus highlights from the NASCAR All- Star Race in Fort Worth, TX.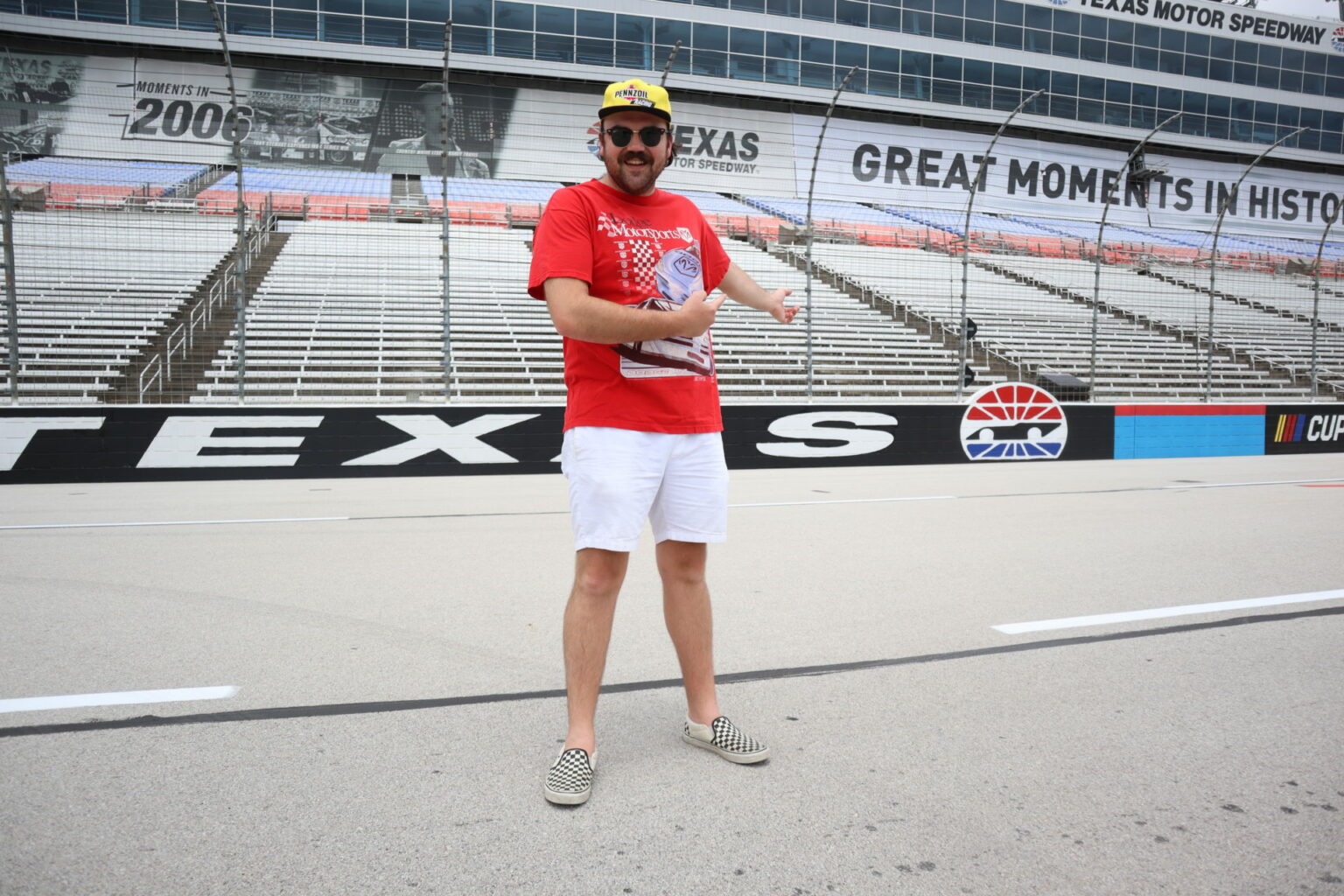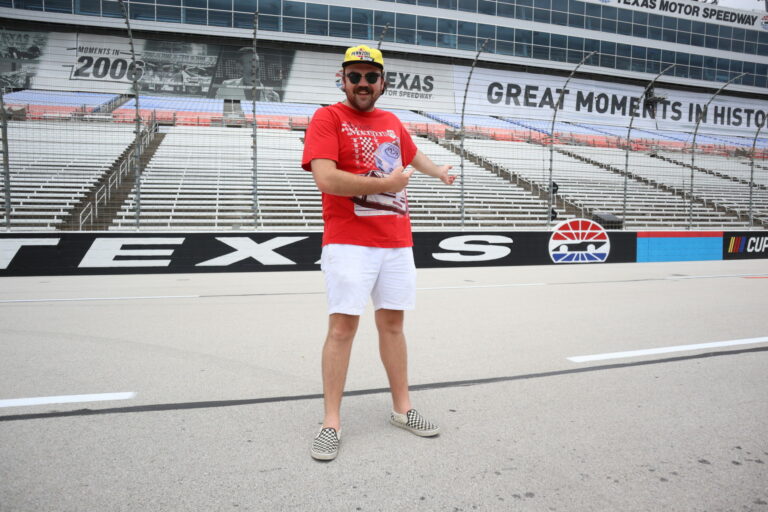 Dubbed the 10 Days of Speed, the NASCAR 2021 All-Star Weekend involves partying all night in campgrounds, visiting stacked car shows, attending informative Q&As with top NASCAR racers, going back to the garage to check out some hot rides, and of course, watching the race from the best vantage point, the infield, with a cold beer on hand. The Garage Guys Chase and Dale were in the middle of it all!
Click either image below to jump directly to the highlights or tips video. Read on as we break it all down for you!
Inside Tailgating Weekend Wrap-Up: NASCAR All-Star Race 2021
After an undeniably great weekend at the Indy 500 in Indianapolis, IN, Garage Guys Chase Holden and Dale Tanhardt head down South to Texas Motor Speedway for the 2021 NASCAR All-Star Race!
The Race Ain't Everything
Admittedly, the 2021 NASCAR All-Star Race is the best thing during the weekend. It saw Kyle Larson collect a million-dollar check after leaving everyone in the dust in a six-stage format. But it ain't everything. The Garage Guys staked out a prime spot camping in the infield and were in it for the long haul.
The weekend started with a cool car show followed by a Q&A panel with racing all-star brothers and Cup Series Champions, Terry and Bobby Labonte. Then, in the evening, the camping grounds around Texas Motor Speedway were packed with busses, trucks, and everything that spells P-A-R-T-Y.
Sponsored by, Duke Cannon Supply Co. and the American Cornhole League, the RV and tailgate setup continues to impress and, the Garage Guys were one of the hottest tailgates during the weekend. Sheldon Creed, the 2020 NASCAR Camping World Truck Series Champion, and his girlfriend joined in the infield tailgating fun, stopping by to play some cornhole and enjoy the action. But that did not stop our guys from going to tailgate upon tailgate and even inside a party bus for some drinks, a few songs, and a couple of sweet dance moves.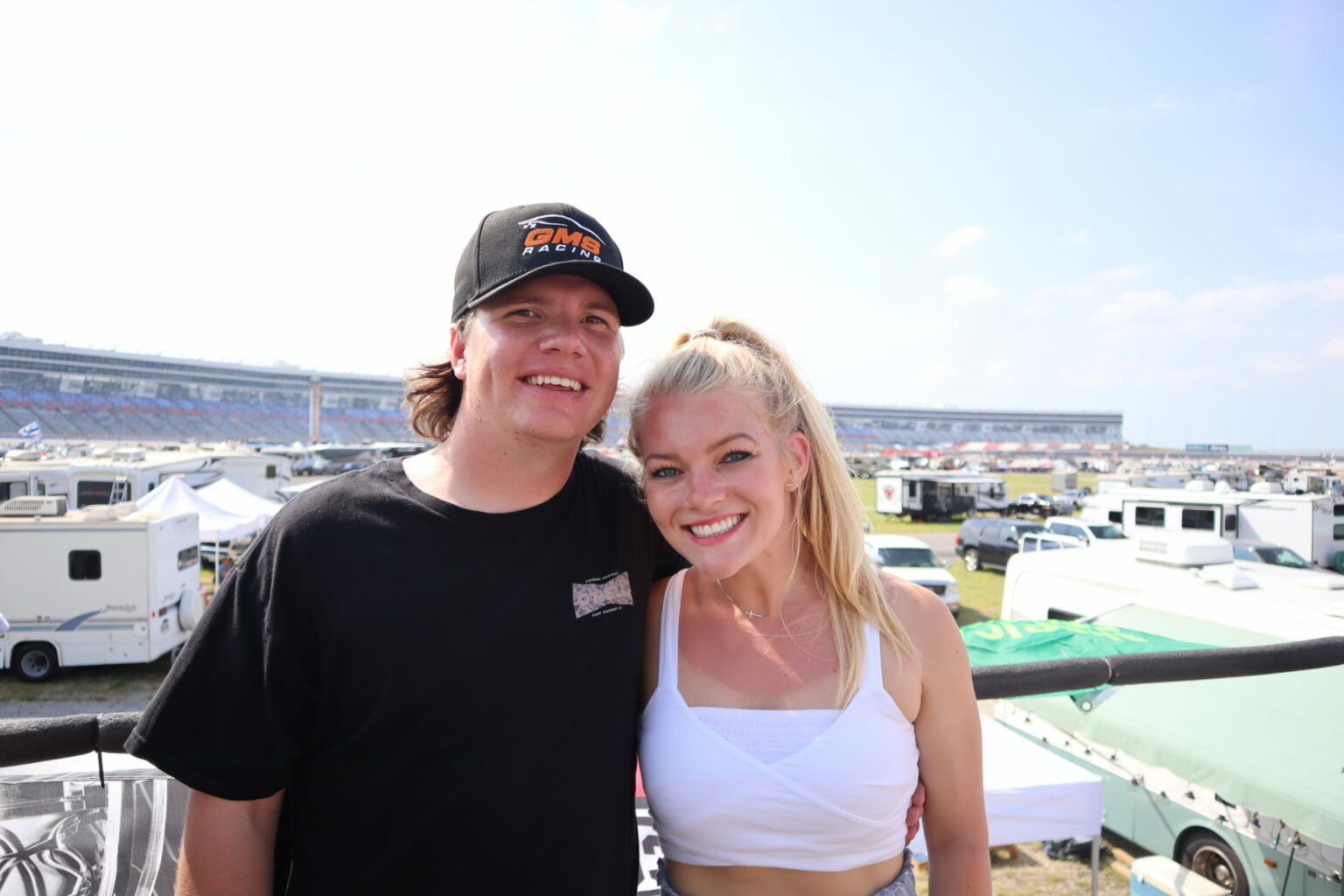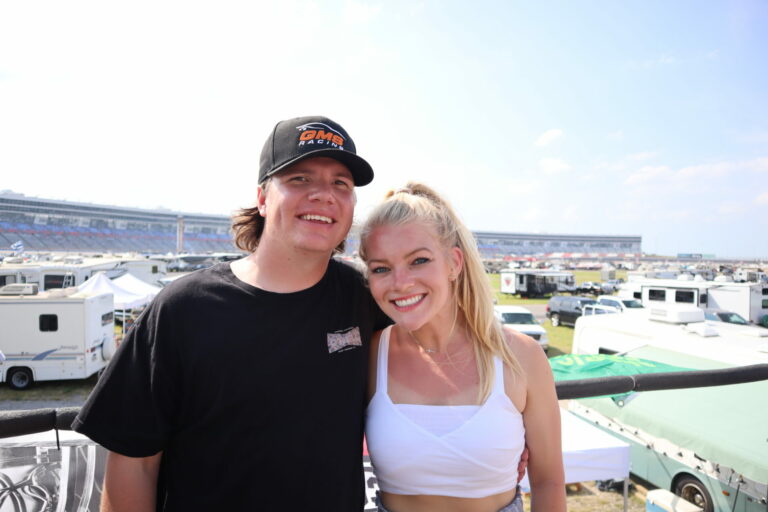 Texas Motor Speedway Tailgating Highlights
Dale's 7 Top Tailgating Tips for Texas Motor Speedway
Looking for tips for your next tailgate or homegate? Visiting the Texas Motor Speedway for the next race? Garage Guy Dale Tanhardt breaks down his specific Texas Motor Speedway tailgating tips for you below. So grab a pen and a cold can of your favorite brew, and let's get down to some solid tailgating tips from these NASCAR experts. Because you know you want tips from this guy! 👉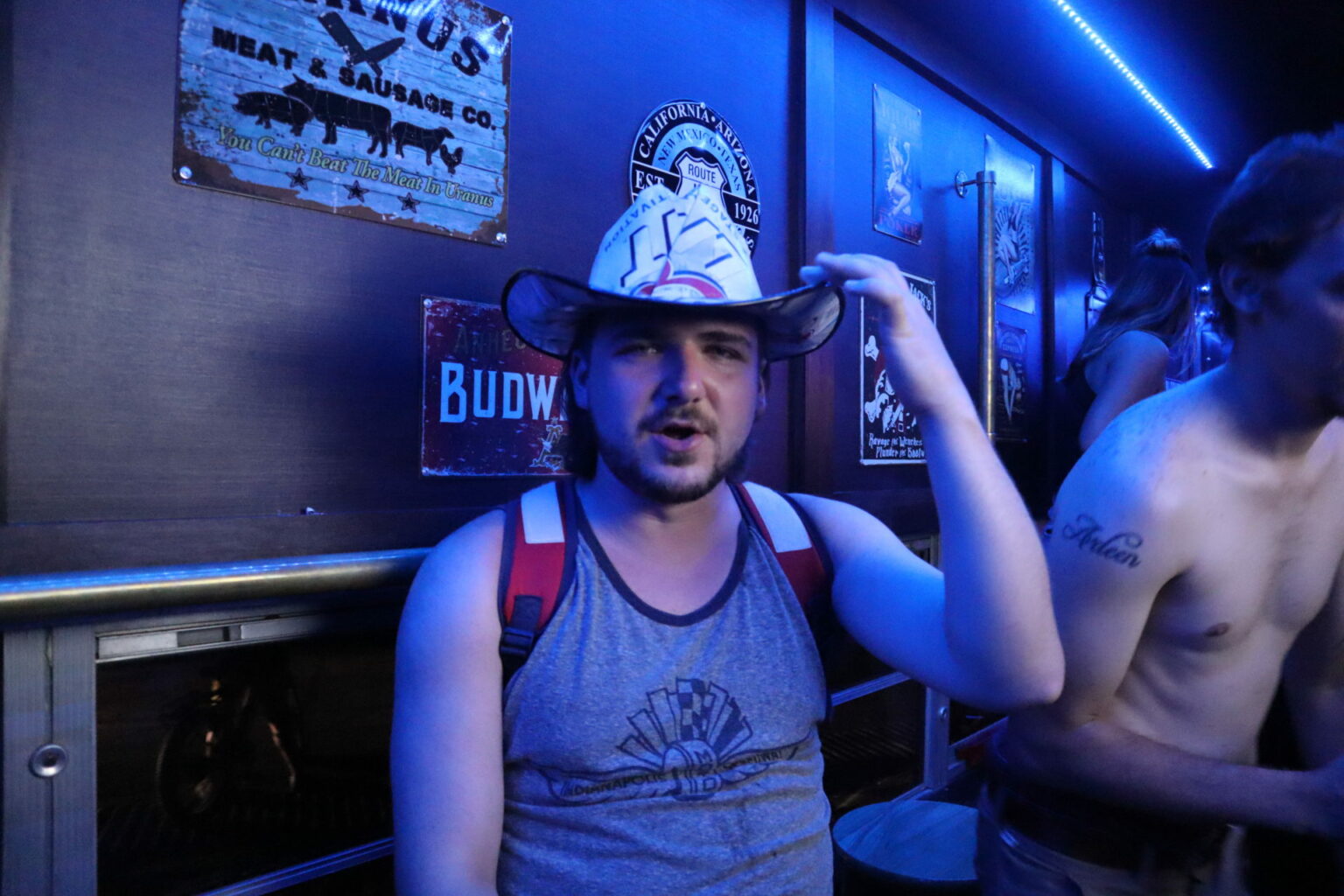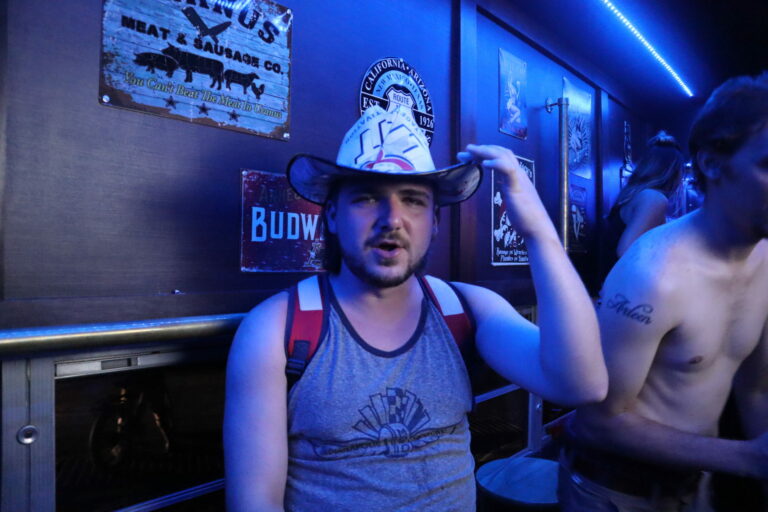 1. Meet your neighbors.
Tailgating is, first and foremost, a social event. Make sure you talk to the other groups tailgating near you. If you're in Texas, then you're in the company of some of the warmest and welcoming people. If you do it right, your first tailgate will surely be the first of many.
2. Pace yourself.
As NASCAR World Truck Series Champion Sheldon Creed says, "It's a marathon, not a sprint." Tailgating lasts for days. You will usually be in the campgrounds all weekend. That's a lot of partying and drinking, so you will have to learn to control yourself and drink responsibly, of course.
3. Clean your spatulas.
You might miss this with all of the activity going on, but you got to keep things clean. Spatulas, tongs, your grill, and the other utensils you use to prepare your food should be maintained spick and span or else, the only ones you'll be seeing in your tailgate are ugly, dirty flies.
4. Stock up.
Speaking of utensils, you don't want to spend half a day and find out your short on burgers, or ribs, or ice, or anything. Stopover a reliable one-stop-shop and get everything that you need.
5. Enjoy the food.
We know that drinks are great, but whenever you visit a new place you've never been to, try their cuisine. Who knows, it might be one of the best you'd ever tasted.
6. Embrace the music.
And no, we're not just talking about karaoke. You can also explore the city's musical heritage. Watch their up-and-coming artists. You might be listening to the country's next singing sensation!
7. Prepare for the weather.
Anticipate the heat or the cold in a place and pack appropriately. Bring sunscreen for Texas and an umbrella everywhere else.
Now you know what to do. Get tailgating!
Texas Motor Speedway Tailgating Tips
NEXT STOP
Follow the Garage Guys on their next stop, at ALLY 400, Nashville Superspeedway, Nashville, TN.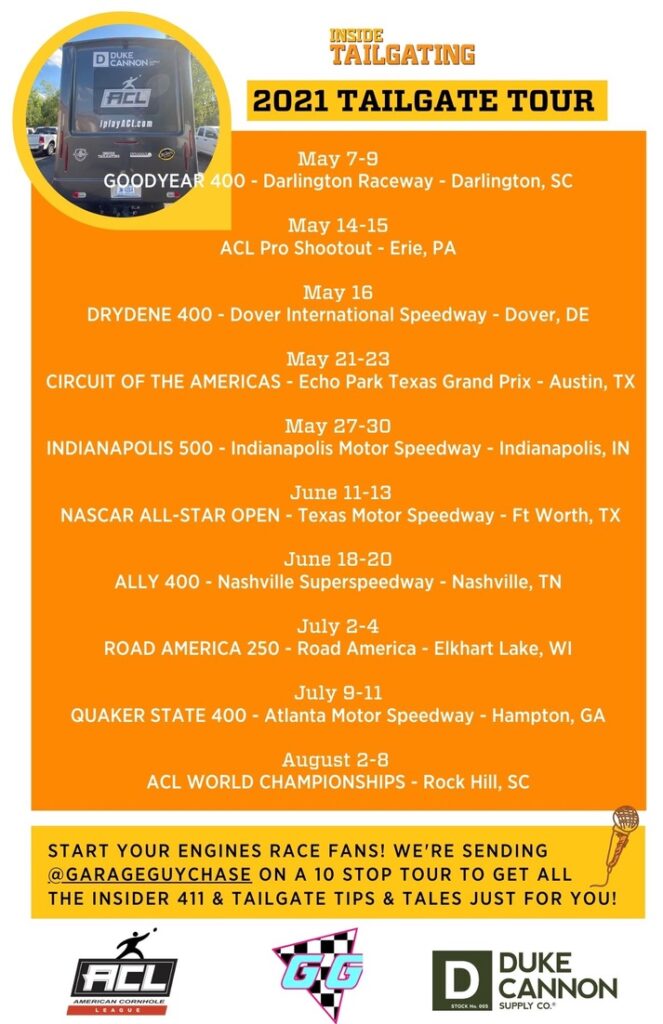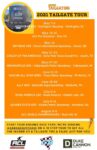 Special thanks to the American Cornhole League and Duke Cannon for their sponsorship of our 2021 NASCAR Tailgate Tour. Share your Dover tailgate experiences with us below and like, follow, tag us on your social tailgating posts for shout-outs. Don't forget to subscribe to our YouTube channel and email newsletter so you stay up to speed on all the tailgating insider info!