Last Updated on 04/14/2021 by Inside Tailgating
At Wrestlemania V in Atlantic City, NJ two of the biggest Icons in professional wrestling stood across the ring from one another in an epic battle to decide who the better man was. On one side of the red white and blue Ropes you had: the Slim Jim eating, Raspy voiced talking, Elbow drop throwing, Electric Cowboy, Macho Man Randy Savage. And on the other side of the ring was the shirt ripping, leg dropping, real American with 24 inch pythons Hulk Hogan. At the end of the night when the bell rung Hulk Hogan's hand was raised but a question must be asked about a rematch between the two of them in a different arena. The Tailgating Arena! So I propose a question to you loyal Inside Tailgating readers. If these two were to be appearing together at Mean Gene's Burgers in Florida during their heyday who would you rather tailgate with The Macho Man or The Hulkster? I will be grading this battle based on
Appearance
Contribution
Enjoyablity
Since I think I want to, I'm gonna add another bonus category just for the hell of it.
Both were heroes to the wrestling fan faithful and are still imitated today. I can't tell you the number of costumes I saw of them for Halloween. They are legends and will live on forever in pop culture and in 80s folklore. So who will it be?
Let's break down the categories:
Appearance: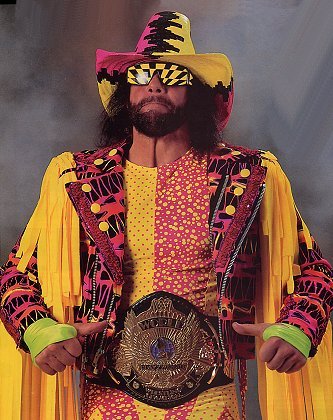 Though both were very unique in the look department, Randy Savage definitely wins in this battle. With the Electric Cowboy look complete with cowboy hat, sunglasses, and tassels, it is way more unique than Hulk Hogan's Red and Yellow garb. Anybody can rip their shirt down the middle, but who could walk down the street dressed up like Macho Man Randy Savage. I've seen many people without their shirts on at a tailgate but I'd like to see someone pull off a solid Macho Man outfit. The man cultivated a look and wins this category hand down. Macho Man 3.7 Hulk 3.3
Winner: Macho Man Randy Savage
Contribution: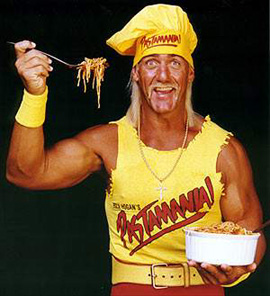 Both are unforgettable personalities, but Hulk Hogan is an icon and Randy Savage is a legend. Hulk Hogan changed with the times and evolved his character as he went on with his career. From 80s superhero Hulk Hogan, to nWo Hulk Hogan, to Legends Run Hulk Hogan, he switched it up and kept it interesting. Randy Savage's contributions were amazing too, but Hulk Hogan has made more contributions to wrestling and pop culture than The Macho Man. Just from that and the picture to the left, I'm willing to bet that Hulk would be the one to bring more beer and food to my tailgate so he takes this one. Hulk 4.3 Savage 4.0
Winner: Hulk Hogan
Enjoyability: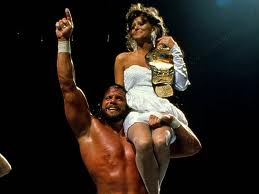 Both are equal in my mind when it comes to enjoyability. All of their interviews were memorable, their matches legendary, and their exploits outside of wrestling were even more enjoyable. The Macho Man Rap CD was something that had to be heard. And you bet your tail I'm gonna play that at my tailgate. Hogan Knows Best was a reality show hit. Their movie exploits are memorable. I'm willing to guarantee that both of these cats will bring some chicks to my spot and I definitely enjoy that. I have to say they are very equal in this category. Which is why I came up with…. Hulk 3.9 Savage 3.9
Winner: Tie
Finishing Move: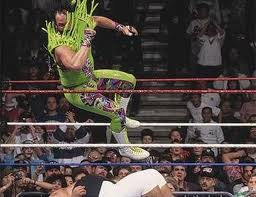 Here's a bonus category that I'm throwing in. Hulk Hogan's leg drop put away Andre the Giant, King Kong Bundy, The Undertaker, and Ted Dibiase, but Randy Savage's Macho Elbow was just a more beautiful maneuver than the leg drop. Randy would ascend the top rope and it would just be a spectacle. Every time I see that elbow it happens in slow motion to opera music. It brings tears to my eyes. The Leg Drop was cool but the Elbow Drop involved a man that can fly through the air to take out his opponent. I'll bet after a few brews we'd be able to talk him into pulling this move off the top of an RV and I want to see that. Savage 4.6 Hulk 4.1
Winner: Randy Savage
Now in my opinion the decision was tough and I would pick both but in the end the late and great Macho Man Randy Savage was the ultimate choice. No one else is quite like him and I would love to hear his stories about his wrestling feuds, getting bitten by a cobra, and where he buys his clothes. Savage wins. Not by much, but in the end I choose the Macho Man! OOH YEAH!
Final Score – Macho Man: 16.2 Hulk Hogan 15.6
Here are some other pieces of trivia that I want to throw in about these guys just because…
Randy Savage:
Had Miss Elizabeth
Has a Village People song named after him
Was on King of the Hill, Family Guy, and Dexter's Laboratory
Almost Beat Spiderman as Bonesaw Mcgraw
Had a Rap Album out!
Hulk Hogan:
Had a Show on VH1
Slammed Andre the Giant
Was in Rocky III and Gremlins 2
Almost Beat the 3 Ninjas
Has a Sex Tape Out!
So tell us Who You Would Rather Tailgate With! email me at [email protected] or leave your comments below!