Last Updated on 04/15/2021 by Inside Tailgating
Our friends over at East Coast Cornhole have a blog post about some of the coolest football team themed Cornhole board designs they could find. We love them, so you should check them out at http://www.eccornhole.com/blogs/news/65418115-10-best-cornhole-board-designs-for-football-season.
Do you have any specialized Cornhole designs that you use? I love the University of Delaware one we posted on our Instagram a couple of weeks back.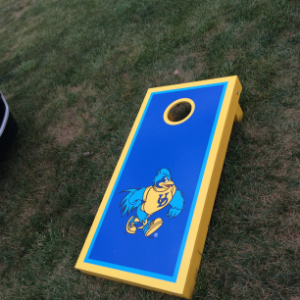 Also please remember to check out our Inside Tailgating Giveaway.
We are kicking off this football season with an amazing giveaway from us and our partners. All you have to do is share some social media love for a shot at 1 or more of the 106 total prizes.
Here is list of what you can win:
Here are the highlights on How to Enter during the Sweepstakes Period:
Twitter: Follow @tailgatewithus and retweet our giveaway posts and announcements to receive 1 entry.
YouTube: Subscribe to our InsideTailgating Channel and comment on the Giveaway Video to tell us which product you want to win.
YouTube: Show us how you Tailgate Shake to our video and podcast theme music. Upload a video to YouTube, put Inside Tailgating Tailgate Shake in the title and tag the InsideTailgating Channel to get 5x ENTRIES!
Instagram: Like @insidetailgating and the Inside Tailgating Giveaway Post and share your tailgating, homegating or bargating photos. Tag @insidetailgating and use the #InsideTailgatingGiveaway
Facebook: Like our Facebook Page, then like and comment on our Inside Tailgating Giveaway post by telling us Where You Are Tailgating? Tag your friends that you are tailgating, homegating or bargating with and they will be entered as well.
Check out the latest episode from Inside Tailgating to get our Tailgate Checklist and a Look at the Giveaway Products.
[youtube http://www.youtube.com/watch?v=FXhK50riWs8]
We look forward to seeing how you are tailgating this Fall and sharing some Tailgate Love! Click Here for Official Rules!