When it comes to football tailgate party ideas, nothing beats tailgating games. The most popular games have to be drinking games. From beer pong to sink the biz, everyone loves a good football tailgate drinking game. However, rather than playing the same old games, why not mix it up this year? There are a ton of fun drinking games that will help your tailgating team get their buzz on. Here are some different drinking games to consider playing at your next tailgate.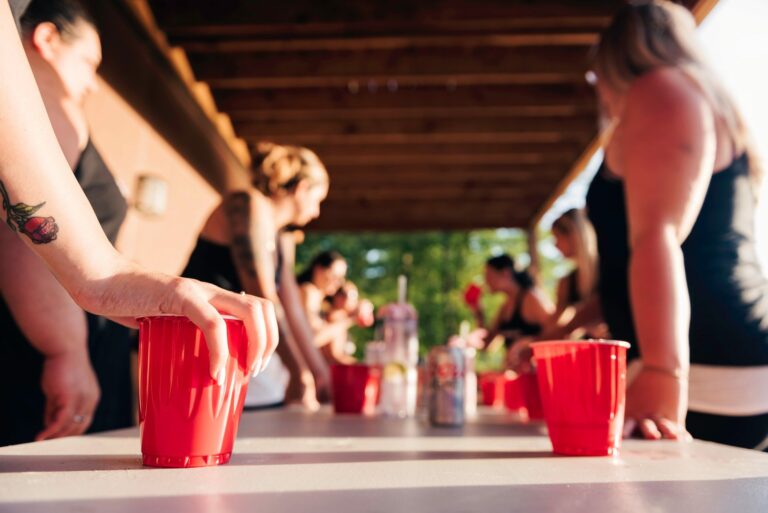 Flip cup is a great way to mix it up and get more use out of your beer pong table. Here's how to play:
1. Divide your tailgating team into two equal groups
2. Have each team stand at opposite sides of the table
3. Arrange one cup for each member of the team at the edge of the table
4. Fill the cups 1/4 of the way with beer (or soda for the kiddos)
5. Start by signaling "Go!"
6. The first player on each team will drink the beer and then try to flip their cup
7. Once the cup is upside down on the table, the next player drinks and flips
8. Repeat until all players have flipped their cups
9. The first team to flip all of their cups wins
Pro Tip: Focus on tipping rather than flipping. The fewer rotations the cup makes, the more likely it is to land. So try to just tip the cup 180° degrees by lifting gently.
If you're looking for a high-energy game but with low alcohol consumption, Thumper is perfect. Here's how to play:
1. Have everyone sit in a circle facing one another
2. Give everyone a drink
3. Then all members of the team need to pick a simple hand gesture (The hand gesture must be short so think "ok" symbol, a thumbs up, or something more inappropriate depending on your crowd)
4. The game starts by having everyone play drums on the table, their thighs, or whatever is available
5. Going clockwise, each person will have a turn being the leader of the game
6. The game starts with the leader shouting "What's the name of the game?"
7. The players respond "Thumper!"
8. The leader responds "Why do we play it?"
9. The players respond "To get messed up!"
10. Then the leader makes their hand gesture
11. Players respond with their hand gesture
12. The person who makes their gesture last has to drink
13. The first one to finish their drink loses and the last to finish wins
ProTip: When you are the leader, be creative about how you make your hand gesture. The point is to trick the other players into missing it. Speed up or slow down the questions and drum as needed to give yourself an advantage.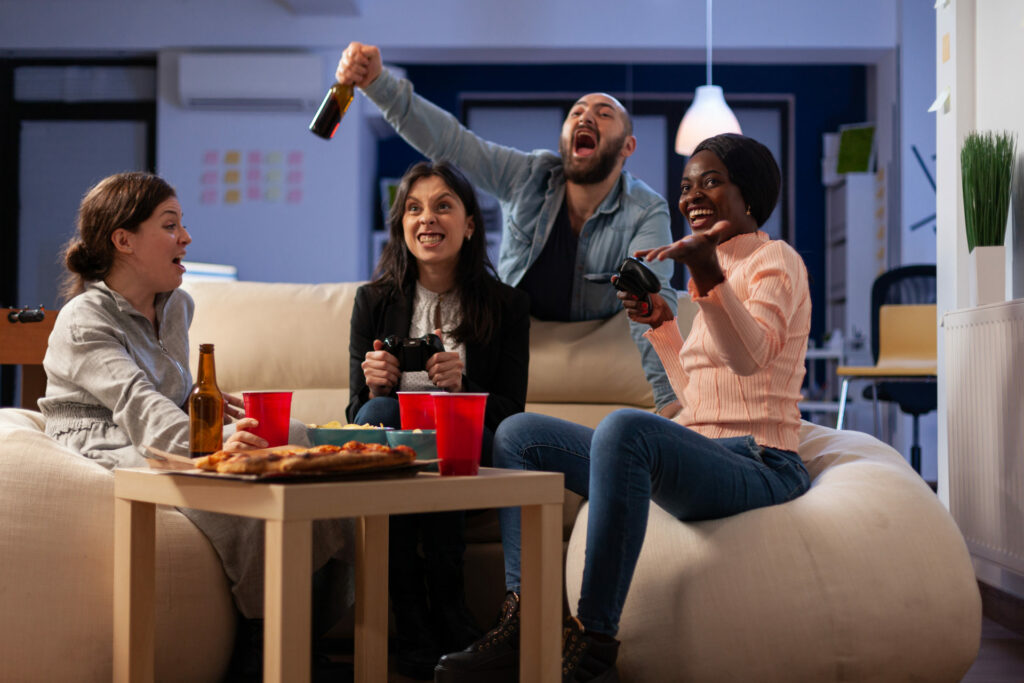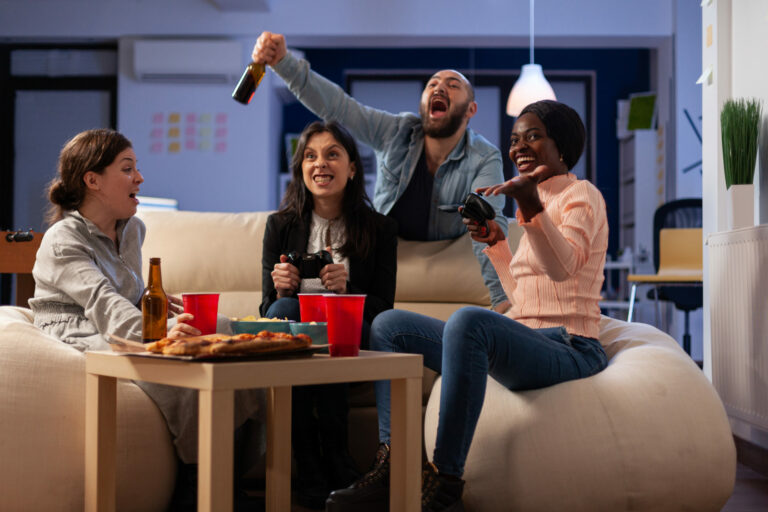 If you're looking for a game that can quickly escalate into hysterical laughter, I'm going to the stadium is perfect.
1. You sit in a circle with your team
2. The first person starts by saying "I'm going to the stadium…"
3. Then they will make up a sentence that happens next (for example: "I'm going to the stadium. I'm going to watch the game.")
4. The next person will repeat what they say and add their own line (for example: "I'm going to the stadium. I'm going to watch the game. I'm taking a rocketship to get there.")
5. Then the next person repeats and adds their line
6. This continues until someone messes up the line and has to drink
7. Whoever is left standing with a drink is the winner
Pro Tip: The more complicated you make your sentence, the harder it is to remember. So try to use big or unfamiliar words to throw off your competition. For example, try a tongue twister like "The sixth sick Sheikh's sixth sheep's sick." Just make sure you know how to say it!
4. The Name Game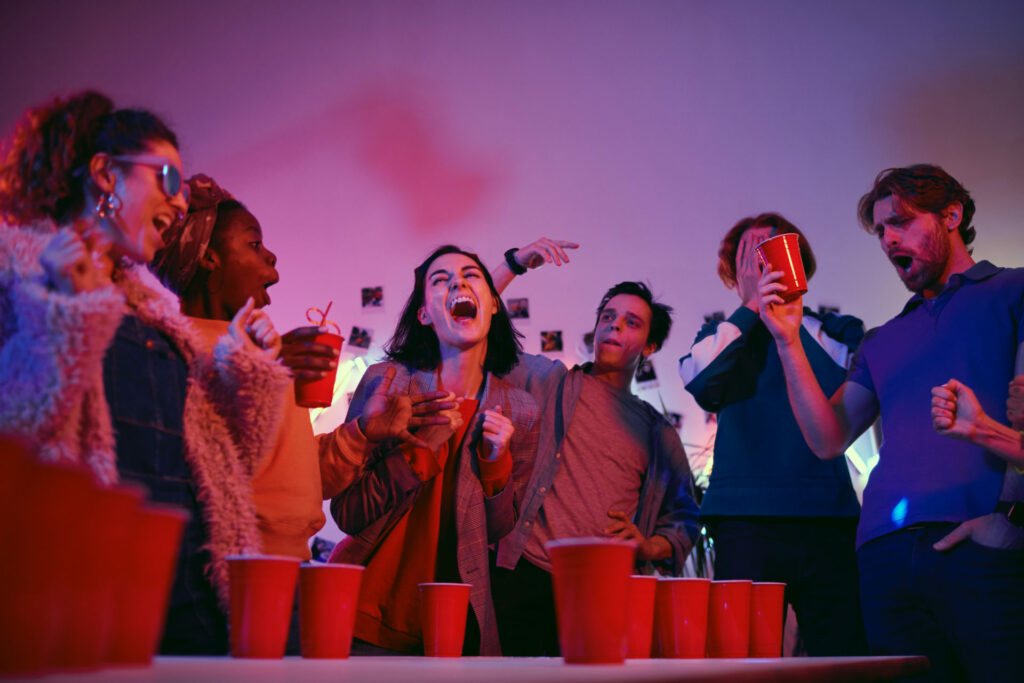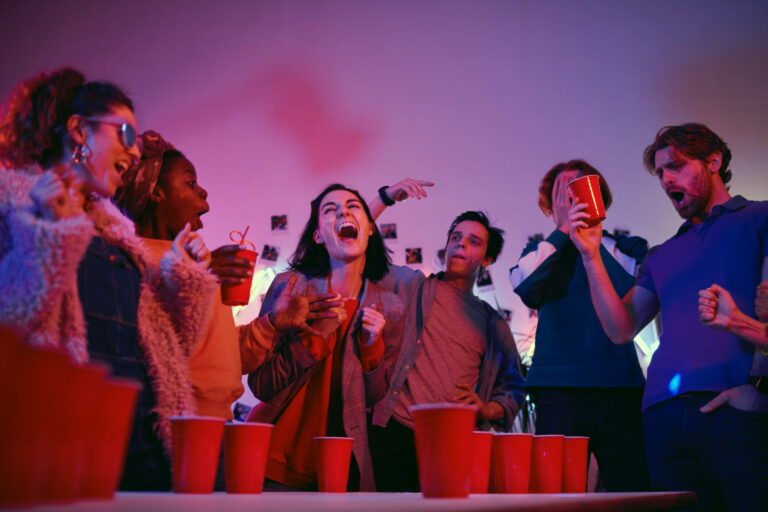 If you and your tailgating crew know a lot about the players, this is a really fun and challenging game you'll love. Here's how to play:
1. Gather your crew in a circle
2. Fill everyone's cups
3. The first player will name a football player (for example, "Aaron Donald")
4. The second player will then pick a player whose name starts with the first letter of the last name of the player (for example, "Aaron Donald" could be followed by "Derrick Henry")
5. If a player cannot think of a name, they have to drink
6. If a player runs out of beer, they are out
7. The game continues until there is only one player standing
Pro Tip: Try to pick names that present a challenge for the next player like Rock Ya-Sin. There are not that many first names that begin with a Y.
5. Forbidden Words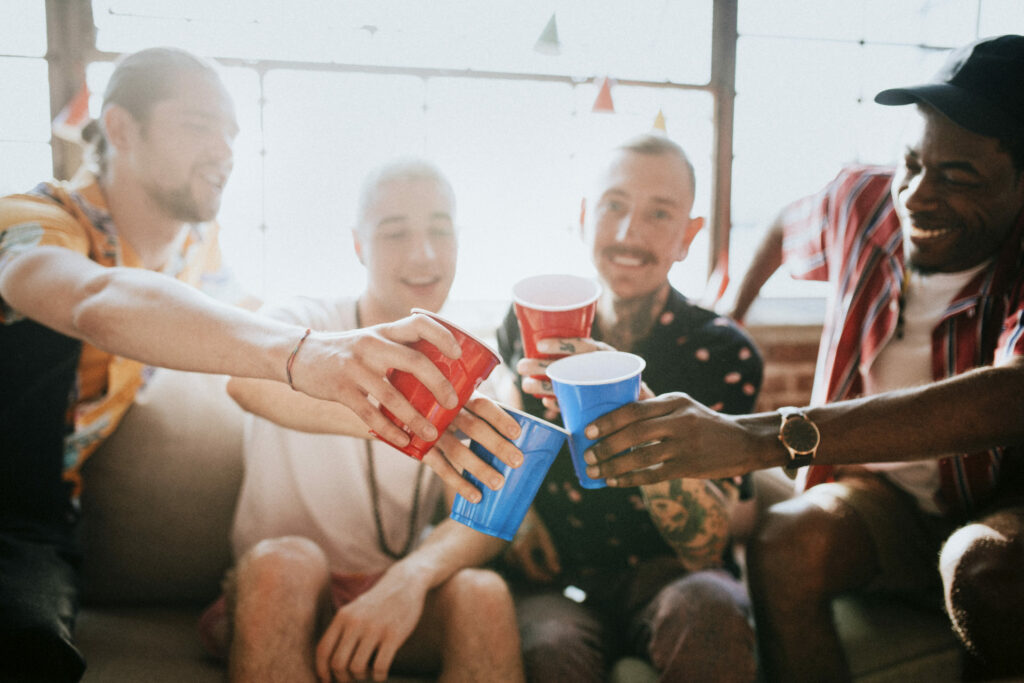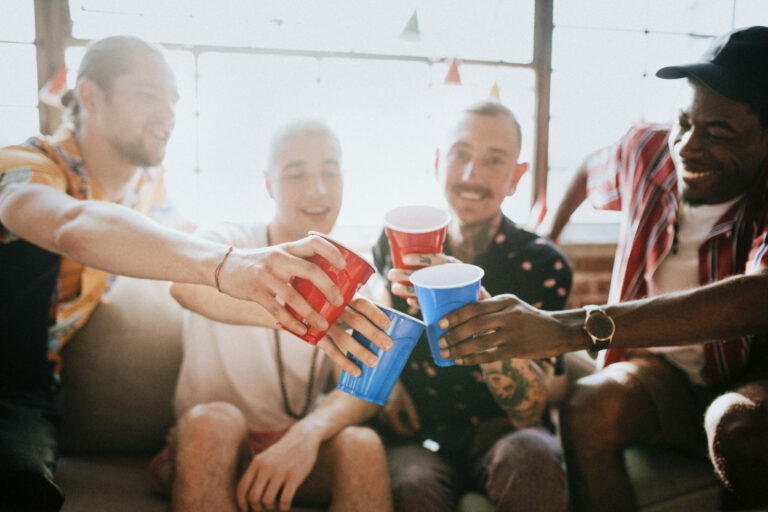 If you want a drinking game you and your tailgating crew can play all day, Forbidden Words is perfect. It's really simple, very fun, and brings a sense of camaraderie. Here's how you play:
1. Your team makes a list of forbidden words (pick words that are common like "Football" or "coach")
2. Then throughout the day if someone says those words, they have to drink
There is no winner or loser with Forbidden Words, it's just funny to call each other out for using common words. The game also gets harder as the day progresses because it is really easy to forget not to say "football" at a football game. Go forth and have fun!
One more thing, for some fun NFL-specific drinking games, we also recommend this fan-favorite list from Bleacher Report. It's got 12 different NFL drinking games ranging from classics like drinking when there is a penalty to anytime Ed Hochuli poses. These are probably better for homegating because many of them will knock you off your booty.
For more tailgate party ideas, the tailgating pros at Inside Tailgating always have great ideas. Check out the activities section of our website for tons of fun tailgate party ideas, activities, and games for your next tailgate.
For more ideas, make sure to follow us on Facebook, Twitter, Instagram and check out our Amazon Storefront.
As always if you plan on playing a drinking game, make sure to have a DD or call an Uber.