Last Updated on 04/15/2021 by Inside Tailgating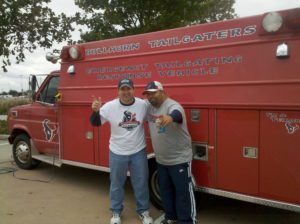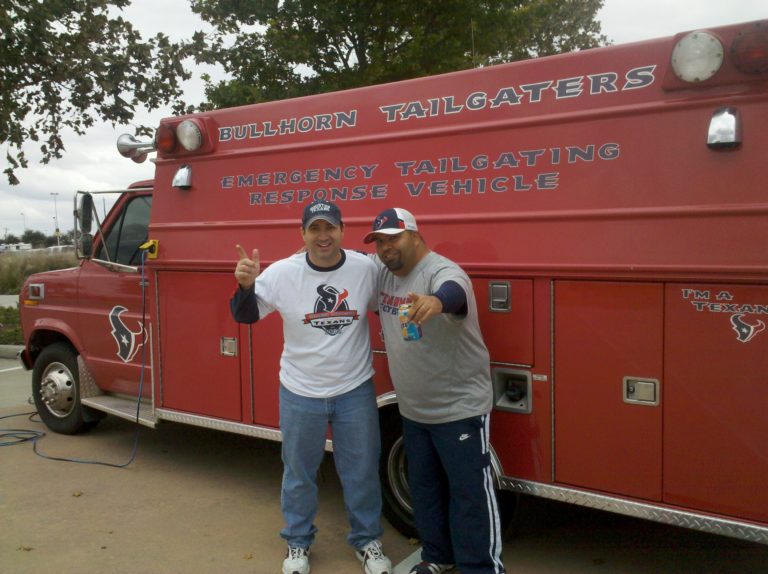 If you are in Houston for a Texans game you should definitely head over to the Yellow Lot and track down the Bullhorn Tailgaters along the main sidewalk. They call their spot the "Best Spot in the Yellow Lot."
You'll find them tailgating around a retired ambulance called the Bullhorn Battle Red Wagon.
And come hungry! The Bullhorn Tailgaters proudly serve up Texans Cheesesteaks with spicy jalapeno jack cheese and ball droppin' Texas steak seasonings. To wash it down grab a spicy "Wake yo butt up" Bloody Mary. They even like to dabble in a bit of cajun inspired tailgate food with gumbo, jambalaya, red beans, rice, and crawfish etouffee.
This group has been tailgating since the inception of the Texans in 2002 with Rob & Steve at the helm. The Bullhorn Battle Red Wagon joined the crew in 2008. And this group likes to heckle their rivals in good fun. They pull little ol' bait and switch maneuvers by sending out one of their members to bait the rival team fans. So when someone yells "Hey Dolphins" they crew responds with a resounding "SUUUUCKKK!"
What is their group ritual? Before each game the crew drinks from their bull horn.
Yeehaawww! Catch the crew on their Facebook page, here.


If you would like to nominate a tailgate group that also has an ambulance. Hit us up here!