At Inside Tailgating, we independently select and write about stuff we love or want to try out and think you will too. As a participant in the Amazon Services LLC Associates Program, and other affiliate advertising programs designed to provide a means for sites to earn advertising fees by advertising and/or linking to their websites, such as Amazon.com, we may receive a commission on sales or other compensation through those links on this page. It is at no additional cost to you, but we gotta pay for our tailgates somehow…
Are you planning your first homegate or tailgate of the season? That's great! But what's it for? Well, that really doesn't matter; that is just us being nosy. Whether the event is for football, racing, concert, birthday, or something else, you're going to need some essential tailgate items. Do you already have them? If so, good for you, but if not, did you know that you can get them from us?

That's right, we have everything you could ever need or want for your homegate or tailgate, and then some. Feel free to take a look around and see what you can find. Are you unsure about what you'll need? That's okay; maybe this checklist can help. It contains many essential tailgate items that will make your event a success.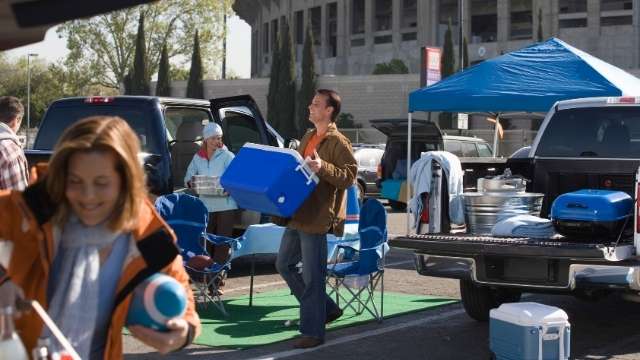 Essential Tailgate Items Checklist
1. A Portable Tailgate Grill

Grilled foods are an important part of the tailgating or homegating experience. How can you cook, though, because you don't own a food truck? The solution is simple, with a portable tailgate grill, that's how. These devices allow fans to cook sausages, hamburgers, steaks, and more on-site, regardless of where they are. Grills come in different shapes, sizes, and colors.

Some are gas-fueled, while charcoal is needed for others. The point is that we have loads of portable grills recommendations. Or if you are looking for a vertical drum cooker, try the best selling one on the market, the Pit Barrel Cooker. It will serve you well for this tailgate party and many, many more to come.
2. Coolers

You will need coolers for your tailgating or homegating event as well. These essential tailgate items keep foods and beverages cold. Of course, ice or ice packs are required too. It depends on what you want, as to what you should buy. For instance, would you like to knock out two birds with one stone? Entertainment items like TVs, radios, and games also make this list.

There is a Bud Light soft portable cooler with built-in wireless speakers. It will keep refreshments chilled and allow fans to listen to early game news or music. The speakers are compatible with various Bluetooth devices, but the cooler also consists of an auxiliary cable for those without Bluetooth capabilities.
Do you need something bigger and without the glam? If so, please don't fret we have so many suggestions any one of them could be right up your alley. For example, the classic Yeti Tundra could be what you are looking for. Your drinks and food will stay extra cold due to the three inches of PermaFrost insulation and the added FatWall design.
It goes without saying, but don't forget to bring the food, condiments, and drinks too. You may also need serving plates, utensils, and cups, but we aren't going to add them to this checklist.
3. Tables And Chairs

Tables and chairs are essential tailgate or homegate items. Your guests will want places to set stuff down and sit to relax. Are you in the market for outdoor furniture? Yes, then, don't hesitate to look around our store. How about unisex chairs with team logos? Looking for a whole set instead, then check out all of these team themed options!!
CLICK HERE to check out Fanatics for all your fan apparel and gift needs. They have everything from jackets to keep you toasty while grilling for the game, to can holders to keep your beer cold while you scream at your TV.


4. Entertainment Items Such As TVs, Radios, And Games

Do you remember those entertainment items we discussed earlier? It is time to talk about them a bit more. Tailgate parties last for hours and hours on end at times. Sometimes, they can go on for multiple days. Things can get stale in a hurry if your guests don't have essential tailgate items to keep them occupied. TVs can do that by giving them something to view and discuss. Meanwhile, a radio will deliver good tunes to fans that they can listen or dance to.

What type of contests should you host? Cornhole continues its reign as the most popular tailgate game. Teams try to toss bean bags onto and through goal boards to score 21 points and win. Jenga or NFL Table Top Stackers are fun and entertaining games for homegates too. Whatever you choose, we're sure you'll do fine, and guests will be talking about your tailgate party for years to come.
5. Canopies/Tents

Often, tailgate parties happen at locations that have little to no shade. So, it is a good idea to set up canopies for your guests. They can retreat to them when the sun's beating down and beat the heat. These spots can also prevent them from getting sunburn and regretting it later. Tents offer the same shade and protection. However, some homegaters prefer them to canopies because they can slip away inside them for privacy.
Don't be shy; if you are getting canopies or tents for your tailgate party, make them the colors of your favorite team to show your support. Do you want to take it even further? Then, why not obtain units with the team's name, logo, or mascot? It can be worthwhile to ensure the items are weatherproof because if it starts raining or snowing, guests may want someplace dry to sit and stand.
6. Hand Sanitizer And A First Aid Kit

If the last year has taught us anything, it is the importance of handwashing. Using soap and water is one of the first steps we can take to fight COVID-19. However, there aren't always sinks or running water nearby on the tailgating scene. That means attendees like us need to find another way to sanitize. That is where having hand sanitizer on-site for your guests to use can be of assistance.
Sometimes injuries can happen at tailgate parties too. For example, you could slice your hand while cutting meat for the grill. So it is important to have a first aid kit somewhere close. Then, whenever issues arise, you can spring into action and fix them up.
Hopefully, you are now ready to plan your homegating event after seeing this essential tailgate items checklist. Comment below with what's on your tailgate essentials checklist and don't forget to like, follow, share and tag us on social media!
Want to check out more of our favorite tailgate products and essentials? Check out our Amazon storefront where we've curated some must-haves and top picks!