Last Updated on 07/06/2021 by Inside Tailgating
At Inside Tailgating, we independently select and write about stuff we love or want to try out and think you will too. As a participant in the Amazon Services LLC Associates Program, and other affiliate advertising programs designed to provide a means for sites to earn advertising fees by advertising and/or linking to their websites, such as Amazon.com, we may receive a commission on sales or other compensation through those links on this page. It is at no additional cost to you, but we gotta pay for our tailgates somehow…
Georgia and Florida will demand the nation's attention this weekend, and not for the electoral reasons we've become accustomed to this week. Though we may not know who the next President of the United States will be Saturday, Nov. 7, we will get to see a heavyweight Georgia-Florida college football clash as the fifth-ranked Bulldogs battle the eighth-ranked Gators in Jacksonville.
This iconic rivalry began play in Jacksonville 1933 and is synonymous with classic moments, monster upsets and the finest tailgating scene in the nation.
Once known as the "World's Largest Outdoor Cocktail Party," the pregame parties serve as a meeting ground for Bulldog diehards and alums throughout the southeast and the Gator faithful from nearby Gainesville just 75 miles south of Jacksonville. And though the event dropped the "cocktail party" reputation from it's official title in the late 80's after a few too many booze-induced incidents, the good times continue to flow around TIAA Bank Field every fall.
That is until COVID-19 (Corona Virus) happened to ravage the country and the long-standing traditions of this game changed for the year of 2020.
Jacksonville to limit tailgating for Georgia-Florida 2020

Inside Tailgating's Carroll Walton broke down five aspects that make this annual event so special back in 2018. And while many of Carroll's observations will remain intact around the Jacksonville area this year, there will be some major changes in the tailgating scene as there will be no tailgating allowed on city-owned or manned lots for the first time in the rivalry's history.
"This game is a vital part of Jacksonville's story and it's important that the tradition continues but we must do it in a safe manner," Jacksonville Mayor Lenny Curry said earlier this week (via the Florida Times-Union). "As a result, the game may look and feel a little bit different, but let's be grateful we are having this game."
Read more: 5 Reasons to love Georgia-Florida game
Not all will be lost, however, as local bars, restaurants and party services (including our friends at Party Shack) will provide safe gathering options for football fans sporting both Georgia's red and black and Florida's blue and orange.
Read more: Florida Company Brings Luxury To Any Tailgating Venue
For those who want to enjoy the game from the safe confines of their own home, here are a few tips on how to make the most of your homegating experience:
How to watch Georgia-Florida 2020
NO. 5 GEORGIA (4-1) VS NO. 8 FLORIDA (3-1)
| | |
| --- | --- |
| Time | 3:30 p.m. ET Saturday |
| Place | TIAA Bank Field (Jacksonville, Florida) |
| TV | CBS |
| Line | Georgia by 3.5 |
Themed recipes for Georgia-Florida 2020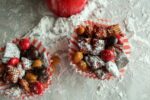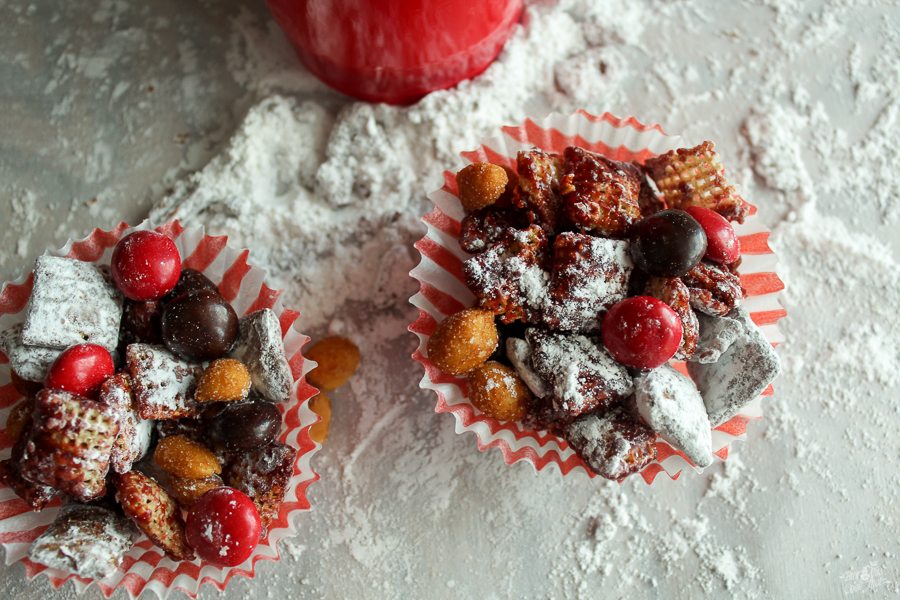 Print Recipe
Dawg Chow
We posted this recipe back in 2018 and loved it! It's still perfect for this weekend!
Equipment
2 large mixing bowls

Measuring cups

Measuring spoons

Mixing spoon

Large Ziploc or paper bag

Parchment or wax paper
Ingredients
10

cups

Chex cereal divided (any combination of rice, corn, wheat)

1 ½

cups

semi sweet chocolate chips divided

1 ½

cups

honey roasted peanuts

1

cup

powdered sugar

1

cup

red and black candies M&M's, etc.

¾

cup

cinnamon Red Hot candy

4

tbsp

salted butter divided

¼

cup

creamy peanut butter

¼

cup

water
Instructions
Divide Chex cereal into two large bowls. Set aside.

In a medium sized bowl, microwave 1 cup of chocolate chips, peanut butter and 1 tablespoon of butter in 15 second increments. Stir after each time. Continue until smooth.

Pour the chocolate & peanut butter mixture over one of the bowls of cereal. Stir well until cereal is well coated.

Put the powdered sugar in a large zip lock bag or paper bag. Pour the chocolate coated cereal in the bag. Shake and turn the bag until the cereal is well covered in sugar. Pour the mixture onto parchment or wax paper in an even layer to cool.

In the (now empty) chocolate bowl, stir together the remaining chocolate chips, butter, and the cinnamon candies.

Microwave in 30 second increments, stirring after each time, until the candies start to get gooey and soft. Add the water, stir and cook until smooth.

Working quickly (as the cinnamon candies will cause this mixture to harden faster), pour the cinnamon & chocolate mixture over the other bowl of cereal. Stir to coat well, and pour onto paper until cool. (Do not toss this batch in sugar.)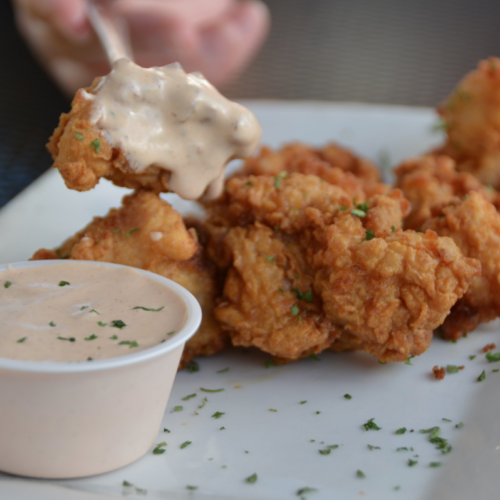 Print Recipe
Cornmeal-Fried Florida Alligator Bites with Honey Mustard Dipping Sauce
Ingredients
Alligator
1

lb

Florida alligator nuggets (defrosted or fresh)

4

cups

cornmeal

2

cups

buttermilk
Honey Mustard Dipping Sauce
6

tbsp

Florida honey

3

tbsp

Dijon mustard

2

tbsp

mayonnaise

1

tbsp

fresh parsley, chopped

Cayenne pepper to taste
Instructions
Alligator
Heat fryer to 350 degrees

Place cornmeal and buttermilk in separate bowls.

Dip each nugget into cornmeal, then buttermilk. Let the buttermilk drain off slightly, then dip the nugget back into the cornmeal. Shake off excess cornmeal.

Place coated nuggets into the fryer basket. Make sure not to overcrowd your fryer.

Repeat until all the alligator nuggets are coated.

Cook the nuggets for 2-3 minutes until they float and the meat is completely cooked. (Do overcook meat … it can become too chewy.)

Drain nuggets in the fryer basket, then transfer them to a plate lined with a paper towel.
Honey Mustard Dipping Sauce
Add all ingredients in a mixing bowl and stir. Stir to combine. Adjust taste with salt and pepper.
Tips for homegating Georgia-Florida 2020
Here at Inside Tailgating we're all about living the tailgating lifestyle. Regardless of whether we're in a parking lot or our own back yards, we make it memorable. And though we're sad Jacksonville won't enjoy its annual takeover of tailgate enthusiasts, we're excited to make the most of it with family and friends at home.
Take these 11 tips and make a few memories this Saturday:
Barbeque away!
Make a killer playlist
Get to know the neighbors
Throw on your best team gear (Fanatics is currently offering 65% OFF for Gator fans and Bulldog fans with code: PINE)
Set up a food bar
Take the homegate outside
Repurpose your tailgate setup gear
Stock up on booze