At Inside Tailgating, we independently select and write about stuff we love or want to try out and think you will too. As a participant in the Amazon Services LLC Associates Program, and other affiliate advertising programs designed to provide a means for sites to earn advertising fees by advertising and/or linking to their websites, such as Amazon.com, we may receive a commission on sales or other compensation through those links on this page. It is at no additional cost to you, but we gotta pay for our tailgates somehow…
The Super Bowl is almost here and it's looking like it might be another year for homegating. That's okay though, if there's one thing that tailgaters do best, it's that we can have a party anywhere. If you're looking to homegate for Super Bowl LVI, you know our team at Inside Tailgating has you covered! We love to homegate, so we have all the best guides to help you make a great plan for Super Bowl LVI. Let's pull up the game board and make a play!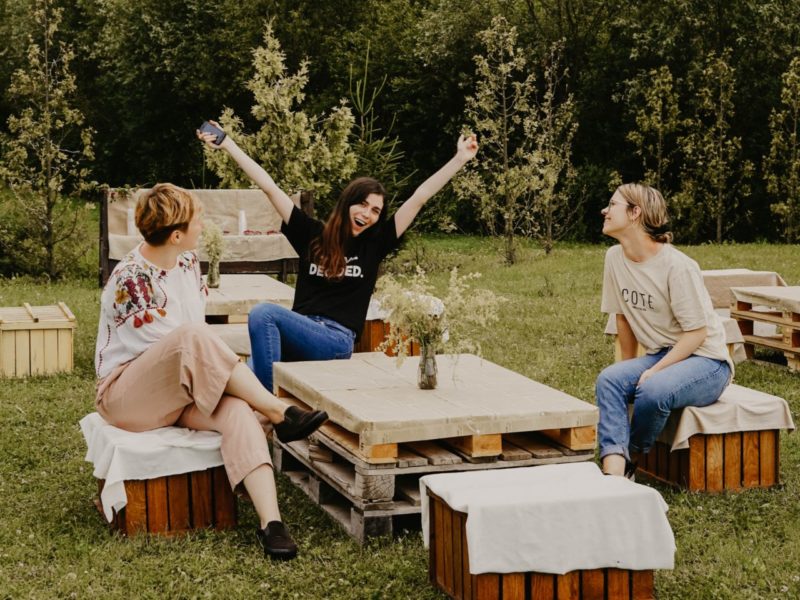 Get Your Setup Ready For Game Day
A lot of the same things we use to tailgate work great for homegating. However, there are some extra things you can pick up to make sure your teammates are extra comfortable. Having a great setup is easy with just a little bit of planning.
It's become more than apparent that homegating is bound to continue in 2022. Why not make everything perfect at home so that you get to enjoy the experience yourself with your friends and family? We've rounded up this list of homegating must-haves you can use to make your homegate the most memorable this year.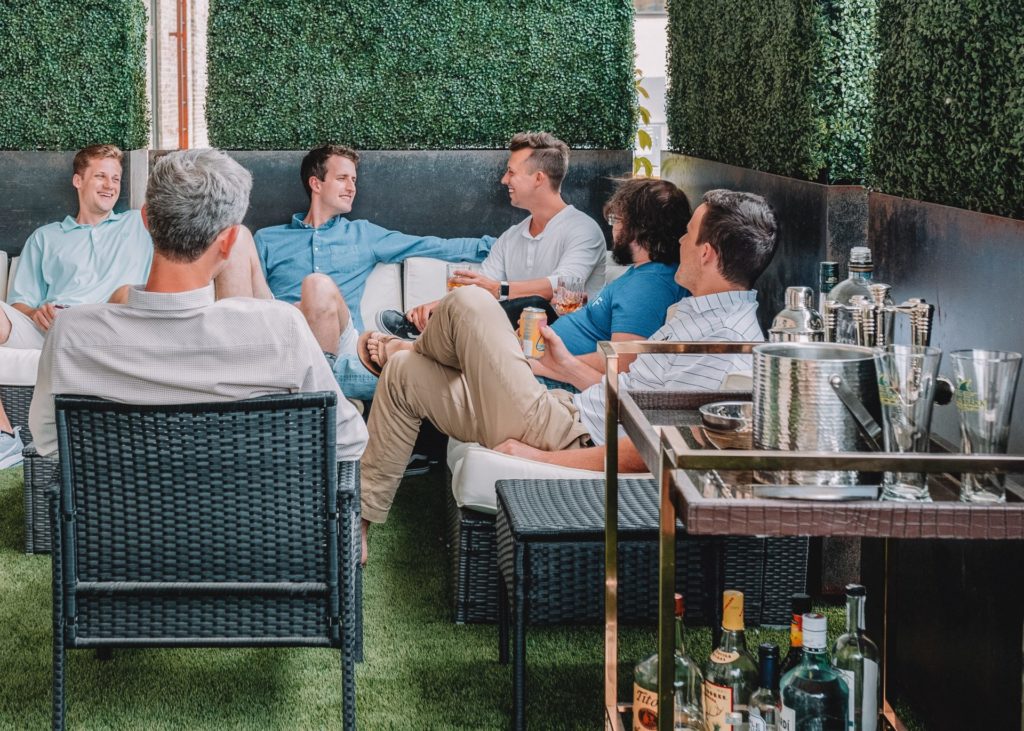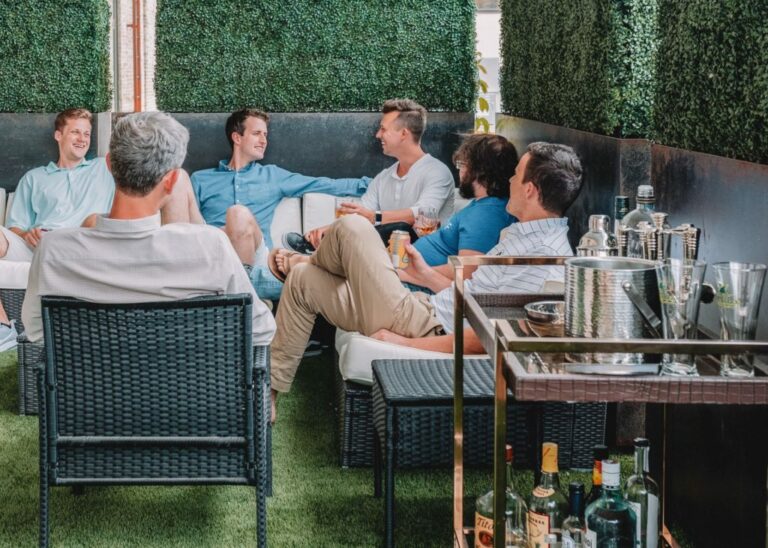 Whether indoors or outdoors, these are chairs for you to kick back and relax in while homegating.
You can relax with this great recliner and take advantage of the 360-degree swivel when you're watching with your family. It even has 2 cup holders and extra storage bags to rest your drinks. You can even have some magazines to hold. It's the perfect chair for reading, watching the game, and even catching Zs.

This outdoor folding chair fully reclines, has a mesh back, padded seats, adjustable pillow headrest, natural wooden arms, and an attached adjustable side table (with cup holder). Experience the comfort of your backyard or patio in a whole new setting and comfort level with this ergonomically designed recliner that has a capacity of up to 350 lbs. You're homegate ready for sure with this baby.
BBQ Must Haves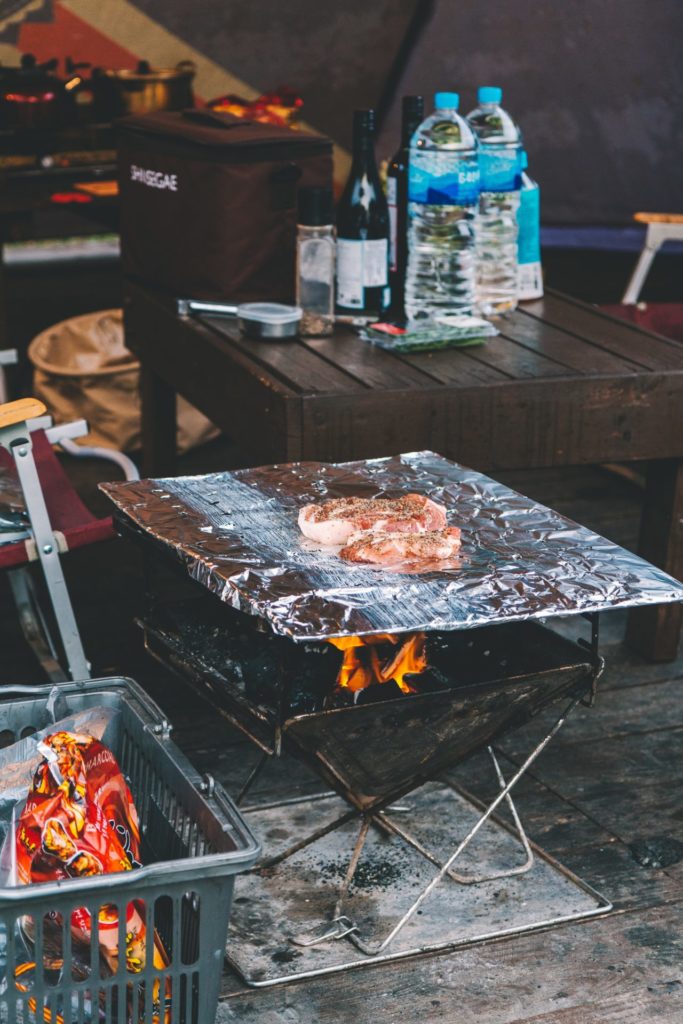 What's homegating without a cookout? Fire up the grill and kick up your gathering with these essential BBQ accessories.
1. A Bluetooth Speaker
Get one of these to help you pump up the volume outside while you're barbequing. One of the best deals on the market is the Cambridge Soundworks OontZ. It has rich bass, a 10+ watt power amp and has Bluetooth 4.2.
2. Outdoor Smart TV/4K TV
If you want to enjoy the game in style, you've got to have a great TV. The Samsung 8 Series 50 inch 4K LED Smart TV is a great choice that will serve you for many seasons.
3. Gas Grill
You can't go wrong with a great gas grill at a barbecue. This built-in, 3-burner one from Blaze will do everything from cooking burgers to steaks in your home's outdoor oasis.
4. Outdoor Patio Heater
A wall mount patio heater will do the atmosphere of the barbeque some good. While the cold lasts, make full use of these great deals.
5. Outdoor Refrigerators
If you're going to be spending the entire day outside, have some outdoor refrigeration ready to keep those beers cool. Luckily, there are plenty of choices for outdoor refrigerators, ice makers or kegerators.
6. Outdoor Pizza Ovens
Whip up some delicious pizzas with this portable propane outdoor pizza oven from Camp Chef Italia.
7. BBQ Smokers
Can't have a proper barbeque without a smoker. Try this charcoal one: the Weber Smokey Mountain Cooker to complete your homegating experience.
8. Fire Pits
Want to barbeque in style with a natural gas fire pit? It'll definitely add some flair to the mix. Try BBQGuys Signature Series Westfalen Table Top and light up your homegating experience .
9. Outdoor Kitchen Storage
If building the ultimate outdoor kitchen, try Blaze's 32-inch Double Access Door or if in need of a portable grilling station, try the Suncast Outdoor Grilling Prep Station.
10. Pellet Grills
Want a Wi-Fi controlled pellet grill? Why not, right? You'll make everything easier on yourself when you're designing the perfect homegating experience. Try the Traeger Pro 575 on for size.
Outdoor Game Must Haves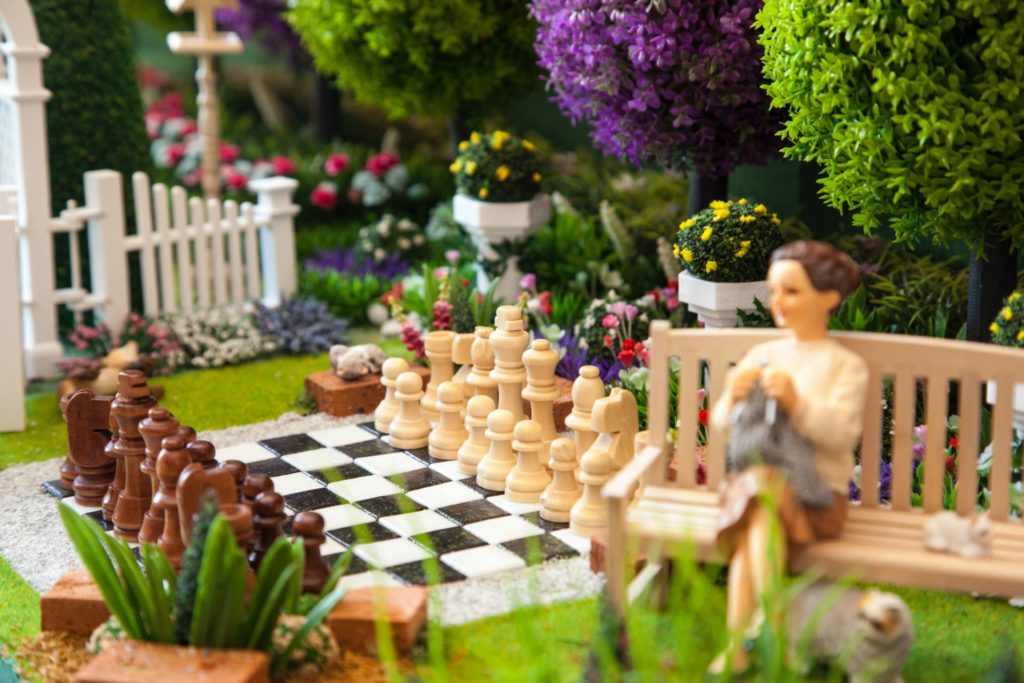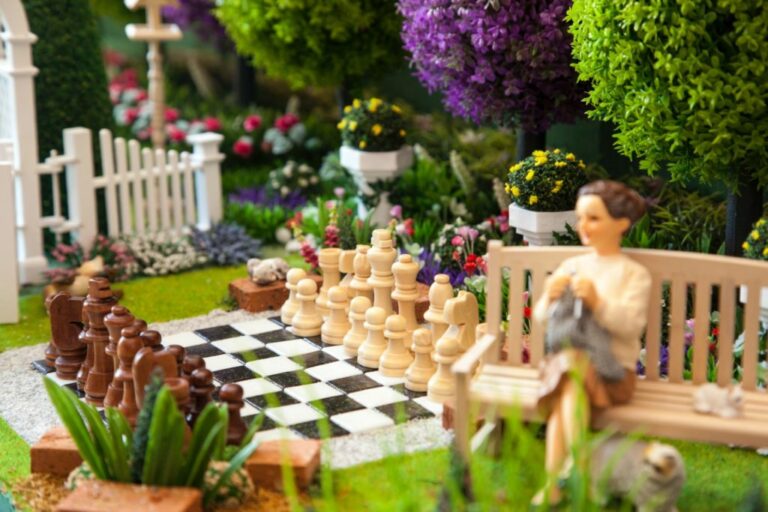 1. Cornhole
No surprise that cornhole is consistently voted the most popular tailgating game. These new Official ACL Pro Cornhole Tournament Broadcast Boards (as seen on ESPN) are designed & manufactured by the American Cornhole League itself. They're crafted with very high-quality Baltic Birch plywood and coated with a smooth proprietary finish. These boards are rated for high-level playing and are sure to be the talk of your homegate party.
2. Ping Pong
Sharpen your reflexes playing the classic game of ping pong (or table tennis) both as singles or doubles. You'll have hours of fun indoors or outdoors with this portable XGEAR Anywhere Ping Pong Equipment to-Go set. Show off your skills and support your favorite sports team at the same time, with officially licensed accessories (i.e.: paddles or balls).
3. Foosball
This is an American classic. With the FRIENDS fever at its peak these days, it's a great time to get back to the foosball table. You can spend a lot of time with your friends or kids, and even play 3 on 3 if you get creative. OR, if you've got limited space and like game variety, check out this MD Sports Multi Game Combination Table Set that's a 4-in-1, fully equipped combination kit with all the basics for: Table Tennis, Slide Hockey, Pool, and Foosball.
4. QB54
We at Inside Tailgating are big fans of QB54 for its dual function, creativity and catchiness! It's two canvas tailgating chairs that convert into a goal and goalposts to play a two or four-person game of "football." Great for the backyard or portable for whatever outdoor gathering you're off to.
5. CupCheck
Created by retired MLB pitcher Kevin Jepsen and 3 more former teammates, CupCheck is the ultimate game of disc-throwing skill providing endless entertainment for the backyard, beach, campground or tailgate competition. The game features two discs, four cups and four poles, and is designed to be played either 1 on 1 or in teams of 2.
Drinkware Must Haves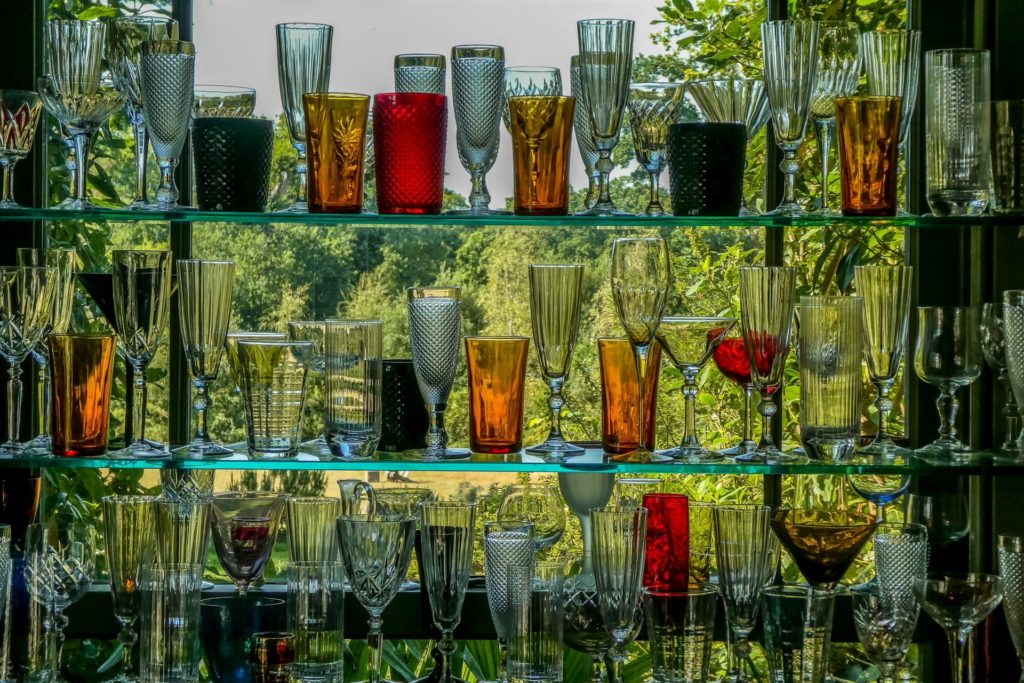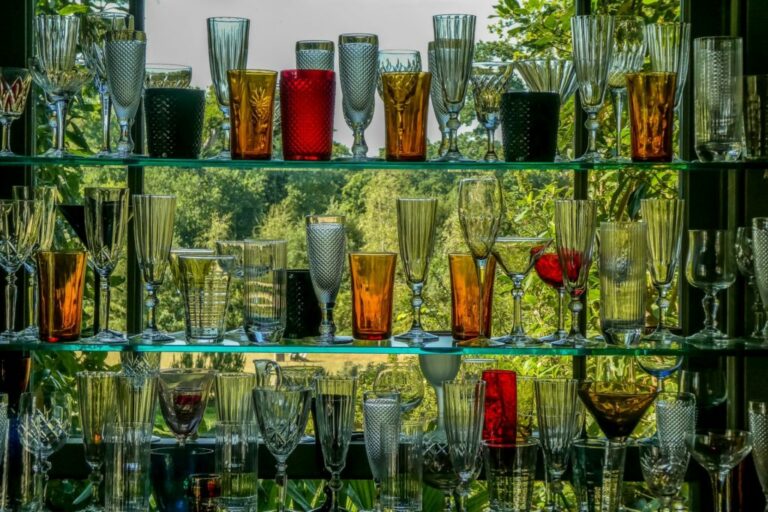 Good drinkware is a definite homegate essetingal. Here are some options that you can use this year while you're preparing for the best homegating experience.
1. Skinny Tumblers
These multicolored pastel tumblers will be great for a homegating party. All of these can hold 16 oz and come with free straw cleaners.
2. 4 Pack Travel Tumblers
If you're having your posse over, make sure you get these 4 pack travel tumblers. They each hold 20 oz. and have a sweat proof design so you'll be ready for some sun and heat.
3. YETI Rambler 20 Oz Tumbler
If you want something a little extra, go for the YETI Rambler. It has a steel exterior with a vacuum insulated MagSlider Lid. Plus, there are officially licensed options for a favorite team to choose from.
4. BrüMate HOPSULATOR TRíO
Be prepared for your next homegate or tailgate with the HOPSULATOR TRíO which features double-walled stainless steel with an extra copper layer that keeps your drinks 20x colder than a standard neoprene can cooler, so that your last sip has the same refreshing kick as the first. The TRíO's 3-in-1 technology fits 16 oz cans, has an adapter for 12 oz cans and can be used as a tumbler. Did we mention it will fit in your car cup holder too?
Finally, An Excuse To Get That Grill You've Been Eyeing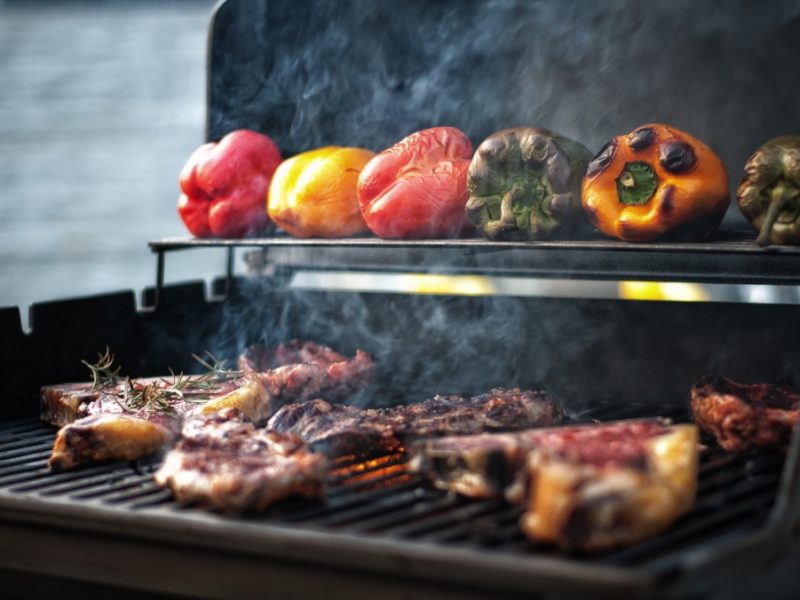 One of the major advantages homegating has over tailgating is you can really go all out with your grill. You don't have to think about it being portable, lightweight, or compact. You can finally get that multiple burner grill with rotisserie attachment you've been dreaming about.
When shopping for a tailgating grill, there are a lot of considerations. You need something portable and compact that can be transported. Something easy to clean and wipe down. You also look for something that can cook a lot of food with a little space. However, when it comes to picking a grill for your homegate, the entire game changes. You can go as big as you want, as fancy as you want, and go as over the top as you want. Here is our guide to our favorite grills that are ideal for your next homegate. Hopefully, you'll find the perfect grill, and hey maybe invite us over for the game.
NEXGRILL 4-BURNER GAS GRILL NAMED BEST VALUE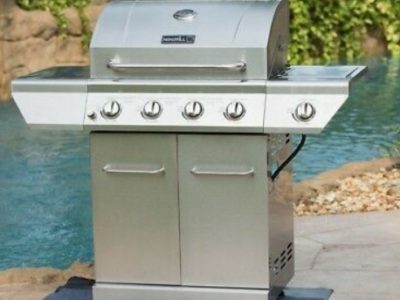 Starting off, we're picking one of the best grills on the market. It has everything you need to cook the perfect spread for your guests. The best part is this feature rich grill is also incredibly affordable.
How many times do you walk past shiny new stainless steel grills at a houseware or big box store and see a bunch of digits jump off the price tag at you? They look amazing, but do you really want to drop a thousand bucks or more on a grill? I know I don't. So I was glad to stumble upon this little nugget from www.goodhousekeeping.com, which chose the NexGrill 4-Burner Gas Grill as its best value among its awards for the best grills to buy of 2019. Price tag: $299.00 at HomeDepot.com.
Here is what the experts at Good Housekeeping had to say about it:
With its gleaming stainless steel, the NexGrill 4-Burner Propane Gas Grill with Side Burner is an A+ choice for the price tag. It delivers perfect grill marks, a side burner, and space for 28 burgers. On the side, there's a burner for heating beans or sauce. And best of all: We saw no smoking or flare ups when cooking.
A PERFECT HOMEGATE GRILL FOR BEGINNERS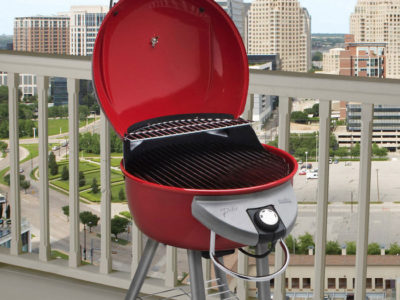 All of the best BBQ pitmasters start humbly in their backyard. If you're just starting out and really looking to master the basics, we have the perfect grill for you.
Getting your grill to the tailgate can sometimes be a challenge. They're big, bulky, and just not that easy to pack into the back of your car. But you gotta bring your grill to the game….what's a tailgate without some perfectly seared steaks and juicy burgers?
Good thing for you, Charbroil invented a portable electric grill that solves all of these problems. It's small enough to pack into your car for the tailgate, but packs enough firepower and space to get you the perfect finish on all of your meats.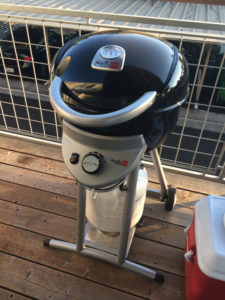 Some of the other awesome features this tailgating grill brings to the party:
● Warming rack to toast broad and keep other essential food warm
● Infrared cooking system. Fewer flare-ups and juicier meat. That's something we can all get behind
● Porcelain coated grates, making it easy to close
● Over a year warranty on all parts
Grilling at the game doesn't have to be tough. Just fire up the Charbroil Portable Bistro Electric Grill, and you'll have years and years of tailgates to remember.
GO BIG AND STAY HOME
Now if you're already a master griller, there's probably a lot of recipes you'd like to try next. Deciding between these when hosting a homegate can be a challenge. Luckily, with a double header grill, you won't have to make these tough decisions. You can cook multiple things at once.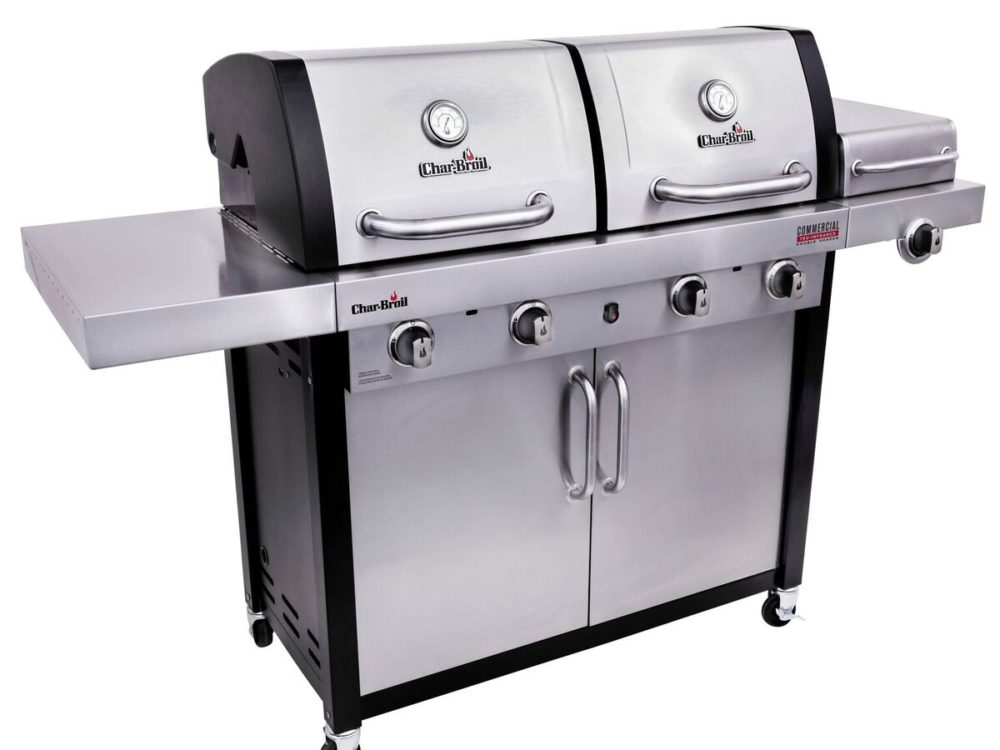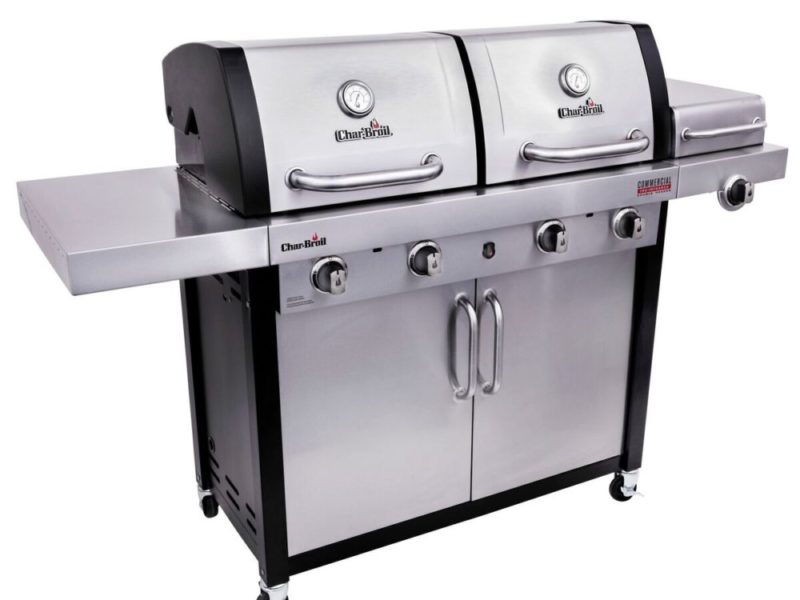 Char-Broil has been making grills since the late 1940s but never rests on its history. Continuing to stay at the forefront of cutting edge grilling technology comes The Commercial Double Header, which features two cooking zones, so you can cook at two temperatures at once. Genius, right?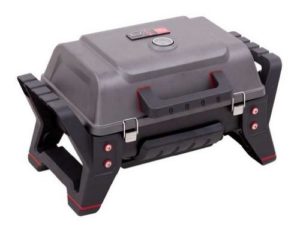 Now it's easy to cook fish and steak at once, or to separate meat and vegetables. Or if you're serving guests with food allergies, you avoid issues by cooking things separately. In short, the Double Header is a real problem-solver.
It features the same enduring quality of all Char-Broil's Commercial series grills, featuring TRU-Infrafed technology for even cooking and no flare-ups. Lid-mounted temperature gauges make it easy to monitor the grills' temperature. The Double Header comes with four burners, a stove top and a griddle side burner. And it can also convert from liquid propane to natural gas.
For those looking for TRU-infrared technology to take advantage of for tailgates, Char-broil makes the X200 Portable TRU-Infrared Grill.
BECOME A BACKYARD PITMASTER
As much as we'd all want one, our HOAs may be against letting us build a full BBQ pit in our backyards. Luckily, you can still cook pit BBQ without having to turn your backyard into a Southern BBQ restaurant.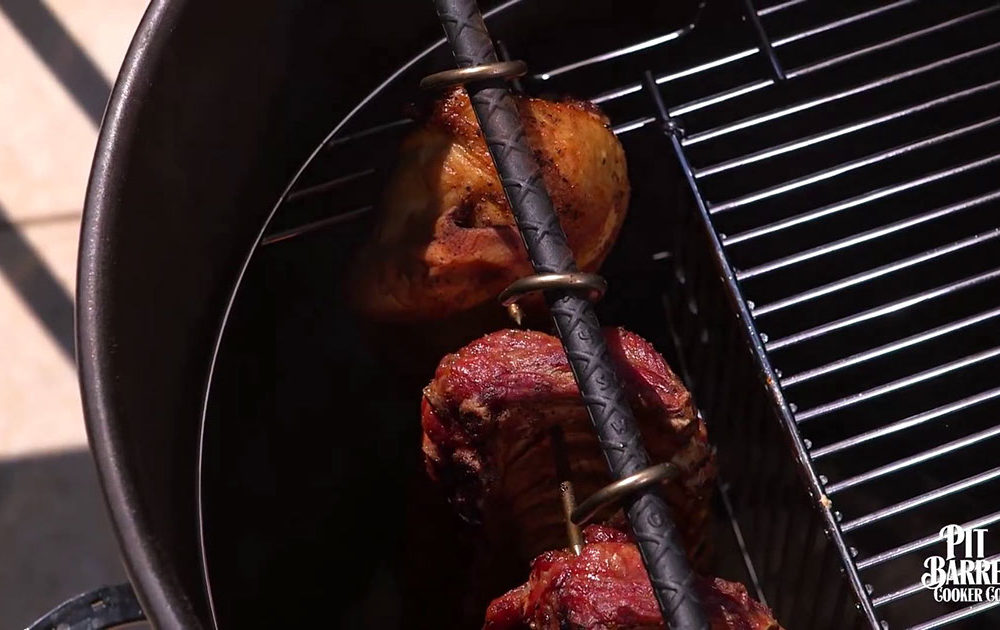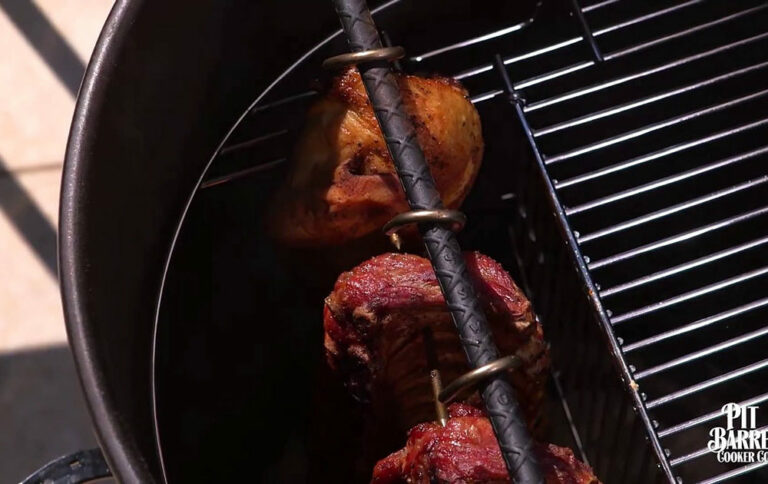 Noah Glanville has turned drum cooking on its ear! Just when you thought all barrel grills were created the same, the U.S. military veteran invented the Pit Barrel Cooker, which is a vertical take on the old horizontal barrel cooking tradition. The former Marine who served in both Iraq and Afghanistan came up with the idea while serving overseas. Here's what he told Barbecue! Bible expert and an old friend of Inside Tailgating, Steven Raichlen.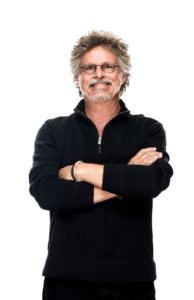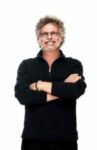 "We got pretty homesick for American barbecue, so we'd get oil drums—real ones—and burn out the petroleum," Glanville said. "We'd build a fire at the bottom and suspend the meat over it from wire clothes hangers."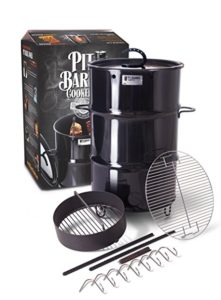 The advantage to cooking with a Pit Barrel Cooker is that it cooks meat from all sides, using its "hook-and-hang" method, and the cylindrical design keeps oxygen flow low so that meat can hang just inches over the coals and not burn.
"The design may seem simple, but it's completely self-regulating," Glanville explained. "We don't have vents or thermostats. Once you light it, it does all the work for you."
The Pit Barrel Cooker retails for $399, which makes it both affordable and simple to use. It also comes in a 14-inch model, known as Pit Barrel Junior, for $229, which is great for packing in the back of the car for your next tailgate. Check out both models and get more information here.
INVEST IN A LEGEND
Now there's a lot of debate about what is the best grill on the market. A strong contender that many BBQ fanatics stand by is the Big Green Egg. It works as a grill, an oven, and a smoker, so you can make anything you want.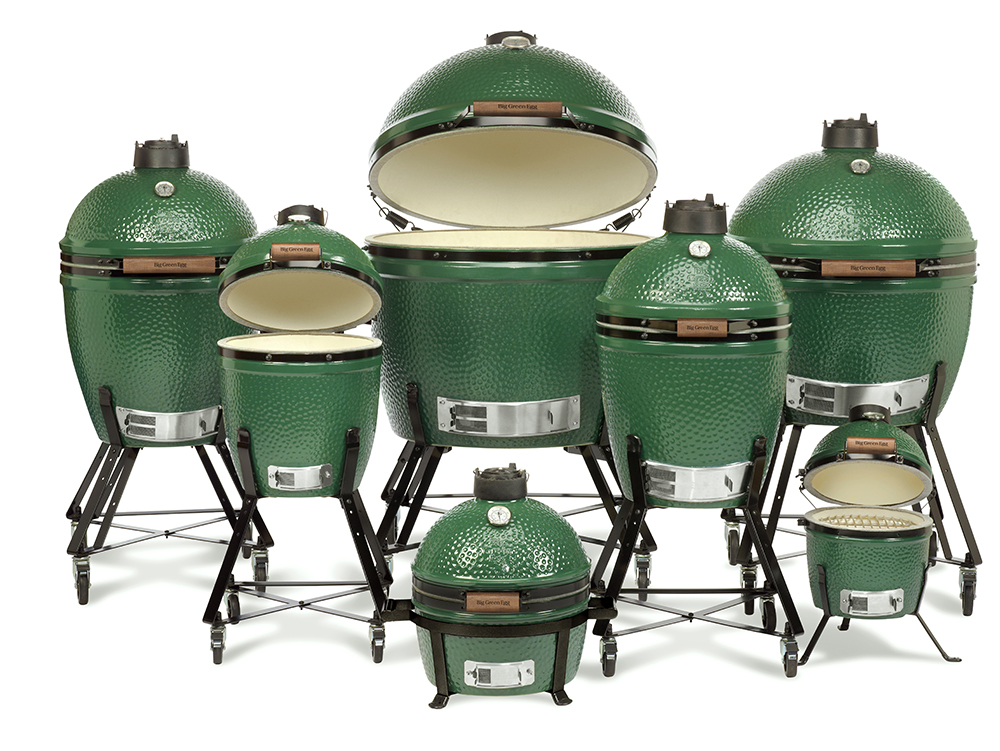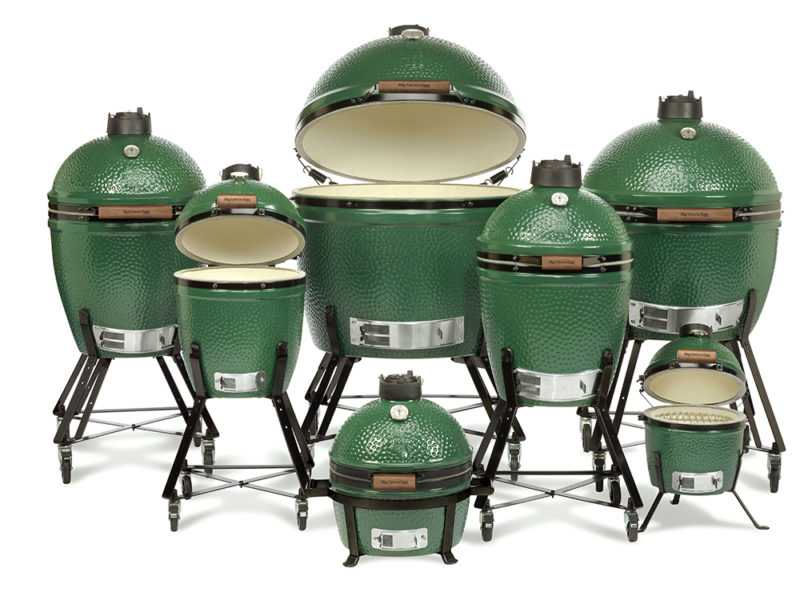 In case you haven't heard, there is a Big Green Egg grill that will fit anyone's grilling needs.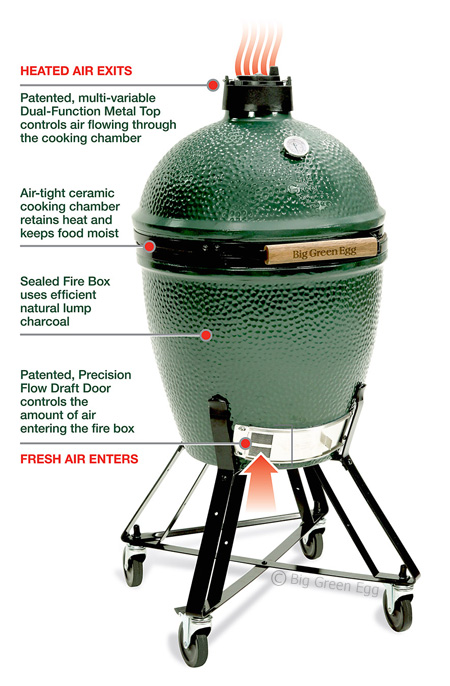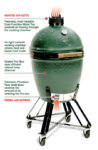 A whole family of Big Green Eggs that will accommodate whatever size grilling project you choose to take on. There are seven different sizes to choose from and all of them produce 'eggs'cellent results.
Whether you are using your Big Green Egg as an oven, smoker, or for grilling your favorite meal; you won't be disappointed in the final product. Truly, the Big Green Egg is the ultimate cooking experience. I am thinking that you may even be able to sneak one of the Big Green Egg Minis into your honey's stocking!!
The Big Green Egg produces improved insulation through its patented ceramic technologies and controls air flow with a Precision Flow Draft Door. For more information about this time-tested ceramic cooking system please visit and check out biggreenegg.com for retailers and dealers near you.
The are some 'eggs'ceptional 'egg'cessories to choose from as well, so if you're looking to 'eggs'centuate your 'eggs'perience you can do that too.
GAS, CHARCOAL, OR PERHAPS, WOOD?
Another popular debate among BBQ lovers is propane or charcoal. People who like propane like the ease of cooking and the clean flavors. Charcoal proponents like the smokey, savory taste of cooking over briquettes. However, may we present another option: Wood pellet grills. There are two wood pellet grills we absolutely love for a homegate.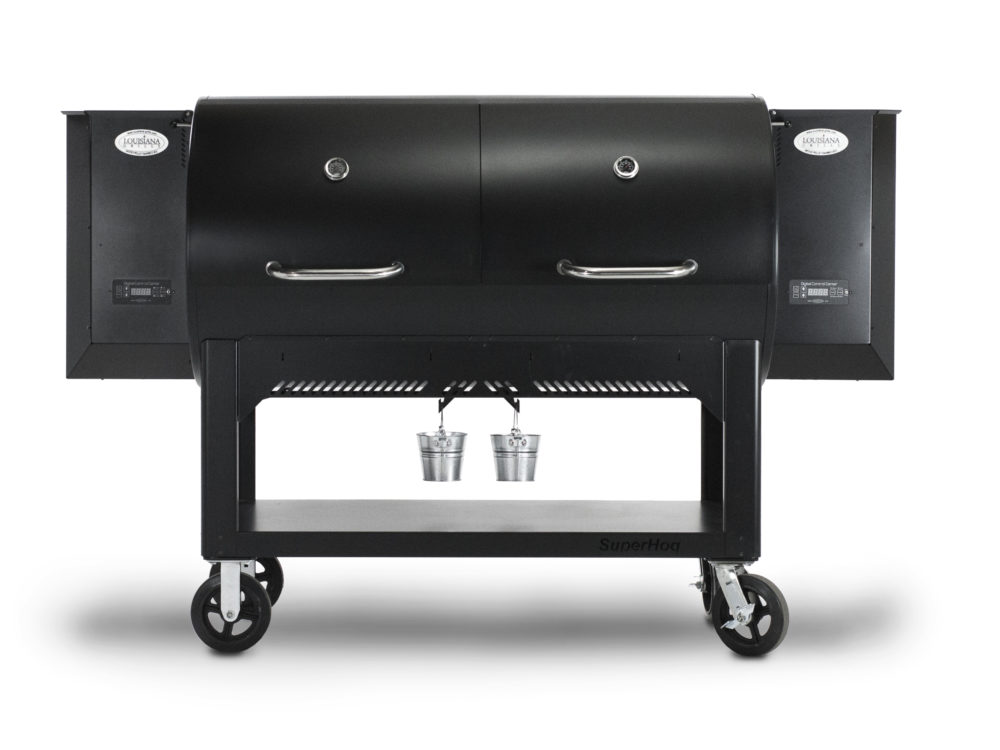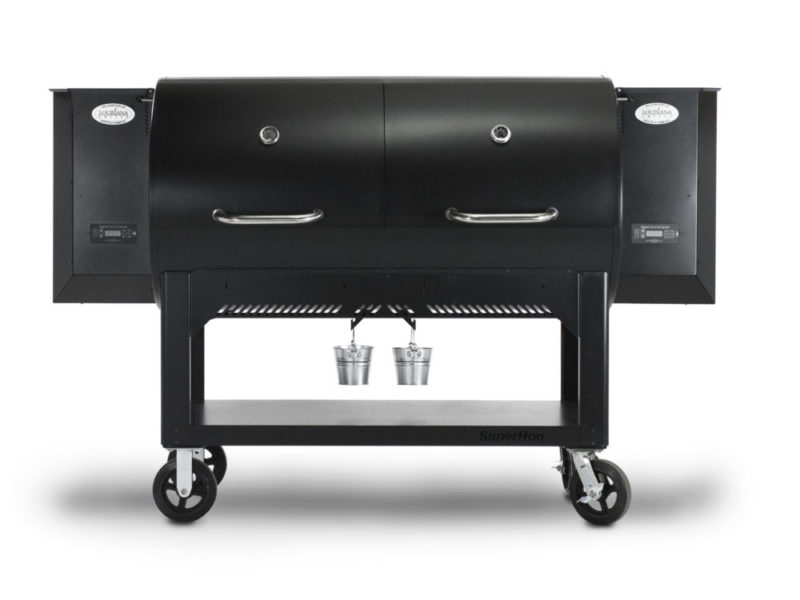 Up first is The Super Hog is the elite wood pellet grill in the Country Smokers line of grills from Louisiana Grills (LG). The Super Hog is super big with just about two of everything – hoods, handles, fire pots, temperature controllers, pellet hoppers, augers, and grease buckets. There is a divider that splits this grill in half to allow for cooking different foods at different temperatures. The divider can be removed for a uniform cooking area of 3,105 square inches. If you have a need to cook around 200 burgers at one time, this grill can do it for you.
LG has developed a proprietary exhaust system with multiple holes on the back instead of a typical chimney stack found on most wood pellet grills. This is LG's way of ensuring even smoking throughout the entire grill. There are three different levels of cooking on stainless steel grates and the top two levels can easily be removed. The Super Hog weighs around 525 pounds and comes with wheels so it can be moved around. The dual digital control centers precisely monitor the temperature between 170 and 600 degrees. Go slow and low on one side and sear away on the other to mix it up.
The Super Hog is a great grill for your next homegate. You can handle just about any size party and cook any style of food with this big boy. Be bold and wheel this Super Hog onto a trailer and take it to the lots to cook for the masses. The Super Hog is Super Big and Super Sweet. For more information, check out Louisiana Grills.
Wood pellets are a great option because they impart a smokey flavor. You can use a variety of different kinds of pellets like applewood, hickory, and pecan to explore a fun variety of flavors.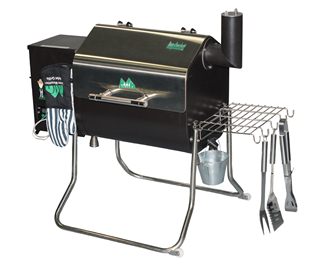 Our second option is The Davy Crockett, from Green Mountain Grills, is worth a look. The King of the Wild Frontier is available to come tailgating. This grill weighs in at around 60 pounds and has a 9 pound hopper to hold wood pellets. The cooking surface area is 219 square inches. The folding legs can be used as a handle and allows it to easily fit in a trunk or truck. Set it up on the back of a truck, on a table or on the ground.
This small portable grill has a digital temperature controller that ranges from 150 degrees to 550 degrees. It comes with three different ways to plug-in:
AC Adapter to plug into a wall
23 foot 12 volt plug for the car
Alligator clips to attach to a battery
One of the big knocks on wood pellet grills is that indirect heat is not ideal for grilling or cooking. The Davy Crockett has Open Flame Technology that allows for direct or indirect grilling. This grill is available for under $350. Check out Green Mountain Grills for more information.
Deciding between these two can be a tall order, but we know you can do it.
Plan A Delicious Spread
Tailgaters always go over the top when it comes to the food. However, with homegating, we have our full kitchen and so we can really do it up. Here are some of our favorite Super Bowl homegate recipes.
Create A Festive Environment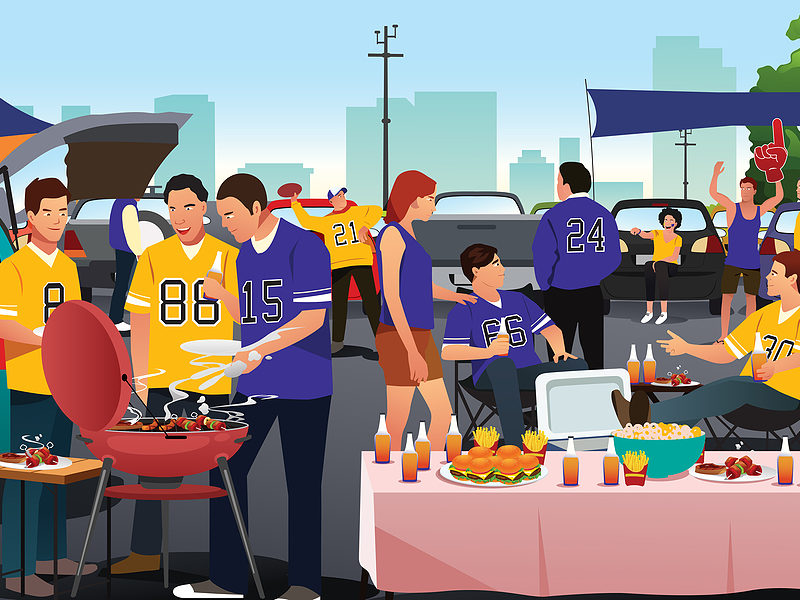 Nothing will ever recreate the energy of the stadium. However, you can get pretty close with the right decorations. Adding some football-themed decor will get everyone in the spirit of the game.
With many of us still homegating for the time being, we're always looking for new ways to make game day fun and festive for our guests. One great way is to decorate your home for the game. Decorating with the best tailgate party supplies can help you and your guests get into the spirit of the game and feel more like you're at the stadium watching it live. Here are some of our favorite ideas for decorating for your next homegate.
1. REPRESENT YOUR TEAM
Even if fans of your opponents are coming over to watch the game, you still need to represent your favorite team. There's so many ways you can do this but the easiest is just to fill your home with your team's colors. You can get colorful tailgate party supplies like balloons, streamers, or even add the colors to your decor with throw pillow covers. Go ahead and break out some of your favorite pieces of memorabilia and show them off as well. Hang a team jersey on the wall, put out a team flag, or hang posters of your favorite players.
2. KICKOFF THE TAILGATE AT THE FRONT DOOR
When planning your decor, start at the front door. Most teams sell door covers at their official merchandise store, so you can really showcase your team spirit the moment guests arrive. You can also get sports themed door decor like these football themed welcome banners or this volleyball door cover that can be personalized for your favorite player. We also love hanging a welcome sign like this clever baseball themed sign that says, "There's no place like home."
3. LAY OUT A WINNING FOOD STATION
For many of us, the second most important thing at any homegate or tailgate party is the food. The food is everything! Showcase your food with some great decor. You can buy tailgate party supplies designed specifically for your tabletop like this full set of football dinnerware and table decor. You can also get fun serving stations like this cupcake stadium or this stadium shaped serving tray we love for a nacho station. You can also get a team-theme serving platter like these great options available in most professional teams. A great place to shop for table decor and serving plates is also at your team's official merchandise store.
4. SHOW YOUR SPIRIT WITH SOME SPIRITS
When it comes to drinks, there are so many homegating ideas. Start with grabbing some tailgate party supplies for your bar like these paper Spalding basketball cups and some team-themed beer coozies. Set out a cooler so people can grab beers and sodas with ease. We also love the idea of making a pitcher cocktail. There are some really fun sports-themed cocktail recipes your guests will love. If you really want to go over the top, here are some ideas on how to set up your own home sports bar.
5. SET UP A FUN PHOTO BOOTH
Some of our best memories are made while tailgating. It's a great time for friends and family to get together and let loose and have some fun. A wonderful way to capture these memories is with a photo station. All you need is a blank wall and some accessories. Start by decorating your wall with streamers or if you want to really make a statement, you can get a stadium background wall banner. Then you just need some fun accessories like your team flags, helmets, and jerseys. We also love grabbing a set of photo props like this football photo booth prop set. Your guests will have a blast posing with each other in support of the team!
6. MAKE YOUR OWN TOURNAMENT
There are a ton of games you can set up to entertain your guests while you are waiting for the game to begin. One of our favorites is cornhole. Everyone loves to play cornhole, even the kids. We love the options available at All Cornhole. They have themed cornhole boards for all your favorite teams, but you can also get a custom set made. We also love playing beer pong. This hockey-themed beer pong board is a fun option. If you're a baseball fan, you can set up Pro-pitch to test the pitching skills of your guests.
7. PLAY MUSIC
Though not technically a decoration, music can add to the overall atmosphere. We love playing some music before the game to get everyone pumped up and excited. Here are some song ideas to make your playlist. You can also play the radio for pre-game insights while waiting for the game to begin. Just place some bluetooth speakers strategically around your home and enjoy.
8. WATCH THE GAME IN STYLE
Whether you are watching the game indoors or out, you want to make sure there is plenty of seating for everyone. Move your furniture so everyone can see the screen. Add extra chairs, ottomans, and benches if needed. Then add some team spirit with things like team-themed throw blankets and pillows. You also want to make sure there's plenty of table space where people can put their drinks and snacks. We love adding these sports team coasters as a thoughtful touch and to protect your furniture.
9. ADD GAME DAY ACCESSORIES
When watching the game, you want your guests to be able to cheer on the team. So lay out some accessories like foam fingers, pom-poms, and even a bullhorn. You can get foam fingers from your team's merchandise store. We love this shop for pom poms because they have a wide array of colors to match any team and options like hand poms, spirit poms, and ball poms.
Take To The Field
Finally, you want to plan some great activities for before and after the game. Backyard games like cornhole, football toss, and cup check can bring a little fun and competition to any homegate. So we have compiled a list of our favorite backyard homegating games!
If you have enough people, you can also just grab a pigskin and play everyone's favorite game in your backyard. Who knows, maybe one of your homegate teammates will take home a ring someday.
Hosting a homegate for the Super Bowl is a great way to get everyone together for the big game safely. If it's your first homegate or if you are a seasoned pro, the team at Inside Tailgating is here to help. Be sure to follow us on Facebook, Twitter, Instagram and check out our Amazon Storefront. We offer tons of great recipes, product reviews, and part hosting tips to help you plan the perfect event.