With many of us still homegating for the time being, we're always looking for new ways to make game day fun and festive for our guests. One great way is to decorate your home for the game. Decorating with the best tailgate party supplies can help you and your guests get into the spirit of the game and feel more like you're at the stadium watching it live. Here are some of our favorite ideas for decorating for your next homegate.
At Inside Tailgating, we independently select and write about stuff we love or want to try out and think you will too. As a participant in the Amazon Services LLC Associates Program, and other affiliate advertising programs designed to provide a means for sites to earn advertising fees by advertising and/or linking to their websites, such as Amazon.com, we may receive a commission on sales or other compensation through those links on this page. It is at no additional cost to you, but we gotta pay for our tailgates somehow…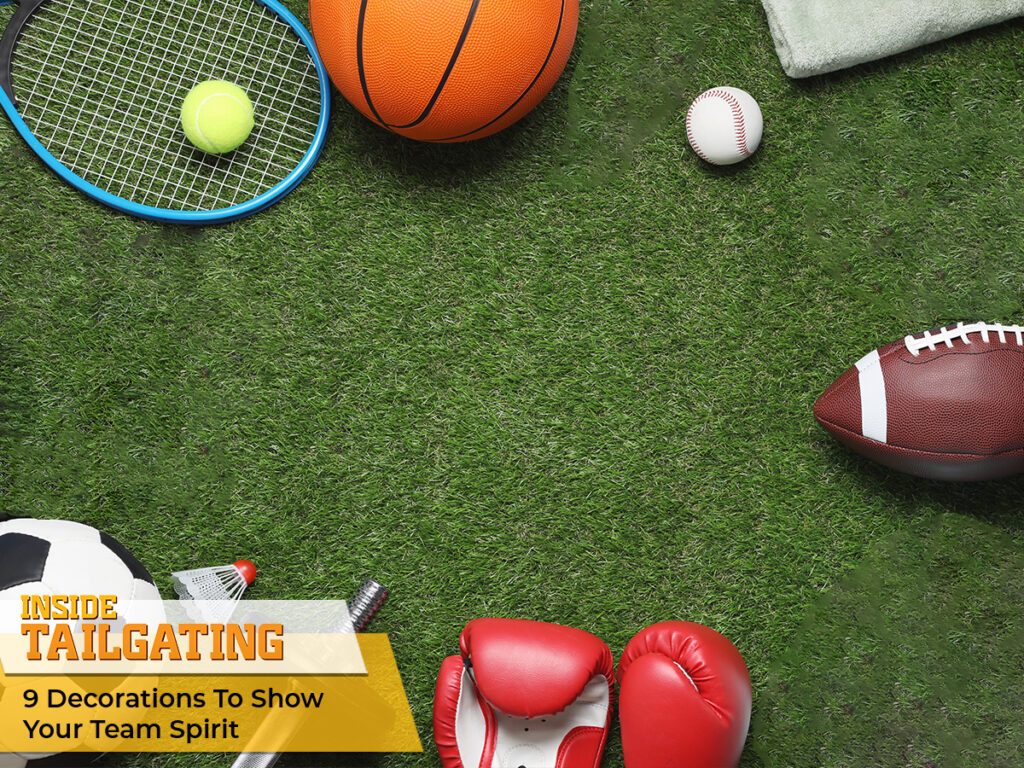 1. Represent Your Team
Even if fans of your opponents are coming over to watch the game, you still need to represent your favorite team. There's so many ways you can do this but the easiest is just to fill your home with your team's colors. You can get colorful tailgate party supplies like balloons, streamers, or even add the colors to your decor with throw pillow covers. Go ahead and break out some of your favorite pieces of memorabilia and show them off as well. Hang a team jersey on the wall, put out a team flag, or hang posters of your favorite players.
2. Kickoff The Tailgate At The Front Door
When planning your decor, start at the front door. Most teams sell door covers at their official merchandise store, so you can really showcase your team spirit the moment guests arrive. You can also get a sports themed door decor like these football themed welcome banners or this volleyball door cover that can be personalized for your favorite player. We also love hanging a welcome sign like this clever baseball themed sign that says, "There's no place like home." 
3. Lay Out A Winning Food Station
For many of us, the second most important thing at any homegate or tailgate party is the food. The food is everything! Showcase your food with some great decor. You can buy tailgate party supplies designed specifically for your tabletop like this full set of football dinnerware and table decor. You can also get fun serving stations like this cupcake stadium or this stadium shaped serving tray we love for a nacho station. You can also get a team-theme serving platter like these great options available in most professional teams. A great place to shop for table decor and serving plates is also at your team's official merchandise store.
4. Show Your Spirit With Some Spirits
When it comes to drinks, there are so many homegating ideas. Start with grabbing some tailgate party supplies for your bar like these paper Spalding basketball cups and some team-themed beer coozies. Set out a cooler so people can grab beers and sodas with ease. We also love the idea of making a pitcher cocktail. There are some really fun sports-themed cocktail recipes your guests will love. If you really want to go over the top, here are some ideas on how to set up your own home sports bar.
5. Set Up A Fun Photo Booth
Some of our best memories are made while tailgating. It's a great time for friends and family to get together and let loose and have some fun. A wonderful way to capture these memories is with a photo station. All you need is a blank wall and some accessories. Start by decorating your wall with streamers or if you want to really make a statement, you can get a stadium background wall banner. Then you just need some fun accessories like your team flags, helmets, and jerseys. We also love grabbing a set of photo props like this football photo booth prop set. Your guests will have a blast posing with each other in support of the team!
6. Make Your Own Tournament
There are a ton of games you can set up to entertain your guests while you are waiting for the game to begin. One of our favorites is cornhole. Everyone loves to play cornhole, even the kids. We love the options available at All Cornhole. They have themed cornhole boards for all your favorite teams, but you can also get a custom set made. We also love playing beer pong. This hockey-themed beer pong board is a fun option. If you're a baseball fan, you can set up Pro-pitch to test the pitching skills of your guests.
7. Play Music
Though not technically a decoration, music can add to the overall atmosphere. We love playing some music before the game to get everyone pumped up and excited. Here are some song ideas to make your playlist. You can also play the radio for pre-game insights while waiting for the game to begin. Just place some bluetooth speakers strategically around your home and enjoy.
8. Watch The Game In Style
Whether you are watching the game indoors or out, you want to make sure there is plenty of seating for everyone. Move your furniture so everyone can see the screen. Add extra chairs, ottomans, and benches if needed. Then add some team spirit with things like team-themed throw blankets and pillows. You also want to make sure there's plenty of table space where people can put their drinks and snacks. We love adding these sports team coasters as a thoughtful touch and to protect your furniture. 
9. Add Game Day Accessories
When watching the game, you want your guests to be able to cheer on the team. So lay out some accessories like foam fingers, pom-poms, and even a bullhorn. You can get foam fingers from your team's merchandise store. We love this shop for pom poms because they have a wide array of colors to match any team and options like hand poms, spirit poms, and ball poms.
Decorating for your next homegate is a blast. It will create a fun and inviting experience for your guests that will leave lasting memories. All you have to do is pick up some great tailgate party supplies and use your imagination. For more homegating ideas, check out our Homegating 101 Guide. We offer plenty of tips to help make sure that your home is the destination for all the big games.