Last Updated on 01/05/2022 by Inside Tailgating
Moonshine was originally a clear, white whiskey. However, during the prohibition era, moonshine became a term for all alcohol produced illegally. After prohibition ended in 1933, the name stuck and became a term to refer to all alcohol produced without regulation. However, distillers across the country started producing traditional moonshine again. Since then, moonshine has become more and more popular as people are discovering how amazing it tastes. If you're looking for a great spirit for your next tailgate, moonshine will certainly be added to your tailgate essential. Here are just some of the ways you can enjoy moonshine.
National Moonshine Day
Friday, June 5th is National Moonshine Day. To us here at Inside Tailgating that sounds like a great, amazing reason to have a tailgate party and celebrate. Ok, we seldom need much of a reason to do so, but let's party anyway.
For National Moonshine Day, a Moonshine Mule is the perfect cocktail to enjoy.
Moonshine Mule
Ingredients
1

Part

Ole Smoky White Lightnin

2

Part

Ginger Beer

Top With Angostura Bitters

Fresh Lime Wedges
Instructions
Mix well in a glass over ice
Ole Smoky Tennessee Moonshine, is Tennessee's First Legal Moonshine and comes in a variety of flavors, including the famous Apple Pie Moonshine. At 40 proof it's perfect for being enjoyed straight out of the jar.
Kentucky Mule
If the Ole Smoky Tennessee Moonshine isn't your thing, then try this Kentucky Mule.
Kentucky Mule
Ingredients
1 – 1.5

Shots

of Clear Moonshine or White Whiskey

5

Fl Oz.

Ginger Beer

Juice Of One Lime

Ice
Instructions
Fill glass with 4-5 ice cubes

Then pour in your shot(s) of bourbon.

Add the juice of one lime

Then the chilled ginger beer until glass is full.

Then top off with a lime wedge on the side and serve.
One of my favorite drinks is a Moscow Mule. But I also like to mix it up and make a white whiskey version.
If National Moonshine Day isn't enough of an excuse to get together with your friends for a tailgate, you're in luck. June 5th is also during the Women's College World Series. So you can whip up some mules, make a few great snacks, and watch a baseball game.
White Lightning In A Jar: Midnight Moonshine
If you're looking for a great brand of moonshine to add to your tailgating essentials, look no further than Midnight Moonshine. Midnight Moonshine gives a nod to the history of moonshiners during the prohibition era and has a great history with NASCAR.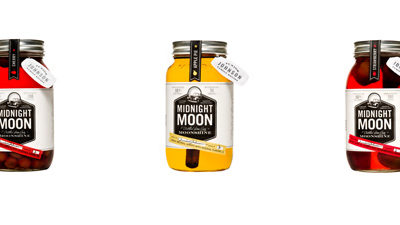 Moonshine runners made a fair buck during Prohibition. Idle bootleggers jump started stock car racing careers fueled by white lightning. Heck, we've tasted our share of 'shine in the tailgating lots.
NASCAR fans can now enjoy legal moonshine served up country style in a mason jar. Twist the lid to enjoy fourth generation moonshine legend and stock car legend Junior Johnson's family recipes. Each handcrafted and numbered batch is tripled-distilled in a copper still by Piedmont Distillers in the backwoods of North Carolina.
Junior Johnson's Midnight Moon follows the Johnson family's moonshine recipe. These 80 proof jars pack a true fruit punch – infused with either real cherries, strawberries, or cinnamon sticks (if you like apple pie).
Grab your Midnight Moon and make a run for it.
Try Out Ole Smoky Moonshine
One of the best moonshine makers on the market, Ole Smoky moonshine is a great option for celebrating National Moonshine Day. We even have five different recipes you can try out that will make this instantly one of your favorite tailgating essentials.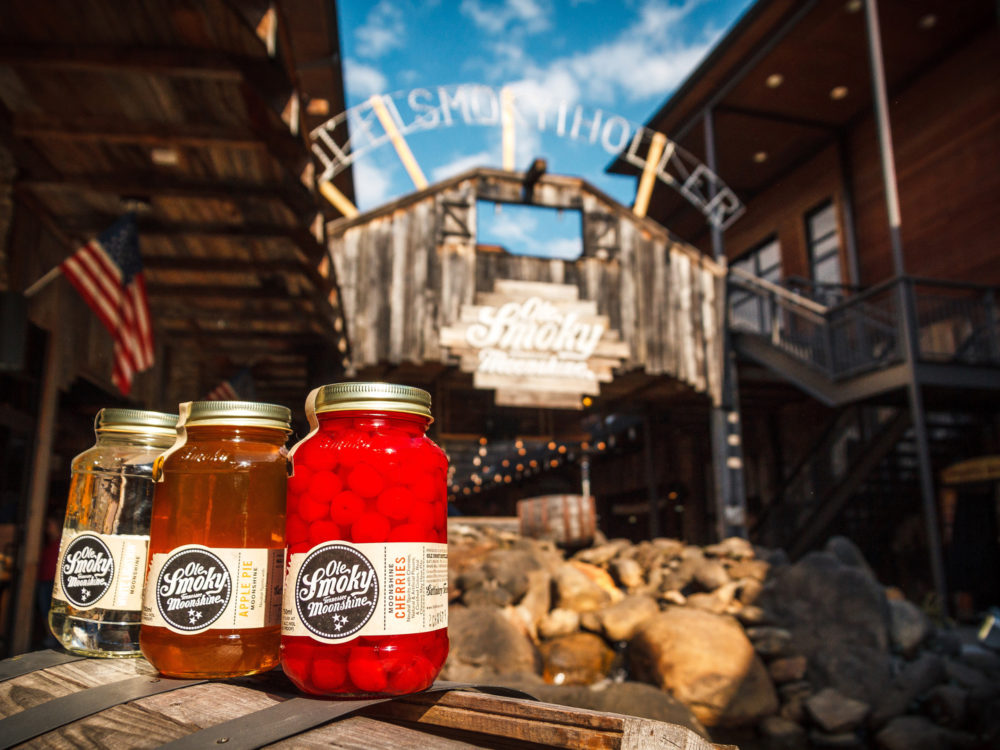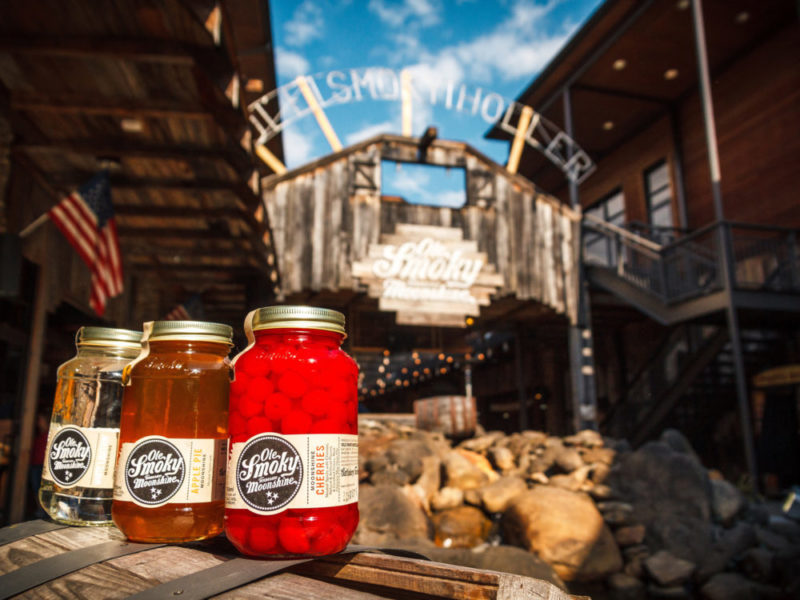 It's been 10 years since Tennessee legalized the production and sale of moonshine and a little less than that since Ole Smoky Moonshine Distillery opened its doors – officially anyway. One of the nation's biggest moonshine distributors traces its roots to the early settlers of the Smoky Mountains and a group of families who have been making and running "the hooch" for more than 100 years. Now they're just paying taxes on it!
"This isn't just moonshine, it's moonshine made with authenticity and enduring pride from the people of the Appalachians," boasts its press release.
Lucky for us the "white lightning" is easy to get now. Ole Smoky Moonshine is available in 49 states and sold at stores like Walmart and Sam's Club. It is stirred into cocktails at bars and restaurants. It's still sold in mason jars but now comes in 20 flavors, everything from apple pie to chocolate chili.
"We tried to embrace the rich knowledge and expertise of this area instead of just basing it on my granddad's recipe," Ole Smoky founder Joe Baker told Time Magazine. "We took the best of a lot of different recipes and came up with a product that we think best represents the area."
Now that it's so easily accessible, you can make your own moonshine cocktail recipes at home and at your tailgates. We picked some of Ole Smoky's favorite recipes for you to try this spring and summer out in the lots. What a fitting way to tailgate for a NASCAR race, an institution which was started by moonshine bootleggers.
Ole Smoky Blackberry Lemonade
Ingredients
2.5

oz.

Ole Smoky® Blackberry Moonshine

2.5

oz.

Lemonade
Instructions
Mix well in a glass over ice

garnish with fresh lemon wedge and blackberries (optional)
Ole Smoky Dirty Shirley
Ingredients
2.5

oz.

Ole Smoky Moonshine Cherries® Juice

2.5

oz.

Lemon-Lime Soda
Instructions
Mix well in a glass over ice

Garnish with Ole Smoky Moonshine Cherries
Ole Smoky Ginger Apple
Ingredients
2.5

oz.

Ole Smoky® Apple Pie Moonshine

2.5

oz.

Ginger Ale
Instructions
Mix ingredients well in glass over ice

Garnish with a fresh apple slice (optional)
Ole Smoky Hillbilly Icicle
Ingredients
2

oz.

Ole Smoky Razzin' Berry Moonshine

1

oz.

Ole Smoky White Lightnin'

2

oz.

Lemon lime soda
Instructions
Mix ingredients well in a glass over ice

Garnish with lemon twist
Ole Smoky Fire Hound
Ingredients
1.5

oz.

Ole Smoky® Blue Flame Moonshine

3

oz.

Grapefruit Juice

.5

oz.

Elderflower

optional
Instructions
Mix well in a glass over ice

Garnish with fresh grapefruit slice
And a reminder from the folks at Ole Smoky, please "shine" responsibly.
Baseball Hall of Famer Chipper Jones serving up Sweet Tea Moonshine
There are very few drinks more Southern than moonshine, except maybe sweet tea. Chipper Jones, the former third baseman for the Atlanta Braves has a partnership with Sugarlands Distilling. Together they have made the tastiest new moonshine drink.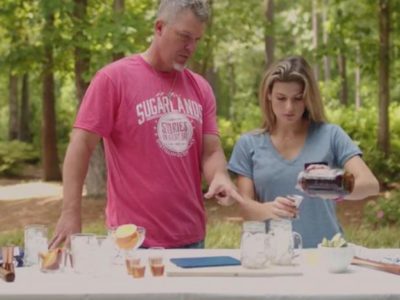 After playing 19 years in the major leagues, Baseball Hall of Famer Chipper Jones gets to kick back and enjoy watching games now, including the postseason.
When he's not broadcasting games for ESPN, you will find Chipper chilling with his wife Taylor in the evenings at their suburban Atlanta home. As soon as their kids are down for the night, he's pouring a drink and watching baseball – just like so many of us. And also, like so many of us, Jones has jumped on board the craft moonshine train. Over the summer, Jones joined forces with Sugarlands Shine to market his own moonshine flavor: Chipper Jones' Sweet Tea Moonshine.
"Nobody likes to sit down with a cocktail at the end of the day, put on a sporting event and enjoy a little of the sacrament more than me," said Jones. "It was a good fit for both sides, and I couldn't be happier."
WHY SWEET TEA MOONSHINE FITS JONES' SOUTHERN LIFESTYLE?
The sweet tea flavor made total sense for Jones, who was born and raised in the South and loves sweet tea to begin with.
"It's good; it's really good," said Jones, who grew up in tiny Pierson, Fla. and has called Atlanta home since the Braves drafted him No. 1 overall in 1990.
"Obviously I'm a sweet tea nut, so the sweet tea part of it was a natural fit, and then they have a ton of flavors. I've probably got 50 bottles of Sugarland Shine at my house – a bunch of different flavors – so you can mix the tea with the lemonade or the peppermint or the peach to give you that mix of sweet tea that you enjoy. I'm a big Arnold Palmer fan, so I like sweet tea and lemonade together. Not only do you get the Arnold Palmer feel, but you get a little buzz as well."
Where can you get Chipper Jones' Sweet Tea Moonshine?
It's available at the downtown Gatlinburg distillery, local liquor stores, as well as online.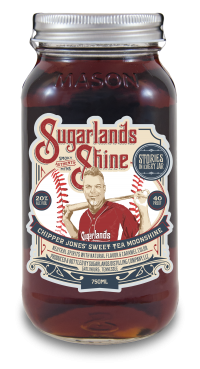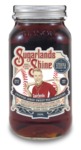 Sugarlands Distillery, now the official moonshine of NASCAR, opened in downtown Gatlinburg, Tenn., in the heart of the Great Smoky Mountains in March of 2014. They produce 29 different flavors of moonshine, whiskey and liqueurs. Their moonshine comes in flavors from Maple Bacon to Peanut Butter and Jelly, Butterscotch Gold to Pina Colada. They have a full line of Sippin' Creams, including Pumpkin Spice Latte, Eggnog and Dark Chocolate. For the drinker who likes to keep it simple, there's always Sugarlands' award-winning Roaming Man Tennessee Straight Rye Whiskey.
"Sugarlands is expanding by leaps and bounds to all areas of sports and entertainment," Jones said. "I feel fortunate that I was able to get in somewhat on the ground level. (Country musician) Cole Swindell was before me. Now knowing how they're expanding at the rate they're expanding, whether it's with the Braves, the PGA tour, NASCAR, country music, it's pretty far-reaching. And it's a pretty cool opportunity."
Sugarlands Shine now available at Truist Park
On the heels of announcing their partnership with Jones, Sugarlands unveiled a new multi-year sponsorship deal with Jones' former employer, the Atlanta Braves, as well.
Sugarlands Distilling Company at Chipper's Corner will open inside Truist Park. The cocktail lounge area will be located near third base, where Jones patrolled for 19 seasons, featuring an extensive display of his memorabilia, and of course a wide selection of moonshine. Chipper's Hot Corner Pub was slated to open for the 2020 season but was delayed due to COVID restrictions.
"For us, moonshine represents a spirit of tradition." said Patrick Sullivan, Chief Sales Officer at Sugarlands Distilling Co. "This partnership with the Atlanta Braves provides an exciting opportunity to connect with fans of a sport that celebrates new and old traditions. Expanding our growing presence in the world of sports with a high-caliber organization such as the Atlanta Braves enables us to add a new element to the fan experience in Truist Park that is representative of Sugarlands' commitment to excellence."
Does Jones Tailgate with Sugarlands Shine too?
As a fulltime professional athlete for most of his adult life, Jones has admittedly never been much of a tailgater. He's either been playing in the game, watching the game from a luxury suite, or avoiding the crowds from the comforts of home. But Jones got his first real taste of top notch tailgating last fall, when LSU played Oklahoma in the semifinal of the college football playoffs in Atlanta.
Jones was invited down to an LSU tailgate at Mercedes-Benz Stadium by some friends from Louisiana.
"When I tell you these people can tailgate like no one I've ever seen…" Jones said. "Screw the tickets to the game, I wanted to stay out there and just eat and drink. I had a blast. My Louisiana friends – they ruined me. If LSU ever comes back to Athens or to Mercedes-Benz, I'm going again. They had everything. Boudin. Crawfish. Crawfish Etouffee, crawfish dip, sausage like you wouldn't believe. Yeah it was awesome."
In general, though, if given the choice, Jones says he still prefers to watch a game from the comforts of home with family and a few friends for a Low Country Boil or cookout.
With National Moonshine Day upon us, try out some of these recommendations. You'll see why we consider moonshine one of our tailgating essentials for perfect game day cocktails.
For more recipes and tailgating tips, be sure to sign up for our newsletter and follow us on Facebook, Twitter, and Instagram. Share your tailgating and homegating fun in the comments below or tag us on social.