Last Updated on 01/05/2022 by Inside Tailgating
Is there anything better than kicking back with a few beers before the big game? Outside of your team winning, we'd argue there isn't. At Inside Tailgating, we're all about taking things to the next level. So we're always on the lookout for the coolest tailgating accessories. Over the years we have found tons of great tailgating accessories perfect for beer lovers. Here is our roundup of beer accessories you're definitely going to need at your next tailgate.
Can't Find A Bottle Opener? Look Down!
There is nothing worse than forgetting a bottle opener. Sure you can wedge it off with the back of a lighter or even tapping it against the edge of a table. However, there has to be a better way…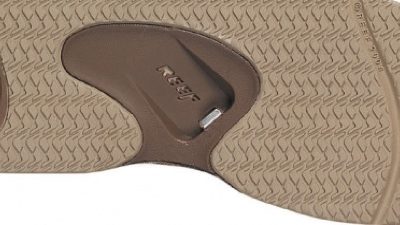 The Boy Scouts of America always preach the motto "Be Prepared," which is also the unofficial slogan for tailgaters. With so much gear and food to load into your vehicle, it's all too common to forget to pack the bottle opener. The makers of REEF sandals solved this problem rather easily by including this handy device on the bottom of their flip-flop!
The Mick Fanning Pro Model – Bottle Opener Sandals has a church key bottle opener fit snug into the sole of the sandal. The footwear is made for both men and women, and comes in all kinds of team, driver and school colors, including stripes, and "other fun colors." The REEF sandals have a "super soft eva footbed" to eventually mold to your feet for maximum comfort. And unlike your cheap Payless flip-flops with a giant hole in the sole, these kicks keep your foot protected from all unsightly things lurking on the ground of your tailgating parking lot.
These sandals are a big hit for NASCAR lovers, golf buffs and college fans in SEC, Big 12 South and Pac-10 South venues. And although this would not be the smartest footwear choice for a December football game in the northeast, the REEF-ers are perfect for your ride to the game before (and after) you strap on the snow boots and three pairs of socks. That's assuming your companions can stomach the smell of your sweaty feet for the entire car ride.
Too Cool For Flip Flops? Grab Some Sunglasses
Bottle opener flip flops are ideal when it's warm outside, but what about those chilly winter football games? Brewsees has you covered.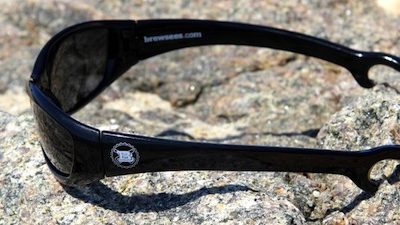 When you're packing up a trailer full of tailgating gear, it's really easy to forget your bottle opener. But if that bottle opener is on your face, you surely won't misplace it, right?
Along the lines of this mindset comes the "12'oz'er" sunglasses from Brewsees eyewear. These sleek shades have bottle openers on both of its arms, and unlike many ZZ Top-esque cheap sunglasses, these sun blockers are extremely durable. That's because they are made from 6061 Airplane Grade Anodized Aluminum, which is some seriously powerful stuff.
This 12'oz'er can be purchased for $29.99 and comes with a free coozie that doubles as a case for the bottle-popping shades. Polarized lenses provide 100 percent protection from harmful UV rays and the polycarbonate frame allows for a few inevitable drops from the bottle-opening tailgater that hasn't figured out when to say when.
Check out what inventor Rob Ianelli has to say about his bottle opening sunglasses in this video we shot at the 2012 Sports Licensing and Tailgate Show.
For more information or to purchase a pair, connect to Brewsees.com.
Drink Your Craft Beer Favorites Without Breaking The Glass (Or The Rules)
There's a lot of rules around glass bottles at stadiums because of the risks of broken glass littering the lot.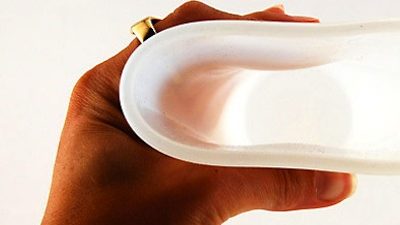 When you first turn 21, there's not a beer you would ever turn down, and there wasn't a container that you dissuade you from drinking, no matter how horrifying its contents were. Whether it was drinking out of dirty funnels, horrific oft-used plastic cups, or even to "shoot the boot" out of a dirty shoe, anything would do.
But as you grow older, you become more selective. And even if you don't ever really mature like your spouse expects you should, your taste buds do mature. Now, not just any beer out of any filthy container will suit you. Most beer drinkers prefer the pint glass, but a glass container isn't feasible at a tailgate. Thankfully, Silipint has solved this dilemma with what they call "The World's First and Only Silicone Pint Glass."
In addition to a better taste, this BPA-free beverage container is also good for the environment. And unlike your younger brother, this cup is non-staining, non-toxic, reusable, and easy to clean. The 16-ounce container is also safe for the dishwasher and microwave for daily use at home.
These cups are advertised to "insulate better than glass" keeping the drink the temperature you want it with a Keith Stone-like smooth inner surface. And you can also customize it with your own color or logo to show your support for the home team or boast of your drinking prowess.
But most importantly, as you can see here on Silipint.com, this beverage container is nearly impossible to destroy. These can be run over by car tires, bent, squeezed and slammed, and it still retains its drinkable shape and "grip-honed" outer surface without scratching or chipping.
Keep Your Hands Free
The best tailgating accessories are not just fun, they are functional. The beer belt is both. It's a stylish and fun way to keep all your beers handy, while also keep your hands free.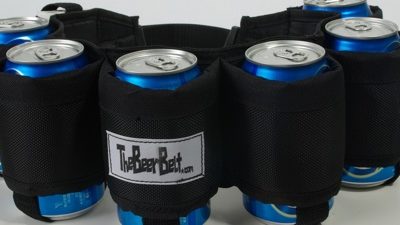 You can tell a lot about a person by the belt around his or her waist. You don't ever want to mess with a self-defense master in a black belt, and you certainly don't want to trespass on the lawn of the rancher with the oversized belt buckle. When something needs to be fixed, the handyman is ready in an instant with a belt containing a plethora of tools, and superheroes such as Batman keep all their gadgets in their trusty belt. And whoever is wearing The Beer Belt at a tailgate is sure to be the life of the party.
The Beer Belt holds six 12-ounce beverage cans or bottles easily around your waist, keeping your hands free, which you'll need for all those high fives coming your way from impressed tailgaters. The Beer Belt has a pocket in the back big enough to fit most cell phones and another hidden pocket to store your cash, driver's license and credit cards for when your belt is emptied.
The drink holsters claim to keep your beverage cold "for hours" and the durable, waterproof nylon design promises to "withstand the hardest of partiers." The waist strap adjusts so that even tailgaters with a 58-inch waist can fit into these belts. Heavily-muscled folks can even wear two of these at a time for a full 12-pack load. The Beer Belt comes in both manly colors (black, blue, and camo) and girly colors (pink and leopard print) for anybody to look great. After all, is there a more attractive outfit for women than a football jersey and six beers around her waist?
Any of these great beer tailgating accessories will help you enjoy a cold one without worry. For more interesting tailgating accessories and other fun finds, sign up for our newsletter and follow us on Facebook, Twitter, and Instagram.
We're always on the hunt for the newest and coolest gear for all your tailgating needs. Check out our gear section and let us know in the comments some of your beer accessories must-haves!