Last Updated on 01/05/2022 by Inside Tailgating
Tailgating and homegating parties are the perfect time to try out new recipes. Even though you may find yourself wanting to try new recipes, we suggest putting a twist on some of the classics. We find that hot dogs are a staple and must have for every tailgating or homegating party. That's actually why we are here today to discuss DIY hot dog bars and how you can set yours up to wow and amaze. If your interest is piqued, as it should be, please, stick around and read on to learn about some incredible hot dog bar ideas to add to your tailgating food list.
Our first section offers six different ways to make a hot dog bar perfect for tailgating. That's good news for you, as it gives you plenty of options. You can pick one to try or do them all; the choice is up to you.
6 Out Of This World Hot Dogs
Have you ever had a Bacon, Egg & BBQ Hot Dog? After you see this Episode of Inside Tailgating, you are definitely going to want to try and duplicate that one. Ryan Alessio presents a Secret Six Pack: 6 Out of This World Hot Dogs to enjoy.
This Inside Tailgating Episode will make your mouth water and stomach grumble. We expect you will sing "uh-oh spaghettios" for a good reason….If you try one at your tailgate, be sure to give us a shout-out and tell us what you think – send us a pic of your version!
Sweet Potato Chili Dogs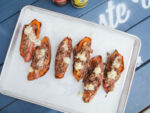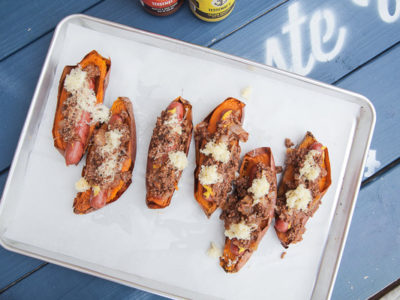 Print Recipe
Sweet Potato Chili Dogs
Ingredients
For The Dogs:
3

Sweet Potatoes

6

Hot Dogs

3

Tbsp

Yellow Mustard

Shredded Grass Fed Cheese
For The Chili:
1

Lb

Ground Beef

Salt and Pepper

1

Onion, finely chopped

2

Garlic Cloves, minced

1

Bottle

Matty's BBQ
Instructions
Place the potatoes on a rimmed baking sheet and rub with the oil.

Bake until tender, about 45 minutes.

In a Large Dutch oven combine the ground beef, onion, garlic, and BBQ over medium high heat.

Cook, stirring, until beef is cooked through, about 10 minutes.

Stir in ¼ cup water, reduce heat and continue to cook until flavors meld, about 10 minutes more.

Halve the sweet potatoes and scoop out about some of the flesh. (Save for another use.) Grill the hot dogs.

Just before serving: Place the sweet potatoes on a rimmed baking sheet, cut side up and broil quickly to heat through.

Place a hot dog in each sweet potato halve. Top with the chili, yellow mustard, and cheese if using.
Should you dare to put sweet potatoes and chili dogs together on your tailgating food list? The answer is absolutely and 100% percent you should. It might not sound like those two things should be paired, and that's what we thought at first, too. However, this recipe changed our minds, and we believe it will do the same for you. These sweet potato "buns" are more than just a gimmick. They make these dogs into a full, amazing meal.
Recipe courtesy of Tessemae's.
Chicago-Style Hot Dogs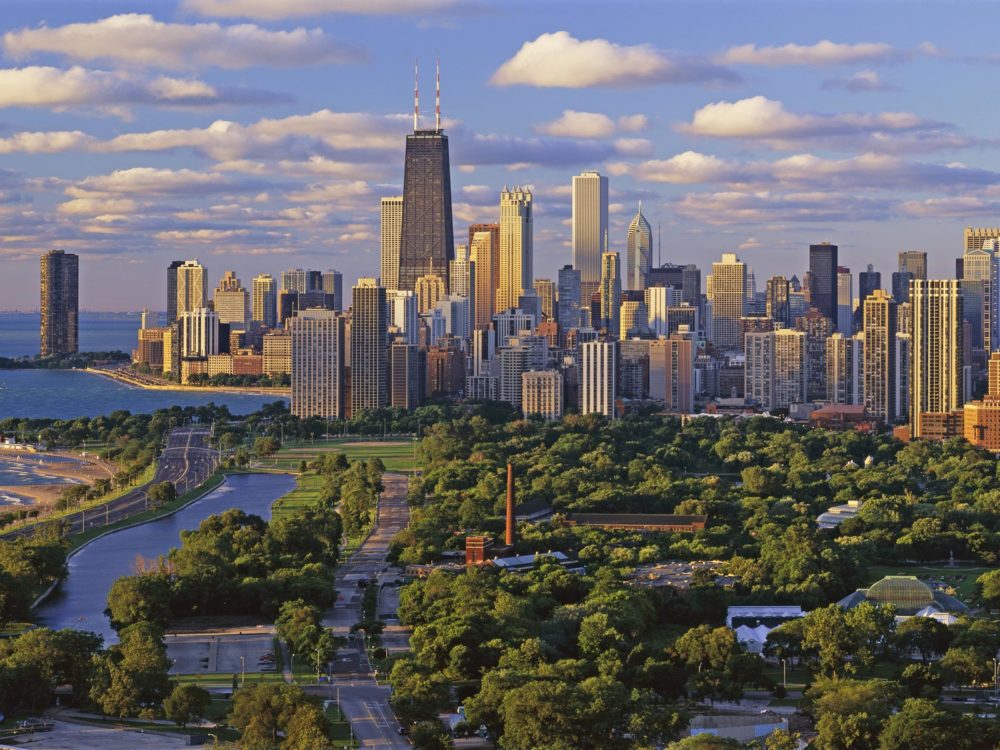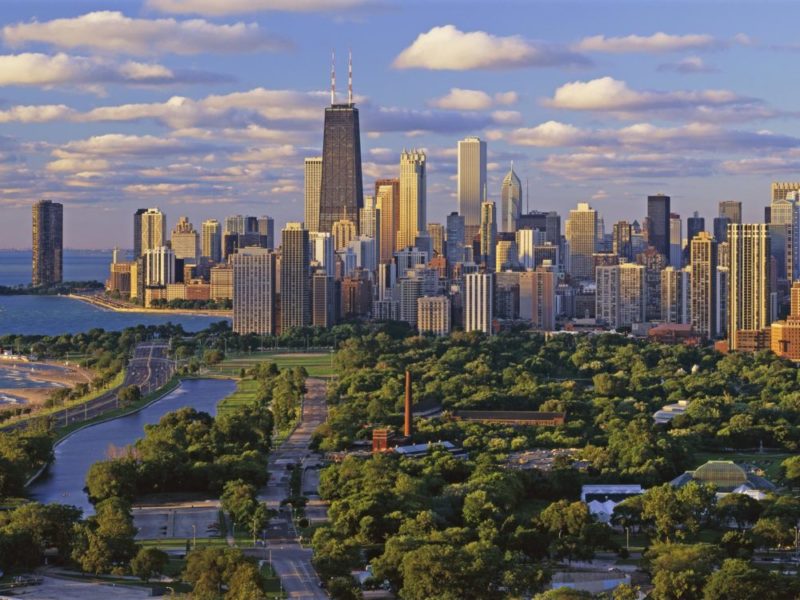 Have you ever tried a Chicago-style hot dog? If not, you don't know what you've been missing because each bite of one is as juicy and delicious as the last. If Chicago-style hot dogs haven't been on the menu at your tailgates before, there's never been a better time than now to give them a try.
A Chicago-style hot dog, Chicago Dog, or Chicago Red Hot is an all-beef frankfurter on a poppy seed bun, originating from the city of Chicago, Illinois. The "dragged through the garden" style is heavily promoted by Vienna Beef and Red Hot Chicago, the two most prominent Chicago hot dog manufacturers, but exceptions are common, with vendors adding cucumber slices or lettuce, omitting poppyseeds or celery salt, or using plain relish or a skinless hot dog.
Several popular hot dog stands serve a simpler version: a steamed natural-casing dog with only mustard, onions, plain relish and sport peppers, wrapped up with hand-cut french fries, while the historic Superdawg drive-ins notably substitute a pickled tomato for fresh. Many vendors, including Portillo's, offer a Chicago-style dog with cheese sauce, known as a cheese-dog.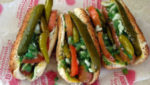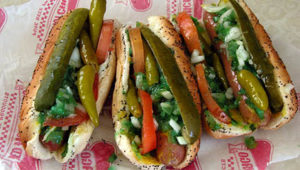 Print Recipe
Chicago-Style Hot Dog
Ingredients
1

All Beef Vienna Hot Dog, char-broiled

1

Poppy Seed Bun, well steamed

1

Tsp

Mustard

1

Tbsp

Green Relish

Fresh Chopped, Steaming Hot, Grilled Onions

2

Large Pickle Wedges

4

Slices

Red-Ripe Plum Tomatoes

Dash Of Celery Salt

Hot Sport Peppers, optional
Instructions
Place char broiled hot dog in bun.

Top with mustard, relish, onions, pickles, and tomatoes.

Finish it off with a dash of celery salt.

Hot sport peppers are optional.
The recipe does not include ketchup, and there is a widely shared, strong opinion among many Chicagoans and aficionados that ketchup is unacceptable. A number of Chicago hot dog vendors do not offer ketchup as a condiment.
The Simple Hot Dog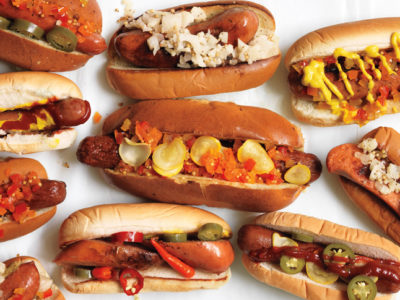 Fancy isn't always better. With that in mind, your tailgating food list doesn't have to be extravagant or off the wall. Sometimes, simple is the way to go. Hot dogs, buns, and various condiments are all tailgaters need for DIY hot dog bars that are second to none.
You do not always need to be fancy at your party. Sometimes you just need simple food, usually served in bulk.
So here is another simple thing to serve. The All-American hot dog.
Super simple. We are not talking about sausages or other tubed meat products. Just a simple hot dog you buy in the pack from your local grocery store.
Rather than a specific recipe, let's talk about the ways to enhance your "dog" experience when adding this to your tailgating food list.
The Dog itself. The cheapest you can get in the store will work. Really! But it may be best to spend a couple cents more for a better name brand. Nathan's Beef Franks, Sabrett Skinless Beef Frankfurters, Ball Park Deli Style Beef Franks, Applegate Farms Organic Beef Hot Dog (yes, really), Boar's Head, Hebrew National, Ball Park Angus Beef Franks, and Oscar Mayer Classic Beef Franks are all rated well and taste damn good. Living in Maryland I have a soft spot for Esskay Orioles Beef Franks. I am sure there is a local choice near you that invokes similar passions.
Bun. This is where you should NOT go for the simple grocery store choice. They suck. Always will suck. Pay more for the better bread and you will be happy. Arnold/Orowheat, Trader Joe's brand Milton's, Pepperidge Farm's "Top Split", Sunbeam, and Martin's Potato Buns are some great choices. I am a sucker for a potato roll myself.
Condiments. This is where you will get some fights. Some people love ketchup on their dogs. Others say it is sacrilege. I like mustard AND ketchup. But then again sometimes I want it Chicago style and drug through a garden. Often I want chili. Or cheese, or relish. So splurge and get a few of everything. Let the party goer decide. If you are making something like chili or homemade, that may be the only thing I might poll my guests on ahead of time.
Every culture in the world enjoys some kind of meat in tube form. So why not enjoy the American kind. And did I mention it is easy to make?
Now that you're armed with all of this information, the time has come for you to go out and create a stellar hot dog bar of your own. Don't worry; you've got this covered, and your tailgate or homegate will be great. In fact, it might even be so terrific that your friends will continue to talk about it for years and ask you to host more events.
There's a good chance you're gonna want beer to go with your awesome hot dog bar, so it's a great time to sign up for the Craft Beer Club and you'll never be out of beer- with the bonus of it being delivered straight to your door regularly. Maybe add a beer tasting to your hot dog bar and then you've really got a memorable homegate experience to brag about!
Comment below with your favorite hot dog toppings or recipes, and don't forget to tag us on social!