Last Updated on 04/14/2021 by Inside Tailgating
TAILGATE TO HEAVEN: A BRITISH NFL FAN TACKLES AMERICA
In 2008, British author Adam Goldstein set out on a journey when writing Tailgate To Heaven that would fulfill the fantasy of NFL tailgaters everywhere. He planned an expedition to the U.S to experience home games from every NFL Franchise in the league. Goldstein traveled across the country by car and soaked in the tailgating culture of America. The trip was done solo, as Goldstein prepared for his voyage by selling his apartment, leaving his girlfriend, and quitting his job. He attended 40 NFL games in total and documented his entire pilgrimage in his new book Tailgate to Heaven which comes out on July 31st.
By Steve Urena
I spoke to Goldstein about the challenges he faced and what it was like coming across the pond for such a trip.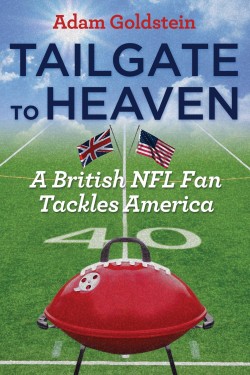 SU: In 2008 you set on your trip to America, why did you choose to do it?
AG: "Whenever I have been in the States I have always tried to see NFL games. In 2006, my good friend was getting married in L.A. I noticed that two days later, my beloved Bears were playing on Monday Night Football not too far away in Arizona. So I went with a friend to that now famous Bears comeback game. Coming from England fans do not go to the stadium early, so for several NFL games I had attended previously I arrived at kick off. It was only when I left the game early (yes I missed the amazing Bears comeback!) that I saw people in the car park watching the game on their flat screens in the car park. How bizarre. Why would people go to the stadium and then watch it on their own T.V? I was intrigued. The local Cardinals' fan then cooked me some hot dogs on a grill that they brought with him. My mind was exploding. He told me that fans like him, known as tailgaters do this all over the country at all NFL games. I didn't believe him. So I thought it would be interesting to experience the fandom of every NFL franchise, and of course the only way to do that would be to experience a home game for each franchise. Seeing as I live in the U.K it would be too hard for me to do an NFL game every weekend, because that would take years, so I looked at schedules to see if it was possible to not only see 32 teams play at home in the regular season but to also have enough time to experience the culture of tailgating at all these fan bases."
SU: Were you always a football fan, or did you just want to experience the American sports culture?
AG: "After the '85 Bears Superbowl (I was five at the time) I became an NFL fan, even though I didn't really know the rules until later. But like many football fans I became as big a fan of the sport and the NFL as much as I did my Bears team. I do have a long term goal and that is to see the Bears play away at every NFL stadium. So far I have seen them play away four times and this year I will see them away against the Packers! "
SU: How did you fall in love with football? Did you ever attempt to play yourself?
AG: "I loved the NFL growing up. Perhaps it was the exotic spectacle of it. I went to see my first live game in 1990 at Wembley when the Saints played the Raiders. When I was 20 I played corner back for my university team in Wales for one season. I sometimes wore #23. Maybe Devin Hester saw me play and copied my number? After that season. (8 games 1INT) I continued to play flag football in London. As much as I loved kitting up, I'm not a great athlete or very strong or physically aggressive, so I prefer to play flag. Next year I hope to get involved with some coaching here in the U.K."
SU: Did you have a bunch of set goals coming over to the states to accomplish? What were they and did you accomplish them?
AG: "Yes I did. I wanted to see a live NFL game at every stadium in the regular season. I wanted to meet extreme and passionate fans, and I really wanted to taste the delights of every tailgate and understand that culture further. I did all of those things and more. I ended up going to 40 football games that season. I was a food judge at a three day Superbowl tailgate party, I met current and former players, such as Mike Ditka and Michael Irvin, and I got to see the Hall of Fame. Because of the sheer amount of driving the only downside was that at times I did not spend as much time in the cities as I would have liked, because after some games I had a 1000 mile drive to the next game. "
SU: How did you prepare yourself financially for such a trip?
AG: " I sold my apartment in London. I lived with my best friend and my sister at the time. We sold up. They went and moved into other abodes, while I spanked all of my money on the trip. So upon my return I was back living with the folks for a little while."
SU: Were you nervous leaving your home country to embark on a journey of this magnitude?
AG: "Not really. I have travelled the U.S before, but obviously not for as long or with as much driving. I don't think I had time to be nervous. I was so busy with work leading up to the trip, and then while on the trip there was always so much to do, such as source hotels, tickets, friends to stay with, find tailgaters etc. Where I was nervous though was whether or not my relationship with my girlfriend would continue. Steph was going to come out for the last seven games and I wanted to make sure she had a good time and understood that this was not just a trip about watching NFL games, but about finding the community and the culture surrounding the game. It all worked out, because she stuck with me, and we recently got engaged. "
SU: How did you live during this trip? Did you live in your car, did you stay in hotels, Did you have connections in the states?
AG: "I didn't have the guts to sleep in the car. Though the following year I did live on a tiki/tailgate bus for half of the football season and I cooked British food at the tailgates, and I slept on this bus most nights. On the 2008 trip I stayed in cheap motels and with friends that I already knew. But it was tough working out their schedules. I have friends in NYC, Chicago and L.A. One tailgater put me up for the night after I met him at a Pats game, which was really nice of him."
SU: Was the plan always to write a book to document this pilgrimage or did the book kind of just write itself?
AG: " I did blog about the trip: www.adamsfootballtrip.com. I really enjoyed doing that, but it was hard blogging every day and going through so many pictures. The daily blog part and content have been taken away, but you can still picture from that trip on the site. After I came back I thought a book would be interesting for people. After writing my first chapter, I sent off my work. 167 publishers and agents said no, but luckily, Potomac Books in V.A liked it. My original script was very long, but after lots of editing, it is now down to a good size. I really enjoyed the trip and writing the book and I hope that people enjoy reading it just as much."
SU: Describe the Tailgating scene in America and how it differs from your home country? Do people in England Tailgate?
AG: "People do tailgate a little bit in England, but we just don't call it that. We don't have a word for it, but people do take food with them to cricket matches, partly because it lasts so long (up to five days). Apparently there is a pre-game car park picnic at some horse races and rugby too, but neither on the scale on tailgating. For soccer, the fans go to pubs before-hand and opposing fans are not really allowed to mingle in case of fights, which is a shame. The tailgating scene is the States is massive and blew me away at every game. If I saw one themed car at a soccer match here I'd be surprised, but in the U.S I saw hundreds. The tailgate is certainly a sub-culture and a way of life. The sharing and the way tailgaters welcome home game and away game fans, surely makes every American feel proud. I'm surprised it is not hailed as the eighth wonder of the world."
SU: Have you learned some new recipes? Was there any go to food you ate here that you don't normally eat at home? Was there anything you didn't think you would like but ended up loving?
AG: "There was quite a lot of food that I had never heard of before, and I just kept an open mind. I ate bear, raccoon, venison, lobster to name just a few of the stranger things. I picked up a few recipes or rather ideas, such as deep frying a turkey. That was really neat. The following year I learnt about using hot sauce on everything. I have ended up loving BBQ food, and food from Louisiana. There is a restaurant here in London that does Creole Gumbo and I go there every week for a bowl. "
SU: Were you surprised at all at these Tailgating parties and how big of a culture it is in the states?
AG: "Initially, yes I was very surprised. I was particularly surprised and grateful at how so many tailgaters rolled out the red carpet for me. Many tailgaters hugged me like I was a long lost son coming back from war, and they wanted to show me their whole rigs. Shamefully by the end of the trip I was slightly desensitized by seeing the tailgate because I was seeing so many. Then when Steph came out she was blown away, and it was like starting over. Steph is not particularly into football, but the tailgate means she came along to the game and share with me a great day out. "
SU: Were the fans friendly with you? Any good/horror stories encountering US fans?
AG: "Yes, They were very friendly. Then again I did always go as a "home" fan. The following year I went to two away Bears games dressed as a Bears fan. I go some heat from Bills fans, but got nothing but love from Falcon fans. Obviously people told me that I was nuts, but that's fair enough. I did have two major threats. One was on a tailgate bus, when a drunk local shouted at me that he could kick me out of his country at any time. He was very aggressive and luckily his sober friends pulled him away. The other time was in Jacksonville when a local fan would not let me pass so I could take a picture of an extreme Jags fan. He squared up to me and was threatening to punch me. I was genuinely scared."
SU: Did you make some new friends on this trip do you still talk with some of the fans?
AG: " I most certainly did. Some the following year even put me up in their homes and I hope to see many of them on my tour this summer. Many I have befriended and kept in contact through email and facebook. "
SU: You attended a lot of arenas what were some of your favorite places to go and why?
AG: "University of Phoenix stadium will always have a place in my heart for two reasons: It was where I had the idea for my trip, and the stadium is just so sleek, it is mouth dropping. I really loved the old school style of Lambeau and that really felt like football's Cathedral. Qwest field was the loudest, M and T bank came in close second. Heinz was electric and Soldier Field was really cool with the Greek pillars at the top. "
SU: Was there any point in the trip where it was really hard? Did you ever contemplate going home before it was over?
AG: "Hard…yes…Going home….no. In just my second week the server that hosted my blog crashed and all my emails until that point vanished, that was annoying. Towards the end of the trip everything started to break, my laptop, my camcorder, my compact camera, suitcase, and it didn't help as I was hitting three games per week, mostly in the snow. But I loved the challenge of it. Driving 700 miles a day wasn't a problem early on, but in the winter it wasn't easy. "
SU: On this journey what did you discover about yourself?
AG: "That I can drive really long distances in the car by myself. I learnt that I wasn't half as crazy as some of the NFL fans that I was meeting along the way. I certainly discovered that I could eat steak and ribs and drink liquor before 7 am! I discovered so much about each team. I had mainly followed the Bears, but now, because I met so many people from every franchise, I can put a human face to all those teams, and now it is odd because I root for every team."
SU: What have you picked up from Americans and have you brought anything you learned back home?
AG: "I have said y'all a lot, I really like that expression. Here BBQ season is in the summer, and when it rains the BBQ stop or gets postponed. I loved the tailgaters, because, no matter what the weather, they would find a way to still tailgate. We met tailgaters in Kansas City when it was -1F. I've certainly brought an enthusiasm for cooking and eating BBQ food at any given opportunity back home. I have become more immersed in the game and the culture. I went to a BBQ festival last weekend in Bristol, something I would never have thought of doing before the trip. "
SU: What did your friends or family say about this trip? Did they think you were crazy?
AG: "My parents thought I was nuts, my girlfriend wasn't too happy either. Then again I didn't exactly tell her I was going to spank all my money on football on our first date, not sure I would have got a second date. "
SU: Now that you have published your book do you think it could be made into a movie? Will there be a part two possibly?
AG: "That would be cool. As it is a non-fiction book it probably lends itself more to a documentary. I'm dreaming now about who would play me…People can email me with suggestions. Ha!"
SU: How can people purchase Tailgate to Heaven?
AG: "The hardback version comes out 31st July. You can buy it in major book stores or places like Amazon. There will be a digital release the same day. People can buy them at my book signings. Starting August 1 in D.C I will be on a fifty day book tour, hitting every NFL city and some college towns too. Go to www.tailgatetoheaven.com/ book-tour to see the book tour schedule. "
Be sure to visit www.tailgatetoheaven.com to check out pictures from the trip and to see when Adam Goldstein is coming to a town near you to discuss Tailgate To Heaven!