Last Updated on 07/08/2021 by Inside Tailgating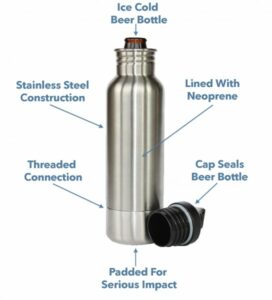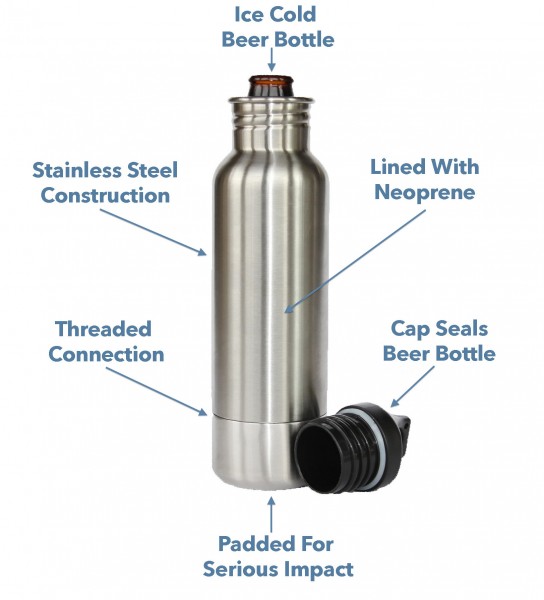 When koozies just aren't going to cut it and canned beers are not an option, these two cousins created the perfect solution – BottleKeeper!!
For those like me, who prefer the taste and feel of bottled beer, this is the way to go! This stainless steel bottle holder, which is lined with a neoprene sleeve, protects not only the taste and temperature of your favorite beer, but the bottle itself! And when you're out and about in parking lots that is a must.
The cousins – Adam and Matt – who invented "BottleKeeper" make a compelling case for their product on their website, and who are we to argue with it? Our only edit here would be to go on and add the word, guys, at…a….tailgate!!!
BottleKeeper keeps beer cold and intact; at the pool, at the beach, in the park or the woods, on a boat, on a plane, on the moon (we're guessing here, we haven't been able to test this yet), on the sidewalk or at a baseball game, a football game, a softball game, a kickball game, a handball game, a whiffle ball game, a golf match, a tennis match, a badminton match, a wresting match, and even, although we don't suggest it, during a karate match.
You can order your own BottleKeeper here, and we highly recommend it to help you get through the rest of this scorching summer and ready for football season. They retail at $34.99 and come in three sizes and 17 colors and styles.
[youtube https://www.youtube.com/watch?v=to4wwEWyfLQ&w=560&h=315]