Last Updated on 01/05/2022 by Inside Tailgating
Was there ever a holiday more ideal for tailgating than the Fourth of July? The birth of America is celebrated with cookouts, fireworks, and sports. I mean, it's almost like they are the same thing. If you love tailgating, why not host a Fourth of July Tailgate at your local fireworks display? You can bring your whole setup, cook some of your favorites, and even listen to a ballgame before the fireworks begin. If you want to give it a go, here are some tailgate party ideas for this Fourth of July.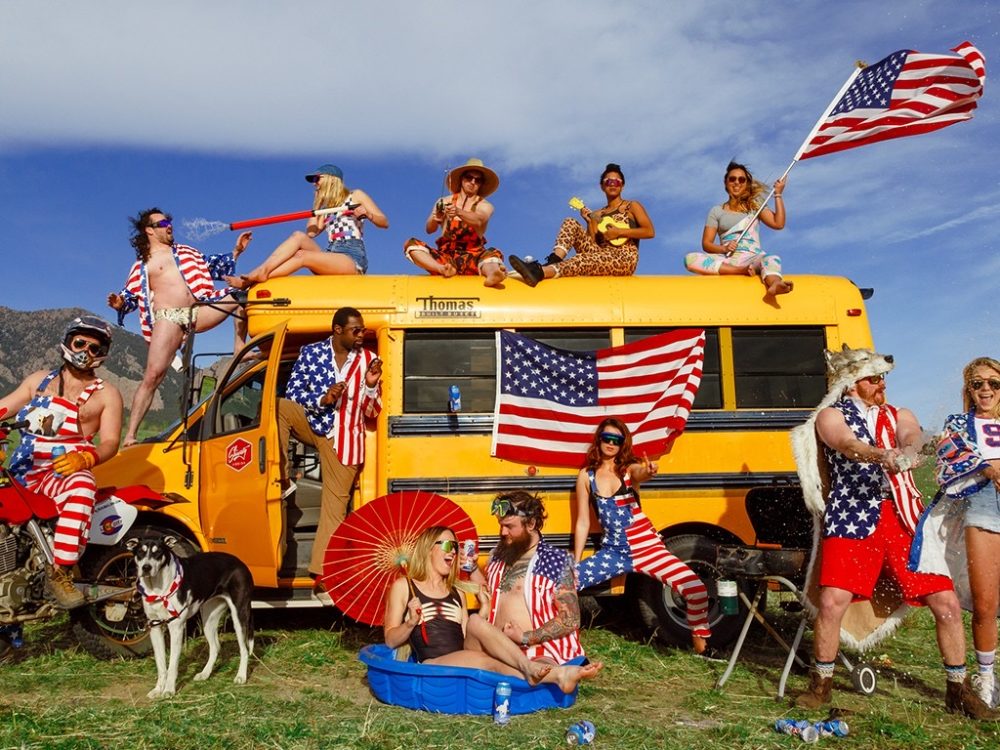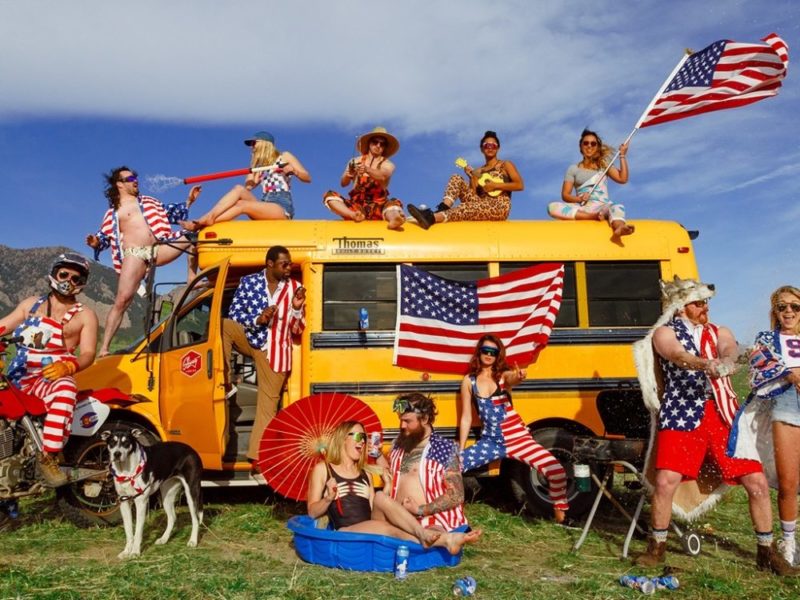 American Flag Apparel To Rock Your July 4th
As sports fans, it is no secret we love to dress up to show our team spirit. So why not show our team spirit for America. This started as a search to find cool American flag gear to decorate and accessorize your upcoming July 4th backyard barbecue and something to pack away and re-use at a Memorial Day NASCAR tailgate or Veterans Day parade. I came across some flag stands, yadda yadda.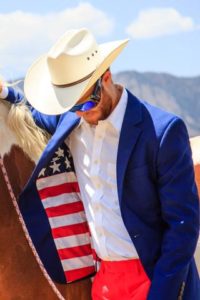 Then I stumbled upon the website www.shinesty.com, and I was mesmerized. Fantastic and hysterical, one-of-a-kind clothing for only the most charismatic people to wear. On July 4th and other national holidays, that could be any of us, right? Want to be the conversation piece at your party or tailgate with any one of these looks? Or the pool, or even a business meeting? I couldn't get enough just browsing through the website, living vicariously through all the folks modeling these over-the-top outfits.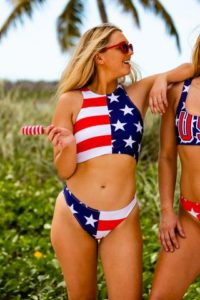 Shinesty's themed clothing doesn't stop at July 4th either. They've got ensembles for St. Patrick's Day, Valentine's Day, Mardi Gras, the Kentucky Derby, outfits you and a date can wear to any event, retro party or holiday occasion you can think of and they are show-stoppers. I'm not saying I could pull all of these off, but man, it just would be fun to try. For patriotic clothes they have swim and ski gear, dresses, shorts, bikinis, suits. And for a kick, read their mission statement that explains their philosophy.
We created Shinesty for one reason and one reason only: To bring you the most outlandish collection of clothing the world has ever seen. When worn correctly, the right clothing can make Mike Tyson's albino tiger purr like a kitten, blow the minds of boringly-dressed onlookers, or be a major contributing factor in the creation of a small human that looks strikingly similar to you. Whether you are searching for a rare retro piece, enough neon to blind the 80s, or simply something that would make Chuck Norris weep with pride, Shinesty is here to help. Stay Weird & Shine On.
Beautiful!!!
Whip Up Some Tasty American Favorites
As tailgaters, we love any excuse to have a BBQ. Here are some of our favorite recipes for the Fourth of July we've collected over the years. These recipes are great for celebrating America, but they're also fantastic tailgate party ideas:
Stubbs Deviled Eggs
Everyone loves a good deviled egg. So, why not try to spice it up with a new recipe? It doesn't matter what you're serving this Fourth of July, does it? Deviled eggs go with every summer fare, tailgate or picnic. Check out this twist on the classic from our friends at Stubb's Bar-B-Q who know how to turn up the flavor on just about anything!
Stubb's Deviled Eggs
Ingredients
12

Large Eggs

2

Tbsp

Mayonnaise

1/4

Cup

Stubb's Pork Marinade

Paprika or Smoked Paprika

Thinly Sliced Roasted Red Pepper
Instructions
Place eggs in boiling water for 10-12 minutes, until fully cooked. Transfer eggs to a bowl of ice water to cool completely before peeling.

Once the eggs are peeled, halve lengthwise and remove yolks into a bowl. Mash the yolks, mayonnaise, and Stubb's Pork Marinade together.

Transfer the yolk mixture into a gallon size freezer bag or pastry bag, cutting off 1/2″ of a corner. Pipe the yolk mixture into the whites, then garnish with a sprinkling of paprika and the roasted red peppers.
Try this and you'll never want to make standard deviled eggs again.
Frogmore Stew On A Stick
Frogmore stew is a classic seafood boil from South Carolina. Using a delicious mix of veggies and seafood, this is a must try this holiday. After nosing around the internet, looking for good recipe ideas for July 4th, er, I mean to share with you guys for July 4th, I came across this beauty for Shrimp Boil on skewers. It's what those of us who grew up going to the Lowcountry of South Carolina – a.k.a. the beaches — around July 4th would be called Frogmore Stew.
Frogmore Stew On A Stick
Ingredients
Spicy Cajun Butter
6

Tbsp

Unsalted Butter

1

Tbsp

Chile Powder

2

Tsp

Smoked Paprika

1

Tsp

Garlic Powder

1

Tsp

Fresh Ground Pepper

1/2

Tsp

Dried Thyme

1/2

Tsp

Dried Oregano

1/4

Tsp

Cayenne Pepper

1

Pinch

Red-Pepper Flakes
Skewers
1

Lb

Baby Potatoes (red or yellow)

1

Lb

Unpeeled Shrimp

1

Lb

Smoked Andouille Sausage, sliced

4

Ears Corn, cut into 4 to 6 pieces

Salt and Pepper

1/4

Cup

Chopped Fresh Parsley

1

Lemon (cut into wedges)
Instructions
Make the Cajun Butter: In a small pot, melt the butter over medium heat. Stir in the chile powder, paprika, garlic powder, black pepper, thyme, oregano, cayenne pepper and red-pepper flakes; heat for 30 seconds to 1 minute. Set aside.

Cook the Potatoes: Put the potatoes in a medium pot and add enough water to cover by 1 inch. Bring to a boil and cook until just barely fork tender, 7 to 8 minutes. Drain.

Assemble the Skewers: Arrange 3 shrimp, 3 pieces of sausage, 3 potatoes and 2 pieces of corn on each skewer.

Brush each skewer generously with the Cajun butter and season with salt and pepper. Working in batches, cook on a preheated grill or grill pan until nicely charred on both sides, 4 to 5 minutes per side.

Serve immediately, garnished with parsley and lemon wedges.
What's also known as Low Country Boil is shrimp, corn, potatoes and sausage thrown into a pot and boiled. This recipe from www.purewow.com keeps it a little more civilized and savory, because it's slathered with Cajun butter and cooked on a grill. That – and the skewers you serve it with, rather than throwing everything into a pile in the middle of a table – make it a great recipe for not just July 4th but tailgating throughout the summer and fall.
BBQ Ribs
Is there anything more American than BBQ ribs? We'd even argued that a perfectly seasoned rack is as American as it gets. CharBroil's Great Book of Grilling is a great resource this time of year and we are showing you why with this sweet and savory recipe for baby back ribs. Looking to do more than flip burgers at your July 4th celebration? Look no further.
Apple Butter BBQ Ribs
Ingredients
Ribs
2

Full

Slabs of Baby Back Ribs

2

Tbsp

Brown Sugar

1

Tbsp

Paprika

1

Tsp

Cayenne Powder

1/2

Tbsp

Salt

1/2

Tbsp

Pepper

1

Tsp

Ground Ginger

1

Tsp

Dried Thyme Applewood Chunks
Sauce
1

Cup

Apple butter

1/2

Cup

Ketchup

1/2

Cup

Brown Sugar

1

Tbsp

Apple Cider Vinegar

1

Tbsp

Yellow Mustard

1

Tsp

Worcestershire Sauce

Salt & Pepper, to taste
Instructions
Preheat your grill for indirect: Place an aluminum foil pan filled with water under the grill grate and toss a chimney of hot coals alongside.

With a butter knife and some paper towels, remove the membrane under each slab of ribs by inserting the knife between the membrane and one of the bones. Pull the membrane with a paper towel to remove it completely.

Mix the brown sugar, paprika, cayenne powder, salt, black pepper, ground ginger, and dried thyme in a small bowl then apply the rub on both sides of the ribs with your hands so it penetrates the meat.

Place the ribs on the grill grate in indirect heat and toss a few applewood chunks onto hot coals. Close the lid and cook for 2 hours at 300°F. Add all the Apple Butter BBQ Sauce ingredients to a saucepan and simmer for 10 minutes.

After 2 hours of cooking, wrap the ribs in aluminum foil with 1 cup of the Apple Butter BBQ Sauce on top of each. Cook for another 1 hour at 300°F. You know the ribs are done when the meat has shrunk about 1 inch from the bones. Once fully cooked, remove from foil and sear over direct heat for 30 seconds per side to caramelize the BBQ sauce.
Just make sure to bring a lot of napkins (and maybe even some wet wipes), because these ribs are finger licking good!
Top Sirloin
When you're celebrating America's birthday, you really want to show your patriotism. Busting out the good steaks is a great way to honor our country. The most important thing on the 4th of July is to honor America. But then, of course, the next thing to do is to fire up your grill.
Top Sirloin With Grilled Mushrooms
Ingredients
4

Omaha Steaks Top Sirloin Steaks

1/2

Cup

Olive Oil

1/2

Cup

Balsamic Vinegar

1

Tsp

Freshly Grated Orange Zest

4

Tbsp

Fresh Flat-Leaf Parsley, chopped

4

Large

Portobello Mushroom Caps

Salt & Pepper
Instructions
Place the steak in a large resealable plastic bag along with the oil, vinegar, orange zest, and 1 tablespoon of the parsley.

Seal the bag and push the steak around to coat well, Refrigerate 1 hour.

Preheat and oil the grill.

Remove the steak and marinade from the refrigerator and bring to room temperature.

Remove the steak from the bag and season with salt and pepper to taste.

Place the mushroom caps into plastic bag.

Seal the bag and push the mushrooms around to coat with marinade.

Remove them from the bag and season with salt and pepper to taste.

Grill the steak over direct medium-high heat about 10 minutes on each side for medium-rare or 12 minutes on each side for medium.

Grill the mushrooms at the same time, top side down, on the edge of direct heat.

Flip the mushrooms when you flip the steak and grill about 8 minutes longer, or until just beginning to char.

Remove from the grill. Remove the steak from the grill and let rest 5 minutes.

Slice the steak and mushrooms into strips and arrange on a platter.

Sprinkle with the remaining parsley and serve.
Just consider your Independence Day celebration as America's tailgate and grilling event.
Craft Up A Patriotic Cocktail – Red, White, And Blue Vodka Lemonade Slush
On the Fourth of July, you want to have a toast to all that we've accomplished in this great experiment in democracy. A must for your Fourth of July tailgate is a great cocktail.. We found the perfect July 4th cocktail recipe. It's patriotic and it's a slushy! Perfect for a hot afternoon on the beach, the back deck, or wherever you might be celebrating this Independence Day. Check out this show-stopper we found on www.homemadehooplah.com for Red, White and Blue Vodka Lemonade Slush!
Red, White and Blue Vodka Lemonade Slush
Ingredients
9

Cup

Ice Separated. NOTE: May need up to 12 cups.

1

Cup

Grenadine Syrup

1

Cup

Blue Curacao

1

Cup

Vodka

1

Cup

Lemonade
Instructions
Using a blender on crush setting, mix 3 cups of ice and grenadine syrup together until slushy. Note: You need this layer to be extra thick, so if needed, add up to 1 cup more ice and blend. When finished, set aside.

Repeat the step for the Blue Curacao, blending with 3 cups of ice until slushy. Like the last layer, you want this to be extra thick. If needed, add up to 1 more cup of ice and blend. Set aside.

Add vodka, lemonade, and remaining 3 cups of ice to the blender and mix until slushy. It's not as important for this layer to be thick, but it should be comparable to the others. Add up to 1 more cup of ice if needed. When finished, set aside.

Prepare drinks by layering the flavors in this order: grenadine, blue curacao, and finish with the vodka lemonade on top.
It's enough to make your mouth water!
Last Minute Tailgate Party Ideas For The Fourth
Life gets crazy sometimes, so we don't always have a lot of time. Don't worry though, we've got you covered with tips to throw something last minute together for the Fourth. Granted, we're a week away. Those of you who are on the ball will have long booked your plans for the July 4th holiday. Some, if you're like me, were lucky enough to have them planned for you!
We've got a family beach week that just happens to fall on the Fourth! But it wasn't so long ago, in my single days, that I wondered what the heck to do on the Fourth that didn't involve sitting in traffic for hours leaving a fireworks show. To be perfectly honest, there was at least one Fourth of July when a friend and I cracked open a couple of beers and watched fireworks on TV. On TV! Sad, sad commentary. So to prevent that same indignity, I offer you five ideas for low maintenance fun to celebrate Independence Day this year.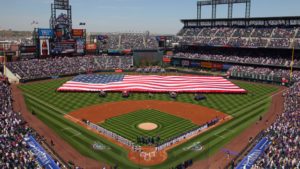 5. Find a baseball game. It might be cliché, but it absolutely works. Nothing more American than our national pastime. As a former baseball writer, July 4th was often a working holiday for me but managed not to feel like a job because you were at a ballpark where fireworks, national anthems and hotdogs are just a part of the package. Minor league, major league, neighborhood softball, doesn't matter. You've done the holiday right.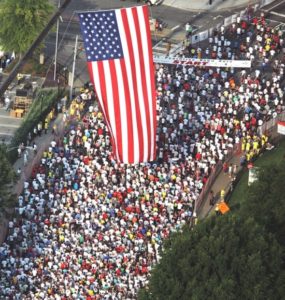 4. Make your way to Atlanta, GA and cheer on runners in the Peachtree Road Race. Yes, I used to live in Atlanta, so this was an easy-as-pie way to feel patriotic on July 4th. Bonus points for actually running in it, which I did once since I was already in shape from running a marathon a few weeks prior. It's almost always hot and muggy but nothing feels as refreshing as running through streams of water coming from the hoses of fire trucks lined up along certain points on the course. Or just find a spot along Peachtree and cheer runners on. You've done your civic duty for the whole day. Get some coffee, go home and relax.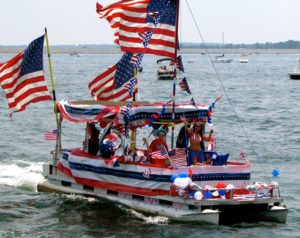 3. Any lake activity. Doesn't it sound nice to spend the Fourth on the back of somebody's pontoon boat? Or paddling in a canoe? Heck, even kicking around in a paddle boat at the municipal park? Pack a picnic to add to any of the above and you are there. You're winning July 4th.
2. Substitute lake in No. 3 with a swimming pool, and the effect is the same. This could be the apartment complex pool for the swinging single folks or a wading pool in the backyard for the overtired parents. Doesn't matter. Body of water, check, July 4th, check, it all counts. Just stock up a cooler, preferably one with wheels, don't forget sunscreen and you're in business. The holiday isn't all about night time activities.
1. Hotdogs on the grill, watermelon slices and sparklers. Look, if you're like me and have young kids, trying to motivate yourself for a big holiday spread can feel intimidating. So keep it simple and still do it right. All it requires is a quick trip to the grocery store, pull out all your tailgating gear, maybe toss in some red-white-and-blue paper plates, and voila, you've got a family party. If you've got a friend who lives somewhere close to where fireworks are being shot off, then volunteer to bring and cook the hotdogs and all you have to do is look up to the sky when the sun goes down.
These Fourth of July tailgate party ideas are a great way to celebrate this country and get together with your friends. We wish you a happy and lively Fourth of July and hope to see you at the fireworks! Be sure to follow us on Facebook, Twitter, and Instagram for new tailgating tips, recipes, and game ideas that can help you create a memorable time.