Last Updated on 01/05/2022 by Inside Tailgating
Football season is finally here! Though we'd all love to make it to every tailgate party for our favorite teams, it's not always possible. Luckily, you can always host a homegate party to support your team. With the weather getting cooler, you may be tempted to host your event inside.
However, with a cozy fire pit, you can keep everyone warm no matter the temperature outside. Some fire pits are also portable, so you can take them to your next tailgating party as well (just check with the stadium about the rules first). Here are some fire pits to add to your next homegate or tailgating party.
The Halo Fire Pit Goes Anywhere
First up, we have a classic portable fire pit that will meet any of your needs. Whether you are hosting a homegate or a tailgate, you'll be able to keep all your guests toasty this football season.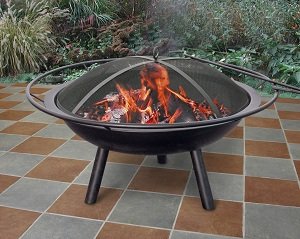 With the warm days of summer far behind us, it's time to start thinking about how you're going to stay warm at your next tailgate. Don't get me wrong, cold-weather tailgates are just as fun and sometimes even more fun than their warm-weather counterparts. But it's important to stay warm during your tailgates so you can enjoy drinking, grilling, and your favorite tailgating games like Cornhole without freezing to death.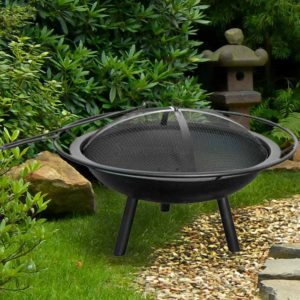 That's why you need to seriously consider getting a kick-ass fire pit for your tailgates: particularly the Halo Fire Pit by Landmann.
It has Spark Guard and poker included, a large handle for easy transport, and a sturdy steel construction. Just make sure you bring your own wood or a Duraflame and a lighter, and you'll keep your friends and family warm all during the tailgate. Plus, it's on sale on Amazon right now.
Before it gets too cold and you don't want to spend more than 2 minutes outside of your car at your tailgate, make sure to get the Halo Fire Pit.
The Funston Pit Is Loaded With Features
If you're a gear fanatic like us, the Funston Pit is perfect for you. This portable fire pit has a range of great features that go beyond keeping everyone warm.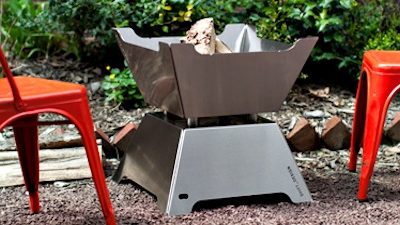 Fire pits are pretty cool, serving the dual purpose of cooking your food while also keeping your body warm. But no fire pit is as cool as the Funston pit, because it also serves a third function as a beverage cooler.
Yup. Like the former North Carolina State college basketball stars Chris "Fire" Corchiani and Rodney "Ice" Monroe, this also provides you with both fire and ice. The 20" x 20" x 20" contraption is clearly marked for the fire pit section, so hopefully, none of your tailgating buddies is hammered enough to reach for a beer and come out with a flaming hand.
When you want to switch from cold to hot, or hot to cold, just flip it over. One side becomes the stand and the other side becomes the featured item. The cooler holds about 24 beers.
The stainless steel pit also comes with a wood tray for sturdiness and a built-in hole for use as a bottle opener, which could also serve as a handy fingertip warmer.
Support Your Favorite College Team With Collegiate Fire Pits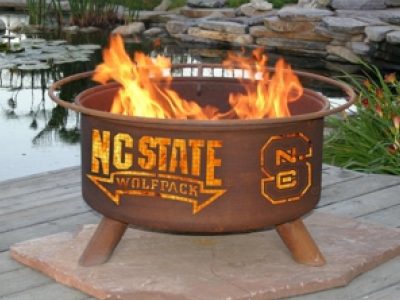 Now if your team is a college football team, these fire pits are a great way to support them. They are specifically branded for your favorite team. They have all the teams from the Big Ten as well as some of the lesser known favorites.
Bring the heat to your next tailgate party, get fired up for your team or school….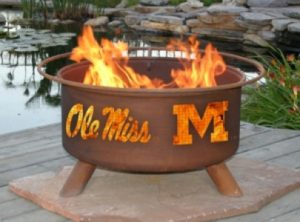 Patina Products produces a line of Collegiate Fire Pits that are very handsome and could very well become the centerpiece for your tailgate party this Winter. These sturdy fire pits look amazing and they are constructed with 16 gauge cold-rolled steel for ultimate durability. They are portable so you could pack it up and take it to the game with you or just huddle up in your own backyard for a heart-warming, hand-warming 'gameday' experience.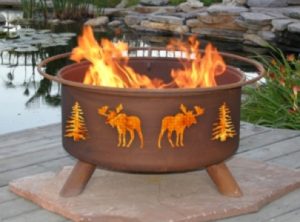 Patina Products uses a signature rust-patina finish for all of its' Collegiate Fire Pits which renders them extremely unique. You can choose designs from your favorite collegiate teams, classic designs, and even special designs for your business or family. They are 30 inches in diameter and 16 inches in height. They ship to you fully assembled and boast a 5-year warranty to not burn or rust for 5 years!! They may be used with either wood or charcoal.
The Renegade Will Keep Your Whole Team Warm
We love anything that has dual purposes. The Renegade fire pits double as a coffee table to serve your tailgating food before you start a fire. This fire pit is also really attractive and will be a nice piece of decor for your patio.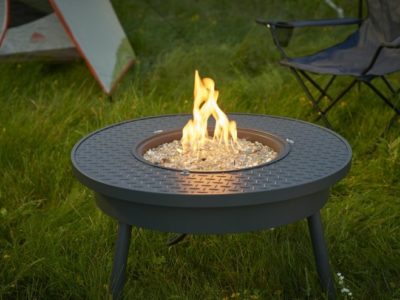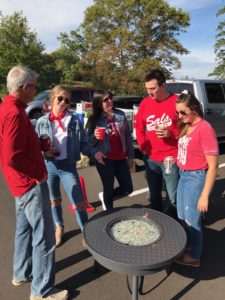 Tailgating this time of year is a little brrrrrave, especially for those of you in the northern part of the U.S! (The Southerner here confesses that I'll break the hand-warmers out when it's in the 40s.) But given the stakes of football games at this point in the season, this is no time to pack up your tailgating gear and go home! It might help, though, to add something warm and toasty to your collection with a portable fire pit!
We discovered this portable gas fire pit table called the Renegade by The Outdoor Greatroom Company and see that it's on sale for $449 (down from $499.) Wouldn't it make a great addition to your tailgate party? Or a fabulous gift for a tailgater in your life?
Who wouldn't mind having this baby in his or her backyard…or campground….or fishing lodge….or RV? It's durable, portable (comes with a carrying case and can pack into a trunk), and runs on liquid propane or natural gas. Add a few marshmallows and you've got a fun activity for the whole family.
Don't Forget The Most Important Thing!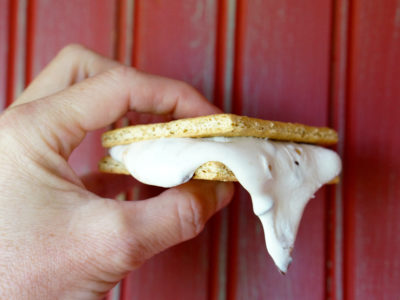 Having a fire pit is a great way to keep you warm, but we cannot forget the best part about having one: S'mores. Here's our favorite way to up your s'mores game.
Stuff'n Mallows are handmade gourmet Marshmallows stuffed with tiny, melt-able chocolate chips. The problem of a cold chunk of chocolate on an otherwise perfect s'more is no longer an issue. While you toast the marshmallow to your idea of doneness, the chocolate is melting within the mallow, creating the exquisite blend of gooey, melty goodness.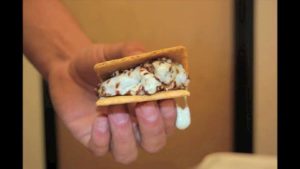 These artisan marshmallows come in many divine varieties.
Not that S'Mores are difficult to make, but for the really lazy tailgaters this takes all the work out of the process. And it's yummy. Learn more here.
These four fire pits will keep you warm whether you are out tailgating or hosting a homegate. Grab some hot dogs and ingredients for s'mores and gear up for the game.
For more fall and winter tailgating ideas, be sure to follow us on Facebook, Twitter, and Instagram.
We have all the gear, food, and games to ensure you have the best time supporting your team!