At Inside Tailgating, we independently select and write about stuff we love or want to try out and think you will too. As a participant in the Amazon Services LLC Associates Program, and other affiliate advertising programs designed to provide a means for sites to earn advertising fees by advertising and/or linking to their websites, such as Amazon.com, we may receive a commission on sales or other compensation through those links on this page. It is at no additional cost to you, but we gotta pay for our tailgates somehow…
Are you ready to join the tailgating lifestyle? We're ready to welcome you! At Inside Tailgating, we're always excited when someone is new to tailgating because we know you're gonna love it. So we decided we'd help you get started with a list of tailgating essentials. To get started tailgating, all you really need is team spirit and a love of the game. However, if you want to start getting some tailgating gear, here is our master guide to all the tailgating essentials you need for a great time.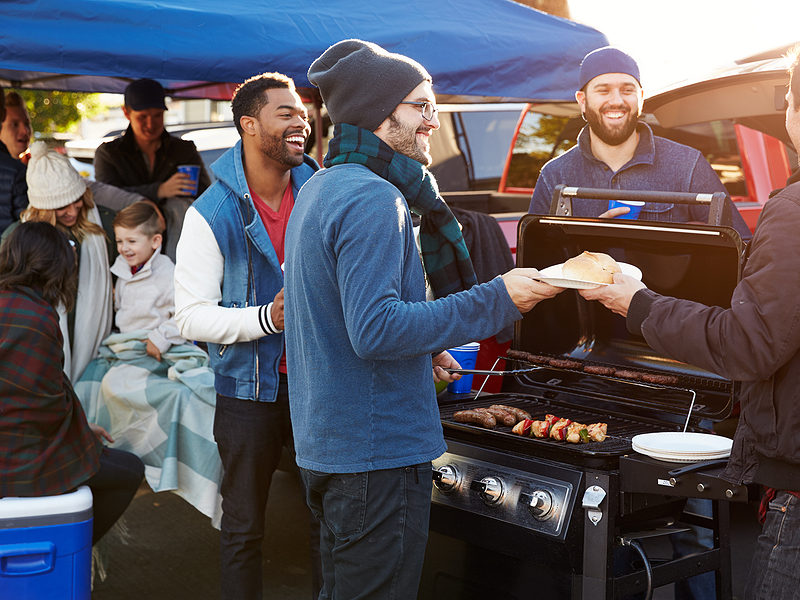 Make A Plan
Before we get into our picks for tailgating essentials, we thought we'd start with some tips for first-time tailgaters. A while back we created a master guide for first-time tailgaters, it's a great place to start to determine your tailgating essentials.
There are very few things more fun than hosting a tailgating party. You gather with your friends, meet other fans, and help to cheer on your favorite team right before the game. If you've always wanted to try hosting your own tailgating party, the experts at Inside Tailgate are always here to help you out.
We offer tons of tips to help you throw a great event. We decided to put together a brief guide on how to throw your first tailgating party. We'd love to see you at the stadium, so here's how to get started.
REACH OUT TO THE STADIUM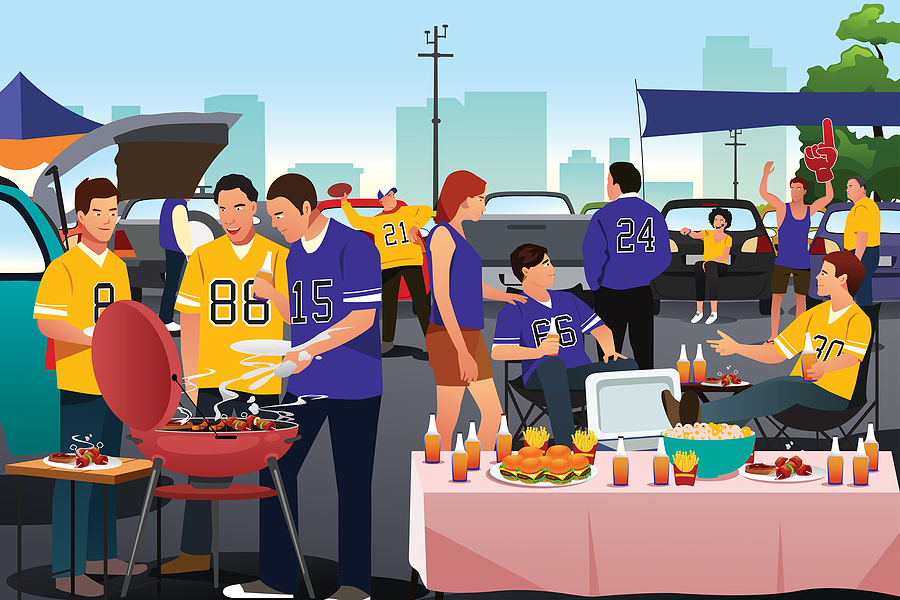 The very first thing you need to do when planning your tailgate is to reach out to the stadium. Most stadiums welcome and encourage tailgating. However, each stadium has rules about what is and what is not allowed. Generally speaking most stadiums do not allow glass bottles, have specific parking requirements for tailgaters, and ban offensive signage.
These regulations are all pretty much common sense. However, it's always a good idea to check the rules before planning your tailgating party. These are often listed on their website, but you can also call to ask more specific questions.
GET THE RIGHT GEAR
Now that your tailgating plan meets regulation, it's time to load up on gear. How much gear you get depends entirely on if you want to make a big splash or start small and simple until you know you love it. Here is a short list of all the basics you will need for your tailgating party:
Tailgating grill, grill tools like tongs and a spatula, and mitts
Propane or charcoal, starter, and matches or a lighter
Cooler, ice, and a bottle opener
Napkins, plates, forks, and cups
Trash bags and cleaning wipes
Chairs and a table
Portable stereo to listen to music and pregame commentary
Hand sanitizer and wipes
These are just the basic things you will need for tailgating. However, there is a lot of amazing tailgating gear available that can help you up your game. Check out our gear section for more ideas.
PLAN SOME TASTY FOOD AND DRINKS
Now we get to the fun part of the planning. What are you and your guests going to eat and drink? A good rule of thumb is to bring things that are either pre-made and brought to the game or can be made right on the grill. Try to avoid things that will spoil in the sun and instead stick with things that are delicious served warm.
You'll also want to bring some drinks. Make sure to bring plenty of water and then a selection of soft drinks, beer, and cocktails. We recommend for your first time out you start with some classics like burgers, hot dogs, or grilled veggies. Once you get your feet wet with tailgating, you can try some of the more fun tailgating recipes.
HEAD OUT EARLY
A lot of people love to tailgate. So you'll really want to make sure that you head out as early as possible so you can get a good spot. A good rule of thumb is to get there at least 3 hours before the game begins. Although, we often recommend getting there even sooner.
Make a checklist of everything you need to bring and load up your car. It's a good idea to load everything the night before and just add the ice and the food in the morning. Also, take a second to check the weather and make the necessary accommodations.
SELECT YOUR PARKING SPOT
Once you get to the stadium, spot selection is everything. A good location will ensure you have a great time with little hassle. You want to park away from the porta-potties so the smell doesn't ruin your time. It's also good to be near trash cans if possible.
Another good idea is to look around at the other tailgaters. If they are doing things that can ruin a good time like playing really loud music or smoking, you may want to find a spot further away from them as well.
SETUP YOUR SITE
Finally, to the good stuff. Once you have your site selected, you can begin setting up. Remember to follow the stadium guidelines when setting up your tailgate. Once you are set up, you can start inviting your friends and other fans to stop by and enjoy a drink or some snacks with you.
Start With The Centerpiece Of All Tailgates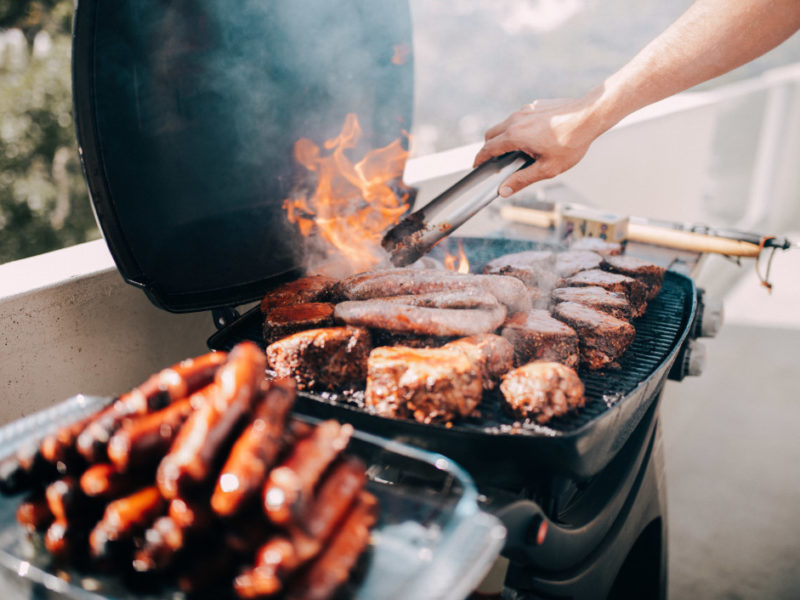 If we were to pick one item out of all the tailgating essentials as the most important one, it has to be a good grill. A small portable grill with a few added features is all you really need to throw a killer tailgate party.
One of the most essential pieces of tailgating gear is a portable grill. Most grills are too large and not easily transported for tailgating. However, there are small portable grills that are ideal for any tailgate. Over the years we've found some of the best small portable grills that are ideal for your tailgating needs. Here are our top picks to help you find the best grill for your tailgating needs.
Keep Your Drinks Cold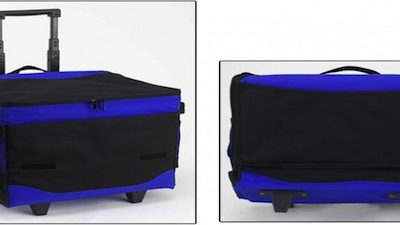 Next up on the list of tailgating essentials is a good cooler. Coolers are great for not only keeping your beers cold, but they can also help you transport your food to the stadium. There are a ton of great coolers on the market, many loaded with cool features like Bluetooth speakers, charging ports, and even extra seating. However, for beginners, we recommend just finding a lightweight portable cooler.
If you don't have a cooler, you don't have a party. And if your cooler holds only 12 beers, your friends won't hang around too long. But regular giant coolers are such a pain to tote back and forth to a tailgate. It's quite a dilemma.
But the folks at Picnic at Ascot have created a 60-can capacity cooler that collapses to the size of a regular tote bag. And maybe more importantly, this cooler has wheels to prevent heavy lifting. However, if you're strong enough, you can carry it by the side handles to show off your guns to all the ladies who probably will be doing something a lot more fun than watching you.
When in the bulky position, this cooler measures 16.5" high x 15' wide with an 11-inch diameter. And just like Fletch who grows two inches with an afro, the telescopic handle extends for a taller looking beverage compartment.
The insulated lining is referred to as a galactic "Thermal Shield" and the built-in Velcro straps provide the magic that allows the cooler to fold flat. A supposed "lifetime" warranty is included in the purchase, and for smaller parties, this is also available in the 32-can size. Sadly for haters of all things blue though, the only color this contraption comes in is royal blue. For more information, connect to Picnic at Ascot.com.
Bring Extra Seating
Tailgating can last hours and though it can be fun to run around the stadium, it's nice to take a seat sometimes. There's nothing more relaxing than just kicking back and listening to the pregame on the radio while enjoying a hot plate of food and a cold beer. Also, you never know when you're going to make new friends. So it's a smart idea to always have some extra seating available when you're at the stadium.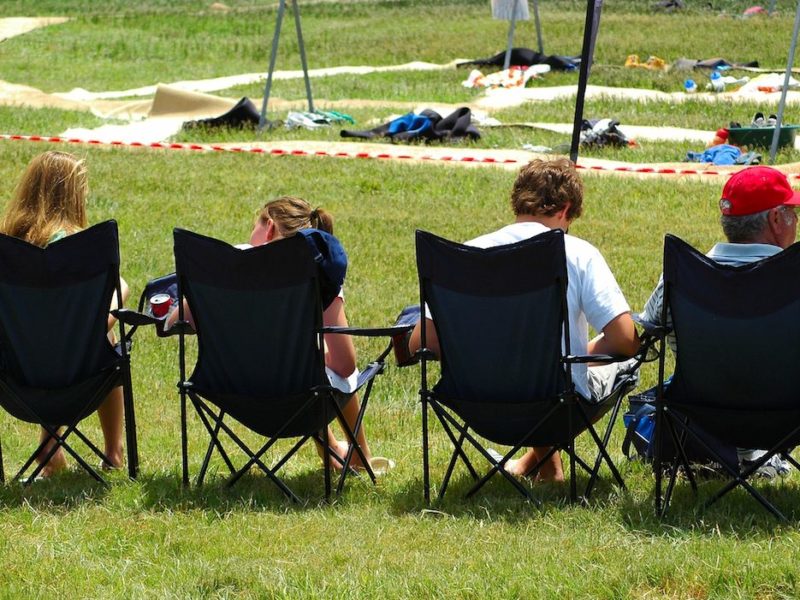 Possibly one of the best tailgate products you can invest in is a set of tailgating chairs. Whether you are sitting with your friends enjoying a cold one and a stack of ribs before the game outside the stadium, or in your backyard watching on a projector screen, comfort is everything. So we picked out some of the most comfortable tailgating chairs on the market. These chairs are fully portable and can be used when you're homegaming or taken to the game. They are loaded with features and will keep you comfy whether you're just pregaming before the event or watching the entire game. Here are nine of the most comfortable tailgating chairs on the market.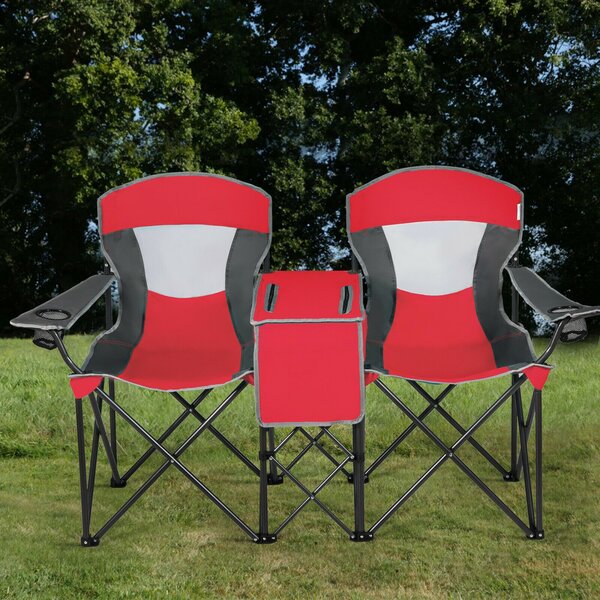 This tailgating chair is more like a tailgating loveseat. Designed for two, these comfortable chairs sit under a canopy. It is absolutely perfect for keeping you in the shade on a hot day. We also love that not only does it have cup holders, but the center console is also an ice bag cooler. You can load it up with sodas, beers, and even snacks and just chill the whole game. We also love that it packs up into a perfect carry case that's lightweight and can be taken anywhere.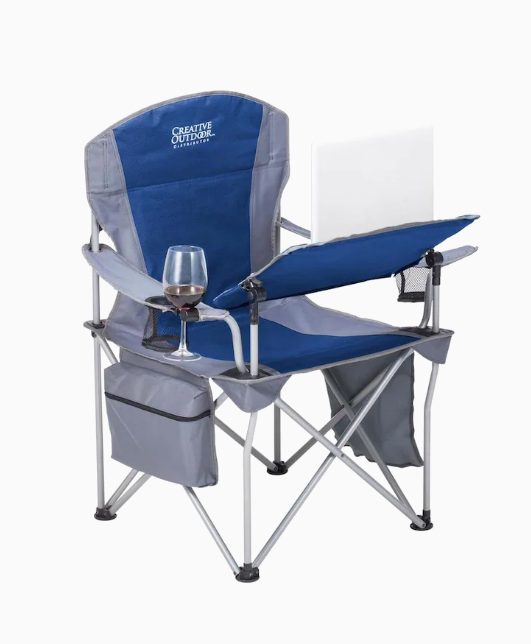 This is the perfect tailgating chair if your favorite part of tailgating is the food and drinks. Not only does it have a cup holder, but it also has a wine glass holder. It has side pockets on both sides of the chair where you can load up your snacks and drinks. Best of all, it has a tray table that is perfect for eating a plate of brats and chicken wings. The table tilts so you can keep your tablet or laptop to monitor your fantasy football team, run stats on the players, or just get live commentary on the game from your favorite sportscaster.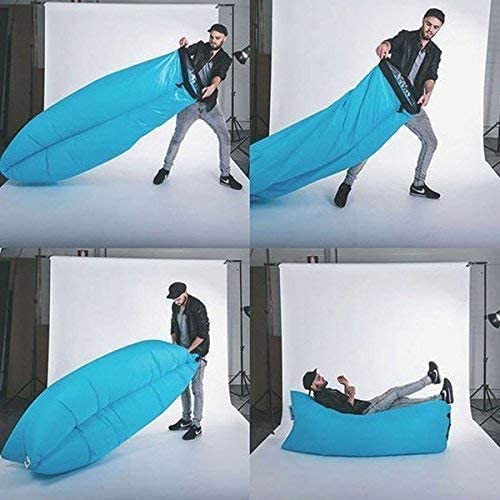 Probably the most unusual option on the list, but one of the east. The inflatable lounge chair inflates without a pump. It works like a windsock where you simply just lift and fill with air. It's a chair, a sofa, and a lounger all in one. Thus, you can really get comfy during the game. It's a great option for overflow seating when more people show up to your tailgate than you planned. It's super portable and very lightweight. It's one of the best tailgate products to always have with you just in case.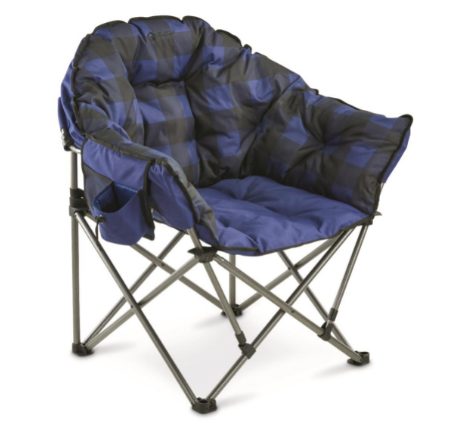 The Guide Gear Oversized Camping Chair is so comfortable, you'll want it in your living room. It has thick plush padding that covers the seat and the arms. It's deep and wide, so you can really get cozy. It also has a side pocket and a drink holder to keep your snacks and beer at hand. We also love that it comes in a variety of colors so you can match the colors of your team. It's also incredibly easy to set up. Simply unfold it, kick back, and enjoy the game!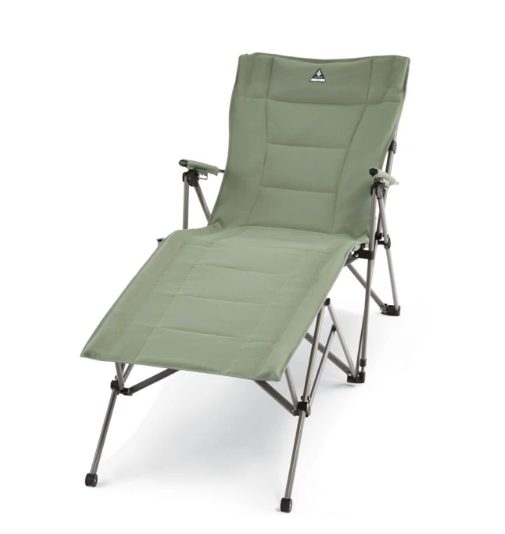 The Woods Ashcroft 3-Position Camping Chair is basically a recliner. You can sit up when eating, kick your feet up while watching the game, or recline all the way back to enjoy half time. The padding is also very comfortable and the chair has a built-in cup holder. It packs up neatly into a portable carrying case that's lightweight and easy to carry through even the largest tailgating crowd.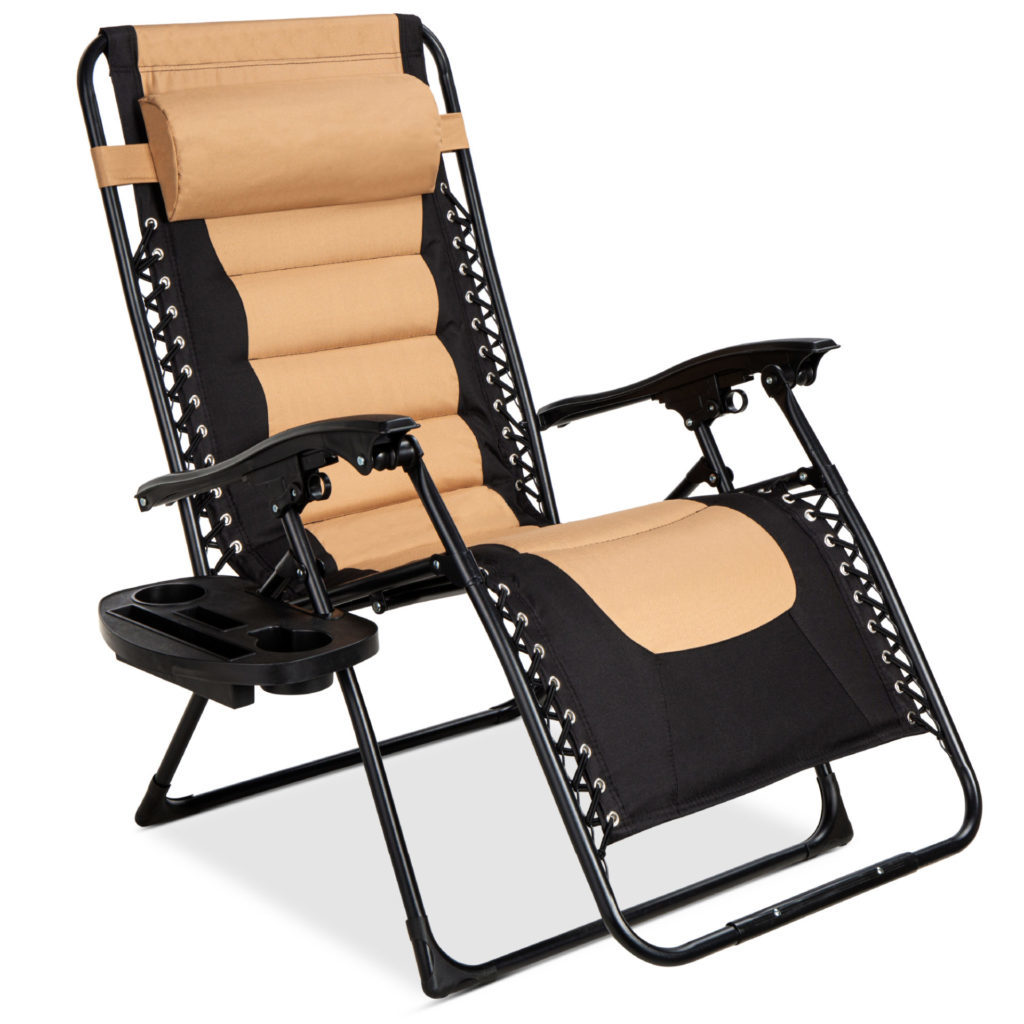 If you are looking for a truly luxurious reclining chair for your tailgating, the Best Choice Oversized Padded Zero Gravity Chair is ideal. This chair has both thick channel tufting and a headrest pillow. Talk about maximum comfort. It also fully reclines and locks into the perfect position. The chair has a side tray table that holds two drinks, has snack pockets, and can even hold a plate of food. When you're done tailgating, it folds up like a lawn chair for easy transport.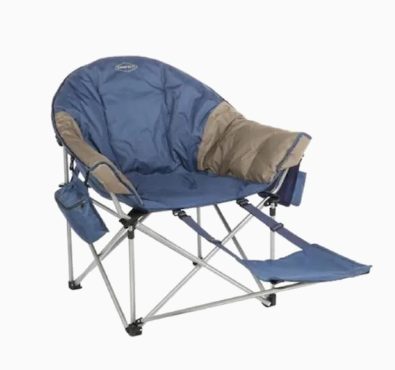 If you don't want a full recliner, but may want the option to kick up your feet, this Kamp-Rite Folding Camping Chair is perfect for you. This chair has a built-in footrest that can be attached or detached depending on what you are doing. The chair has a deep seat with a super plush padding that will keep you feeling relaxed and comfortable the whole game. It also has a cup holder for your drinks. It's great if you plan on pulling up to a table to eat, but then want to kick back to watch the game.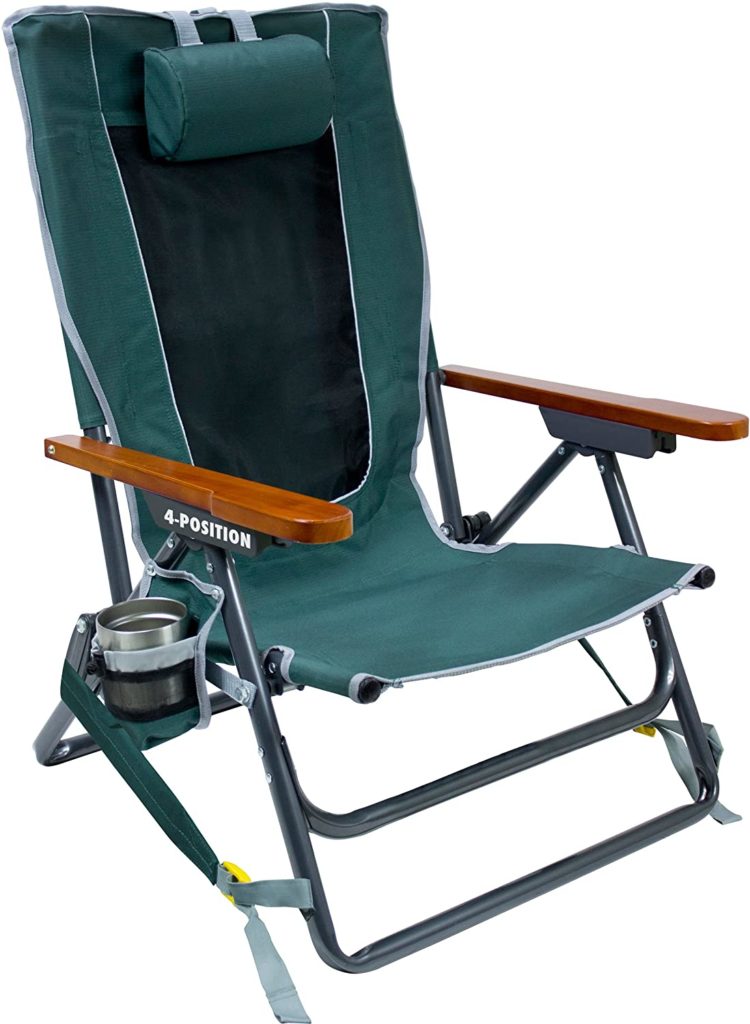 This GCI Outdoor Wilderness Reclining Chair is loaded with features. It has a reclining back, a headrest pillow, and comfortable armrests. It also has a cup holder and a large storage pocket on the back. However, what makes this one of our favorites for tailgating is how it is transported. This comfortable chair folds up into a backpack. It's so easy to carry through a large tailgating crowd and to and from your vehicle. It's one of the best tailgate products when you are navigating a large crowd. When deflated, it has built-in carrying straps for easy portability. It also has a convenient side pocket for storage.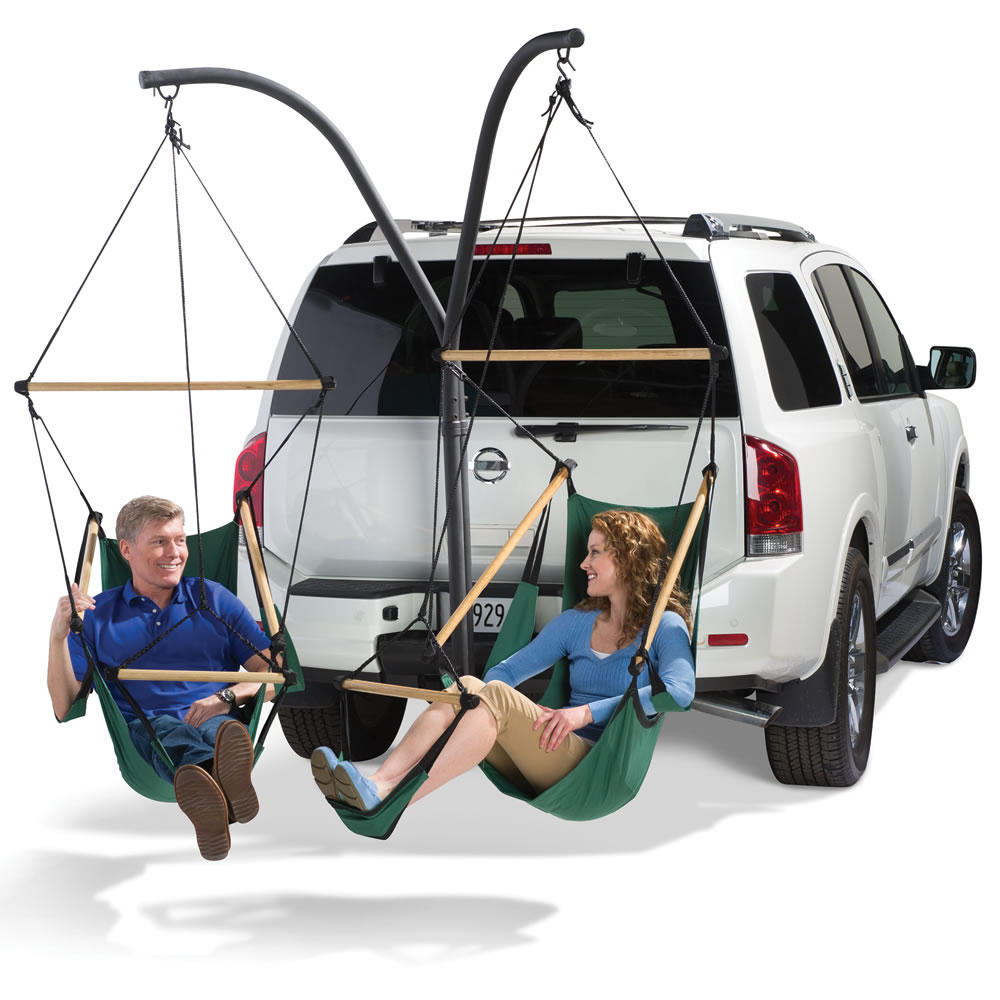 Finally, one of our favorite tailgate chairs is the Tailgaters Hammocks. These connect to a standard trailer hitch and fold out to two hammock swings. They are great when you want to just pull up to the tailgate and grab a seat. Also, really, what's more comfortable than a hammock?
Bring The Cornhole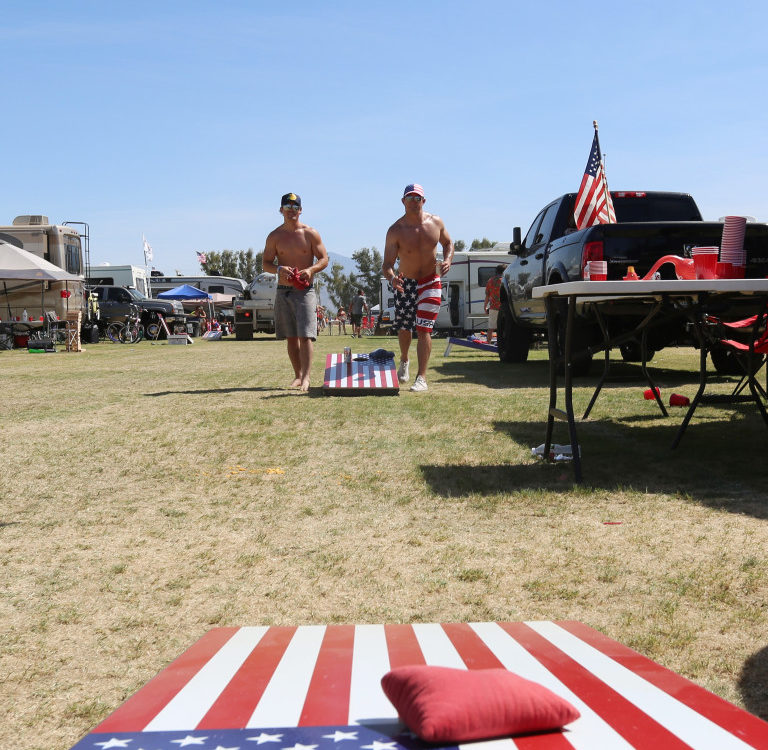 Tailgaters know how to have fun. It's why we consider games a tailgating essential. There are tons of great tailgating games out there you can play. However, we're very partial to cornhole and for good reason: Our readers voted cornhole as their favorite tailgating game.
Our readers have spoken and it's cornhole in a landslide! You voted the ol' standby as the best tailgating game when presented with Inside Tailgating's "Select 6" tailgate games as suggested by our own Social Media guru Danielle Maslany.
Let's just say there's a reason cornhole is a mainstay in tailgating culture. It's easy to play, addictive, rewards all skill levels and age ranges and is family-friendly. Unlike a lot of tailgate games, you don't have to give yourself a hangover to enjoy it. Beer Pong and Flip Cup, which were tied for the runners-up in our Select 6 voting, are raucous and fun but pretty much guaranteed to land you a headache the next day.
We look forward to the opening of college football, dust off the cornhole boards and pack up the bags. We're not going to argue with one of the great parking lot games ever invented. Check out which games cornhole beat out in Select 6.
When it comes to tailgating essentials, there are just a few things you need to really have a rocking time. A great portable grill, a cooler, some chairs, and a set of cornhole boards and you'll be tailgating with the pros.
For more tailgating tips and ideas, be sure to follow us on Facebook, Twitter, Instagram and check out our Amazon Storefront. We are a dedicated group of tailgaters that share product reviews, recipes, and insights to help you plan your next tailgate party. We hope to see you at the stadium soon!