What's New Year's Eve if not just a holiday tailgating party? You gather with friends and have drinks and food. Then you countdown and you cheer when you get to the next year. Sounds familiar. That's why tailgaters are so adept at throwing any kind of party, not just a tailgate. This year for New Year's, we're going all out at Inside Tailgating. We're ready for 2022 and all the things that come with it (mainly the bowl games). So we thought we'd share some of the tailgating ideas that we're doing for New Year's to help you and your tailgating team celebrate in style. Let's get at it!
Put Together Your Bowl Game Schedule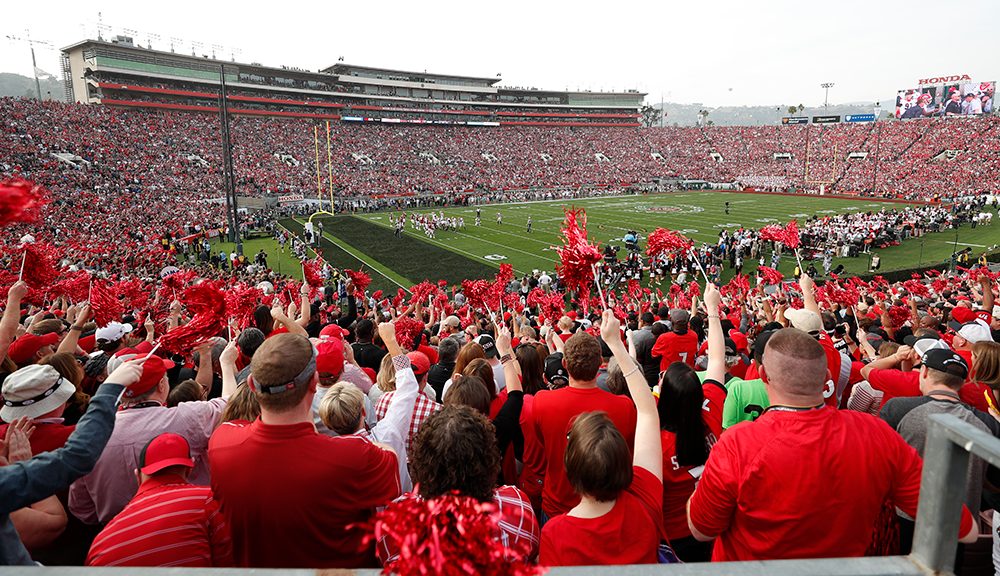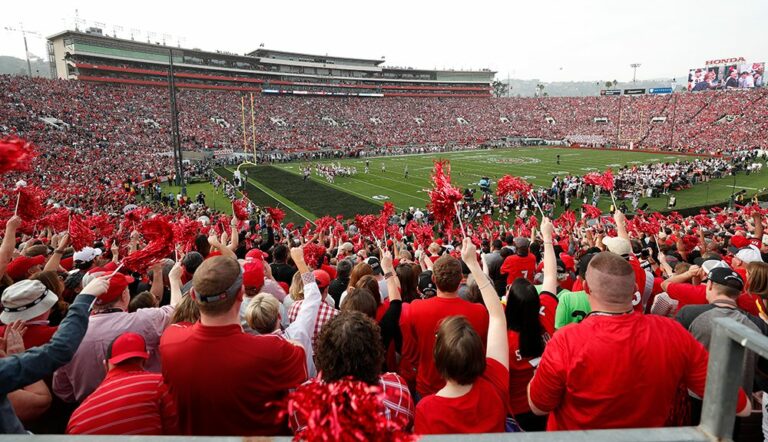 There are six major college bowl games on New Year's. Which leaves us a lot of options for our New Year's tailgating party (and of course New Year's Day). Here's a rundown of them we put together last year to help you plan for this year:
Not only do these six bowls on the college football bowl schedule feature automatic tie-ins to the College Football Playoff – its semi finals are played in two of these bowls each year, and rotate through them every three years – they are also some of the most storied venues in college football. For a guide to the history, traditions and what you can find to do in and around each of the six stadiums (if COVID-19 hasn't totally wrecked the schedule).
Here is a link to the complete 2021-2022 Bowl Game schedule to also help you plan. If you're ambitious, you can easily watch them all. What better way to start a new year than with a football game marathon?
Class It Up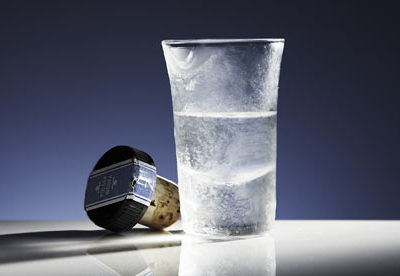 Now we all love to have a couple beers at the game. However, for New Year's, we believe in classing it up a bit on the cocktail front. It's a special occasion, so it deserves a special cocktail. We love a martini, so we put together a collection of martinis perfect for New Year's Eve.
Bebbo Schmebbo
Ingredients
1/2

Parts

SVEDKA Grapefruit Jalapeno

1/2

Part

Orange Juice

1/2

Part

Honey Syrup

3/4

Part

Fresh Lemon Juice
Instructions
Combine ingredients in a cocktail shaker filled with ice.

Shake and strain into a martini glass.

Garnish with skewered jalapeño slices.
Vodka does funny things to everyone at the average tailgate. But New Year's Eve is no average tailgate. So, let's use it as the spirit recipe just a bit for tonight.
GREY GOOSE "WET" MARTINI
Ingredients
2

Parts

Grey Goose Vodka

1

Part

Chilled Noilly Prat Dry Vermouth

Dash Of Orange Bitters

Mediterranean Olives, garnish
Instructions
Add ingredients into a mixing glass.

Top with cubed ice and stir.

Fine strain into a chilled cocktail glass and garnish with a pair of Mediterranean olives on an olive pick
ROSEMARY WHISPER
Ingredients
2

Parts

SVEDKA Vanilla Infused With Rosemary

1

Part

Fresh Sour Mix

1/2

Part

Egg White Rosemary Sprig
Instructions
Combine liquid ingredients and one rosemary sprig without ice in a cocktail shaker and shake without ice for 10 seconds.

Add ice, shake and strain into a Martini glass and garnish with a rosemary sprig.
Serve The Crowd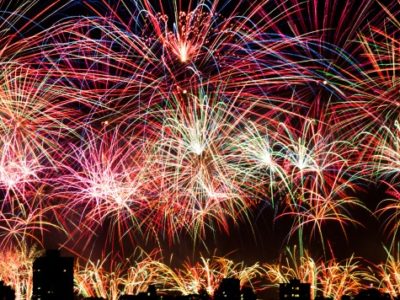 If you're looking for New Year's tailgating ideas for a large group of people, skip the cocktail menu. It's too much work to mix up individual cocktails for everyone. Instead, save yourself the time and trouble and batch a delicious punch. We've picked our two favorite punch recipes.
BACARDÍ PARTY PUNCH
Ingredients
750

ML

Bottle Bacardi Superior Rum

1

L

Cranberry Juice

2

L

Ginger Ale, chilled

8

Oz

Orange Juice

1

Oz

Lime Juice

1 1/2

Oz

Lemon Juice
Instructions
In a large container, combine rum and fruit juices. Chill. Just before serving, pour into large punch bowl. Add ice and gently stir in chilled ginger ale. Garnish by floating orange, lemon and lime slices on top. Makes 16 cups
WINTER FLOWERS PUNCH
Ingredients
1

Cup

Fresh Lemon Juice

1

Cup

Superfine Sugar

1/2

Cup

St-Germain

1/4

Cup

Honey

1/2

Cup

Cognac, Tequila, Bourbon, or Gin

16

Oz

Chilled Brewed Chamomile Tea

2

Bottles

Martini Prosecco

Orange or Lemon Slices
Instructions
Combine the lemon juice, sugar, St-Germain, honey, spirit, and tea in a non-reactive bowl and stir until the sugar is completely dissolved. Add the prosecco and stir to combine. Cover and refrigerate until chilled, about 1 hour. Pour into a decorative bowl or pitcher. Garnish with orange or lemon slices and fresh strawberries, if desired. Serve in champagne flutes, wine glasses or punch cups.
As you are tailgating at a big New Year's Bowl Game, or even the personal tailgate you are having at home, here are a couple of drinks to keep you feeling great.
Serve Some Tasty Dishes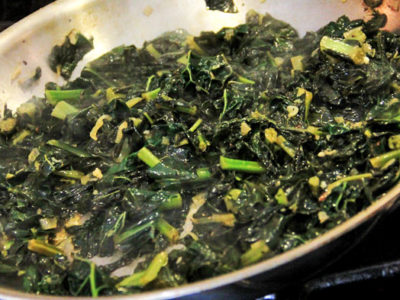 We've reviewed a lot of tailgating ideas for the New Year's menu. We knew we had to look to the Southern states for inspiration because they have a lucky New Year's meal. In the spirit of the South's lucky meal of black eyed peas, cornbread, and greens, we thought the best option would be our favorite greens recipe.
Quick & Easy Sauteed Tuscan Kale
Ingredients
16

Oz

Tuscan Kale, washed and drained

1

Small

Shallot, diced

2

Cloves Garlic, minced or grated

1-2

Tbsp

Apple Cider Vinegar

1/4

Cup

Low-Sodium Fat Free Chicken Broth

Pinch of Red Pepper Flakes

Coarse Himalayan Sea Salt, to taste

Freshly Ground Black Pepper, to taste

2

Tbsp

Extra Virgin Olive Oil

1

Tbsp

Raw Honey
Instructions
Wash kale with cold water and let drain. Pour olive oil and red pepper flakes in a large skillet, and bring to heat over medium-heat, until oil begins to shimmer and have a webby appearance and red pepper flakes begin to sizzle.

Add shallots and cook for 2 minutes, until translucent. Add the kale, carefully in an even layer. Cover with lid and let cook without stirring for 1 minute. Remove lid and stir kale and shallots around until evenly mixed. Cover again for 2 minutes. Add garlic, chicken broth, vinegar, garlic, salt, and pepper, stirring to combine. Cover and let cook until most of the liquid has evaporated, about 8-12 minutes.

Depending on how tender you enjoy your kale, you could continue to cook it down even longer or enjoy it with al dente. Taste as you go, adjusting the seasoning as needed, adding more broth as needed. Add the honey at the very end to offset any bitterness.
How about a modern twist on a New Year's Day staple for your college bowl tailgating needs? We give you this kale recipe for your "greens" fix, which as a bonus will give you a jumpstart on your New Year's resolution to eat healthier in 2022 – and that includes your tailgate spreads. Feel free to experiment with other greens too. All of them are considered lucky because they look like folded money!
Plan For New Year's Day
When it comes to tailgating ideas, we all forget to think about the day after. We're all guilty of having a little too much fun at a tailgate and we've also been there on New Year's Day. We're big believers in planning as all tailgaters. So we thought we'd also help you plan for New Year's Day because let's face it, we're all going to be sitting around a little rough watching some bowl games.
Irish Stew
Ingredients
1 1/2

Lb

Lamb, cubed

1 1/2

Lb

Beef, cubed

1/4

Cup

All Purpose Flour

1 1/2

Tsp

Salt – divided

1 1/2

Tsp

Black Pepper – divided

4

Tbsp

Butter – divided

4

Tbsp

Bacon – drippings

1

Large

Onion, peeled and chopped

4-6

Potatoes – peeled, chopped

6

Carrots – washed and chopped

3

Parsnips – washed and chopped

4

Cups

Beef Stock – reduced sodium

2

Cups

Water

12

Oz

Guinness Extra Stout Beer

4

Sprigs Thyme

3

Bay Leaves

3

Tbsp

Worcestershire Sauce
Instructions
If preparing in oven, place oven rack in low position and preheat oven to 350 degrees.

In a bowl, sprinkle the cubed lamb and beef with one teaspoon of salt and one teaspoon of black pepper. Toss with the flour until evenly coated.

Add half of the butter and oil to the bottom of a 7 quart dutch oven. Heat to medium high. Working in batches, cook the floured meat until brown on all sides. Do not crowd the pan. Transfer browned meat to a holding dish.

Lower the heat to low. Add another tablespoon of butter and another tablespoon of oil to the same pot. Add the chopped onions and stir. Cook and stir for 10 minutes until the onions are golden and translucent.

Stir in the potatoes, carrots, and parsnips. Sprinkle with the remaining salt and pepper. Cook and stir for 10 minutes. Add more butter and vegetable oil if needed.

Increase heat to medium high. Stir in the beef broth, water, and Guinness. Add the Worcestershire sauce, thyme, and bay leaves. Bring to a boil, stirring frequently to prevent sticking.

Remove from heat, cover the dutch oven with a lid, and transfer the pot to the heated oven. Bake and stew for 2 – 3 hours. Check cooking halfway through, add more liquid as needed.

Serve hot with crusty bread.
Irish Stew is the ultimate comfort food, this traditional recipe for Irish Stew is made with a combination of lamb and beef.
New Year's Eve and tailgates have a lot in common. So it only makes sense that you look at some tailgating ideas when planning your holiday party. For more ideas, make sure to follow us on Facebook, Twitter, Instagram and check out our Amazon Storefront. Our team offers a ton of helpful advice, recipes, and product reviews to help you plan any tailgate party.
Have fun at your New Year's Eve tailgate party and we'll see you in 2022!