Last Updated on 11/03/2021 by Inside Tailgating
This summer has been blazing hot. These high temps have really put a damper on summer fun since most of us would rather sit in the a/c. However, the hot weather does not have to put a damper on your tailgating. Tailgating pros know that no matter if it's hot and humid or cold and snowy if you come prepared, you can have a great tailgate in any weather. So to help you beat the heat this year, the tailgating pros at Inside Tailgating have put together a master guide for tailgating in the summer. These tips will help keep you and your guests cool, they'll also guarantee a fun time before the game. Let's get into it!
Play In The Shade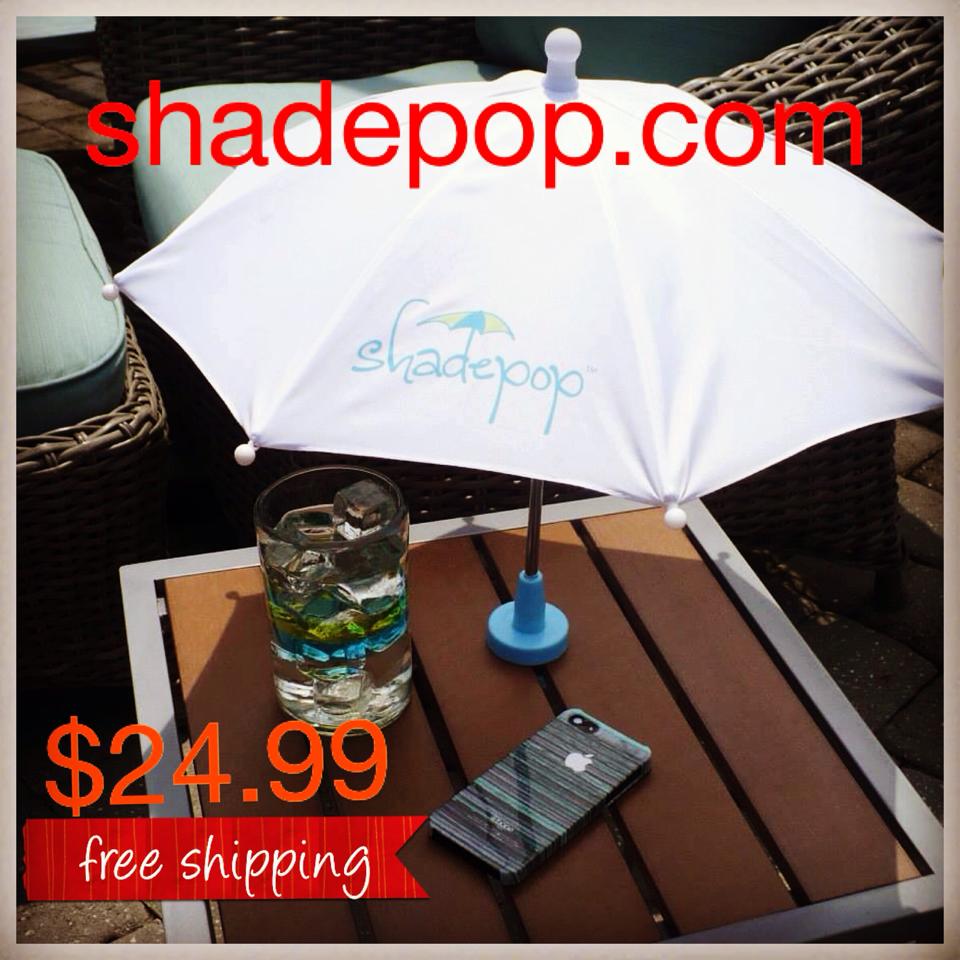 Now most of us are already tailgating under a shade canopy, so we know to stay out of the sun. However, have you ever noticed there's always that one spot that just insists on being in the direct sun? Of course, that's usually where our beer lands. Well, we have a solution for that, the Shadepop.
The Shadepop is a mini beach umbrella that attaches to any tabletop with a magnet. It is lightweight and compact. It works on glass, metal, plastic, and wood. It even comes with its own little beach bag for style and convenience. Now you can be cool while keeping your stuff cool and within easy reach.
Use Shadepop at the pool, beach, or tailgating lot. Cheers to Amy! Buy one and she may invite you to her next pool party. Visit Shadepop for more info.
Pack A Cooler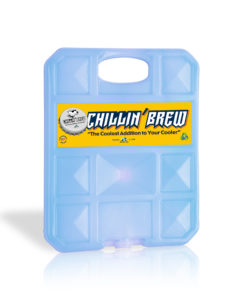 Ice is a must for summer tailgating. If you're using all your ice to keep your beers cold, you can't use it to keep you cool. So we definitely recommend that you get cooler panels. They keep your beverages colder for longer and you can use all the ice for your drinks.
What's worse: showing up for a tailgate without a cooler of beer or showing up for a tailgate with a cooler of warm beer? We're going to argue that it's worse to show up with warm beer. Come on, cozies were invited for a reason! So how do you not be that guy?
Well forget about trying to cram a case of beer in your fridge the night before. No more fishing around in a bucket of ice to find a cold beer. And throw out those leaky ice packs from the 1970s that your dad passed down to you!
Chillin' Brew, by Arctic Ice, is here to save the day. Chillin' Brew is a newly designed cooler pack made with some insane technology to keep your beer a fraction of a degree above freezing. Each cooler pack contains a 100% biodegradable, non-toxic material that manipulates heat to keep beer cold four times longer than ice.
Each Chillin' Brew cooler pack is reusable. Just throw it in your freezer for 6-10 hours and then pop it in your cooler with your beer or other drinks. They've even been tested through 100,000 freeze and thaw cycles so you can pass them down to the next generation of tailgaters. They come in four different sizes and can cool down anything from a personal cooler all the way up to a 100 quart cooler.
Check out ChillinBrew.com to pick some up for your tailgate, camping weekend, or beach trip today!
Bring Plenty Of Beverages
Speaking of coolers, you always want to stack your cooler with the right beers. We all love a thick and creamy stout, but it can be a little heavy in the hot weather. We personally love taste testing all the fun limited edition summer beers.
Every summer some of the best breweries in the country release limited seasonal beers. These beers are often fun and experimental, reflect the tastes of the season, and are one of the most important summer tailgating essentials. If you're a beer lover, here are our top ten picks for some of the great summer beers to try at your next tailgate.
If you're not a beer person, you could also make some summer cocktails. With the right ingredients like watermelon or citrus, a cocktail can really cool you down.
Watermelon Keg
Ingredients
1

Medium

Oval Watermelon

4-6

Cups

Water or Alcohol
Instructions
Cut off ½ inch from the bottom end of the watermelon so that it sits on a flat surface. Make sure that the surface that the watermelon will sit on isn't cut too deep, just enough for it to sit evenly. Cut about 2 inches from top to end, cutting through the rind completely in order to get at the flesh.

Using a large spoon, scoop out watermelon flesh from the top of the watermelon and transfer it to a bowl, making sure to leave about 3 inches of flesh at the bottom of the watermelon for the spigot to nestle into.

Determine where to place the spigot in the surface of the watermelon, then press it firmly into the rind to make an indentation. Using a pointed paring knife, create a small opening, making sure to cut inside the line of the circular indentation.

Press the spigot gently into the hole. Scrape away the flesh on the inside of the watermelon to reveal the end of the spigot.

In a blender, combine 4 to 6 cups watermelon flesh with 4 to 6 cups water or alcohol. Fill watermelon with liquid and serve over ice.

Makes 8 to 12 cups, depending on the size of the watermelon.
Cheerwine Cocktail
Ingredients
2

Tbsp

Gin

1/2

Small

Lime, Juice

3/4

Cup

Cheerwine or other black cherry soda

3

Tbsp

Seltzer Water or Club Soda
Instructions
Fill a tall (14-ounce) cocktail glass two-thirds full with ice. Add gin and lime juice. Pour Cheerwine into the glass, top with seltzer water, and stir.
Now if you want something in between a cocktail and a beer, we've got you covered. We love a Paloma in the summer. The combination of citrus and IPA is truly refreshing. However, we leveled up on this one and added a smokey flavor perfect for summer.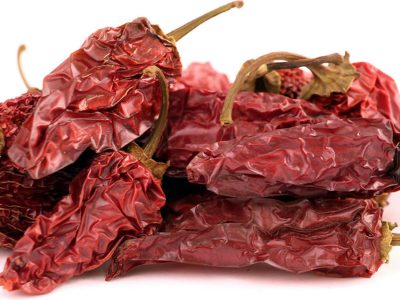 For those hesitant about manning the grill, consider incorporating ingredients that add a smoky flavor without ever needing to throw ingredients over flames.
Smoky Paloma
Ingredients
901 Tequila

1

Part

Grapefruit Juice

1/2

Part

Agave Syrup

2

Chipotle Peppers

IPA Style Ale
Instructions
Muddle one chipotle pepper with agave syrup and grapefruit juice in mixing glass. Add 901® Tequila and shake vigorously over ice. Strain into collins glass filled with ice. Top off with IPA Ale. Garnish with skewered chipotle pepper.
Don't forget to throw some extra water bottles in the cooler to keep everyone hydrated.
Let's Talk Summer Spread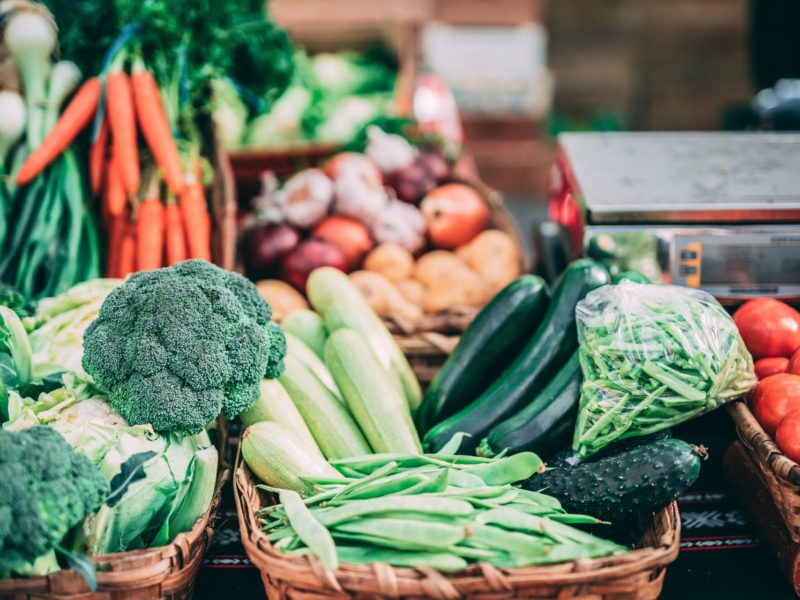 Obviously you're going to grill up some burgers, dogs, and chicken wings for the summer spread. However, summer has amazing produce that can help everyone stay hydrated and cool.
It's easy to let summer become all about ice cream cones and cold beers on the back patio. If you struggle to eat enough veggies in the warm weather or have little mouths that seem to constantly demand desserts and greasy treats, these five healthy summer vegetable recipes have your back. They're simple, require few ingredients, and taste outstanding— even to picky eaters!
Here are five of our favorite fresh summer vegetable recipes perfect for cooling you down.
Crispy Roasted Brussels sprouts
Ingredients
Brussel Sprouts

Olive Oil

White Vinegar

Garlic Powder, Salt, Pepper – to taste
Instructions
Preheat your oven to 425 degrees Fahrenheit.

Prepare one pound of fresh Brussels sprouts by cutting off the stems (the small, hard, white part at the bottom), and slice each sprout in half lengthwise.

Place the halves and any loose leaves in a single layer in a cast-iron skillet.

Drizzle olive oil over the top (about a tablespoon will do) and use clean hands to massage the oil into the sprouts until they're fairly evenly coated.

Drizzle about a teaspoon of white vinegar over top. Then sprinkle on salt, pepper, and garlic powder to your taste preference.

Bake your sprouts on the center rack of your oven for about 20 minutes, using tongs or a spatula to toss them about once while cooking.

When the insides are lightly browned, and the loose leaves are crispy, you're ready to serve!
Snackable Kale Chips
Ingredients
Kale

Canola or Olive Oil Spray

Salt and Pepper – to taste
Instructions
Preheat the oven to 425 degrees Fahrenheit and line a baking sheet with aluminum foil.

Rip one bunch of kale into bite-sized pieces, removing the hard stems, and lay the leaves in a single layer on the tray.

Spray your kale with canola or olive oil baking spray until they're lightly coated.

Sprinkle salt and pepper over top to taste, keeping in mind that the kale will cook down a lot, and you won't want to over-salt.

If you like things spicy, add a few shakes of cayenne pepper. If you want a cheesy taste, sprinkle on a tablespoon or two of nutritional yeast— this natural, vegan seasoning contains protein and is often fortified with crucial vitamin B12!

Bake your kale chips for 15-25 minutes, depending on how crispy you like them.

Toss them with tongs once or twice while cooking to ensure that they cook evenly.
Summery Grilled Broccoli
Ingredients
2

Lbs

Broccoli

1/4

Cup

Extra Virgin Olive Oil

2

Tbsp

Soy Sauce

1

Tbsp

Honey or Maple Syrup

1/2

Tsp

Salt

1/4

Tsp

Black Pepper
Instructions
Preheat your outdoor grill to medium heat and chop the thick stems off from 2 pounds of broccoli. Chop the florets in half until you have bite-sized pieces.

Mix your florets together in a bowl with the other ingredients.

Grill your broccoli for 8 to 10 minutes, flipping it once in the middle.

If you're looking for a kick, add a few shakes of crushed red pepper flakes before serving. This makes a great side dish on a summer evening!
Sweet Green Smoothies
Ingredients
3/4

Cups

Frozen Mango or Pineapple

1

Cup

Almond Milk

2

Cups

Fresh Spinach

1

Cup

Fresh Kale
Instructions
Blend mangos or pineapple. Then add the rest of the ingredients and blend.

If your blender has a hard time chopping everything finely, add more milk by the tablespoon until it runs smooth.

Serve it in a pretty glass or Mason jar with a reusable straw! A slice of leftover fruit makes a lovely garnish.
Creamy, Protein-Packed Pesto
Ingredients
1

Cup

Fresh Basil Leaves

1

Cup

Arugula

1/4

Cup

Olive Oil

1/4

Cup

Water

1/3

Cup

Pine Nuts or Walnuts

3

Cloves

Garlic

1/4

Tsp

Salt

1/3

cup

Parmesan Cheese or Nutritional Yeast
Instructions
Blend all ingredients together.

If necessary, add water one tablespoon at a time until you reach your desired consistency.

Now you can use the pesto in a variety of different ways: it's great in pasta salad and sandwiches, on pizza, drizzled on top of baked and grilled veggies, or even better, mix it in with butter and slather it on your grilled corn.
Fill up on these summer vegetable recipes, and you may even surprise yourself with the bonus effects of increased energy, weight loss, healthier skin, and an improved mood. Your family, dinner guests, and friends will have a hard time turning these dishes down, and it's hard to know which part you'll enjoy more— experiencing the taste, or knowing that your loved ones are getting the healthy vegetables they need without any complaints. It's time to start cooking these summer vegetable recipes!
Don't Forget About The Uninvited Guests
Beyond the sweltering temperatures, there's another annoyance to summer tailgating. Insects start to swarm. Many of these bite and spread disease. So tailgating pros know to keep them away.
There is nothing quite as annoying as a bug buzzing around you when you are trying to enjoy the great outdoors. Whether that's a barbecue in the backyard, a day at the beach, hiking the trails or hanging by the pool… Fortunately, there are some highly effective bug sprays out there. Now, finding the right bug spray depends on two main factors: longevity and effectiveness.
Insect repellents are distinguished mainly by their active compounds. The options vary; some are plant-based, picaridin based, permethrin based, and others whose active compound is DEET. Note that all these bug sprays work, and the question as to which one is more effective is still a raging debate.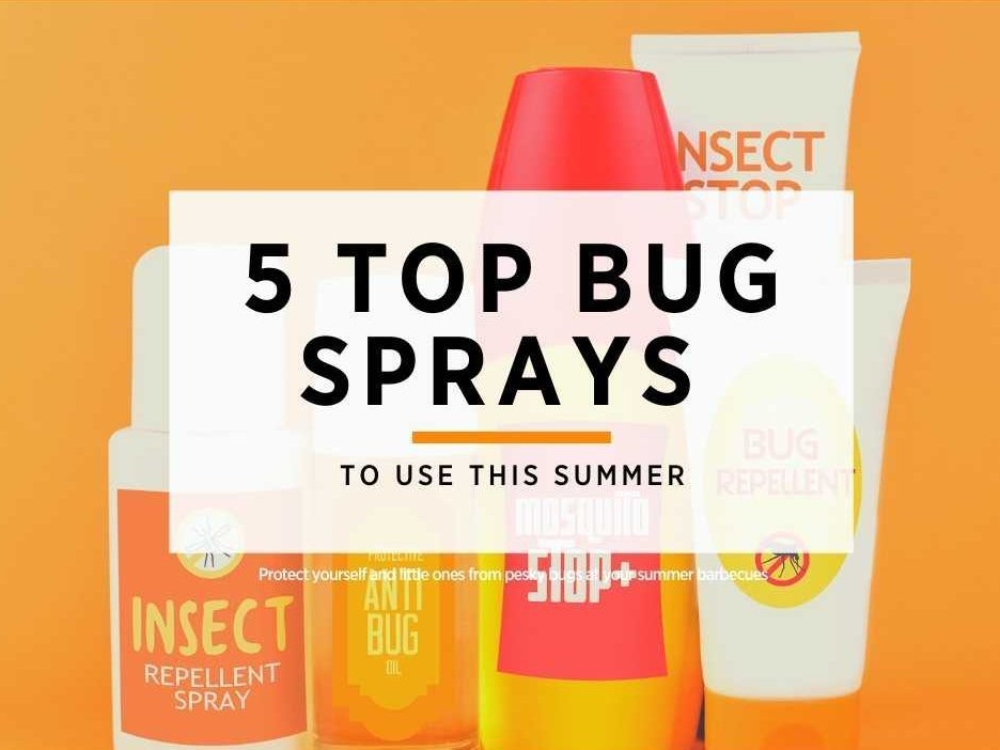 Each of these bug sprays has its merits and pitfalls. That said, note that your choice will depend on which one will work best for you and why.
1. Sawyer Products SP657 Premium Permethrin Clothing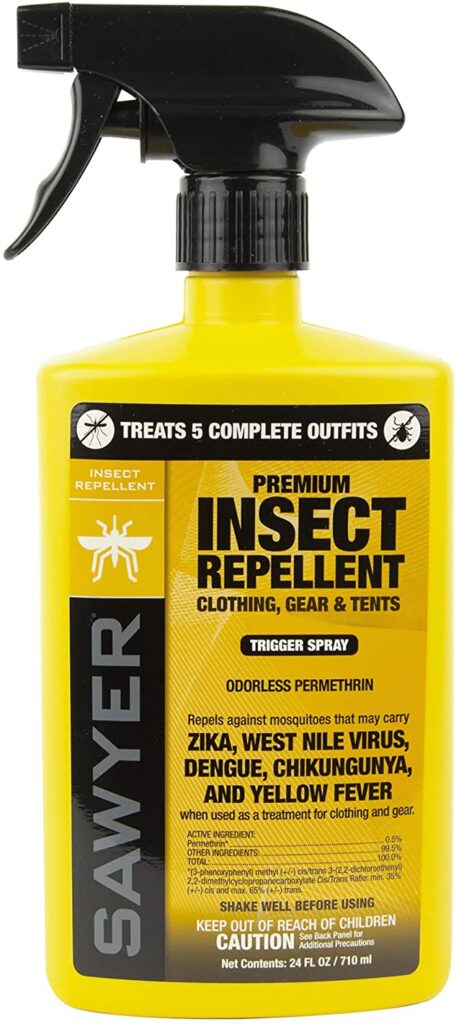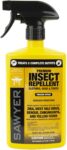 If you're not too crazy about having repellent on your skin, then you can always go for this Permethrin Clothing insect repellent trigger spray. Permethrin clothing is one of the more long-lasting varieties, and all you have to do is spray it on your clothes, shoes, or any gear you want. This trigger spray is mostly a tick repellent, and it can last for as long as six weeks. Ensure you let it dry out completely before you wear your clothes or use your gear. Obviously, check your labels and read instructions clearly before spraying on your clothing.
2. Natrapel Insect Repellent Spray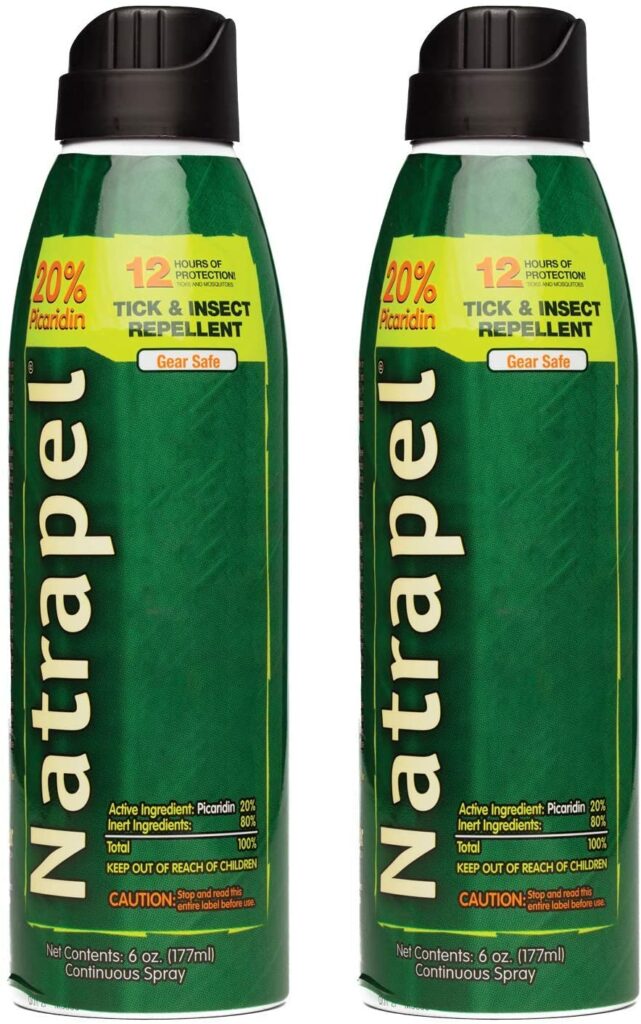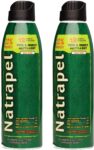 This picaridin based product is more effective against ticks and mosquitoes. Research conducted by the Journal of Drugs and Dermatology indicates that having picaridin as the active compound results in high efficiency and also causes little to no irritation. Consumer product reviews also point out that the higher the percentage of this compound in the repellent spray, the better the results.
3. Eucalyptus-Pump Spray Insect Repellent


This oil of lemon eucalyptus concentrate provides protection mainly against mosquitoes for a period of up to six hours. It's an excellent choice for places with a mosquito infestation, and you can use it on the skin without the risk of irritation. The oil of lemon eucalyptus concentration stands at 30 percent, providing the perfect balance of protection and comfort.
4. Ben's 100% Deet Mosquito, Tick, and Insect Repellent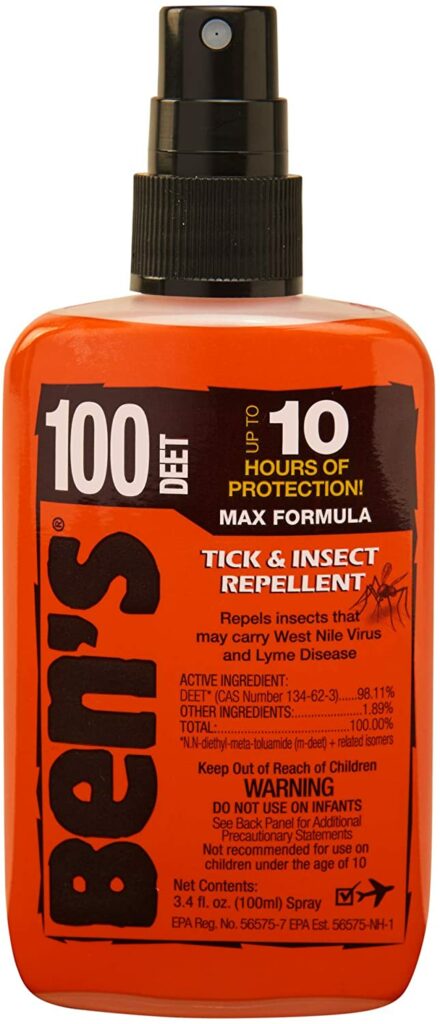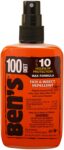 If you are in the market for an all-round insect repellent, then this is it. This product comes with a 98 percent concentrate of DEET as the constituent compound and offers 10 hours of active protection. It shields you from flies, fleas, ticks, mosquitos, and a variety of other creepy crawlies. In terms of utility value, this DEET product ranks right up there with the best of them.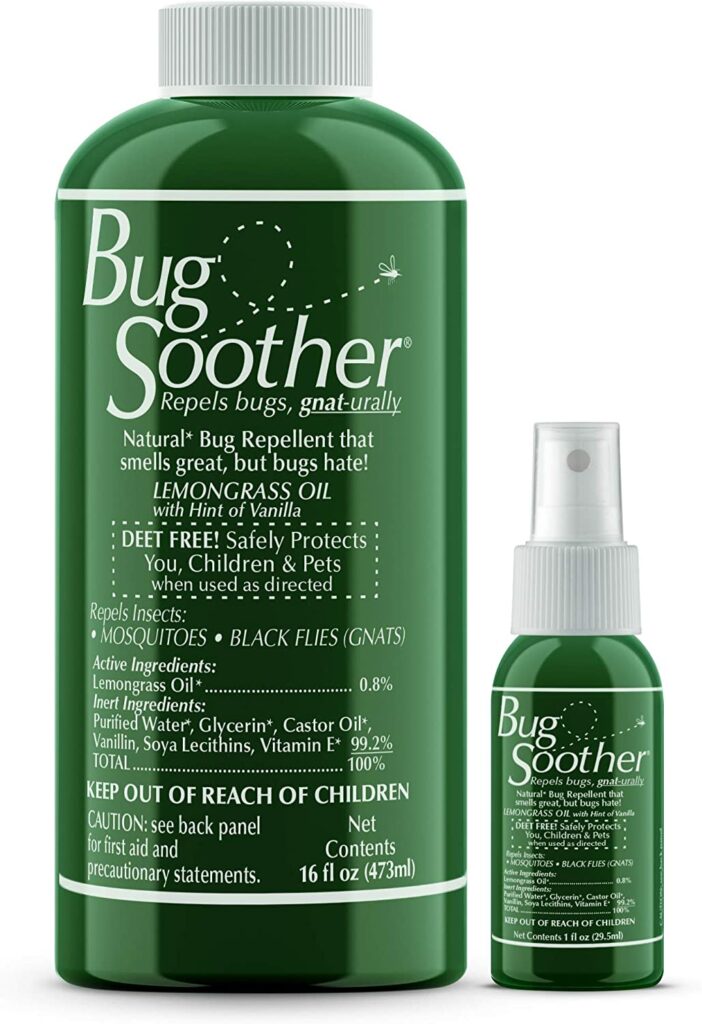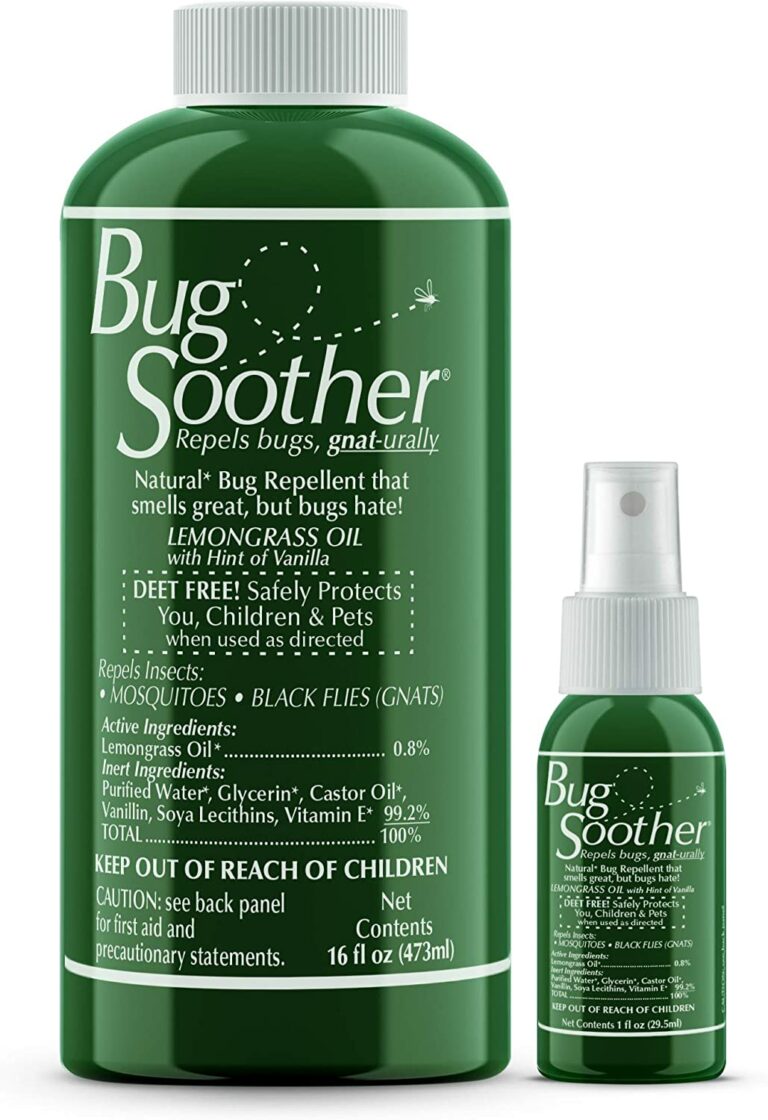 This natural insect repellent is super-effective at repelling gnats, no-see-ums, sand fleas, black flies, and some mosquitoes. Bug Soother is made with simple, skin loving ingredients- including lemongrass oil, and vanilla for an amazing scent that people love, but bugs hate. Outdoor enthusiasts and backyard BBQers can repel insects and smell good at the same time.
BONUS –
Insect Shield Sport Crew Clothing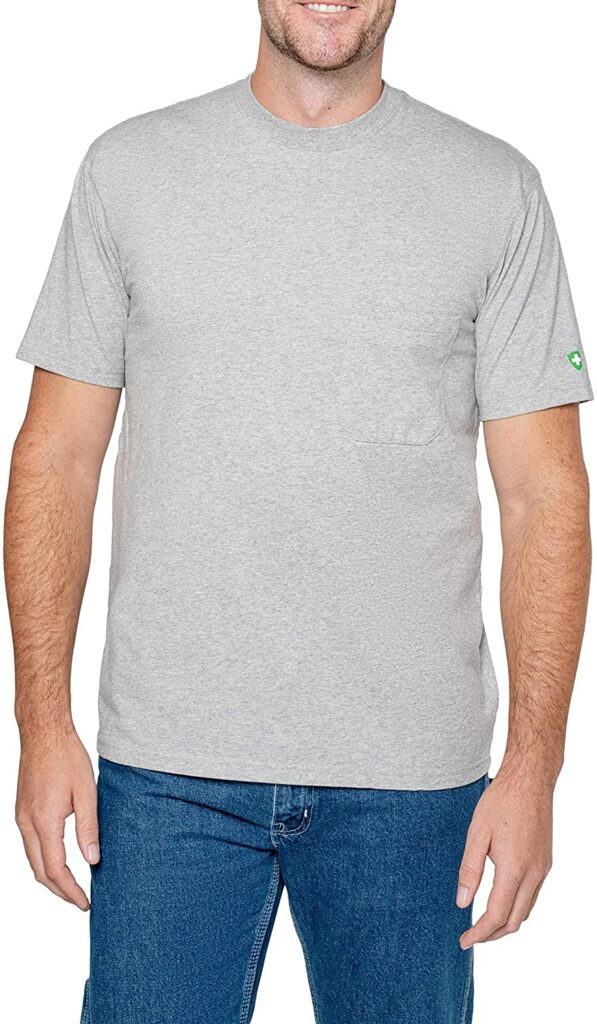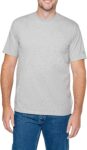 As the only clothing based variety on this list, the Insect Shield Sport Crew clothing is perhaps the most convenient of the bunch. The concept here is to have permethrin baked into the fabric of socks or clothes (including a bandanna) instead of spraying yourself physically. The longevity varies, with some providing protection for up to and beyond ten weeks.
Bottom Line
The technology on bug sprays is pretty extensive, making the process of identifying the best one, overall, a bit difficult. For this reason, the recommendation is that you identify your specific bug problem before you make a purchase, this will give you a clear indication of which one will work best for you.
With abundant shade, drinks and food to keep you hydrated and cool, and a little bug spray, you'll have a great summer tailgate party. For more summer tips from our tailgating pros, be sure to sign up for our newsletter and follow us on Facebook, Twitter, and Instagram. We offer seasonal tips to ensure that no matter what the weather, you and your guests will have a blast before the game.