There are very few things more fun than hosting a tailgating party. You gather with your friends, meet other fans, and help to cheer on your favorite team right before the game. If you've always wanted to try hosting your own tailgating party, the experts at Inside Tailgate are always here to help you out.
We offer tons of tips to help you throw a great event. We decided to put together a brief guide on how to throw your first tailgating party. We'd love to see you at the stadium, so here's how to get started.
Reach Out To The Stadium
The very first thing you need to do when planning your tailgate is to reach out to the stadium. Most stadiums welcome and encourage tailgating. However, each stadium has rules about what is and what is not allowed. Generally speaking most stadiums do not allow glass bottles, have specific parking requirements for tailgaters, and ban offensive signage.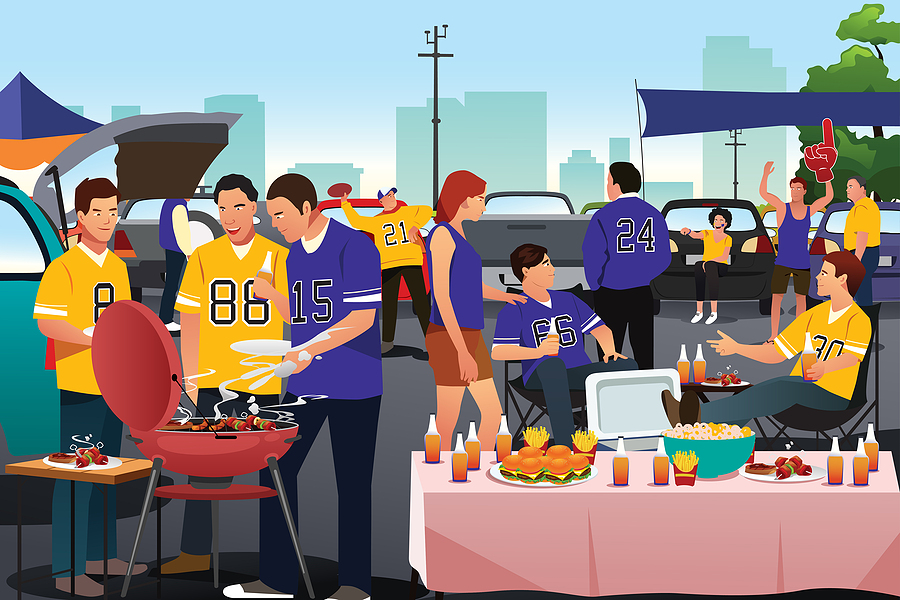 These regulations are all pretty much common sense. However, it's always a good idea to check the rules before planning your tailgating party. These are often listed on their website, but you can also call to ask more specific questions.
Get The Right Gear
Now that your tailgating plan meets regulation, it's time to load up on gear. How much gear you get depends entirely on if you want to make a big splash or start small and simple until you know you love it. Here is a short list of all the basics you will need for your tailgating party:
Tailgating grill, grill tools like tongs and a spatula, and mitts
Propane or charcoal, starter, and matches or a lighter
Cooler, ice, and a bottle opener
Napkins, plates, forks, and cups
Trash bags and cleaning wipes
Chairs and a table
Portable stereo to listen to music and pregame commentary
Hand sanitizer and wipes
These are just the basic things you will need for tailgating. However, there is a lot of amazing tailgating gear available that can help you up your game. Check out our gear section for more ideas.
Plan Some Tasty Food And Drinks
Now we get to the fun part of the planning. What are you and your guests going to eat and drink? A good rule of thumb is to bring things that are either pre-made and brought to the game or can be made right on the grill. Try to avoid things that will spoil in the sun and instead stick with things that are delicious served warm.
You'll also want to bring some drinks. Make sure to bring plenty of water and then a selection of soft drinks, beer, and cocktails. We recommend for your first time out you start with some classics like burgers, hot dogs, or grilled veggies. Once you get your feet wet with tailgating, you can try some of the more fun tailgating recipes.
Head Out Early
A lot of people love to tailgate. So you'll really want to make sure that you head out as early as possible so you can get a good spot. A good rule of thumb is to get there at least 3 hours before the game begins. Although, we often recommend getting there even sooner.
Make a checklist of everything you need to bring and load up your car. It's a good idea to load everything the night before and just add the ice and the food in the morning. Also, take a second to check the weather and make the necessary accommodations. 
Select Your Parking Spot
Once you get to the stadium, spot selection is everything. A good location will ensure you have a great time with little hassle. You want to park away from the porta-potties so the smell doesn't ruin your time. It's also good to be near trash cans if possible.
Another good idea is to look around at the other tailgaters. If they are doing things that can ruin a good time like playing really loud music or smoking, you may want to find a spot further away from them as well. 
Setup Your Site
Finally, to the good stuff. Once you have your site selected, you can begin setting up. Remember to follow the stadium guidelines when setting up your tailgate. Once you are set up, you can start inviting your friends and other fans to stop by and enjoy a drink or some snacks with you.
Then enjoy!Setting up your first tailgating party is really exciting. Our team at Inside Tailgating is here to help! We love helping sports fans across the country plan their ideal tailgate. We offer tons of tips, shopping guides, and insider information to help you become a tailgating expert. Check out our website and make sure to subscribe to get exclusive tailgating content.