Last Updated on 08/19/2021 by Inside Tailgating
Ready to give Dad something to make him scream WOOOHOOOOO like Homer Simpson? You should! Here is our quick rundown on 5 tailgating inspired gifts for Dad that will spice up his game:
At Inside Tailgating, we independently select and write about stuff we love or want to try out and think you will too. We are a participant in affiliate advertising programs, including the Amazon Services LLC Associates Program, which is designed to provide a means for sites to earn advertising fees by advertising and linking to Amazon.com.So, we may receive commission from sales or other compensation from links on this page, at no additional cost to you. We gotta pay for our tailgates somehow…
Gifts for Dad who loves to tailgate
AllCornhole Boards and Bags – Every serious tailgater needs a game to bring to the lots or use in their backyard. We use and recommend AllCornhole boards and bags for their quality and durability. For the serious cornhole players in your crew, buy the bags and boards that the pros use and are approved by the American Cornhole League. AllCornhole produces the official ACL boards which can be seen in use in their tournaments on ESPN. Many of the ACL Pros use the bags, and their newer GameChangers have been flying out the door so fast they instituted a purchase limit. These bags retail for $90-$97. Check them out HERE.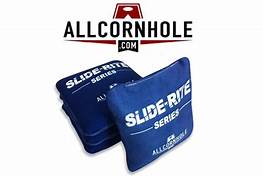 Craft Beer Club – If the local brewery is one of his favorite places, this gift will expand his craft-tasting abilities across the United States. Craft Beer Club will send him up to 24 beers a month, including a mix of styles. You can choose how many shipments he'll receive and how often they'll occur. In short, this gift truly keeps on giving.
Beverage Soaps – What? Yep! Money might be tight, but these gifts pack the punch. Fight fire with fire after a long day of consuming in the tailgating lots with these drink-infused soaps. Whether Dad is a beer drinker or prefers a cocktail, we've got three companies to recommend: The Beer Soap Company and Soap Distillery. If your Dad would rather lather with lager The Beer Soap Company has over 120 brews to tap. To please a Dad with a stiff drink, check out the sustainable cocktail-inspired soaps made in small batches (just like some of the best liquors are). If Dad is an equal opportunity drinker, Duke Cannon has you covered with The Beer and Bourbon Box.
Best of Times Portable Bar – Any idea of a portable bar is a genius. Best of Times does the deed right by offering stowable bar sets that quickly set up and break down to allow Dad to maximize his time in the tailgating lots (or the backyard). And if he's got a favorite team, they are licensed for all 32 NFL teams, select NCAA teams, party themes, and can even customize a portable bar set. Check it out HERE.
Teremana Tequila and/or Teremana's Premium Bring the Mana BBQ Tool Set. Teremana is a small-batch, ultra-premium tequila founded by Dwayne "The Rock" Johnson. Teremana's blanco and reposado expressions are each made from fully mature, naturally sweet agave, slow roasted in small traditional brick ovens and distilled in handmade copper pot stills. The blanco features notes of bright citrus and a smooth, fresh finish; while the reposado is aged in bourbon barrels, with hints of oak and vanilla and a smooth, rich finish. Teremana's Premium Bring the Mana BBQ Tool Set accompanied with a matching apron. Perfect for Father's day or your summer grill master. The beige canvas carrying case includes a nine-piece steel set with a wood handle finish. Set includes the below items and retails for $60 (tools only) and $80 with apron. You can purchase the kits online at teremana.com.
Weber Q1200 Series Portable Gas Grill – Ready, set, on the go with this tabletop propane grill. Now you can have all the fresh, grilled flavors you love anytime, anywhere with Weber's convenient, portable gas grill. Choose from simple and compact to ultra-convenient and loaded with features. Weber spends countless hours perfecting the grilling systems on its gas grills, assuring easy assembly, an evenly heated cooking surface, and precision controls so you can tone things down or up to the perfect heat level for direct or indirect cooking. Split grates allow for a grate/griddle cooking combination. The tall lid accommodates the grilling of small roasts and birds, while the large built-in thermometer allows you to monitor temperatures inside the grill. Durable, but lightweight, the cast-aluminum construction of the Weber Q 1200 makes this super-portable grill the perfect tailgating companion.
CitruSafe Grill Cleaner – A new grill might be out of the question, so take a step in the right direction. Impress Dad with a clean grill with this top-rated grill cleaner from CitruSafe. This non-toxic Goliath will get his grill looking brand-spankin' new. Why not throw in the grill brush while you're at it? Maybe you clean it for him every once in a while?..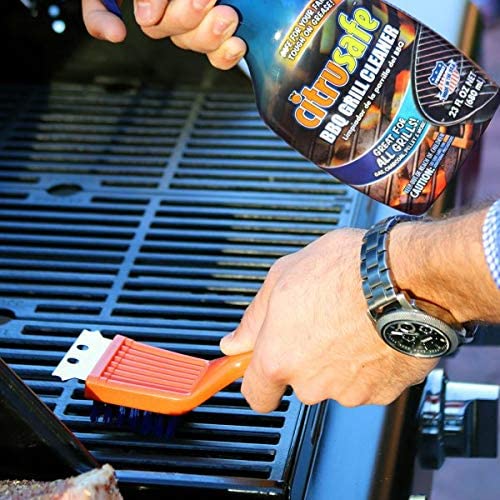 Que – Eau de Barbecue – Ready to get Dad all spiced up? Impress him with a bottle of Que, the new BBQ-inspired fragrance from the scent masters over at Pork Barrel BBQ. Que is an intoxicating bouquet of spices, smoke, meat & sweet summer sweat, and is the latest development in wearable scents and is quickly becoming a hit among meat lovers, grill masters and backyard BBQ'ers. This product is 100% real and sure to make you a hit at your next tailgate or backyard BBQ and makes a great gift for your favorite BBQing Dad!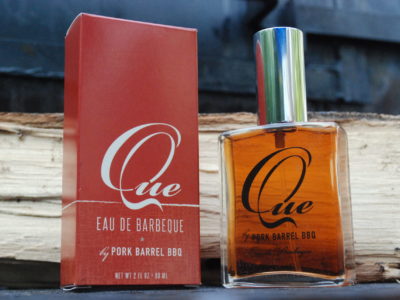 >> Did we miss one? Shoot use your suggestions on great tailgating gifts for Dad in the comment box below!