I was shopping with my family at Costco a month or so before our summer beach trip when I saw this portable Coleman 10 X 10 instant canopy tent with swing wall on sale. We were about to take our twin toddlers to the beach for the first time, one of whom has really fair skin, and I knew having a tent on the beach could be a lifesaver. We decided to give it a try, and I'm happy to report it was a huge hit with our family! Now I have it packed up and ready to pull out again in time for tailgating college football games this fall.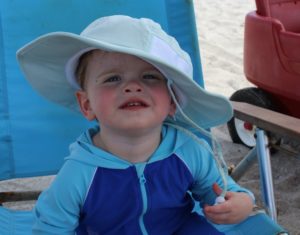 Beach ready
This Coleman canopy changed the way we spent time on the beach as an entire extended family. Not only did my sons get to stay on the beach for long stretches without Mama worrying like crazy about sun exposure, it provided shade for five or six adults. The swing wall – which you can fold down to protect from wind and weather, or keep up to shield from sun – gave you that much more coverage. Really hot days in direct sunlight became downright pleasant as we spent time relaxing on the beach in the shade. It felt so good that our boys didn't want to stray far either, which added to the fun for parents!
Transporting
It did take some effort to get it down to the beach, but by the end of the first day we figured out how to make the transporting and setup easy. The canopy folds up into an easy carrying case so we just put the case on a wagon to pull down to the beach, and we brought a group of two or three adults to set it up. Same with breakdown. Four people was ideal and made it easy to manage; it's easy enough to do with a large family going down to the beach. (The same will be true for tailgate parties.) Each of the four people take one of the corner poles and either crank it up or break it down, and in a matter of less than a minute the tent was up or down. Drive a couple of stakes in the ground (or out) and the process was all but over.
Family Friendly
Different members of our family kept commenting that the tent was our best money spent in a long time. It retails on Costco online for $159.99. We got it in store on sale for closer to $100. Either way, it was well worth it! And with a brand like Coleman we know it's high quality and built to last. I can envision using it for tailgates and beach trips for years! And no I was not compensated to write about this tent. This is sheer honest-to-goodness recommendation.