Last Updated on 04/15/2021 by Inside Tailgating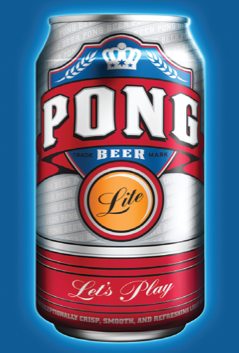 Everybody has heard of, and most likely played many times, the "sport" of Beer Pong. A tailgating favorite, this game stands the test of time with its incorporation of ping-pong, basketball, and most importantly, steady beer drinking.
But have you ever heard of Pong Beer? This brand new "Pong Lite" alcoholic beverage from the Latrobe, PA company Pong Beer USA provides the perfect accompaniment to the sport of Beer Pong. The light beer can be purchased in 30-can cases of 12-ounce beers dubbed "The Rack Pack." This Rack Pack also comes with two free ping pong balls. If you buy two Rack Packs, you not only receive four total ping pong balls, but you also get party cups included too.
According to the Pong Beer USA web page, Pong Lite is available for purchase in 10 states — Wisconsin, Illinois, Kentucky, Tennessee, Ohio, Pennsylvania, Connecticut, Rhode Island, New York and New Jersey. Ten more states are said to have the beer "coming soon." These are California, Texas, Florida, Arkansas, North Carolina, Virginia, Maryland, Massachusetts, New Hampshire and Vermont.
For more information, connect to Pong Beer USA.com.