By Emma-Blake Byrum, for Inside Tailgating
While burgers and dogs are among the top options for tailgate grub, tacos are an underrated choice with just as much flavor and fun. What makes tacos just as great, or even better, is that they can walk along with you wherever you are headed.
Walking tacos are a funky and functional twist on a traditional favorite. Typically, your taco goes in a soft or hard tortilla shell that eventually breaks and crumbles along the food journey. But walking tacos go with you, in a snack size bag of your favorite bag of chips like Fritos or Doritos.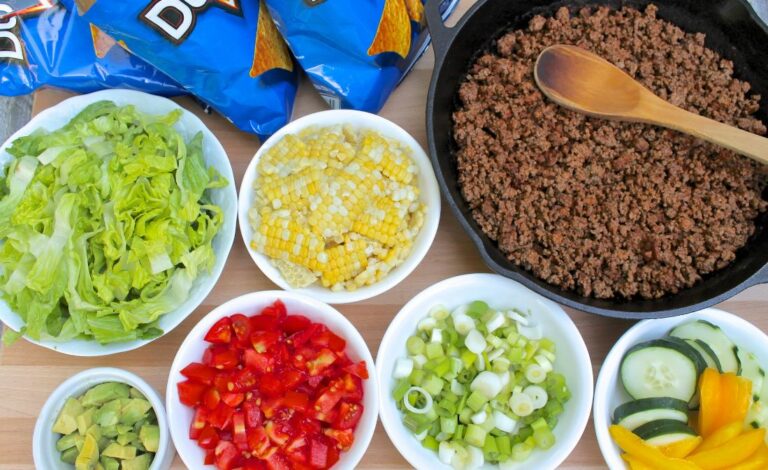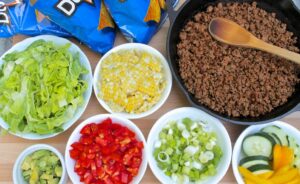 So here's what you'll need for the best walking taco of the year:
1 pound ground beef
1 packet taco seasoning mix
Chopped tomato
Shredded lettuce
Chopped onion
Cooked corn
Chopped avocado
Shredded cheese
Sliced black olives
Sour cream
Salsa or picante sauce
Any other taco topping of preference
Individual lunch-sized bags of Doritos or other corn chips (fritos, cheetos, sun chips, etc.)
Disposable forks/sporks/spoons
Now that you have all the ingredients, you must select your bag of chips. They all work the same, but I personally opt for the regular Cheese Doritos or Chili Cheese Fritos because I think they add the best flavor. Next, open the bag of chips and give it a few good crunches until all the chips inside have broken at least once or twice. Once you have a nice chip base, add your meat and other taco toppings. After you have your desired taco extras added, roll up the top of the bag and shake it around, mixing everything inside. Open up the bag, grab an eating utensil, and you now have a walking taco.
You don't have to worry about carrying and keeping up with a plate or the greasiness of a hard/soft shell taco. Clean up is a breeze, too, just toss your bag of chips away. There's also an added bonus for those at the tailgate not into the tacos; there are tons of chips to spare! So grab your favorite taco recipe, grab a bag of chips, and lets get walking!