Our favorite thing about March Madness is that it's really a tournament for basketball lovers. Outside of maybe who we picked for our bracket, with 68 teams playing we're not always going to be rooting for a team we love. Instead, we can just kick back and watch the future stars of the game go head to head for the first time. The Final Four is really where we get to see these players shine.
They've worked hard to be the best teams in the league and have to really bring it to get to the championship game. It's the perfect game to host a homegate party. To help you get started planning, here is our starting lineup of 10 delicious, easy-to-make tailgating food appetizers for the Final Four.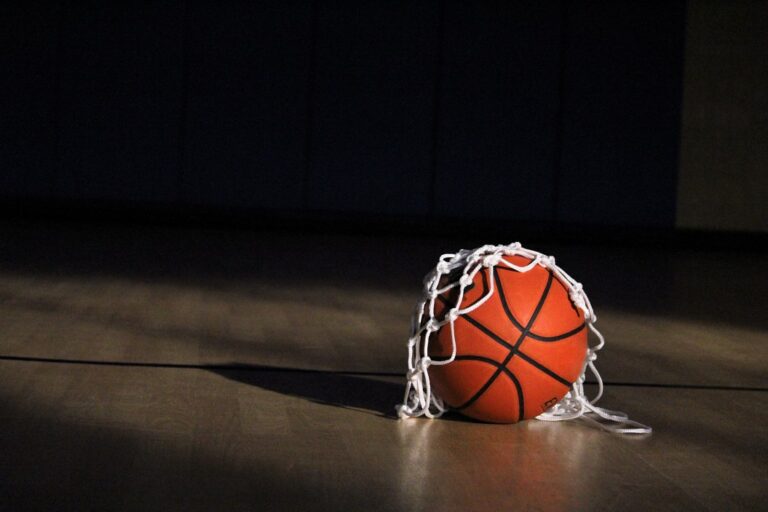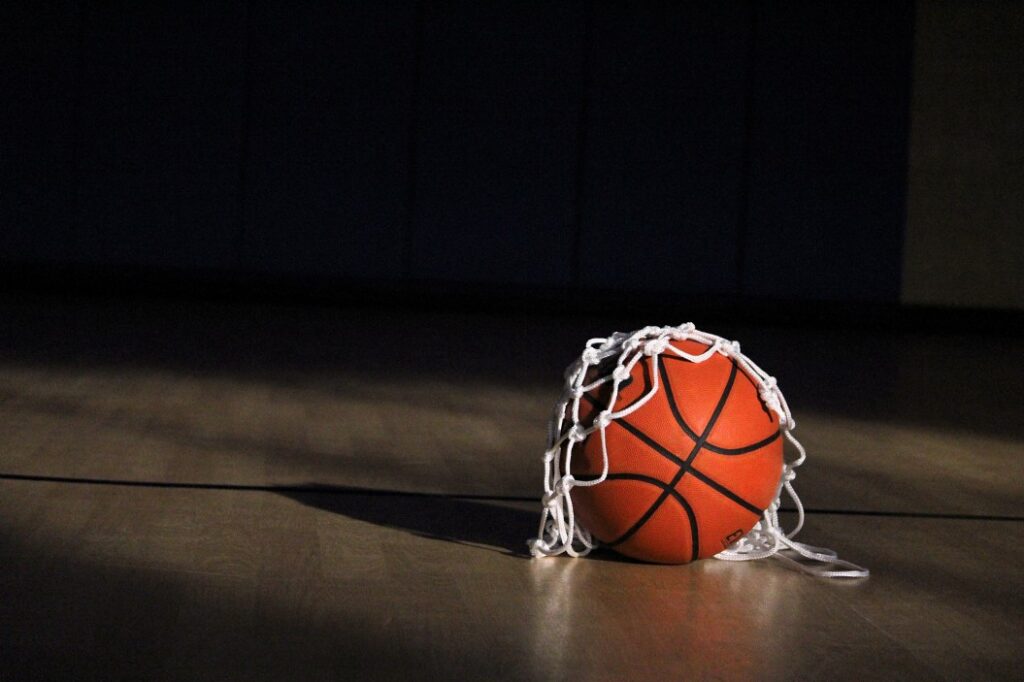 Basketball Themed Snack Stadium
Equipment
1 9-by-12-inch disposable cookie pan

8 5-by-8-inch and four 6-by-6-inch disposable food containers

2 2-by-2-by-9-inch and two 2-by-2-by-12-inch hard Styrofoam or wood blocks

Hot-glue gun and glue sticks
Ingredients
Baked Hot Wings

Permesan Herb Tater Tots

Cold Spinach Dip

Bagel Dogs

Cheese Twists

Ricotta Dip

Sweet Mini Peppers

Caprese Bites

Mandarin Orangs

Fiesta Ranch Dip

Caramel Corn

Doritos & Cheetos Mix

Corn Dogs

Basketball Court Themed Pizza
Instructions
Build the stadium walls. The long sides of the stadium each have three snack containers, and the short sides each have two. Prop the side of the snack containers on the blocks and attach with hot glue to secure. If using Styrofoam blocks, wrap each block with plastic wrap and secure with tape to prevent bits of Styrofoam from breaking off.

Caprese Bites – Toss mini mozzarella balls with olive oil, oregano, basil and hot pepper flakes, then thread them on skewers, between fresh basil leaves and grape tomatoes.

Parmesan Herb Tater Tots – It's easy to doctor up store-bought Tater Tots. Simply bake the tots according to package directions, then toss them with grated Parmesan cheese, smoked sea salt and chopped parsley before serving.

Pizza –

1: Stretch pizza dough to fit inside the rectangular pan.

2: Prebake the crust according to recipe directions, then brush with a little olive oil and sprinkle with pizza seasonings.

3: Cut slices of Jack and cheddar cheese into 1/4-inch slices and arrange on top of the crust to create the planks of the basketball court.

4: Garnish with sliced olives and pepperoni to emulate the court markings. Broil for 2 to 3 minutes until the cheese melts.

Arrange all the containers of hot and cold snacks around the stadium, and then place the hot pizza in the middle.
We're going to kick this off with this absolutely awesome spread. Set up to look like a stadium, it covers all your appetizer bases. The center is a pizza made to look like a basketball court. Then it is surrounded by the tastiest, most over-the-top tailgating food. You have everything from bagel dogs to parmesan-herb tater tots to baked hot wings.
There are dips like fiesta ranch, healthy options like Caprese bites, and even a little bit of sweetness with caramel corn. They even show you how to construct the serving stadium from simple items you can buy anywhere. Check this option out for sure!
Basketball Bean Dip
Ingredients
Bean Dip
2 – 15

Oz

Cans Of Refried Beans

4-6

Drops

Black Food Coloring

16

Oz

Velveeta Cheese, cut into cubes
Basketball Tortilla Chips
10

Flour Tortillas

Wilton Orange Color Mist

Black Food Marker

Vegetable Oil For Frying

Salt
Instructions
Bean Dip
Measure three tablespoons of refried beans into a fine mesh strainer.

Use a rubber spatula or spoon to press the beans through the strainer. Scrape mashed beans from the back of the strainer into a small bowl.

Add 4 drops of black food coloring and stir. Add 1-2 more drops until you reach the desired shade of black.

Spoon into a disposable pastry bag or zip-top bag. Pour remaining refried beans into a large mixing bowl.

Add cheese cubes. Heat in the microwave for 3-4 minutes, stirring every 45-60 seconds, until the cheese melts. Spread evenly in a 9" pie plate.

Cut the tip off the pastry bag or zip-top bag. Pipe the black colored beans onto the dip creating the seams of a basketball.
Basketball Tortilla Chips
Set flour tortilla on a cutting board. Use a 2 1/2" round cookie cutter to cut circles from the tortilla. (Cut as many tortilla rounds as you would like)

Set tortilla rounds on a sheet of aluminum foil, parchment paper, or wax paper. Spray each round with Wilton's Orange Color Mist. Use the black food marker to draw the basketball's seam lines onto each tortilla round.

Heat oil in fryer or stockpot to 350 degrees. Fry about 10 tortilla rounds at a time, flipping them over midway through, until golden brown, about 30 seconds per side.

Set hot chips on paper towels and immediately sprinkle with salt. Allow the oil to come back up to temperature before continuing. (You can also choose to bake these chips.)

Arrange them in a single layer on a baking sheet, spray them with cooking spray or brush them with oil, and bake at 350 degrees until golden brown, about 10-15 minutes.
Chips and dips are really where it's at when it comes to tailgating food. They're easy to make and serve, they don't create a mess, and everyone loves them. This bean dip is just a blend of queso and beans but with a fun twist. It's decorated to look like a basketball.
If that wasn't cool enough, our friends at Hungry Happenings also show us how to make matching basketball tortilla chips. Is it extra? Probably. Are we making them anyway? Definitely. If you're not into bean dip, you can also just make this basketball queso.
Basketball Cheese Ball
Ingredients
1

Pkg

1/3 Less Fat Cream Cheese, softened

1/2

Cup

Spicy Jalapeno Cream Cheese Spread

1

Pkg

Shredded Sharp Cheddar Cheese

1/2

Cup

Grated Parmesan Cheese

1/2

Cup

Classic Ranch Dressing

2

Green Onions, chopped

1

Pkg

Real Bacon Bits

8

Red Pepper Strips
Instructions
Beat all ingredients except bacon bits, peppers and parsley with mixer until blended. Refrigerate several hours.

Form into basketball shape on platter. Coat with bacon bits. Add pepper strips for the stitching.
Another easy appetizer recipe perfect for tailgating is a cheese ball. Served up with your favorite crackers, breadsticks, or vegetables, it's an ideal tailgating food for snacking throughout the game. This is a pretty classic cheese ball recipe, but it has a twist.
Basketball grooves are simply painted on with ketchup, though you can use any of your favorite condiments. If you really want to make things easy, you can do this same thing on a store-bought cheese ball. So simple, yet still very impressive. There's also a sweet dessert version.
Beefy Basketball Empanadas
Ingredients
2

Tbsp

Olive Oil

1/2

Lb

Ground Beef

1

Small

Yellow Onion, diced

2

Garlic Cloves, minced

2

Small

Yukon Gold Potatoes

1

Tsp

Salt

1/2

Tsp

Black Pepper

1/2

Tsp

Ground Cumin

1/4

Tsp

Crushed Red Pepper Flakes

1/4

Cup

Fresh Cilantro, chopped

1

Tbsp

Tomato Paste

1

Tbsp

Worcestershire Sauce

14

Oz

Packaged Store Bought Pie Dough

1

Large

Egg

1

Pinch

Orange Food Coloring, gel

1

Edible Black Food Coloring Pen

1/2

Cup

Chimichurri Sauce
Instructions
Set a large skillet over medium high-heat with the oil. Once hot, add the beef and break it up with a wooden spoon, cooking until no longer pink, about 5 to 8 minutes. Stir in the onion, garlic, potatoes and season with salt, pepper, cumin, and red pepper flakes. Cook until the onions have softened, about 2 minutes longer. Stir in the cilantro, tomato paste and Worchestershire sauce. Cook over low heat until the potatoes have softened, about 5 minutes. Remove from the heat and set aside to cool to room temperature.

Roll out the pie dough and cut out into 4-inch circles. Fill half of them with the cooled mixture, about 1 to 2 teaspoons, and then top with another pie circle. Crimp together with a form to seal and place on a baking sheet lined with parchment paper.

Preheat oven to 375 degrees F.

In a small bowl, whisk together the egg and orange food coloring. Brush the empanadas with the egg wash.

Reroll the scraps of dough and cut out into strips and place on top to form the lines of the basketball. Bake until golden, about 18 to 20 minutes. Remove from the oven and let cool slightly. Using the edible black pen, color the lines of the basketball before serving. Serve with chimichurri for dipping.
We've always loved this Spanish appetizer as a tailgating food. The spicy filling wrapped in a flaky pastry and dipped in chimichurri is heaven. They're also pretty easy to whip up and are impressive when served. These empanadas are cut into circles and use strips of dough to mimic the grooves on the basketball. They're tasty, adorable, and your team will have fun dunking them. If beef isn't your thing, you can use this technique on any flavor of empanada. Here you can find some other fillings to consider.
Basketball Pizza Snacks
Ingredients
1

Tube

Refrigerated Pizza Crust

3

Mozzarella Cheese Sticks

12-24

Pepperoni Slices

1

Jar

Pizza Sauce

1

Black Food Coloring Pen

1

Tbsp

Butter

Orange Food Coloring
Instructions
Preheat oven to 400 degrees F and spray your cake pop pan on both sides. Spread pizza crust on a work surface. Using a 3-inch round cutter, cut 12 circles of dough. Cut mozzarella sticks into 1-inch pieces. Place one or two pepperoni slices on each circle of dough and add mozzarella pieces on top. Pinch the dough closed around the cheese and pepperoni. Place the dough balls in the bottom half of the cake pop pan. Attach the top of the pan and secure shut. Bake for 15 minutes. Allow pan to cool for 5 minutes before opening. If some of the pizza balls have ridges in the center, trim them off with a pair of scissors. Using a black/ blue food coloring pen, draw basketball lines on the pizza balls. Add orange food coloring to 1 tablespoon of butter and mix well. Add more food coloring to achieve desired color. Brush the tinted butter on the pizza balls, wiping off any excess with a paper towel.

Basketballs can be refrigerated for up to three days, until you're ready to serve them. To reheat, place basketballs on a baking sheet and bake in a 350 degree F oven for 8-10 minutes. Serve with a bowl of warm pizza sauce for dipping.
It's probably the most popular tailgating food among college kids. So it has to be featured at your Final Four homegate. Rather than serving a whole pizza, try making these round basketball-shaped pizza rolls. They're stuffed with your favorite toppings and baked using a cake pop pan. Then the grooves are painted on with some food coloring and they are dunked into marinara.
Turkey Basketball Sliders
Ingredients
12

Small Frozen Dinner Rolls

Orange Food Coloring Spray

Liquid Black Food Coloring

12

Slices

Blackened Turkey Breast

12

Slices

Provolone Cheese

1

Cup

Caramelized Onions

1

Cup

Roasted Red Peppers, julienned

1/4

Cup

Fiery Chipotle Gourmaise
Instructions
Line baking sheet with non-stick tin foil or spray with non-stick spray. Set rolls 2 inches apart on baking sheet. Spray one piece of plastic wrap with non-stick spray and set over frozen rolls. Allow to sit at room temperature until doubled in size, about 2 hours.

Preheat oven to 350 degrees F.

Remove plastic wrap and spray rolls with orange food coloring. Use a fine tip paint brush (new or food use only) to paint basketball lines on each roll using black food coloring.

Bake rolls for 15-20 minutes until golden brown. Allow to cool for at least 5 minutes.

Cut open dinner rolls and place both halves cut side up on baking sheet. On bottom half arrange one slice of Blackened Oven Roasted Turkey Breast, one slice of Provolone cheese, and heaping tablespoon of both caramelized onions and roasted red peppers.
This is a cool technique that can be used with any slider recipe. Basically, you just paint your slider buns with food coloring to look like basketballs. However, we definitely recommend this recipe. Roasted red peppers, caramelized onions, and chipotle mayo take a simple turkey sandwich and make it gourmet. Delicious and fun!
Mini Cheeseburger Sliders with Basketball Cheese
Ingredients
Basketball Cheese Slices
6

Slices

Cheddar or American Cheese

Black Food Coloring
Friend Potato Rounds
3

Russet Idaho Potatoes

1/4

Cup

Vegetable Oil

1/2

Tsp

Salt
Mini Hamburgers
1

Slice

White Bread, crusts removed

1 1/2

Tbsp

Milk

1

Tbsp

Ketchup or Steak Sauce

1/2

Tsp

Salt

Pinch Of Black Pepper

1

Lb

Gound Chuck

1-2

Tsp

Vegetable Oil
Instructions
Make Cheese Basketballs
Use either a 1 1/2" or 1" round cookie cutter to cut 22 rounds from the cheese slices.

Pour a few drops of black food coloring into a small bowl. Dip fine tip paint brush into the food coloring.

Paint seam lines onto each cheese slice creating basketballs.
Potato Rounds
Move an oven rack to the lowest position. Preheat oven to 475 degrees Fahrenheit. Wash potatoes. Cut, using a Mandolin or a knife, into 3/8" thick slices.

Use a 2" round cookie cutter, to cut rounds from each potato slice. Fill a mixing bowl with hot tap water.

Place potato rounds in water and set aside for 10 minutes. Remove potato rounds from water and set on paper towels. Blot dry. Dry out your mixing bowl.

Combine the vegetable oil and 1/2 teaspoon salt in the mixing bowl.

Line a heavy duty baking sheet with non-stick aluminum foil. Pour 3 tablespoons of the oil onto the foil lined pan. Use your hand to swirl the oil around to get an even coating all over the pan. Be sure the get the salt evenly distributed.

Place potatoes in mixing bowl and toss to coat evenly with the remaining tablespoon of oil. Lay potatoes in a single layer on the baking sheet. Sprinkle a pinch of salt over potatoes.

Cover pan tightly with aluminum foil. Bake for 10 minutes. Remove foil and bake for 8 minutes. Rotate pan 180 degrees and continue to bake for 8 minutes. Remove pan and flip potatoes over. Bake for 8-14 more minutes until golden brown.

Remove from oven and place potato rounds on paper towels to remove excess oil. While potatoes are baking, make burgers:
Make Burgers
Tear slice of white bread into small pieces. Place in a mixing bowl. Pour in milk. Use a fork to smash the bread into a paste. Add ketchup, 1/2 teaspoon salt, and pinch of black pepper. Stir to combine.

Add ground chuck and stir just until combined. Scoop out 22 portions of meat by the tablespoonful. Press meat into a 2" round cookie cutter to form into a nice circle.

Heat one teaspoon of vegetable oil on a griddle pan, skillet, or grill pan until smoking. Cook burgers in two batches until well browned on both sides.

If serving these right away, set a piece of cheese on each burger after you flip it to cook the second side and allow the cheese to melt slightly. If you plan to prepare the burgers and potatoes hours before your party, you can reheat them just before serving. Heat your oven to 350 degrees. Place potatoes and burgers on a baking sheet and heat for 5 minutes.

Remove from oven and top burgers with a slice of cheese. Heat just until cheese melts and burger is heated through.
We're really loving the creativity on these fun sliders. Just a little bit of food coloring really takes a standard mini cheeseburger and makes it a fun-themed appetizer. In this recipe instead of the bun, you cut out cheddar or American cheese slices and paint on the grooves with a little black food coloring. You make the mini burgers as usual and voila! Another basketball-themed slider. So easy!
Buffalo Potato Basketballs
Ingredients
1

Lb

Russet Potato, peeled and diced

4

Tbsp

Unsalted Butter

1/4

Cup

Whole Milk

1

Tsp

Salt

1/2

Tsp

Black Pepper

1/2

Tsp

Garlic Powder

1

Cup

Shredded Chicken

1/2

Cup

Buffalo Sauce

2

Scallions, sliced

1/2

Cup

Shredded Cheese

1/2

Cup

Flour

1

Large Egg

2 1/8

Oz

Nacho Cheese Tortilla Chips, finely crushed

4

Cups

Vegetable Oil, for frying

1/4

Cup

Asian Chili Sauce

1

Cup

Ranch Dressing
Instructions
Place the diced potatoes into a saucepan filled with water. Bring to a boil and cook until the potatoes are fork tender, about 15 to 20 minutes. Drain and return to the pot. Add the butter, milk, salt, pepper, and garlic powder and mash until smooth. Set off to the side and let cool to room temperature.

In a small bowl, combine the shredded chicken, buffalo sauce, scallions and cheese until evenly mixed through. Set aside.

Using a ¼ cup measuring cup, scoop out the mashed potatoes onto the palm of your hand and flatten out slightly. Fill with about 2 teaspoons of the chicken mixture and then bring the mashed potatoes over the filling and shape into ball. Place on a baking sheet lined with parchment paper and continue filling the rest. Once all are shaped, place the pan in the freezer for about 20 minutes.

Place the flour into a shallow dish. Whisk the egg in a separate shallow dish. Pour the crushed chips into a third shallow dish.

Working with one potato ball at a time, dip each in flour, shaking off excess, and then into the egg and finally into the crushed chips. Return to the baking sheet and continue dredging the rest.

Fill a large pot with the oil and heat to 360 degrees F. Carefully place a few of the potato balls at a time and fry until evenly browned, about 2 to 3 minutes. Using a slotted spoon, carefully transfer out of the oil and place on a plate lined with paper towels.

Top with sriracha to make the lines of the basketballs. Serve with ranch.
If a recipe uses potatoes and cheese, it will always get our attention. Covered in Buffalo hot sauce, even more so. These basketball snacks are potatoes wrapped around cheese, chicken, and spices. Then they are rolled in tortilla chips, deep-fried, and smothered in buffalo sauce. Then the basketball lines are painted on with Sriacha and the whole thing is dipped in ranch. This recipe is madness, tasty March madness.
Chocolate Covered Oreo Basketball
Ingredients
Orange Chocolate Melts

Black Icing

Oreo Cookies

Toothpicks
Instructions
Melt your chocolate in a small microwave-proof glass bowl – according to the package directions

Dip the cookie or turn them over to coat both sides

Pull the cookie out with a fork, tapping off the excess chocolate, and slide It onto the wax paper to dry

Repeat with the other cookies

After the chocolate dries you can start decorating them with the black icing

*If you intend on inserting toothpicks, then you can insert them now

While the cookie is still flat on the wax paper, make a Cross with the black decorating icing

Then add the semi-circle shapes to each side

If you used toothpicks then you can stand the cookies up or leaven them flat on the platter
Now for something sweet with these Oreo basketball pops. These easy desserts only require four ingredients and some popsicle sticks. They are made by dipping Oreo cookies into orange candy melts and painting the lines with chocolate. They're served on sticks for easy snacking and cleanup. They're simple, delicious, and frankly, who doesn't love an Oreo cookie?
Basketball Pinata Cookies With Skittles
Ingredients
Cookie Dough
2

Cups

All-Purpose Flour, more if needed

1/4

Tsp

Salt

1/4

Tsp

Baking Powder

1/2

Cup

Butter, softened slightly

3/4

Cup

Sugar

1

Large Egg

3/4

Tsp

Pure Vanilla Extract

1/2

Tsp

Almond Extract

Orange Gel or Paste Food Coloring
Decorations
4

Oz

Orange Confectionery Coating (candy melts)

Black Food Coloring Marker
Instructions
Cookie Dough
Mix the flour, salt, and baking powder together in a bowl. Set aside.

Cream the butter and sugar until light and fluffy.

Stir in the egg, vanilla, almond extract, and enough orange food coloring to make the mixture really bright.

Add the dry ingredients and stir just until combined. If the dough is sticky, add a small amount of flour.
Cut Out Cookies
Roll some dough out to 3/8 inch thickness. Cut 6 rounds using the 3 1/4 inch cutter. Remove excess dough, set on a parchment paper-lined baking sheet.

Put the large cutter around one cookie, then cut a smaller hole using the 2 3/4 inch cutter.

Remove the center dough round, then remove the small cookie cutter, then the large cookie cutter. This will help keep your cookies in a nice round shape.

Place the baking sheet in the refrigerator for at least 30 minutes. Roll the remaining dough out to 3/16th inch thickness, and cut 12 circles using the 3 1/4 inch cutter, re-rolling as needed.

Set cookies on parchment paper-lined cookie sheets. Refrigerate for 30 minutes.

Preheat oven to 350 degrees.

Bake cookies for 10-12 minutes until the edges look set and the center of the cookie no longer looks wet. Allow cookies to cool completely on the baking pan.
Decorate and Assemble Cookies
Heat orange candy melts on high in the microwave for 20-second increments, stirring after each, until melted.

Spread a thin layer over 6 of the whole round cookies. Place those 6 cookies in the freezer for about 4 minutes, just until the candy coating hardens.

Pour the remaining orange candy melts into a small zip-top bag and snip off the tip. Pipe candy melts around the bottom edge of a cookie with a hole in it.

Set that cookie on top of a solid round cookie. Fill the holes with Skittles.

Pipe a thin band of orange coating around the top edge of the cookies with holes in them then set a candy-coated cookie on top. Press down gently to seal the two cookies together. Use a black food coloring marker to draw on the seam lines.
You may remember last year when Skittles made it to the Final Four of the non-chocolate regional bracket. Though they didn't make it to the championship, they are still an all-star candy. Pinata cookies are always a blast and Skittles make the perfect filling. The cookies are simple sugar cookies made to look like basketballs but with a fun rainbow surprise. Your team will love them.
These ten appetizers are perfect for serving up at your Final Four tailgating party. For more tailgating food recipes, make sure to follow us on Facebook, Twitter, Instagram and check out our Amazon Storefront.
Let us know in the comments what tailgating food you're whipping up for your Final Four party and we'll see you courtside!