With football season in full effect during the holidays, it makes perfect sense that you combine holiday and tailgating food. Whether you are hosting a tailgate around Christmas or hosting a Christmas party with your tailgating crew, these recipes are the best of both worlds. They are simple to make, delicious, and will wow your crowd. Here's a tailgating food list of recipes that are ideal for Christmas or Christmas recipes perfect for your next tailgate–depending on how you look at it. Let's get cooking!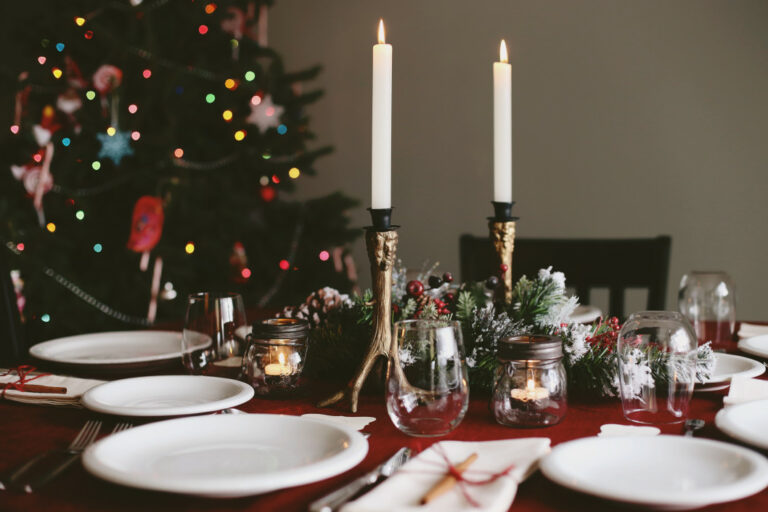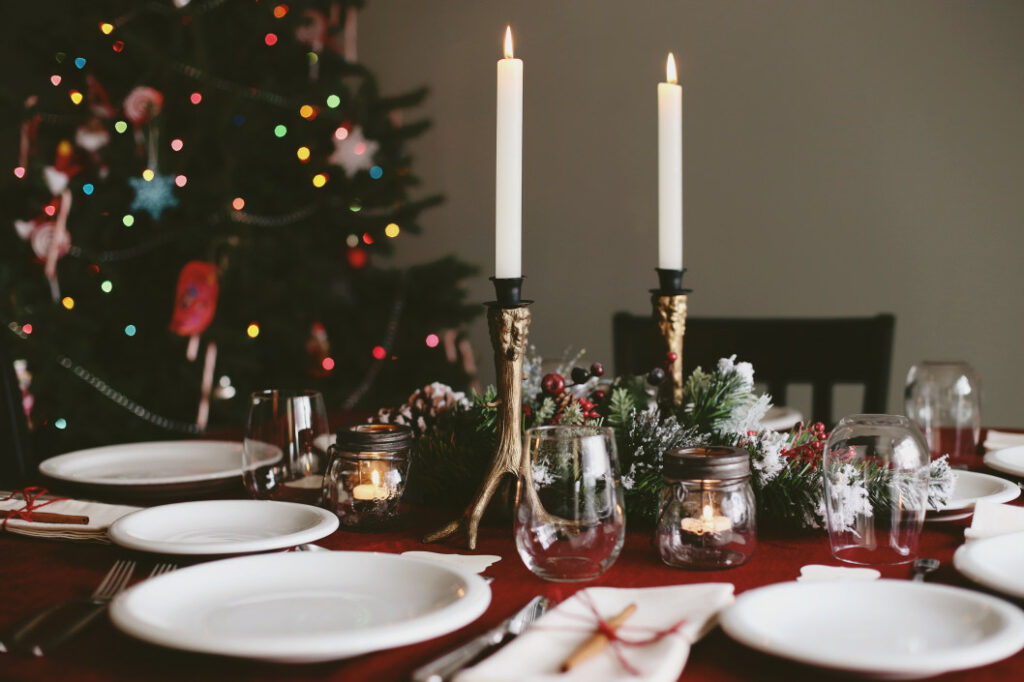 Serve A Delicious Three-Course Meal
Starting off our Christmas tailgating food list, we have this perfect menu. This menu includes a delicious shareable appetizer, a savory main course, and of course a sweet treat for dessert.
Let Inside Tailgating plan the meal for you, or at least get you brainstorming for how to pull it together. Keeping it simple but delicious will allow you the time and energy to focus on what the holidays – and tailgating – are all about, enjoying time with family and friends.
Our meal plan includes an appetizer, main course and dessert that combine the best of holiday traditions with the practicality and ease of tailgate entertaining: cheese fondue for the appetizer, beef tenderloin on the grill for the main course, and pecan tassies for dessert.
1. Appetizer: Cheese Fondue
Cheese fondue is a tradition many families enjoy over the holidays, and it's served hot.
Cheese Fondue
Recipe serves 4-6 but can easily be doubled.
Ingredients
clove

garlic cut in half lengthwise

1/2

cup

dry white wine

1/2

cup

Gruyere and/or Emmentaler cheese. Shredded should make about 5 cups.

1

tbsp

cornstarch

1

tbsp

freshly squeezed lemon juice, about 1 lemon
Dippers for Cheese Fondue
Chunks of fresh bread

Fresh Veggies, like grape tomatoes, broccoli, cauliflower and mushrooms

Pickles

Charcuterie meat
Instructions
You can make this fondue one of two ways. One is to make it right in a fondue pot, or the other is to make the cheese in a saucepan and transfer it to a pot with a candle to keep the cheese melted.

To whichever method/pot you decide to use, rub the inside of the empty dish thoroughly with the cut garlic halves, then thrown them out.

Pour wine into the fondue pot or saucepan and place over medium-low heat.

Add the cheese by the handful when the wine starts to bubble, a stirring until melted and combined.

In a small bowl, whisk together the cornstarch with lemon juice until the cornstarch dissolves, then stir the mixture into the cheese mixture.

Continue whisking the cheese mixture until it is smooth and bubbling slightly.

Serve immediately with all your favourite fondue dippers!
A true win-win Christmas recipe for a winter outdoor gathering! While it's not the best time to be sharing a fondue pot, a gloves-wearing host or hostess could do the dipping and serve various cheesy items on individual plates, or you could divide the fondue into individual bowls.
2. Main Course: Grilled Beef Tenderloin
Hands down my favorite Christmas meal is beef tenderloin, and my late stepmother Betty made the absolute best I've ever had.
Grilled Beef Tenderloin
Equipment
Small mixing bowl

Tongs

Grill

Sharp knife
Ingredients
1

2 lb.

beef tenderloin, at room temperature

1/4

cup

dark brown sugar, packed

1/2

tsp

chili flakes

1

tsp

kosher salt

1

tsp

ancho chili powder

1

tbsp

extra virgin olive oil
Instructions
Remove the tenderloin from the refrigerator, place it onto a plate or platter, cover and bring to room temperature for 45-60 minutes.

Place all of the ingredients for the rub into a small bowl, stir them together and set aside.

Remove all moisture from the utside of the tenderloin with a paper towel. Rub the outside of the tenderloin with the spice mix, using it all to cover the entire surface, including the two ends of the cut.

Preheat your grill to 500°F.

Place the tenderloin onto the grill, close the lid and cook undisturbed for 5 minutes. Turn the tenderloin over and cook with the lid down for an additional 5 minutes. Turn the tenderloin to one of the smaller sides and cook for 3 minutes with the lid up. Cook the final smaller side in the same manner for 3 minutes.

Transfer the tenderloin to the stainless platter and test the temperature in the center of the cut. If the thermometer reads 40°C / 110°F the tenderloin is cooked perfectly, medium-rare. If you prefer a more well-done tenderloin, place it back onto the grill and retest it every minute until desired doneness is achieved.

Remove the tenderloin from the grill and cover it loosely with foil. Return it to your work surface and let it rest for 15 minutes.

To serve, slice the tenderloin into ½-inch portions using a meat fork and sharp knife. Transfer to service platter or directly onto dinner plates and serve immediately with suggested side dishes, and chimichurri and salt at table.
Notes
Have a pair of barbecue tongs, a meat thermometer, a stainless platter and a piece of tinfoil at the ready, close to your barbecue.
Credit: Weekend at the Cottage
I'll honor her memory by not attempting it in my oven this year – that got me a smoky kitchen the last time I did – but even I'm not afraid of this grilled version from Weekend at the Cottage. Grilling has got to be the best way to cook beef tenderloin anyway, so in my mind it's a must for a Christmas homegate.
3. Dessert: Pecan Tassies
A finger food for dessert is a bonus in this setting, but who doesn't want a delicious slice of pecan pie with a big Christmas meal?
Pecan Tassies
How about the perfect bite-sixe dessert to grab from the kitchen and eat in front of the TV?
Servings:
24
pecan tassies
Ingredients
Dough
1/2

cup

pecans

1/2

cup

unsalted butter, room temperature

4

oz

cream cheese, room temperature

1

cup

all-purpose flour
Filling
1

large

egg

2/3

cup

light brown sugar

2

tbsp

maple syrup

1 1/2

tsp

vanilla extract

1/4

tsp

kosher salt

1

tsp

bourbon, optional

1/2

cup

chopped pecans, toasted
Instructions
Make dough
Place 1/2 cup pecans in a food processor and blitz until finely ground. Set aside.

In a bowl, beat together butter and cream cheese until fully incorporated.

Add flour and ground pecans and mix until a shaggy dough forms.

Use your hands to press the dough into a solid mass. Cover with plastic wrap and refrigerate for 1 hour.

Preheat oven to 350°F. Grease a 24-cup mini muffin pan with cooking spray. Scoop 1 tablespoon of dough into each muffin cup. Use your fingers to evenly press dough into the bottom and up the sides of each muffin cup. Transfer muffin tin to freezer while making the Filling.
Make filling
Whisk together egg, brown sugar, maple syrup, vanilla, salt, and bourbon until sugar is dissolved and mixture is consistent.

Remove muffin tray from freezer. Place 1 teaspoon of chopped pecans in each of the muffin cups.

Pour the filling over the pecans until it almost completely fills the pastry cups.

Bake until the filling has puffed and the pastry has lightly browned, 20 to 24 minutes. Allow to cool before removing pecan tassies from muffin pan with an offset spatula.
Pecan Tassies are the perfect compromise. Southern Living chose them among its 35 Vintage Christmas Recipes and calls them a cross between shortbread cookies and a bite of pecan pie.
Add Some Sides
Christmas and tailgate cooking have a lot in common. For both, you want something delicious that can be made easily while also satisfying a crowd.
So putting together a fast and easy spread for you and fellow fans is a must. Fortunately, there are a ton of great things you can make on your tailgating grill that are delicious and take only a few minutes to make. Here are 14 of our favorite tailgating sides that can be whipped up in minutes.
Get the recipes for all 14 sides here to plan your Christmas tailgating food list.
Take A Note From New England
New Englanders know how to make great food to warm you up on a cold day. This clam chowder recipe is ideal for serving at Christmas.
On Christmas Eve this past year, our family prepared New England-style clam chowder for our pre-Christmas Day feast. It was exceptionally good and inspired this post. We promise we won't let any of the air out of this wonderfully presented recipe from Mary-Frances Heck for bon appetit.
New England Clam Chowder
Ingredients
8

Lb

Cherrystone Clams, scrubbed

1

Tbsp

Butter

8

Oz

Bacon, cut into 1/2 inch pieces

2

Celery Stalks, minced

1

Large Onion

1

Garlic Clove, minced

2 1/2

Lbs

Yukon Gold Potatoes, peeled and washed cut into 1/2 inch pieces

1

Tbsp

Chopped Fresh Thyme

1

Bay Leaf

2

Tbsp

Cornstartch

2

Cups

Heavy Cream

Kosher Salt, Fresh Ground Pepper, Chopped Chives
Instructions
Bring clams and 4 cups water to a boil in a large pot over high heat. Cook until clams just open, 8-10 minutes (discard any that do not open). Using a large slotted spoon, transfer clams to a large rimmed baking sheet; set broth aside. Let clams cool slightly, then pull meat from shells; discard shells.

Chop clams into bite-size pieces. Strain broth through a fine-mesh sieve set over a large bowl. Add water if needed to measure 6 cups. Do Ahead(optional): Clams and broth can be made 1 day ahead. Cover separately and chill.

Melt butter in a large heavy pot over medium heat. Add bacon and cook, stirring occasionally, until fat is rendered and bacon begins to brown, about 8 minutes. Add celery, onion, and garlic and cook, stirring often, until onion is translucent, about 10 minutes. Add reserved broth (or 6 cups bottled clam juice), potatoes, thyme, and bay leaf. Bring chowder base to a simmer; cook until potatoes are tender, 20-25 minutes. Stir cornstarch and 2 tablespoons water in a small bowl to form a slurry. Stir slurry into chowder base; return to a boil to thicken. Do Ahead(optional): Base can be made 1 day ahead. Let cool; cover and chill. Keep clams chilled. Bring base to a simmer before continuing.

Remove base from heat. Discard bay leaf. Stir in reserved clams (or two 10-ounce cans baby clams) and cream. Season with salt, if needed (clams' briny flavor varies), and pepper.

Divide chowder among bowls and garnish with chives.
Get some fresh clams if you can find them. Boil them up right in the parking lot, makes for great FUN. If you are looking to save yourself some time for parking lot festivities, preparation may be done ahead of time. Or, you could get there early and get cooking – exciting! ENJOY.
Onto Libations
Another thing that tailgating and Christmas cooking have in common are clever cocktails. If you're hosting a large crowd, a punch is the perfect thing to serve. This Pepperdier Christmas Punch brings all the holiday flavors together so everyone can enjoy the spirit of the season.
Pepperdier Christmas Punch
This punch is inspired by traditional Scottish Christmas pudding, loaded with rich flavors of dried fruits, such as raisins and apricot.
Equipment
punch bowl

8-10 glasses

tablespoons

measuring cup
Ingredients
6

oz.

Auchentoshan American Oak Single Malt Scotch Whisky

infused with raisins

8

oz.

Scottish Breakfast Tea

6

oz.

Fresh Lemon Juice

4

oz.

Dubonnet Rouge Aperitif

2

oz.

Rothman & Winter Orchard Apricot Liqueur

1

oz.

Lejay Creme de Cassis

3

Tbsp

Oleo Saccharum Sparkling Wine

Garnish: Rosemary + Cranberries + Orange Slices + Bay Leaves
Instructions
Mix all ingredients except sparkling wine in a punch bowl.

Garnish with rosemary, cranberries, orange slices and bay leaves.

Top with sparkling wine.
This punch is inspired by traditional Scottish Christmas pudding, loaded with rich flavors of dried fruits, such as raisins and apricot.
Whip Up Some Eggnog
Eggnog is a holiday standard. Now it's definitely not for everyone, but if made right, it's a really delicious option for Christmas. Here is our favorite eggnog recipe to try for your tailgating team.
Angela's Eggnog Cocktail
Cold, creamy, holiday spiced eggnog cocktail- always a crowd pleaser!
Equipment
plate

blender

Measuring cups

Measuring spoons

ice cream scoop

4 martini glasses
Ingredients
course sparkly sugar

2

c.

eggnog

very cold

1/2

c.

brandy

chilled

1/2

c.

almond flavored liqueur

chilled (I used Amaretto Di Saronno®)

3

large scoops frozen vanilla ice cream

1

tsp.

ground nutmeg

ground cinnamon

for garnish
Instructions
Rim martini glasses with sugar crystals. A quick and easy way is to dip a clean finger into a cup of water, shake off the excess, and run your fingertip around the rim. Then immediately dip the rim in a small plate of sugar.

In a blender, combine eggnog, brandy, almond liqueur, ice cream, and nutmeg until smooth. I highly recommend that you place the brandy and almond liqueur in the refrigerator to chill the day before making these cocktails (or place in freezer for an hour or two). This will ensure a very nicely chilled drink. If you like your drinks even colder, and like some ice bits, blitz some chopped ice along with all the ingredients. Placing your glasses in the refrigerator or freezer a couple hours before serving also gives these drinks a frosty edge.

Pour into sugar rimmed glasses. Garnish with a sprinkling of cinnamon and serve immediately.
Notes
To make this recipe a few hours ahead of time, simply blend the cocktail ingredients together and then place the blender carafe in the refrigerator. Give it a good stir to incorporate all the ingredients before pouring it into sugar rimmed glasses and garnishing with cinnamon.
https://www.afarmgirlsdabbles.com/angelas-eggnog-cocktail-recipe/
Need a little something to make the wrapping session more fun? Or something to serve family and friends as they arrive in town? Or something that says "Christmas" at your tailgate? It's time to break out an eggnog cocktail. We found a great recipe at "a farm girl's dabbles" for "Angela's Eggnog Cocktail."
Love Eggnog? Try This Peruvian Christmas Drink
Love eggnog but want to mix it up? Try this recipe for a caspiroleta. This South American Christmas classic is similar to eggnog, but uses pisco instead of brandy. It's super tasty.
Caspiroleta
A Peruvian-style eggnog in this traditional warm, sweet and milky punch.
Equipment
saucepan

mixing bowl

Spoon or whisk

glasses
Ingredients
2

oz.

Pisco Portón

2

tablespoons

sugar

or to taste

2

cinnamon sticks

2

cups

whole or 2% milk

2

egg yolks

1

egg white

1

teaspoon

vanilla extracts

Ground cinnamon
Instructions
In a saucepan combine sugar, cinnamon sticks, and milk.

Bring to a boil over medium-low heat.

In a bowl, beat the egg white until foamy.

Add the egg yolks one at a time and continue beating.

Continue beating as you pour the boiling milk over the eggs.

Add Pisco and vanilla.

Garnish with ground cinnamon and serve immediately.
Notes
Check out more Peruvian recipes: https://perudelights.com
It's Christmas time… and while we're sipping on eggnog in the U.S., I bet you're wondering what people are drinking in… Peru! Wonder no more. They are drinking Caspiroleta, a Peruvian take on eggnog.
Christmas and tailgating are a perfect match. When you're cooking for a large crowd whether for the holidays or the game, easy, fast, and delicious recipes are the key to success. Comment below or tag us on Facebook, Twitter, and Instagram to show us which recipe you use or share your own holiday favorite cocktail recipes perfect for your tailgate or homegate fun.
Happy Holidays!!