Putting together a whole spread for your guests over the holidays can be quite a chore. Luckily, tailgaters know a thing or two about feeding a crowd a delicious meal quickly. So we thought to help you out over the holidays we'd put together some of our favorite tailgating snacks that we think would be perfect for the holidays. All of these tailgating snacks are fast and easy to make and please a hungry crowd.
Sweet And Salty Bites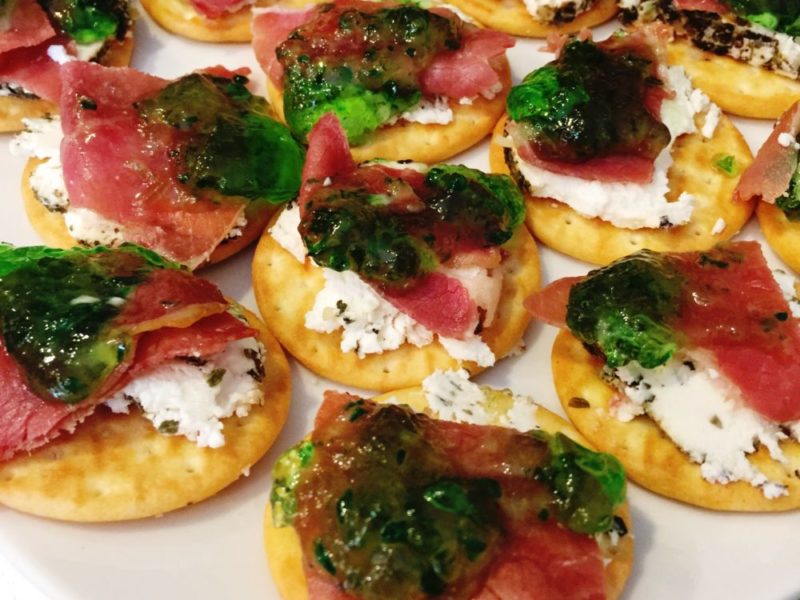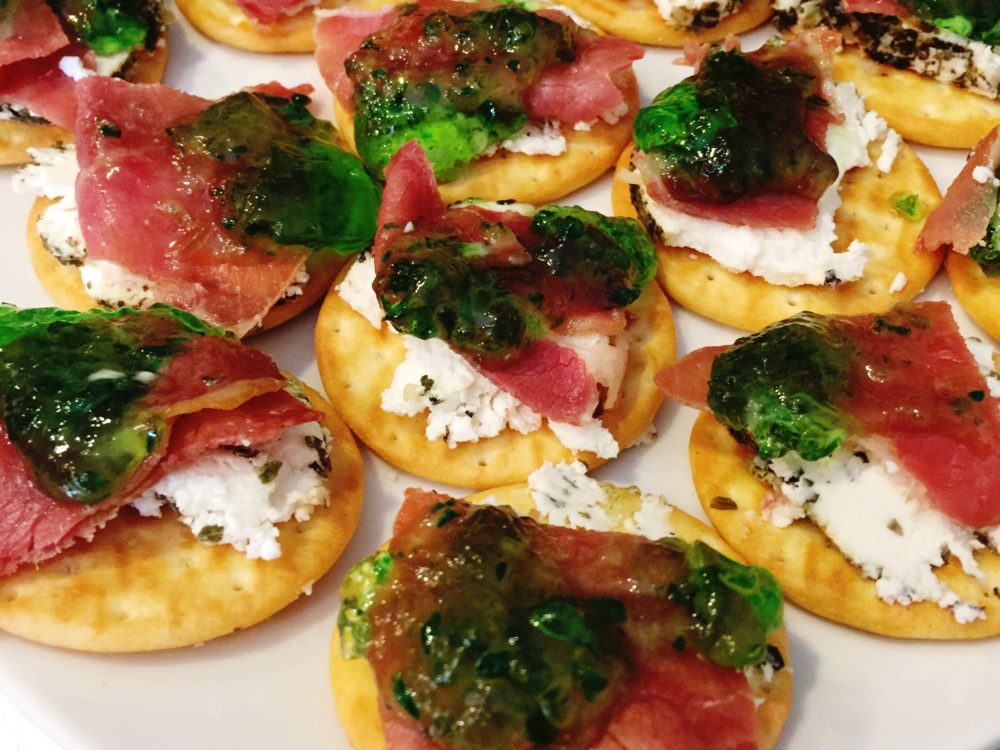 Is there any flavor combination better than sweet and salty? We haven't found one! These sweet and salty bites don't just make great appetizers, they are also great for using your leftover Christmas ham.
Dry Cured Ham Sweet and Salty Bites
Ingredients
Box of Ritz Crackers

Goat Cheese

1

package of Goodnight Brothers Thin Sliced Dry Cured Ham

1

jar Pepper Jelly
Instructions
Cook ham according to directions on the package and slice into small bites

Assemble the bites with cracker, then goat cheese, then ham topped with pepper jelly.

Keep chilled until ready to serve.
Whether it's your playoff football tailgate or a holiday party, Goodnight Brothers Country Ham has some great recipes for entertaining this time of year featuring their line of all-natural ham and pork products. The "Sweet and Salty Ham Bites" make the perfect app and are super easy to make, plus they're a great way to use that jar of homemade pepper jelly that's been sitting in the pantry. You can make them ahead of time and refrigerate for a tailgate. Easy Peasy.
Pork Side Bites
Ingredients
1

package Pork Shoulder

1

package pork side fat

6

oz

cream cheese

Athen's Mini Phyllo Shells

12

oz

beer
Instructions
Place pork shoulder and pork side fat in slow cooker with beer.

Cook on low for 4 hours and let cool.

Preheat oven to 400 degrees

Separate the pork shoulder from bone and remove excess fat from meat from the pork side fat. Combine cuts of meat and continue to shred.

Place shredded meat in medium size bowl. Add 6 oz of cream cheese and 4 oz of bbq sauce and stir.

Place a spoonful of pulled pork into each Athen's Mini Phyllo Shells. Place on a cooking sheet and back for 10 minutes or until pork is warm.
The "Pork Side Bites" are a little more time-consuming but still doable for game day because you prepare the meat ahead of time in a slow cooker. Enjoy!
Smoked Chicken Lollipops With Cola BBQ Sauce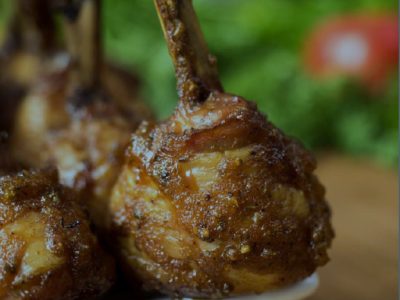 Sometimes things that shouldn't make sense like Jim Plunket throwing a 99-yard touchdown, end up being really impressive. That's how we feel about adding Cola to BBQ sauce. It doesn't seem to make much sense, but we were in awe once we tasted it.
SMOKED CHICKEN LOLLIPOPS WITH COLA BBQ SAUCE
Ingredients
24

Chicken Legs

1

Cup

Hickory Wood Chips
For Wet Rub
5

Tbsp

Cayenne Hot Sauce

5

Tbsp

Olive Oil

1/2

Cup

Brown Sugar

1/4

Cup

Garlic Powder

4

Tsp

Black Pepper

3

Tbsp

Oregano

2

Tsp

Salt
For Cola BBQ Sauce
1

Cup

Cola

1

Cup

Ketchup

1/4

Cup

Worcestershire Sauce

3

Tbsp

Steak Sauce

1

Tsp

Onion Powder

1/2

Tsp

Black Pepper
Instructions
Preheat for smoker at 250°F;

Using a sharp chef's knife; cut and remove the skin that covers the bone of each chicken leg to shape them like a lollipop;

Mix all of the wet rub ingredients in a bowl then dip each chicken leg into the mixture to give them an even coating;

Place the chicken lollipops in your smoker and add about 1 cup of hickory wood chips for smoking; Smoke until internal temperature of the chicken reaches 165°F

Mix all of the cola BBQ Sauce in a saucepan and simmer for 10 minutes.

Serve the chicken lollipops with cola BBQ sauce; Enjoy.
We here at Inside Tailgating are always looking for great finger food, and this chicken leg recipe is beyond cool, fun and trendy too! Delicious and easy to eat? Let's do it!
Look for this and other great recipes in the "Great Book of Grilling" a new cookbook released this month by Char-Broil, the classic grill-makers who have been in business since 1925. Fox Chapel Publishing gave us an early glimpse of the cookbook which is 329 pages of bright, colorful and easy-to-read and easy-to-follow recipes geared toward outdoor cooking. The 300 recipes include appetizers, main courses, salads, vegetables and desserts, everything for the novice backyard burger-flipper to the experienced grill master.
Fried Squeaky Cheese
There are few tailgating snacks as popular as cheese and we'd venture to say the same is true for Christmas appetizers. So we figured our fan favorite squeaky cheese is a must for the holidays.
Fried Squeaky Cheese
Ingredients
10

Oz

Package Of Cheese Curds

1

Cup

Flour

1

Cup

Water

48

Oz

Vegetable Oil

1/2

Cup

Corn Startch

3/4

Tsp

Baking Soda

1

Tsp

Seasoned Salt

2

Cups

Bread Crumbs
Instructions
Heat oil in fryer to 375 degrees.

Mix flour, water, vegetable oil, corn starch, baking soda and salt with whisk to make batter.

Place curds in batter and stir until coated.

Place bread crumbs in large bowl.

Using small batches, shake off excess batter then place in hot oil to fry for 45 seconds or until golden brown.

Remove from oil and place on plate lined with paper towel.

Continue frying in small batches.
You'll need to dust off your dutch oven or deep fryer for this one, but it's worth it. These appetizers are delicious enough on their own, but they are even better with a dipping sauce such as ranch, BBQ sauce or bacon mayonnaise. Feel free to use other seasonings if so desired, such as cayenne, garlic salt or onion powder.
Grilled Pepper Poppers
Poblanos and jalapenos are green and if you hold them upside, they look like Christmas trees. So why not serve them as part of your Christmas-themed holiday spread. As tailgating snacks, these are usually the first to go. We're sure it will be the same at Christmas.
GRILLED PEPPER POPPERS
Ingredients
18

Large

Peppers

1

Lb

Bacon

8

Oz

Cream Cheese (room temperature)

6

Oz

Provolone Cheese (aged and shredded)

1

Tbsp

Garlic Powder

2

Tsp

Cumin

1

Tsp

Black Pepper
Dipping Sauce
16

Oz

Sour Cream

1

Oz

Ranch Dip Mix
Instructions
Mix dipping sauce ingredients in bowl and put in refrigerator.

Fry bacon, drain grease and let cool. Crumble bacon into cream cheese then mix the remainder of ingredients together. Place mixture in quart-sized food storage bag, and cut off one corner to make a pastry bag.

Cut off top of peppers, approximately 1/4" from base of stem and put tops on separate plate. Stuff cream cheese mixture in top of peppers and put caps back on. Wrap each pepper tightly in aluminum foil.

Place wrapped peppers on grill grate directly over hot charcoal and turn frequently for 10-to-12 minutes. Remove from grill and let cool. Unwrap foil and serve with dipping sauce to tame the spices from the peppers.
To kick off your Christmas party in style, try out this tasty appetizer that includes many fan favorites such as bacon, provolone, cream cheese and sour cream. The recipe is pretty simple to make on your grill and doesn't take more than 25 minutes to prepare.
Ratatouille Crostini
Crostini is a great appetizer because you don't even need plates to serve it. This crostini recipe is perfect for Christmas because the red pepper and green zucchini.
Ratatouille Crostini
Ingredients
5

Tbsp

Olive Oil

1

Medium

Onion, peeled and diced

2

Cloves Garlic, peeled and minced

1

Red Bell Pepper, seeded and coarsely chopped

1

Medium

Zucchini, stem removed and chopped into 1/2 inch cubes

1

Medium

Yellow Squash, stem removed and chopped into 1/2 inch cubes

1

Medium

Eggplant, ends removed and chopped into 1/2 inch cubes

4

Large

Tomatoes, coarsely chopped

1

Tbsp

Fresh Thyme Leaves, chopped

1

Tbsp

Fresh Oregano Leaves, chopped

Salt and Pepper

1

Baguette, sliced into 1/4 inch slices

6

Oz

Goat Cheese
Instructions
Ratatouille: Heat 3 Tbsp of oil in a large 4-5 quart pot over medium heat. Add the onions and sauté for 5 minutes, until soft and light brown. Add the garlic and sauté for 1 minute until fragrant. Add the peppers, zucchini, squash, eggplant, tomatoes, thyme and oregano and stir to combine. Season with salt and pepper. Reduce the heat to medium and simmer for 10 minutes, stirring occasionally, until the tomatoes release their juices and begin to boil. Place lidded pot into Wonderbag for 2 ½ hours.

Crostini: Preheat oven to 375°F. Using a pastry brush, apply the remaining 2Tbsp of olive oil on the slices of the baguette. Place bread slices on cookie sheet and toast in the oven for 8-10 minutes or until lightly toasted. Spread goat cheese on each crostini slice.Top each slice with 2-3 Tbsp of ratatouille mixture.
With an assist from the folks who make the "wonderbag" slow cooker, we've got the perfect appetizer for you to make for all your friends at your upcoming March Madness parties or tailgates! It's healthy, it's easy to make in advance, and it's finger food – great for holding and socializing. Just don't ask us to spell it.
Smokey Stuffed Jalapeños With Bacon
We all know that stuffed jalapenos are a winning dish at any tailgating party. However, these stuffed jalapenos using Stubb's BBQ sauce are the ultimate tailgating food. Prepare to make extras, your guests will stuff themselves with this tasty appetizer.
Smokey Stuffed Jalapenos with Bacon
Ingredients
24

Fresh Jalapenos, halved and seeded

16

Oz

Cream Cheese

1/2

Lbs

Uncooked Chorizo

24

Slices

Bacon, cut into halves

1

Cup

Stubb's Smokey Mesquite Bar-B-Q Sauce
Instructions
Preheat a skillet to medium heat. Remove the chorizo from the casing and cook over medium heat until cooked through, about 8 minutes. Remove from heat and transfer chorizo to a paper towel lined plate to drain and cool.

Mix the cream cheese and chorizo.

Stuff each jalapeno half with cream cheese mixture. Wrap with half a strip of bacon and secure with a toothpick.

Prepare the grill for direct cooking. Place peppers onto the grill and cook for 8-10 minutes, turning frequently. Baste peppers with Smokey Mesquite Bar-B-Q sauce in the last 2 minutes of cooking.

Alternatively, cook in the oven for 25-30 minutes at 350°F, adding the Bar-B-Q Sauce during the last 10 minutes of cooking.
Do you want to go in the complete opposite direction for your tailgate this weekend? Well, you can't go wrong with bacon. And these Smokey Stuffed Jalapenos with Bacon look about as anti-holiday as you can get. Plus they will keep you warm in the December chill! Here's the lowdown on how to prepare the tasty treats created by Stubb's Legendary Bar-B-Q.
BBQ Bacon Shrimp
"Put some shrimp on the barbie" but first wrap it in bacon. These bacon-wrapped shrimp are a perfect tailgating food to serve as an appetizer. They are bite-sized, salty, and really easy to make.
Bacon BBQ Shrimp
Ingredients
2

Lbs

Raw Medium Shrimp (Peeled)

4

Slices

Smoked Bacon

2

Cups

Ketchup

2

Tbl

Apple Cider Vinegar

2

Tbl

Black Strap Molasses

1

Tsp

Fresh Ginger (Minced)

1

Tbl

Prepared Horseradish

1/2

Tsp

Ground Cinnamon

1/2

Tsp

Cayenne Pepper Powder
Instructions
Sauce Preparation
Cook Bacon until just crispy, Reserve the Bacon Grease. Combine Bacon and all other ingredients into a sturdy blender. Blend on medium while you drizzle the bacon grease into the mixture. Blend until Bacon is pulverized.
Shrimp Preparation
Marinate the shrimp in ½ of the sauce for 1-2 hours. Skewer Shrimp head to tail (about 4 Shrimp per skewer). Grill Shrimp over Medium High Heat, basting the remainder of the sauce continually. Cook until Shrimp is just done through.
Two of the best items on earth collide into one glorious edible food item. Check out this recipe for Bacon BBQ Shrimp for your next tailgate party!
Bourbon Bacon Shrimp Avocado Pockets
Another great way to pair bacon and shrimp is with these delicious puff pastry pockets. Flavored with a sweet bourbon sauce and topped with avocado cream dip and pico, these are sure to be a crowd favorite.
BOURBON, BACON, SHRIMP & AVOCADO POCKETS
Ingredients
Main Ingredients
Sugar Cookies (3-in diameter)

1

Pkg

Frozen Puff Pastry (2 sheets)

1/4

Cup

Bourbon

1

Pkg

Bacon (cut into small pieces)

12

Oz

Shrimp (medium-large raw peeled, deveined, tail-less shrimp defrosted, cut in pieces)

Creole-style Seasoning

1

Medium Sweet Onion, diced

1

Bunch

Scallions, finely chopped, using all whites and about 1/2 of greens

1

Tbsp

Dark Brown Sugar

2

Tbsp

Butter
Avocado Cream Dip Ingredients
1

Hass Avocado (Large)

4

Oz

Cream Cheese, room temperature

2.5

Oz

Soft Herbed Cheese (half of the pack)

1

Tsp

Minced Wet Garlic

1/4

Tsp

Salt
Sweet Corn Pico De Gallo Ingredients
1

Can

Sweet Corn

1

Ripe

Tomato, diced

1/2

Sweet Onion, diced

1/2

Bunch

Fresh Cilantro, chopped

Salt & Pepper, to taste
Instructions
Preheat oven to 400 degrees.

Roll out defrosted puff pastry, cut into 18-to-20 squares.

In frying pan, melt butter with bourbon and sugar, then add onions and scallions and cook until onions become translucent. Add bacon and fry until bacon is cooked through and almost crispy.

On 10 of the squares of puff pastry, place a big dollop of the Avocado Cream Dip (pureeing above ingredients in food processor). Top with a few shrimp pieces and sprinkle with Creole seasoning. Add heaping spoonful of bacon & onion mix. Cover with a square of puff pastry and seal the edges by pressing the sides or crimping with the tines of a fork. Repeat process until all puff pastry is used.

Bake pockets for 25 minutes at 400 degrees. Remove from oven and serve with generous portion of remaining Avocado Cream Dip and entire Sweet Corn Pico de Gallo (combine above ingredients in mixing bowl).
If you're looking for an appetizer that is sure to induce smiles. Bourbon, bacon, shrimp and avocado are quite an incredible combination. Enjoy!
Bacon Pinwheels
While you have the puff pastry out, consider making some bacon pinwheels. These tasty bacon pinwheels are really impressive but super simple to make and can be eaten without silverware. They're the perfect tailgating food.
BACON PINWHEELS
Ingredients
8

Oz

Cream Cheese (softened)

12

Slices

Bacon, cooked crisply (crumbled)

1/3

Cup

Grated Parmesan Cheese

1/4

Cup

Onion, finely chopped

2

Tbsp

Fresh Parsley, chopped

1

Tbsp

Milk

2 – 8

Oz

Cans Of Crescent Dinner Rolls
Instructions
Preheat oven to 375 degrees.

Mix cream cheese, bacon, Parmesan cheese, onions, parsley and milk until well-blended. Set aside

Take the two triangular pieces of dough and press perforations together to create sealed rectangle. Divide cream cheese into four equal parts and spread ¼ of mixture evenly onto the dough.

Cut dough lengthwise into four equal pieces, about ½" to ¾" wide. Roll dough up into a pinwheel shape and place on greased baking sheet.

Bake 12-to-15 minutes or until golden brown. Serve warm.
If you're looking for a tasty, but healthy recipe to try out for your tailgate this week, the ingredients below are not going to keep you slim. But if you're willing to work off the bacon and cream cheese, your mouth will thank you for it.
Cheddar Bacon Ranch Pulls
What's better than sopping up the last few drops of barbecue sauce with some bread? What if that bread had the two most delicious ingredients: bacon and cheese?
Cheddar Bacon Ranch Pulls
Ingredients
1

Unsliced Loaf of Round Sourdough Bread

8-12

Oz

Cheddar Cheese, thinly sliced

3

Oz

Real Bacon Bits

1

Tbsp

Ranch Dressing Mix

1/2

Cup

Butter, melted
Instructions
Cut bread loaf in a checkerboard pattern in both directions with sharp knife, but do not slice through the bottom crust.

Place cheese slices in between the cuts.

Sprinkle real bacon bits all over bread, making sure to get in between cuts.

Mix butter with ranch dressing and pour over bread.

Wrap loaf in foil and place on baking sheet.

Bake for 15 minutes at 350 degrees.

Unwrap. Bake for an additional 10 minutes, or until the cheese has melted.
Tailgating is done right in Alabama, especially the preparation of food. The majority of Iron Bowl tailgates will feature succulent barbeque of some kind — ribs, brisket, pulled pork or sausage are the most prevalent. But one group of Auburn Tigers fans will be eating their much-anticipated appetizer, the Cheddar Bacon Ranch Pulls. Auburn fan Stephanie Parker shares this easy-to-follow recipe that is perfect for the Iron Bowl because you need an iron stomach to digest it.
J&D'S Bacon Flavorings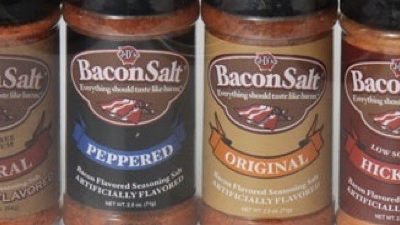 If only there was a way to add bacon flavor to all our tailgating food. Well, you're in luck. J&D's bacon flavorings is a line of bacon-flavored salts that can be sprinkled on top of any of your favorite tailgating recipes.
While some people need an alarm clock or coffee to wake up, others can simply rise out of bed with one distinct breakfast food smell — bacon. When the sizzling begins, most folks can't help but tuck their napkins into their shirt collars in anticipation of getting greasy.
But two dudes named Justin and Dave, the makers of J&D's products, have taken their love of side/back cuts of pork to a completely different level. With their slogan "Everything Should Taste Like Bacon," J&D's sells all kinds of bacon-flavored items, which is not limited to just food. The company sells bacon lip balm, bacon-favored "Mmmvelopes" and an item so popular that it requires a waiting list is the bacon baby infant formula. Seriously.
Some of the food staples are pretty predictable, including baconnaise, bacon croutons and bacon ranch dressing. But other edible items are just out of this world. Have you ever eaten bacon popcorn, bacon gravy or put bacon salt on a Bloody Mary rim shot? Didn't think so. This bacon salt is also a hot-selling item coming in nine different flavors — original, natural, maple, applewood, jalapeno, cheddar, hickory, mesquite and peppered). Get your J&D's Bacon Flavorings here.
Bacon-Flavored Desserts From The Baconery
Finally what bacon lovers' meal would be complete without a bacon dessert? Luckily our friends at The Baconery have you covered!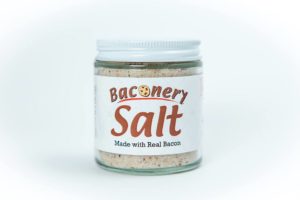 We all know that Bacon and Dessert are god's gift to the taste buds. So what if those two things were combined into the ultimate sweet-meat concoction? Would the world explode? So far, that hasn't happened but the delicious combination of bacon and sweets does exist at the New York based hybrid sweet shop at The Baconery. If you are ever traveling to NYC for a game and want to pick up some very unique items for your tailgate, you should give this a try. You can also order some crazy bacon concoctions online in their online store. These guys know how to mix some of the best flavors known to man.
Founded by owner Wesley Klein in 2011, this bacon-centric bakery has been the subject of much buzz around the web. People have been tweeting, instagramming, facebooking and just speaking word of mouth about how absolutely delicious their menu is. Once the word was spread, the Baconery opened up a physical location in New York, New York. Since then more people are able to get their bacon fix with many of their specialties. Bacon lovers will appreciate their creativity as much as they will appreciate their delicious products. Klein shares with Inside Tailgating how the idea was born for his Baconery.
When it comes to hosting for the holidays, it doesn't have to be complex. Just do what you know and everyone will have a great time. For more tailgating recipes and entertaining ideas, make sure to follow us on Facebook, Twitter, and Instagram. We feature loads of great recipes, games, and ideas to make sure that you and your crew have a great time–no matter what you are celebrating!