Last Updated on 07/08/2021 by Inside Tailgating
This article was published in the spring edition of Inside Tailgating magazine, which can be accessed for free in its entirety by registering here.
Cornhole is not just for tailgating anymore. Have you noticed? ESPN has.
The bag-throwing craze has hit the bigtime and our own Stacey Moore, who also happens to be the founder and publisher of Inside Tailgating, is right in the epicenter of it. Moore, 47, of Charlotte, N.C., is commissioner of the American Cornhole League, which has attracted some of the top cornhole players in the country as well as the attention of "The Worldwide Leader in Sports."
When Moore started the ACL two years ago, he convinced the network to live stream their tournaments on ESPN3, making the events available on computers at watch parties and players' local bars around the country. Then last July, during what is typically a slow time on the sports calendar, the network took a chance and put the ACL's "The Championship of Bags" on a live national broadcast on ESPN2.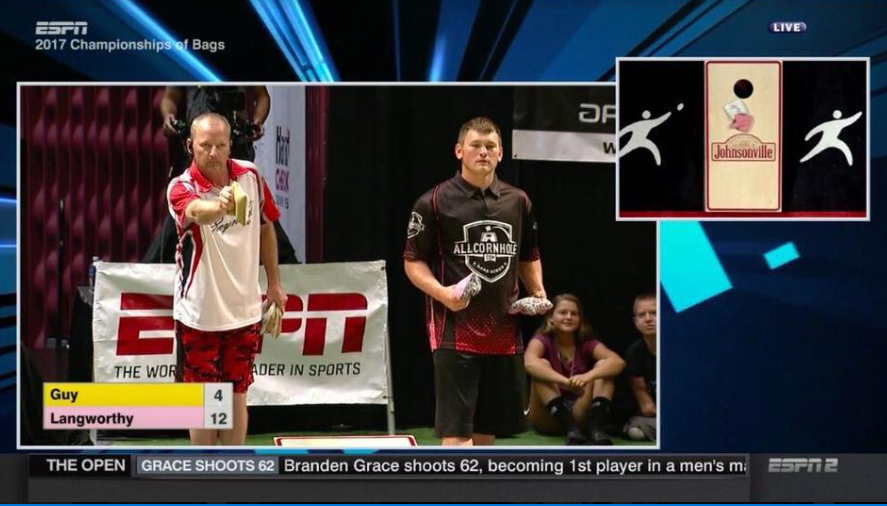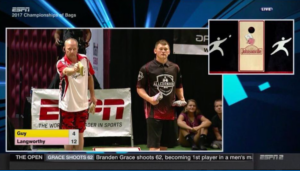 That meant viewers from coast to coast got to know Jordan Langworthy, a 22-year-old cattle farmhand from Crab Orchard, Ky., a town of 800 people. He came up through the losers bracket, winning 10 games in a row to get to the final where he faced off against the favorite, Matt Guy. All Langworthy needed to do to pull off the upset was land a bag on the board, and he threw one off the back on the board. But on his next shot, he gathered himself and put the bag in the hole. Then he celebrated with a series of fist-pumps and high fives and walked off with $4,000 of the more than $50,000 tournament pool.
Red Bull has been sending him cases of their beverage every two weeks since.
"It's a competitive sport even though a lot of people don't think so," Langworthy said. "It's a lot harder than it looks to play on that level. I just love the game. I have a lot of fun playing."
The reaction on social media during the broadcast was the first clue that ESPN was onto something with the ACL.
"One of the guys came out of the production truck and said 'Do you have any idea what's going on on social media right now?'" Moore recalled. "I was like, 'No, I'm just trying to run this event.' He's said, 'You've gone viral on Twitter.'"
Whether it was sports broadcasters like Shannon Sharpe, bloggers for SB Nation and Barstool Sports, or the average joe, people were paying attention. Some were poking fun, but still they were paying attention.
"For the most part, when people reacted it was a good thing," Moore said. "It was just great to see people talking about it."
When the numbers came in, the Championship of Bags had reached more than 300,000 viewers. In the age 18-49 demographic, cornhole had a bigger audience that weekend than MLB on FS1 and TBS, the WNA All-Star game and the final stage of the Tour de France, according to Sports Media Watch.
The numbers spoke to ESPN, and they signed on to broadcast all five of the ACL tournaments in 2018 on ESPN2.
"We've enjoyed a great working relationship with ACL," said Matthew Volk, ESPN director, Programming & Acquisitions. "We are excited to cover their major championships, culminating with coverage of the Championship of Bags for the second consecutive year. We look forward to continuing our collaboration, and presenting competitive cornhole across our platforms to fans."
What Moore hopes viewers are learning is that professional cornhole players are elite.
"The people that are good at it are highly skilled," Moore said. "They're highly competitive when they play it."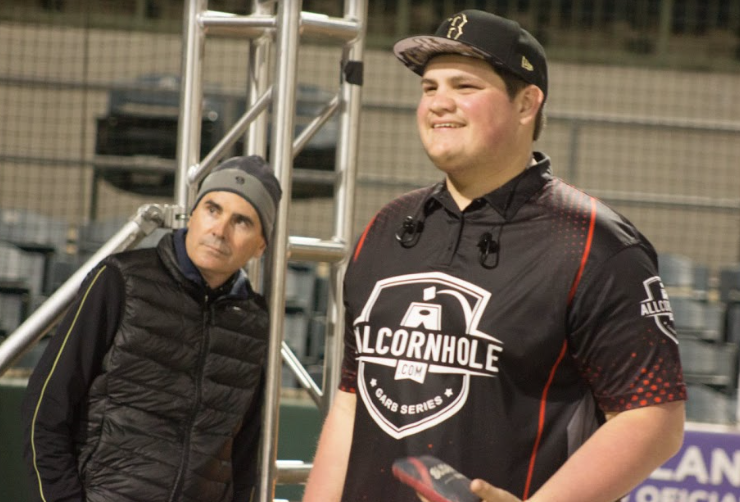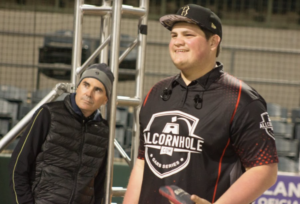 Some college fraternity brothers recognized that in Jordan Camba, the top ranked player in the ACL and player of the year in 2017. Members of the Sigma Beta Mu fraternity at Southern Connecticut State University were watching him play in sudden death in the finals of the ACL Kick-Off Battle in January in Kissimmee, Fla. on ESPN2. One of them messaged Camba on Instagram afterward and invited him to one of their alumni events to help them improve their game.
"I never thought I'd actually have a fanbase for cornhole," said Camba, a student at ECPI in Virginia Beach. "It's really cool."
Both Langworthy and Camba are sponsored by AllCornhole, a cornhole board maker which covers their travel expenses. Camba said he made about $30,000 playing tournaments last year.
"It's definitely not enough to make a living but me being a college student, it's a cool little job," he said. "I call it a job. It basically pays for my car and pays for insurance and gets me through school (expense-wise.)"
And playing on TV now means he might be spared a few of the times he has to explain that he makes money playing cornhole.
"When I first tell (people) they give me that look like 'Are you serious?'" Camba said. "And then I have to show them videos of it, so they can understand it. It's definitely hard to explain how competitive it actually is and how good (players) are. Being able to throw the same exact bag every single time – to have that muscle memory throughout a whole tournament – that's the hardest part about it."
Camba said he used to practice four or five nights a week by playing in local tournaments. Now he can stay sharp by playing in one or two a week.
"It's almost like riding a bike, once you get it you just know how to do it," Camba said.
While the major ACL tournaments almost always come down to the most seasoned players, they all have open formats. Moore has made an effort to reach amateur players on the college level too. He has a goal of making cornhole a club sports on college campuses much the way the USTA has for club tennis. And this past December, the ACL debuted a college event called the Southern College Cornhole Championship.
The event featured teams from each of the 14 Southeastern Conference schools in a tournament held at fanfare prior to the SEC championship game in Atlanta. The tournament, which handed out $10,000 in scholarship money, aired on ESPNU. A couple of guys from Arkansas won it all and made friends with a young Razorback fan in the process.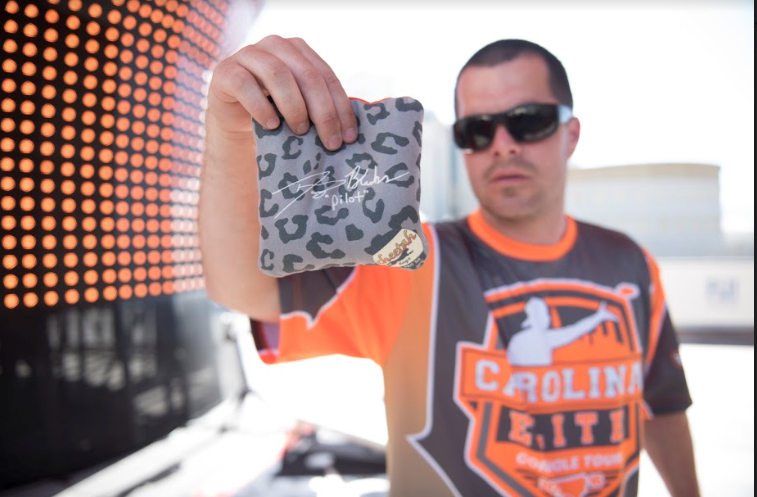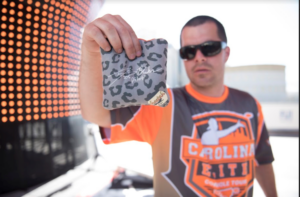 "There was a family that started out watching the broadcast on ESPNU and came out to the SEC Fanfare specifically to watch the end because their daughter said that she wanted to meet the winners," Moore said. "So after these guys won they were taking pictures with all these young kids. They were pretty blown away by it. I was blown away too."
Moore has been playing cornhole himself casually for about 10 years. He got his start playing at football tailgates at N.C. State, his alma mater. What he's always loved about the game is how so many people can relate to it, and that's in part why he thinks it's resonating with TV audiences.
"The great thing about cornhole is we can have a 14-year-old competing against a 75-year-old," Moore said. "You can have a male competing against a female in the finals for all the money."
The ACL hosts its last two big of the season next month, beginning in Coney Island NY on July 4 and Harrah's Cherokee Casino Resort in Cherokee, N.C. on July 11-15. For those who don't live close to either site, you can always tune in on TV.