Last Updated on 06/24/2021 by Inside Tailgating
Inside Tailgating is excited to team up with DEVOUR™ Frozen Pizza at the upcoming American Cornhole League National No. 4 in Uncasville, CT, as a sponsor for our Inside Tailgating Lounge, while DEVOUR™ Frozen Foods partners with the ACL to present the DEVOUR™ Man of the Year contest.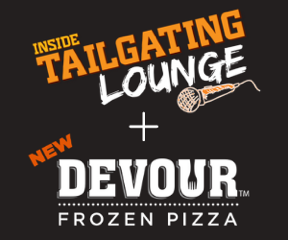 Both the DEVOUR Man of the Year and one lucky ACL fan will win free DEVOUR Frozen Pizza for a year. Fans can enter for a chance to win free pizza and other prizes by choosing the player they believe will win DEVOUR Man of the Year. * For official rules and more information, visit www.iplayacl.com/devour.

"We're thrilled to partner with DEVOUR Frozen Foods to crown our best male cornhole player of the year," said Stacey Moore, Commissioner and Founder of the American Cornhole League. "What goes together better than pizza and cornhole? $10,000!"

We at Inside Tailgating are equally thrilled to align with this unapologetically edgy brand bringing the world Frozen Food Porn and Meatwear. Yes, you heard me right. DEVOUR has adopted a provocative marketing strategy that's particularly engaging to the social media savvy customer- one who thrives on pushing the boundaries. Their commercials capitalize on the #foodporn phenomenon on Instagram by embracing the risqué humor of "frozen food porn addiction" and advertising "see hot food porn now." DEVOUR followed that up by launching Meatwear, which is clothing and accessories that say things like "Body by Pizza" and "Wake and Bacon."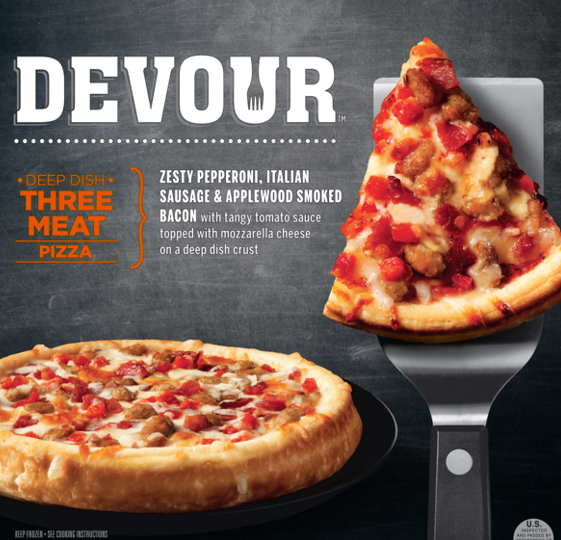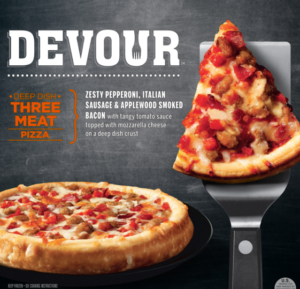 Can you say match made in heaven?! We're so excited to have DEVOUR Frozen Pizza join us in the Inside Tailgating Lounge, which is our new mobile tailgate hangout spot debuting this year at ACL National events. The Lounge-goers joining us at the Mohegan Sun July 3-6 are in for an amped up, no-holds-barred good time. Join us in CT for a range of games and giveaways, including the opportunity to taste, maybe even compete, to see how fast you can, um, devour a "Thick and Meaty" (their tagline not ours) pizza.

If you can't make it in person, check out our original video content, co-hosted by Ryan Alessio and Danielle Maslany, who entertain fans with their witty banter and popular tailgate-friendly games from Beer Pong and "Never Have I Ever" to our own version of the Newlywed Game called "How Well Do You Know?"

For more information visit, www.insidetailgating/lounge.

ABOUT DEVOURTM
DEVOUR was created in 2016 on the belief that all food should be mouthwatering. Period. End of story. In each DEVOUR frozen meal, sandwich and pizza, we dial up the taste, max out the flavor and turn up the texture. With tender meats, creamy sauces, crispy crusts and gooey cheeses, all DEVOUR products are ridiculously delicious. DEVOUR is available in frozen aisles nationwide. For more information, visit www.devour-foods.com.

ABOUT DEVOUR MAN OF THE YEAR
The Top 32 male ACL Pros was identified and seeded following ACL National 3 May 17 – 19 at Harrah's Ak-Chin. The ACL is allowing fans to pick who they believe will become the "DEVOUR Man of the Year" for an opportunity to win great prizes by visiting iplayacl.com/devour. Fans can follow the action on the ACL Digital Network (watch.iplayacl.com) on July 4th when the first-round matches, which will eliminate half the field, take place at Mohegan Sun.
The remaining 16 players will compete for the right to be crowned champion on August 9th on the ACL Digital Network, and the final two battle it out in the Championship Match. Cornhole and sports fans across the country will be able to follow the action of the Championship Match on August 10th at 8 p.m. on ESPN3, with the winner being crowned during an award presentation on the ACL Championships broadcast at 12 pm EST on ESPN August 11th. For more information, visit www.iplayacl.com/devour.