We are primed for the start of NASCAR season and the all the tailgating that will happen in 2015.  It goes without saying that the Daytona 500 should be on the top of all bucket lists.  Here are five fun facts that we like about the 2015 Daytona 500.There are that can the infield of at the same time.
There are 15 Florida Sports Stadiums that can fit inside the infield of Daytona International Speedway at the same time.

Basketball and Hockey Arenas: Miami Heat, Orlando Magic, Florida Panthers, Tampa Bay Lightning
Football Team Stadiums: Miami Dolphins, Tampa Bay Buccaneers, Jacksonville Jaguars, Florida Gators, FSU Seminoles, UCF Knights, FIU Panthers, Florida A&M Rattlers
Baseball Stadiums: Florida Marlins, Tampa Bay Rays
And the non-affiliated Florida Citrus Bowl
The average third party ticket price to go see the main race is $290.30
The celebrities to watch for include Kid Rock (Budweiser Pre-Race Concert at 12:20), Vince Vaughn (Grand Marshall) and Phillip Phillips (National Anthem).  Which one of these guys would you like to tailgate with and why?  To some it may be obvious…we would like to be greedy and throwdown with all three.
While the Arctic Freeze is blitzing the South, the weather in Daytona will be sunny and mid to high 70s over the week-end.  Perfect for tailgating.
The Speedway is nearing the end of Daytona Rising, a $400 Million project that is going well beyond a mere renovation.  This year 40,000 new seats will be in Turn 1.  Some of the cool features of this project include, 11 social neighborhoods, Wi-Fi access, and 40 new escalators.  Check out the infographic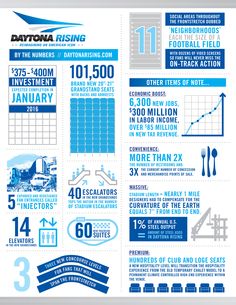 Wherever you are enjoying the race let the Tailgating Community know how you tailgating, homegate and fangate.  Hit us up on Facebook and Twitter.