Last Updated on 08/18/2021 by Inside Tailgating
I've known Brad Clontz since the mid-1990s in my "former life" as an Atlanta Braves beat writer for the Macon (Ga.) Telegraph and the Atlanta Journal-Constitution. He was a side-arm reliever as a rookie on the Braves' World Series championship team in 1995 and a good buddy of Chipper Jones, whom I was fortunate enough to partner with to write Ballplayer, his biography that came out this past April.
In reconnecting with Clontz, to talk about his friendship with Chipper, I learned about Clontz's passion for Virginia Tech football. He grew up near Blacksburg and pitched for the Hokies too, so it makes sense. But what I found out also makes sense is the lengths to which Clontz will go to entertain his buddies every Saturday for Virginia Tech football. Clontz is a life-of-the-party kind of personality and now makes his living as a concierge for MGM Grand. He know how to host events. I wanted to capture that enthusiasm, both for the Hokies and for tailgating, in a recent story I wrote for our Inside Tailgating magazine. Check out the full edition of the fall issue here, for free, or scroll down and find out just how high Clontzy sets the tailgating bar! Virginia Tech closes out its regular season schedule Friday at rival Virginia during this Thanksgiving/rivalry week.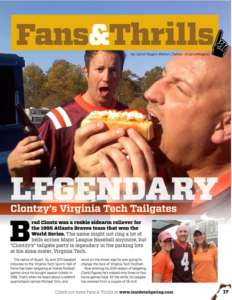 By Carroll R. Walton
Brad Clontz was a rookie sidearm reliever for the 1995 Atlanta Braves team that won the World Series. The name might not ring a lot of bells across Major League Baseball anymore, but "Clontzy's" tailgate party is legendary in the parking lots at his alma mater, Virginia Tech.
The native of Stuart, Va. and 2011 baseball inductee to the Virginia Tech Sports Hall of Fame has been tailgating at Hokies football games since he bought season tickets in 1998. That's when he heard about a redshirt quarterback named Michael Vick, and word on the street was he was going to change the face of Virginia Tech football.
Now entering his 20th season of tailgating, Clontz figures he's missed only three or four home games total. All the while, his tailgate has evolved from a couple of 18-inch televisions hooked up to a small amp in the back of his Cadillac Escalade to a portable party, complete with multiple tents, a 55-inch flat screen TV and DJ turntables.
"Each year I would add something," Clontz said. "We'd take maybe a jam box, then we'd buy a grill. Then I got smart and bought the generator. Then we started buying tents, then the flat screen TV, and then the satellite dish. We kept graduating every year. We would add a bigger tent, then we'd have three tents. Then I started adding a DJ set up, turntables, amplifiers, speakers. I've got 4,000 watts of speakers where it's like a night club – if you want to turn it into a night club – or a day club, whatever you want to do."
Clontz said they've got propane heaters for cold weather and tarps for when it rains.
"There's nothing we're not prepared for," he said.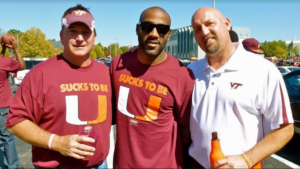 When Clontz first started hosting his tailgate, he would drive six hours from his home in Atlanta to his parents' house in Stuart, Va. on Friday, load up his Escalade with grills and other tailgating gear he kept in their garage, and wake at the crack of dawn Saturday to drive 55 miles to Blacksburg.
"I would show up at 7 o'clock in the morning," Clontz said. "I don't care if it was 20 degrees, whatever, I enjoy it that much with my friends. At least one buddy and I would set everything up. The rest of my clown friends, that just want to come hang out and enjoy it, roll into the tailgate at 11 o'clock, (saying) 'Oh this is awesome, what a great setup.'"
Clontz said they usually have five or six grills fired up, cooking everything from hamburgers and hotdogs, steaks and brats, to pork tenderloin. Friends might bring Bojangles or Chick-fil-A, which he augments with a crock pot of buffalo dip. They cook three times a day, in the morning, right before the game, and right after the game.
"It used to be me (cooking)," Clontz said. "I've graduated now. I put in my 15 years."
A buddy who lives closer to Blacksburg brings all the equipment now. So Clontz's main job now is DJing and hospitality, which is his strong suit.
Clontz, who retired from professional baseball in 2006, is an Atlanta-based host for MGM Grand, recruiting new business and helping existing clients book hassle-free casino trips. His gifts for networking and hospitality come in handy with Hokie football too.
"Clontzy's" tailgate has become a regular stop for former Virginia Tech athletes, including Washington Redskins free safety DeAngelo Hall. Even some of the assistant football coaches, like defensive coordinator Bud Foster and defensive line coach Charley Wiles, used to stop by for a burger when Clontz's tailgate was in the coaches' parking lot.
Clontz is also friends with Virginia Tech head coach Frank Beamer, who invited him to play in the 2010 Chick-Fil-A Bowl Challenge, a charity golf tournament in Atlanta, after Beamer's usual partner, Dell Curry, had a commitment broadcasting for the then-Charlotte Bobcats.
Clontz said their tailgate attracts maybe 30 to 40 people for an average ACC game.
"I've had days where I felt like the whole dadgum parking lot was there," he said. "When the music gets cranking and 'DJ Clontzy' gets going."
Clontz has a suite on the 45-yard line at Lane Stadium, but one or two games a year, when the weather is nice and he doesn't feel like locking up the equipment, he doesn't even go into the stadium. He'd rather just hang out at his tailgate with some friends and watch it on TV.
"We've got speakers so loud it feels like you're in the game," Clontz said. "I love Virginia Tech football so much, when I'm there, I feel like I'm a part of it whether I'm inside or outside. It doesn't really matter."
Next in the evolution of the Clontz tailgate might be a customized RV. Clontz said he and his friends are thinking about going in on one together.
"Now we don't have to get a hotel; we get to stay there," Clontz said. "Now I may go up there on a Wednesday and stay for four or five days. I'd do it in a heartbeat. My friends would do it in a heartbeat. I would go play golf a couple days, maybe go watch Virginia Tech fall baseball practice or watch some Virginia Tech basketball, just hang around campus. If I'm not in Atlanta, I'd much rather be in Blacksburg every day of my life because it's beautiful and the mountains, close to home, I can see my folks, other relatives and friends. That place made me who I am. If I wasn't for Virginia Tech, I don't know where I'd be."