Last Updated on 07/22/2021 by Inside Tailgating
The Inside Tailgating Lounge proves once again that these American Cornhole League players are big fans of DEVOUR™️ Frozen Pizza.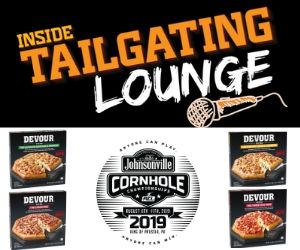 Another successful Lounge activation with our sponsor, DEVOUR at the ACL World Championships in King of Prussia, PA on August 6-11.
It was a battle for the DEVOUR ACL Man of the Year, that came down to ACL Pros Frank Modlin and John Kitchin, with Kitchin prevailing- winning $10,000 and free DEVOUR frozen pizza for a year. If you weren't sure if playing cornhole could pay off, beyond perhaps winning some drink money at your tailgate, think again!
Check out our recap and let us know what your favorite DEVOUR pizza flavor is!