We love the spirit of Thanksgiving. Gathering around the table and expressing gratitude for our abundance and company. To be honest though, what gets us excited about Thanksgiving is football! Thanksgiving is the perfect holiday to throw a tailgate party. It's a whole day to kick back with our friends and family, eat too much food, and enjoy the games. If you're thinking about hosting a Thanksgiving tailgate, here are some of our favorite tailgate party ideas to help you plan!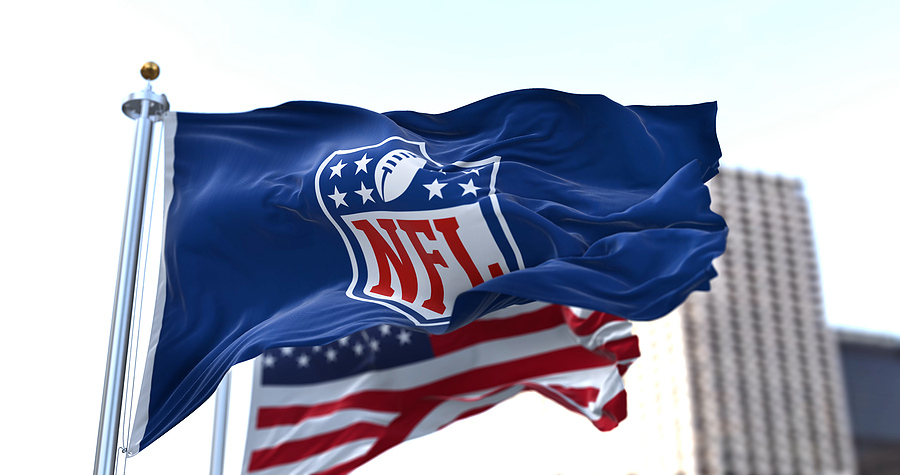 Thanksgiving Football Schedule
Before we get started here is the Thanksgiving Day football schedule for the NFL and NCAA games:
● Buffalo Bills vs. Detroit Lions at Ford Field in Detroit, MI airing on CBS at 12:30 p.m. ET
● New York Giants vs. Dallas Cowboys at AT&T Stadium in Arlington, TX airing on FOX at 4:30 p.m. ET
● Mississippi State vs. Ole Miss at Vaught-Hemingway Stadium in University, MS airing on CBS at 6:00 p.m. ET
● New England Patriots vs. Minnesota Vikings at U.S. Bank Stadium in Minneapolis, MN airing on NBC at 8:20 p.m. ET
If you're homegating, make sure to get these on your calendar. If you're planning to tailgate at any of the stadiums, we're jealous! All of these games are going to be a great time. Here are some fun tailgate party ideas that you need to try.
Set Up A Watch Area
Before you have everyone over, make sure to set up an area to watch the game. Make sure that there are enough seats where everyone can see the television. If needed, pull out some of your tailgating chairs. You can also set up football-watching stations in more than one room like the kitchen and dining areas. That way if someone wants to grab another plate, they won't miss any plays while they are in the kitchen.
Let's Talk Turkey
The star of Thanksgiving Day is obviously the turkey. A well-cooked turkey is savory, smokey, and juicy. However, we've all had the unfortunate experience of a dry, bland turkey. To help you make sure that you whip up a succulent turkey, this guide from Taste of Home can help. It has 28 tips to make sure your turkey is flavorful and moist. If you're heading out to the stadium, we've got you covered as well. Here is our list of twelve turkey recipes that you can make right on your tailgating grill. There are recipes to feed a small group or a hungry crowd. Either way, your taste buds will thank you!
Keep The Sides Simple
As tailgaters, we love going over the top when it comes to our spreads. However, no one wants to spend the entire day cooking when there are games to watch. Here are some tasty sides that everyone will love but take no time to make:
Using this recipe you can make cranberry sauce, biscuits, green bean casserole, sweet potato casserole, and scalloped potatoes on just one sheet pan. It does not get easier than this!
Five Thanksgiving Sides in One Sheet Pan
Ingredients
Biscuits
2 – 7.5

Oz

Tubes Refrigerated Mini Biscuits
Cranberry Sauce
12

Oz

Frozen Cranberries

1/2

Cup

Granulated Sugar

1/3

Cup

Orange Juice

2

Tbsp

Cornstartch

1

Tbsp

Turbinado Sugar
Sweet Potato Casserole
1 1/2

Lbs

Sweet Potatoes, peeled and chopped

1/4

Cup

Whole Milk

2

Tbsp

Unsalted Butter

2

Tbsp

Light Brown Sugar

1/2

Tsp

Vanilla Extract

Salt and black pepper

1/2

Cup

Mini Marshmallows
Green Bean Casserole
3

Tbsp

Olive Oil

5

Oz

Sliced Cremini Mushrooms

Quarter Small Onion, chopped

2

Tbsp

All-Purpose Flour

1/2

Cup

Heavy Cream

Salt and Pepper

12

Oz

Frozen and Cut Green Beans

1/3

Cup

Crispy Fried Onions
Scalloped Potatoes
3/4

Lbs

Yukon Gold Potatoes

1/2

Cup

Heavy Cream

1/2

Cup

Grated Parmesan

1

Small

Clove Garlic, finely chopped

1

Tsp

Fresh Thyme Leaves, chopped

Salt and Pepper

1/4

Cup

Shredded Gruyere
Instructions
Preheat the oven to 350 degrees F. Arrange 14 of the biscuits into a "+" shape in a 18-by-13-inch rimmed baking sheet. You should have 4 equal quadrants. (Reserve the remaining biscuits for another use.) Refrigerate until ready to use.

For the cranberry sauce: Mix together the cranberries, sugar, orange juice and cornstarch in a medium bowl until well combined and set aside.

For the sweet potato casserole: Place the sweet potatoes in a medium microwave-safe bowl and cover with plastic wrap. Microwave until soft and easy to mash with a fork, about 12 minutes. Add in the milk, butter, sugar, vanilla, 1 1/2 teaspoons salt and a few grinds of pepper and mash with a fork or a potato masher until smooth with just a few chunks and set aside.

For the green bean casserole: Heat the oil in a medium non-stick skillet over medium-high heat. Add the mushrooms and onion and cook, stirring occasionally, until the mushrooms are soft and have released most of their liquid, 5 to 6 minutes. Sprinkle the flour over the vegetables then stir in the heavy cream, 1 1/2 teaspoons salt and a few grinds of pepper. Cook, stirring frequently, until the sauce has thickened, 2 to 3 minutes. Fold in the green beans until well coated and set aside.

For the scalloped potatoes: Slice the potatoes 1/8-inch-thick and transfer to a medium microwave-safe bowl along with the heavy cream, Parmesan, garlic, thyme, 1 1/2 teaspoons salt and a few grinds of pepper. Toss to coat and microwave until softened, about 7 minutes. Set aside.

Assemble the sheet pan: Pour the cranberry mixture into one quadrant of the baking sheet and sprinkle with the turbinado sugar. Spread the sweet potatoes into a second quadrant and sprinkle with the marshmallows. Pour the green bean mixture into a third quadrant and sprinkle with the crispy onions. Spread the scallop potato mixture into the final quadrant and sprinkle with the Gruyere.

Bake until the biscuits are cooked through and golden brown, the cranberries are bubbling and bursting, the marshmallows have turned golden brown and the scalloped potatoes are cooked through, 30 to 35 minutes. Let cool 5 minutes before serving.
This impressive dish takes about 15 minutes to prepare in an air fryer. You can also make this recipe with any of your favorite holiday squash.
Air Fryer Acorn Squash
Ingredients
1

Medium

Acorn Squash, seeds remove and cut into 3/4 inch thick half moons

2

Tbsp

Olive Oil

2

Tbsp

Balsamic Vinegar

1

Tbsp

Raw Honey

Salt and Pepper, to taste

1/4

Cup

Chopped Pecans

1/4

Cup

Crumbled Feta Cheese (optional)
Instructions
In a large bowl whisk together the olive oil, balsamic vinegar and honey, reserve 1-2 Tablespoons. Add squash in the remaining mixture season with salt and pepper; toss to coat.

Place the acorn squash in the air fryer basket in a single layer and air fry to 380 degrees Fahrenheits for 7 minutes on each side or until tender, sprinkle the pecans in the last minutes to toast.

Remove from the air fryer and serve with reserved vinegar and honey mixture.
With this recipe, you throw all the ingredients into the Instant Pot and set it for 20 minutes. Better than box stuffing, but just as easy.
Instant Pot Stuffing
Ingredients
12

Oz

Dry Cubed Seasoned Stuffing (1 bag or box)

1/2

Cup

Butter

1

Cup

Onion, diced

1

Cup

Celery, diced

1

Tsp

Rubbed Sage, dried

1/2

Tsp

Kosher Salt

1/4

Tsp

Pepper

2

Cloves Garlic, pressed or finely minced

1 1/2

Cups

Turkey Broth

1 1/2

Cups

Water
Optional
1/2

Cup

Dried Cranberries, unsweetened

Raisins

1/2

Cup

Walnuts or Pecans, roughly chopped

1/2

Cup

Apple, diced

1/2

Cup

Chopped Mushrooms

1/2

Cup

Bacon, cooked, chopped
Instructions
Pour stuffing cubes into a large mixing bowl. Mix in any of the optional ingredients you choose to use (pictured is dried cranberries and walnuts). Set aside.
Sauté the Veggies
This step can be done on the stove, using a skillet or in the pressure cooker pot.

Set Instant Pot to Sauté setting. To the pressure cooker pot (or skillet, if using) add butter, onion, and celery. Cook, stirring frequently, until vegetables soften.

Add sage, salt, pepper, and garlic. Cook until fragrant, stirring constantly (about 30 seconds). Then add the broth and stir. Let mixture just come to a simmer, then turn off the pot/heat.
Assemble Stuffing and Pan
Using pot holders, remove the inner liner with the broth mixture from the pressure cooker and pour the mixture carefully over the stuffing cubes in the bowl. Toss together the stuffing cubes and broth mixture until well combined.

If you cooked veggies in the pot's inner liner: Rinse out the pressure cooker inner liner, dry it, and set it back in the pressure cooker base. Add 1 ½ cups of water to the inner liner pot.

Transfer stuffing to a sprayed 2-quart stainless or aluminum cooking pan (metal works better than glass in this case). I use my 7"x3" Stackable Stainless pan, or my Fat Daddio's 7"x3" cake pan.

Gently pat the stuffing into the pan. Don't pack it in too much. Spray a piece of foil and cover the pan tightly, crimping the edges.

Set the pan on a trivet/rack with long handles and put them into the pot.
Cook the Stuffing
Close the lid and lock into position. Set the Steam Release Knob to the Sealing position if applicable (some pots self-seal). Set to Pressure Cook for 20 minutes. High Pressure.

After the cook cycle ends, let the pot sit and naturally release pressure for 5-10 minutes. Then manually release the remaining pressure, either by turning the Steam Release Knob to Venting, or on the Ultra, press the button.

When all of the pressure is out of the pot and the pin in the lid drops, open the lid and use pot holders to very carefully lift the rack and pan out of the pot.

Set on a cooling rack and keep covered until you are ready to serve. Or, turn on your broiler to 375° F and set the pan under it for a few minutes to brown the top. You can also use your air fryer lid to brown the top.
Box mac and cheese isn't even as quick as this recipe. In just ten minutes, you'll make the gooiest, most delicious mac and cheese from scratch!
Mac and Cheese
Ingredients
1

Cup

Heavy Cream

1

Oz

Cream Cheese, at room temperature

1/4

Tsp

Garlic Salt

1/2

Cup

Grated Sharp Cheddar

2

Slices

American Cheese

3

Cups

Cooked Cavatappi Pasta
Instructions
Heat the heavy cream, cream cheese and garlic salt in a medium cast-iron skillet over high heat. As the edges start to bubble, gently whisk the cream cheese until it is evenly incorporated into the heavy cream, about 1 minute. Allow to cook for 15 seconds so the mixture thickens. Add the Cheddar and American cheese and continue whisking. Pour the sauce over the pasta, stir and serve immediately!
Pumpkin pie takes at least an hour to bake. However, with this recipe, you can cut time and make it in the microwave.
Microwave Pumpkin Pie
Ingredients
1/3

Cup

Pumpkin Puree

2

Tbsp

Whisked Egg

2

Tbsp

Heavy Cream

3/4

Tsp

Pumpkin Pie Spice

2

Tbsp

Erythritol Granular
Instructions
In an oversized microwave-safe mug, add all ingredients. Whisk with a small whisk until smooth.

Place mug into microwave and cook at full power for 1 minute. Check on the pie. The edges of the pie should look cooked but the center is still uncooked.

Cook in the microwave again at 30 second intervals. I needed to do this twice (so a total cooking time of 2 minutes for my pie), checking after every 30 seconds until the center looks cooked and edges of the pie are starting to pull away from the mug. It is okay if the surface has a few trace wet spots. That is okay as long as the center of the pie looks cooked. Be careful not to overcook your pie. Keep in mind your pie will continue to cook in the mug for a little bit after you remove it from the microwave, so the wet spots on top should disappear once the pie cools.

Let the pie cook fully before eating. You can top with whipped cream if desired. The pie can be eaten straight out of the mug or you can also plate it. For plating tips, see post.
Apple turnovers are much faster to make than apple pies. You can save even more time by making them in your air fryer or toaster oven.
Apple Turnovers
Ingredients
5

Medium

Apples

1

Lb

Puff Pastry

1

Cup

Sugar

1

Egg
Instructions
Gather all the ingredients.

Peel and slice the apples into 8-10 pieces and set them aside.

Roll out the pastry dough on a well-floured surface. Cut the pastry sheet into 8 equal pieces and place 4-5 pieces of apple in the center of each. Top with a spoonful of sugar.

Fold the dough over the apples, creating tiny pockets. Place each pie on a lined baking sheet. Whisk the eggs in a small bowl and brush the tops of each pie with the whisked eggs. Sprinkle on some more sugar.

Bake the pies at 415°F for about 15 minutes or until golden brown. Enjoy!
With these recipes, you'll serve an incredible spread without spending the whole day cooking. You can read more of our tailgate party ideas to improve your Thanksgiving spread here.
Serve Up The Tastiest Drinks
There's nothing better than eating a big meal, then sitting back with a cold beer and watching the game. No one wants to play bartender when the game is on. Instead, serve up some seasonal beers. We have this great list of 10 seasonal beers that bring the flavors of Fall. Whether you like IPAs or stouts, you'll find a beer that's perfect for your thanksgiving homegate.
You can also batch some cocktails ahead of time. Here are some of our favorite batched cocktails that are perfect for any event. However, if you do feel like whipping up an after-dinner cocktail for your guests, we recommend this pumpkin pie martini. You can even use your leftover pumpkin pie filling. They are a delicious way to celebrate the holiday.
Tailgate Party Ideas To Take The Party Outside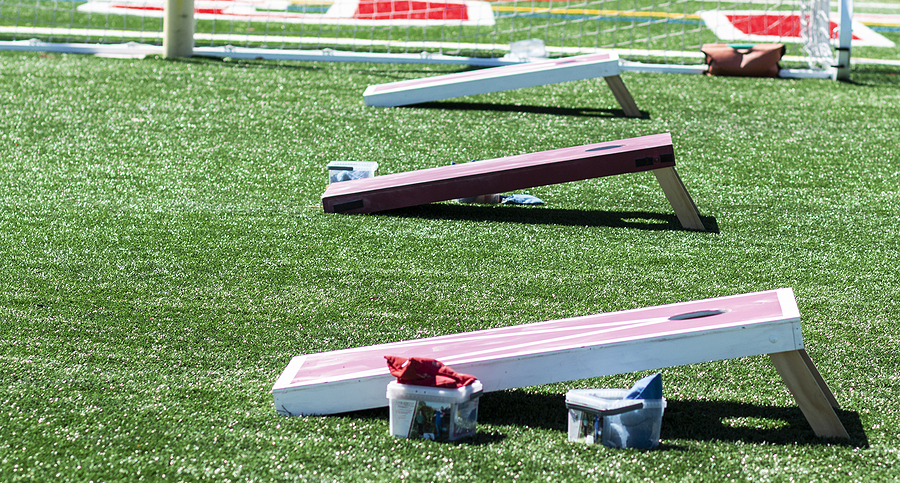 If you're lucky to have great weather during Thanksgiving, take advantage of it. Fresh air and a little exercise can help you feel less full. We recommend playing some backyard games like cornhole. We have a ton of great ideas for backyard games here.
You can also go with a classic game of touch football (or tackle if your friends and family are more competitive). If you're not really into running around, you can also set up a fire pit. Unwinding by the fire is a wonderful way to relax during the holidays. Here are our picks for the four best fire pits we recommend for both tailgating and homegating. Either way, it will be fun to get outside before and after the games.
These Thanksgiving tailgate party ideas will make things easy this holiday. That way you can focus all your attention on the four games we get to watch! If you are looking for more Thanksgiving tailgate party ideas, check out our Facebook, Twitter, Instagram, and Amazon Storefront.
Let us know in the comments how you plan to spend the holiday! Happy Thanksgiving everyone!