Last Updated on 07/08/2021 by Inside Tailgating
To register and receive the full spring issue of Inside Tailgating magazine for free, click here.
By Carroll Rogers Walton (@carrollrogers)
Usually when sports venues go corporate, that's bad news for tailgating. It means fewer parking spaces, more expenses, and good times be damned. In this case, though, Talladega Superspeedway has made "going corporate" a plus.
One of the most fan-friendly tracks in NASCAR has taken an area formerly used for corporate hospitality and turned it into a tailgating haven called "The Compound."
Tailgaters in 90 premium parking spots located adjacent to the start/finish line will have a short walk to the grandstands, beefed-up security and 15-by-25 foot parking spaces that will allow room not only for a car or truck but also 10-by-10 foot tents, grills, smokers, chairs, games, coolers and more.
The lot features spaces that are either asphalt or gravel, which means less of a muddy mess in rainy weather.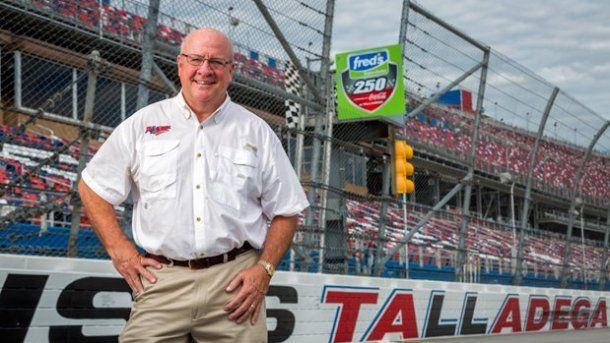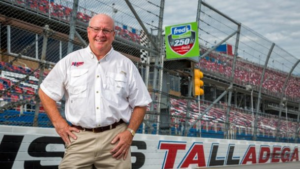 "We think it was a perfect opportunity to get something that we've heard a lot about," said Grant Lynch, chairman of Talladega Superspeedway. "Fans want a little more space where they can put up a tent, 10-by-10 pop-up, and have up to 10 or so people in their area. We think it could take off and be a big hit for us."
The Compound will debut this April for Talladega's tripleheader featuring the General Tire 200 for the ARCA Racing Series on April 27, the Sparks Energy 300 for the NASCAR XFINITY Series on April 28, and the GEICO 500 for the Monster Energy NASCAR Cup Series on April 29.
The area now known as The Compound used to house corporate hospitality tents for 100 people or more. Most of those functions have moved into suites and luxury boxes underneath the grandstands. Fine by tailgaters.
"The hospitality market has changed, but we believe this is a niche, where we may be able to put some more spots out there that a different set of people will say, 'Wow that's just exactly what I need because I only want to bring eight people with me,'" Lynch said. "We're taking available space and using it with a different concept and seeing what the fans think about it. What was it about dinosaurs? You adapt or you're not going to be around anymore."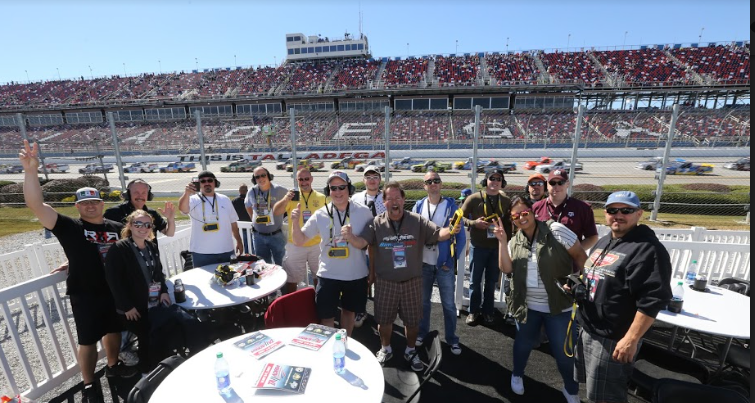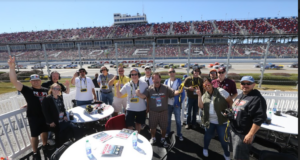 It's no secret NASCAR has taken a hit in popularity and TV ratings in recent years and track operators like Lynch are working hard to attract and retain new fans. Appealing to tailgating party goers isn't a bad place to start.
Lynch, who tailgates at Auburn football games in his spare time, has been an advocate for tailgating since he first arrived at Talladega in 1993. He started unlimited free camping at the iconic racetrack that sits on 2,700 acres of land. He brought alcohol-free zones to some of the campgrounds and church services on Sunday race days to complement the culture of Talladega Boulevard in what is known as the wildest infield in NASCAR.
The Compound is for daytime use only – an alternative to RV and overnight camping – and it won't break the bank. A weekend space goes for $200 plus the purchase of at least one ticket to the GEICO 500. Space holders then get six wristbands per day for their tailgating guests and they can buy an additional four wristbands.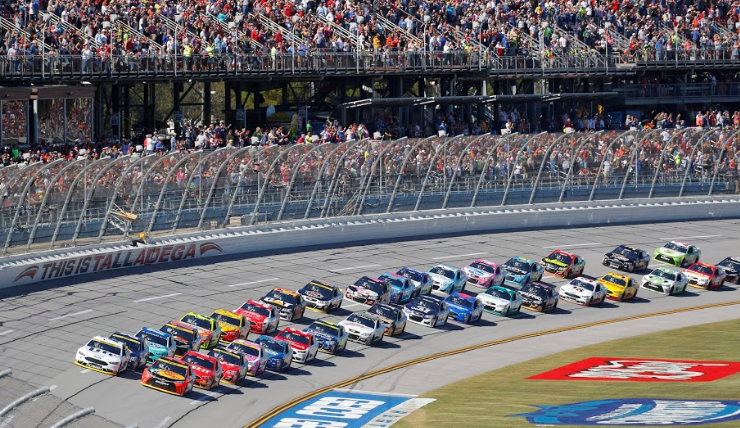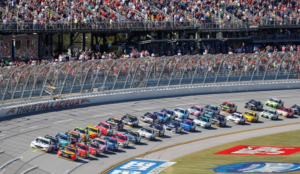 Talladega was already in the process of trying to attract new fans after Dale Earnhardt Jr.'s retirement. It's been known for years as Earnhardt country for all the successes of Dale Earnhardt Sr. as its all-time winner, and Dale Jr.'s four straight wins there. Now Lynch hopes fans can get energized by young drivers like Chase Elliott, Ryan Blaney and Bubba Wallace.
"It's part of Talladega's job and every other racetrack's to build these new names and let fans gravitate to their person that will be their new Dale Earnhardt," Lynch said. "Now that's not the easiest for us to replace because we're by far the biggest Earnhardt track in the country. It's just the domination of that name here, and his dad's persona matched the racetrack. He had that little sly grin, and he could just drive the wheels off the thing here."
Lynch thinks the name "The Compound" matches Talladega as well.
"I love the name they came up with, 'The Compound,'" Lynch said. "That sounds like Talladega. I think the fans hopefully will get behind it, and I think once they get there, the experience and where they're parking, as close as they are, it'll hopefully be a well-renewed product going forward."