Last Updated on 08/18/2021 by Inside Tailgating
So on Mondays you think you can throw better than your favorite team's quarterback? Well you better get practicing then. Better yet, forget about YOU actually practicing and think about the little ones at your tailgate…maybe with a little practice, THEY could be a MVP when they grow up. The PassBack Football is the perfect football to practice technique and catching at the same time. With its perfect size and shape, the Passback football is a great way for a future Hall of Famer to practice throwing the pigskin. The ball is the only football in the whole world that will come back to you when you throw it against a hard surface. I had the chance to interview Passback representative Jay Hyber who got to fill me in on the Passback Football…we also got him to give us one of his favorite tailgating recipes too!
What is the Passback Football and what is the difference between this and a regular football?
[quote]"The Passback Football is the only "Football" in the world you can throw it off a solid wall or rebounder net and it will come back to you. Once you learn how to throw a spiral, you will get a spiral back. You throw it like a regular football, but the only difference is on one end it is like a round rubber ball, so once the end hits the wall it will bounce right back and when thrown correctly you will receive a spiral back off the solid wall"[/quote]
Where did the idea come from for the Passback Football?
[quote]"A pumpkin, that's how it all started. While watching a football game at a friend's home on Halloween, "Inventor", Mike McGonigle noticed this goofy looking pumpkin staring down at him. The pumpkin's wide smile seemed to be daring Mike to pick it up … and pick it up he did. Without giving it a second thought, Mike chucked it at the wall. Lo and behold, it came back to him in a slight spiral.Mike returned home and began lopping his old nerf balls into flat footballs. These, like the pumpkin, came spiraling back when he tossed them against a wall. The Passback was born"[/quote]
What material is the Passback Football made of?
[quote]"The Passback Footballs are made of Composite and or Rubber material on the outside and all Passback Footballs have a rubber bladder inside."[/quote]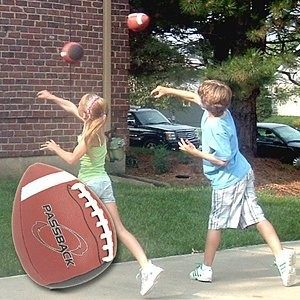 How is this football useful for Tailgating?
[quote]"The Passback Football can be used thrown off of any solid wall, pitch back net or simply bounce it off the ground. You can logo the Passback Footballs up with your copy logo and create a game for all Tailgate Fans to participate. The attraction will be overwhelming! If you have kids and are parked near a brick building in an area with adequate space, you can give them hours of fun without having to worry about them hitting a car with a traditional football. "[/quote]
How much does the Passback Football cost and where can our readers get one?
[quote]"Retail cost on the Passback Footballs range start at $19.95 and can be purchased from www.passbacksports.com"[/quote]
So you've mentioned that you do a little tailgating from time to time…tell us…can you share one of your favorite Tailgating recipes?
[box type="info" style="rounded" border="full" icon="none"]
Salmon Tailgate Special
Original recipe makes 6 servings
1 1/2 pounds salmon fillets
lemon pepper to taste
garlic powder to taste
salt to taste
1/3 cup soy sauce
1/3 cup brown sugar
1/3 cup water
1/4 cup vegetable oil
Directions
Season salmon fillets with lemon pepper, garlic powder, and salt.
In a small bowl, stir together soy sauce, brown sugar, water, and vegetable oil until sugar is dissolved. Place fish in a large resealable plastic bag with the soy sauce mixture, seal, and turn to coat. Refrigerate for at least 2 hours.
Preheat grill for medium heat.
Lightly oil grill grate. Place salmon on the preheated grill, and discard marinade. Cook salmon for 6 to 8 minutes per side, or until the fish flakes easily with a fork.
[/box]
So if you are looking for a fun and easy way for you or your little tailgater to practice throwing that perfect spiral, check out the Passback Football. Practice hard with it and you might eventually be able to back up that Monday Morning Quarterback commentary 🙂