Last Updated on 08/18/2021 by Inside Tailgating
ESPN analyst Kirk Herbstreit is not just breaking down pass plays on your tailgating TV set. The former Ohio State Buckeye quarterback is now recommending what to throw on your grill. Herbstreit teamed up with Eckrich of the John Morrell Food Group to market a new line of smoked sausages. As of last week, those who shopped at the Texas grocer HEB could buy Kirk Herbstreit's "Utlimate Tailgate" Smoked Sausage. It might not be a national phenomenon just yet but it got us in the mood for some tasty bratwurst. What a perfect tailgate food for the fall; it goes great with either football or baseball.
In keeping with the ESPN theme, here's a recipe for Bratwurst in Beer from the ESPN Game Day Gourmet cookbook.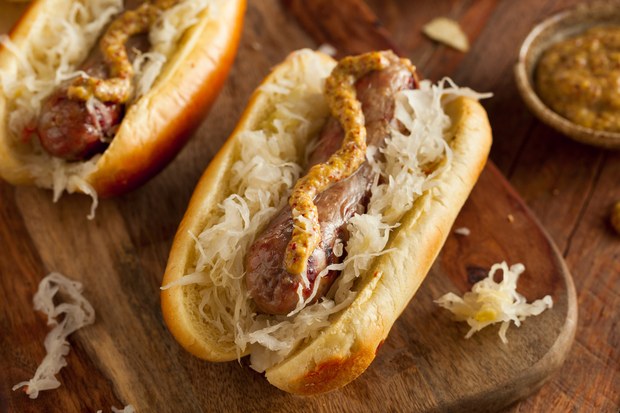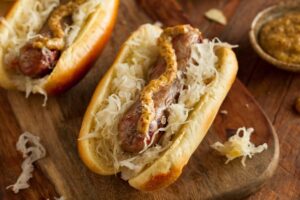 Ingredients (Makes 8 servings)
1/4 cup butter
2 medium onions, sliced into thin rings
4 garlic cloves, finely chopped (optional)
3 to 4 (12-ounce) cans cheap beer (Wisconsin fans insist on Pabst Blue Ribbon)
8 bratwurst links
8 small, crusty hoagie rolls
Whole-grain mustard
Dill pickle spears
Preparation
1. Prepare the grill for a medium-hot fire
2. Place the butter in a medium disposable foil roasting pan. Place the pan on the grill rack and cook until the butter melts. Add the onions and garlic (if using); cook until softened, three to five minutes. Add the beer and bring to a simmer. Place the pan on the low heat zone and keep the onion mixture warm.
3. Place the bratwurst on the grill rack. Grill, turning occasionally, until evenly charred, four to five minutes. Transfer the bratwurst to the onion mixture and let stand until ready to serve.
4. With tongs, place the bratwurst in the rolls. Serve with the onions, mustard, and pickle spears.