With an assist from the folks who make the "wonderbag" slow cooker, we've got the perfect appetizer for you to make for all your friends at your upcoming March Madness parties or tailgates! It's healthy, it's easy to make in advance, and it's finger food – great for holding and socializing. Just don't ask us to spell it.
Ratatouille Crostini
Prep time: 10 mins | Stove top: 15 mins | wonderbag: 2 hours
Ingredients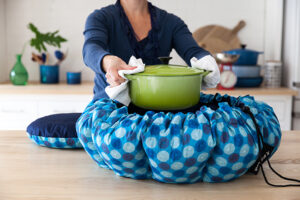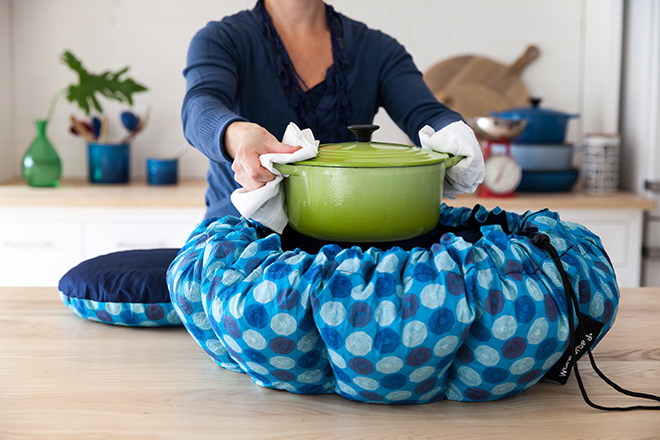 5 Tbsp olive oil
1 medium onion, peeled and diced
2 cloves garlic, peeled and minced
1 red bell pepper, seeded and coarsely chopped
1 medium zucchini, stem removed and chopped into 1/2 inch cubes
1 medium yellow squash, stem removed and chopped into 1/2 inch cubes
1 medium eggplant, ends removed and chopped into 1/2 inch cubes
4 large tomatoes, coarsely chopped
1 Tbsp fresh thyme leaves, chopped
1 Tbsp fresh oregano leaves, chopped
Salt and Pepper
1 baguette, sliced into ¼ inch slices
6oz/170g goat cheese
Directions
Ratatouille: Heat 3 Tbsp of oil in a large 4-5 quart pot over medium heat. Add
the onions and sauté for 5 minutes, until soft and light brown. Add the garlic
and sauté for 1 minute until fragrant. Add the peppers, zucchini, squash,
eggplant, tomatoes, thyme and oregano and stir to combine. Season with salt
and pepper. Reduce the heat to medium and simmer for 10 minutes, stirring
occasionally, until the tomatoes release their juices and begin to boil. Place
lidded pot into Wonderbag for 2 ½ hours.
Crostini: Preheat oven to 375°F. Using a pastry brush, apply the remaining 2
Tbsp of olive oil on the slices of the baguette. Place bread slices on cookie
sheet and toast in the oven for 8-10 minutes or until lightly toasted. Spread goat cheese on each crostini slice.Top each slice with 2-3 Tbsp of ratatouille mixture.