Last Updated on 08/18/2021 by Inside Tailgating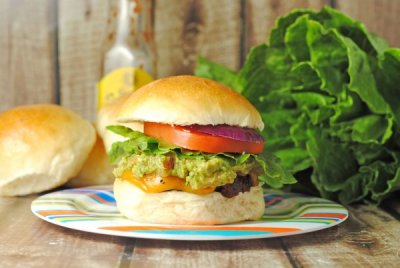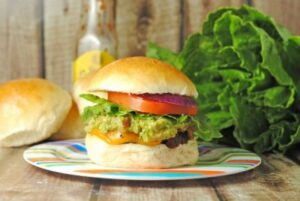 Everyone loves a good burger. Why not add some extra flavor and excellence to the ones you serve. Not only will this recipe give your tailgate friends a mouth watering entree' but will make you look like a professional chef! Big thanks to Sweet Sunshine Sauces and Juanita's Cocina for sharing! Check it out!
Ingredients:
For the Burgers
2 lbs. ground beef
1/4 cup Sweet Sunshine Jamaican Jerk Sauce (plus more for basting the burgers while grilling)
2 Tbs. chopped green onions
2 Tbs. finely chopped cilantro
1 tsp. salt
Hamburger buns
Toppings: sliced cheddar cheese, lettuce, tomato, sliced red onion
For the Grilled Pineapple Guacamole
3 avocados, halved and pits removed
2 tomatoes, seeds removed and chopped
2 jalapenos
2 thick slices of red onion
2 canned pineapple rings
2 Tbs. finely chopped cilantro
1/2 – 1 Tbs. lime juice (depending on taste)
Salt, to taste
Instructions:
For the Grilled Pineapple Guacamole: Preheat grill. Once grill is preheated, place avocados; cut side down, onto the grill. Grill just until avocados are warmed and light grill marks form on the flesh of the avocado. While you are grilling the avocados, grill the jalapenos until they are charred on all sides. Grill the red onion slices until they just soften. And grill the pineapple slices for 1 minute per side, or just until they form grill marks and warm through. Remove all veggies from the grill. Once jalapenos are cool enough to handle, remove the stems and seeds. Chop jalapenos, red onions, and pineapple. Scoop the flesh of the avocados into a bowl. Add the chopped veggies, the cilantro, and lime juice. Taste and season with salt. Set aside until ready to serve on top of the burgers.
For the Burgers: In a large bowl, mix this ground beef, 1/4 cup Jamaican Jerk sauce, green onions, cilantro, and salt. Allow to marinate for 30 minutes. Once meat has marinated, divide beef into 8 equal portions and form into patties. Preheat grill. Baste one side of the burgers with extra Jamaican Jerk sauce. Once grill is preheated, place burgers, sauce side down, onto the grill. Baste the other side of the burgers with the sauce. Grill on both sides until cooked through. Serve burgers on buns, topped with cheese, lettuce, tomato, red onion, and a spoonful of guacamole. Recipe by Juanita's Cocina