Last Updated on 08/18/2021 by Inside Tailgating
Last night the NFL season started. And on Sunday it kicks in with a full slate of games. Here are a couple food recipes that you can use if you are heading out to tailgate.
Grilled Potato Salad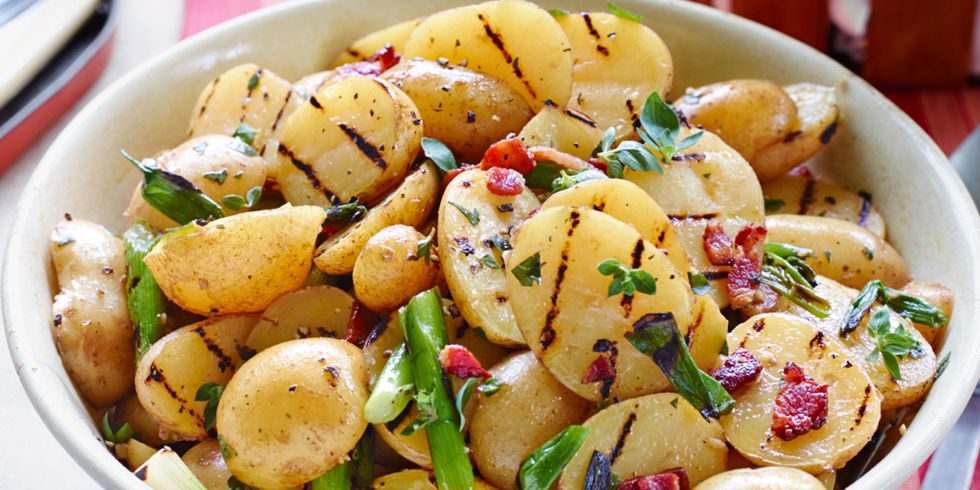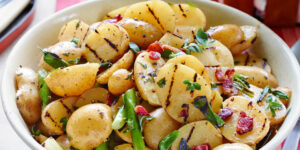 Ingredients
4 large Kennebec or baking potatoes, cut into 1/2-inch-thick rounds
Salt
Pepper
1 stick unsalted butter
3 tablespoons seasoned rice vinegar
2 tablespoons mustard seeds
1/4 cup sherry vinegar
2 teaspoons pure maple syrup
2 teaspoons fresh lemon juice
1/4 cup canola oil
2 celery ribs, thinly sliced
4 scallions, thinly sliced
Directions
In a large saucepan, cover the potato rounds with water and bring to a boil.
Add a generous pinch of salt and simmer over moderate heat until the potatoes are tender but not falling apart, about 12 minutes.
Drain and transfer to a baking sheet to cool.
Light a grill or preheat a grill pan.
Lay 2 large sheets of heavy-duty foil on a work surface.
Fold up the edges to form a 1/2-inch rim and pinch the corners together to seal.
Transfer the foil to the grill and melt the butter on it.
Add the potatoes in a single layer and grill over moderate heat until browned on the bottom, 12 to 15 minutes.
Meanwhile, in a small saucepan, bring the rice vinegar just to a boil.
Add the mustard seeds and let cool completely.
Whisk in the sherry vinegar, maple syrup, lemon juice and rice bran oil.
Season the dressing with salt and pepper.
Transfer the potatoes to a large bowl.
Add the celery, scallions and dressing and gently toss to coat.
Season with salt and pepper and toss again. Serve right away.
Grilled Sweet Sausage
Recipe and images courtesy of Executive Chef John Johnson, Four Seasons Hotel New York
Four Seasons Hotel New York is located at 57 E 57th Street. It is a ritzy I.M. Pei–designed hotel with a soaring lobby and even more soaring dishes. ABC News recently interviewed Chef Johnson and featured this very dish.
Ingredients
1 green olive baguette or ficelle bread, approximately 8-10 inches long
1 sweet sausage of your choice
¼ cup red and yellow pepper, julienned
¼ cup White Onion, chopped
¼ cup canned San Marzano crushed tomatoes
1 teaspoon tomato paste
1 peeled garlic clove and 1/8 teaspoon garlic, minced
pinch smoked paprika
pinch Espelette pepper
4 tablespoon extra virgin olive oil
pinch of salt
pinch of pepper
Directions
Fill a medium pot halfway with cold water and add sausage.
Bring to a boil and shut off the flame.
Let sausage sit in water until water has cooled to room temperature.
Remove sausage from water. Grill sausage and put aside until peppers are cooked.
Heat a large sauté pan over medium heat and add 2 tablespoons extra virgin olive oil.
When oil is hot add sliced onions and minced garlic.
Cook until tender and then add peppers, tomato paste and smoked paprika.
Lower temperature, add a splash of water.
Continue to slowly cook down the peppers and onions until soft.
Season peppers with salt and pepper.
Slice grilled sausages once cool.
Cut baguette lengthwise (but not all the way thru) and drizzle with olive oil.
Rub the inside with peeled garlic clove.
Grill bread, butterflied open and face down on the grill.
In a heavy sautée pan, heat up the pepper mixture and add sliced grilled sausage.
When entire mixture is warm, place it into grilled baguette.
Garnish with sweet hot cherry peppers, and sliced olives.