Last Updated on 07/06/2021 by Inside Tailgating
Live streaming from home gives players the chance to compete head-to-head through online tournaments
Ten hours before the American Cornhole League was scheduled to go live on ESPN in Cleveland with its biggest ever national tournament on March 13, the event was cancelled because of the coronavirus.
Even so, organizers understood, that unlike team sports like the NBA basketball or Major League Baseball, the American Cornhole League had an opportunity to find an alternative way for players to enjoy competing in cornhole from home.
By the time they all touched down in their return trips from Cleveland, organizers had laid the groundwork for American Cornhole League Virtual. Using new scoring software they had planned to launch in Cleveland, and an individual video training tool they already use called Dekaround to help seed players for tournaments, they created a format for online "virtual" tournaments.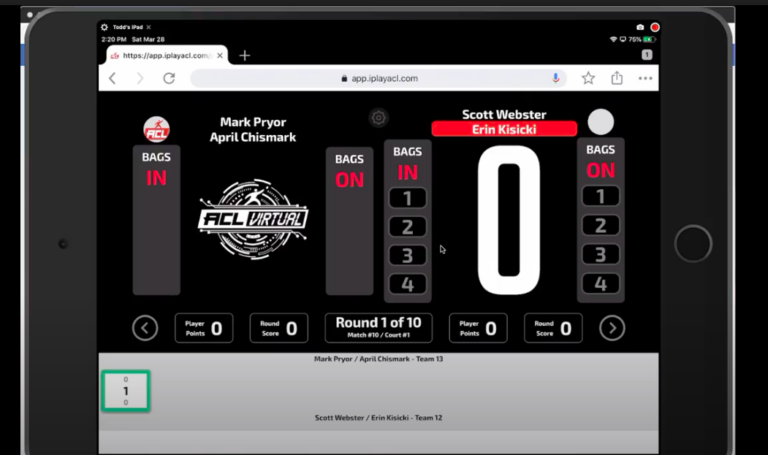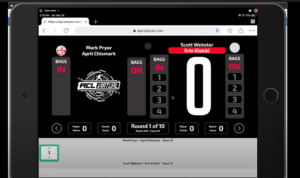 When a player records a Dekaround video, he or she stands alone at a board, throws four bags per round, for 10 rounds and adds up his or her score. The highest total possible is 120. The American Cornhole League had been using these individual videos to determine players' skill levels.
"We thought what if we had people throw these Dekarounds, but almost in a head-to-head fashion, we could keep people engaged," said ACL media director and broadcast analyst Trey Ryder. "And we could do it while still trying to abide by all the social distancing and trying to combat the virus. That was a way that we could really have people play by themselves but still against somebody else."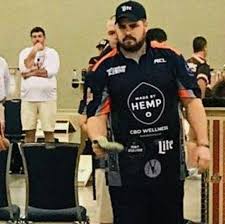 Less than two weeks since its April 3 launch, American Cornhole League Virtual is taking off, hosting more than 250 tournaments and counting. It's being enjoyed by cornhole players at the highest level, like 30-year-old ACL pro Jeremy Schermerhorn of Flint, MI. He's played in six virtual tournaments so far, and won the first he entered.
"I would recommend playing ACL Virtual to every ACL player, no matter the skill level," Schermerhorn said. "Times are rough in the world right now, and who knows when we will get back to competing against each other in real time? This is the next best thing! You can still meet new people, have conversations with anyone, and compete in many tourneys!"
Schermerhorn is a beer delivery truck driver by trade, which is considered essential so he's still working. Otherwise he's sheltering in place with his wife and their three dogs. So it's a nice time-kill for him to go a quarter of a mile up the road to his buddy's house and where he keeps his professional boards in his basement and throws a couple of rounds in an American Cornhole League Virtual tournament.
Each player is asked to film his or her round and submit it to a tournament director within a required amount of time, usually 24 hours. Each player has to live stream their round for transparency.
Schermerhorn said sometimes he watches a live stream of his opponent's round, sometimes he doesn't. But he still feels a sense of competition, even without being able to play with the strategy that comes with having an opponent share your board.
"My goal is to throw a perfect game of 120 in a 10 round Dekaround, so I use that as motivation each time I play a tourney to compete at a high level," Schermerhorn said. "It's just fun. American Cornhole League Virtual is simple because all you have to do is record live video in Facebook event pages of the events you registered for; keep track of scores on the Score Tracker in the ACL app, and throw your games. You don't have to message a director that you won because you submit your scores in the score tracker and the directors have access to it."
Simplicity was something the ACL was going for, as well as variety. They have targeted players of all skill levels and encourage tournament directors to host events ranging from $5 a head for intermediate players or $50 per person for a high stakes draw.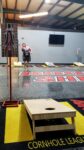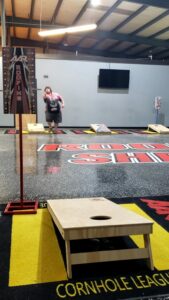 "We just want to target anybody that's playing cornhole," said Ryder (who talks over the launch of ACL Virtual with national ACL Director Todd Kisicki in a video posted above.) "We're allowing directors to Target lower-level players, players just getting into it, as well as we have some really cool things down the pipeline of introducing some ACL pro-only events. That will feature some of these headliner matchups and (we will) be able to bring some publicity to those as well."
Trevor Morris, 30, of Kernersville, N.C., is seeing both sides of ACL Virtual. He's a tournament director, who is hosting some online events and playing in others as an ACL pro himself. Morris owns a custom cornhole board business called Four Bagger Boards.
Going forward, Ryder said, ACL Virtual is considering adding some different wrinkles like using "ghost" opponents. In those formats, players can compete against a set score, or they set their boards with bags in predetermined defensive positions.
"There are some other things that we're thinking about sprinkling in there," Ryder said. "But for the most part players are really liking it because a lot of our players are just competitors. They just want to compete. Sitting at home, they could play video games all day and I guess compete against other people, but they want to do what they love which is cornhole. This gives them an opportunity to compete against anybody from across the country."
Ryder said one of the indirect effects the ACL is seeing from this endeavor is catching the attention of international players as well. ACL Virtual has already seen players from Canada and Germany taking part.
"Some of the player bases that we've been trying to build in Germany and Sweden and Denmark and Australia, even Canada – a lot of these players may or may not get to see some of our top players on TV," Ryder said. "Now they're getting a chance to actually play against them without having to fly thousands of miles across the world."
For any homegaters looking for a new way to break up the monotony, whether you're a cornhole novice or somebody itching to see how you stack up against the best in professional cornhole, below is a video breakdown detailing the first step of the registration process :
For more information about ACL Virtual, click here.